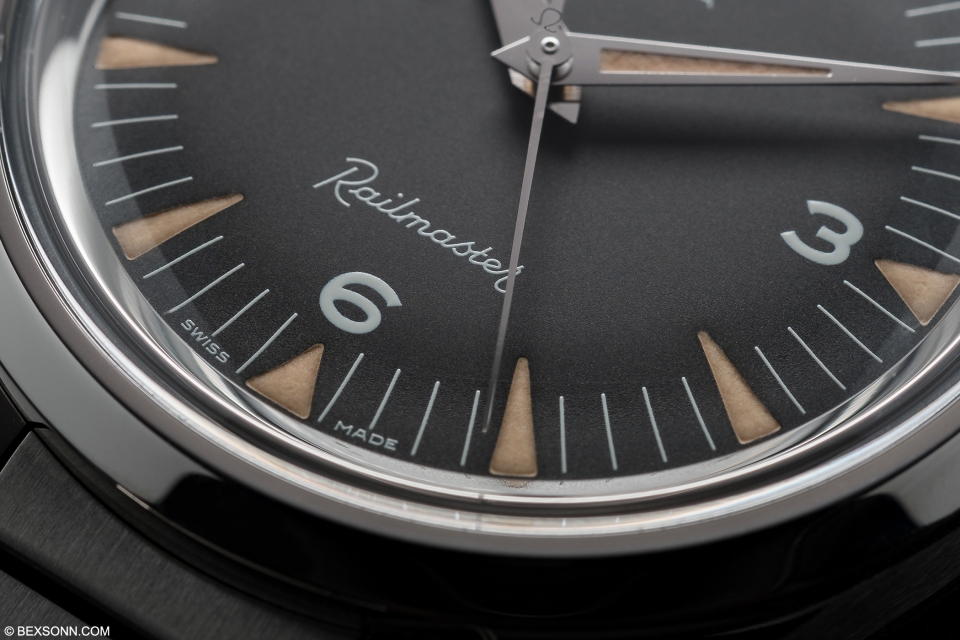 There is no doubt that here at BEXSONN.com we have an unwritten fondness of vintage watches. However, as you may also be aware, vintage watches do have quite a few draw backs these days. Not only have they become quite expensive but they are also quite fragile at times and this isn't perhaps the best of traits to have if you're quite the adventurer or get irked about the odd knock here and there – not to mention what damage can do to its ever increasing value. That said, over the past few years watch manufacturers have taken notice of the influx of new watch buyers, who not only prefer but appreciate vintage watches and have thus started to revive/re-issue these iconic sought-after designs. So, today we thought we'd take a look at five of our favourite revival/re-issued/re-editioned watches we've had the pleasure of looking at over the past few years.
---
THE OMEGA RAILMASTER
The Seamaster and Speedmaster are something of legends, even amongst those who aren't as watch savvy as some. They are well-known pieces but the Railmaster is perhaps the least known piece amongst the three: it is the forgotten Master. The Railmaster was a highly anti-magnetic watch, which is incredibly rare, even more so than its famous counterparts by rival watch brands (you know, that one from the brand who wears the crown…). Being the 60th anniversary since all three watches were produced, Omega saw it fit to honour this trilogy by introducing a limited edition of all three pieces back in 2017.
---
THE ZENITH X REVOLUTION CHRONOMASTER REVIVAL REF. A3818
The Zentih El Primero is quite simply one of the most important chronographs in watchmaking history. As we all know, chronographs have been around since the 19th century but it wasn't that long ago that automatic chronographs were introduced. It was only as recently as the 1960s that there was a push to invent an automatic chronograph and while Zenith can be considered the first, it wasn't quite that straight forward. While there is a debate on who was first, there's no doubt that Zenith were first to announce the El Primero, with three different references. The A386, the A385 and of course the model that is the basis for this revival, the A384.
---
THE OMEGA SPEEDMASTER "ED WHITE"
It doesn't happen often but every now and then a watch manufacturer absolutely knocks it out of the park with a new watch and it would appear, my dear readers, this is exactly what Omega have done. Remember last year, when we posted an article on the re-introduction of the revered 321 calibre that Omega will commence making again? We also posted an article on the watch to see this new movement was a precious metal Anniversary Speedmaster? Well, earlier this year Omega induced a re-edition of the Speedmaster "Ed White" and yes, it will be made in stainless steel.
---
THE BREITLING NAVITIMER 806 1956 RE-EDITION
As mentioned in some of our auction highlights, which have featured Breitling's, the company is now under new ownership and management, with ex-IWC CEO, Georges Kern at the helm. This is indeed a new era for Breitling and they've made no hesitations in being quick off the mark. During our Baselworld meeting last year, it was clear to see that the task that was facing them is identity. Something they needed to get to grips with sharpish was reducing the size of the current catalogue of watches. The best way? Introduce new pieces and discontinue out dated models – something which is currently ongoing. While some of their new releases have been greeted with much scepticism, this latest addition has been greeted with applause all round!
---
THE OMEGA SEAMASTER 300
1957, the year that saw Omega release three watches that would go on to become not just famous but household classics among the watch collecting fraternity. The Seamaster 300, Railmaster and of course Speedmaster. As you may already know, the Seamaster and Speedmaster are something of legends, even amongst those who aren't as watch savvy as some, with the Railmaster is perhaps the least known piece amongst the three. However, the 1st execution Seamaster 300 is perhaps more the coveted and hardest to find in original condition of the trilogy.
You might also like