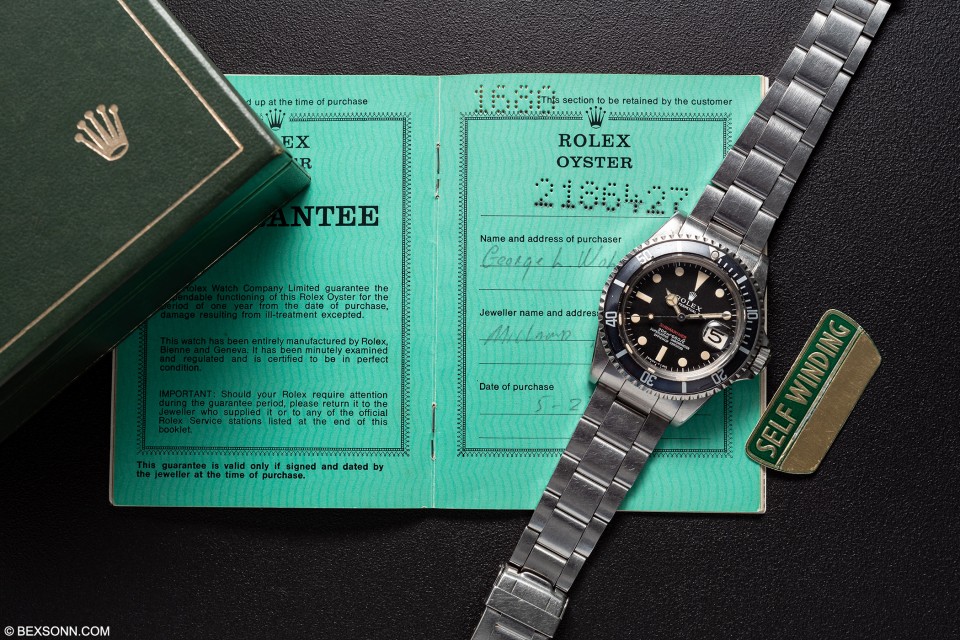 We are now just a little over half way through the year, which could only mean one thing: the summer Watches of Knightsbridge auction is upon us and they admittedly have some gems in the auction line-up. A couple of weeks ago we spent some time over at their new South Kensington office in the Michelin building, to get hands-on with some of the timepieces in the upcoming July auction. As per usual we decided to pick out some of our highlighted lots and share our thoughts on them. Last week we took a look at Sean's highlights, so naturally, this week we are going to take a look at mine.
---
HEUER AUTAVIA 3646
Lot 35: The very first Autavia is perhaps the purest of all Autavia's in my humble opinion. These early examples featured dials that just had so much detail. Its balance is pure genius, as is its symmetry. The oversized chronograph sub dials, referred to as "Big Subs" by collectors, is its true signature, which distinguish these first execution examples from all others. The dial features applied radium luminous block hour markers and Arabic numerals at 12 & 6 o'clock. Another noticeable trait of these early Autavia's is the intricacy of the outer minute track. However, the details that really makes this example standout is its red central chronograph seconds-hand and the thin lume applied to the hour and minute hands – a combination only seen on very early all steel hand first execution Autavia's.
These early Autavia's make use of the Valjoux movements, the 3646 made use of the Valjoux 92, signed Ed Heuer & Co. on its bridge. This movement is cased up in 39 millimetres of stainless steel, with bevelled lugs that boasts three separate surfaces – top, side and of course the chamfer in between these two angles. Furthermore, being a two register example, it only features a one-step case back that is embellished with the 'Autavia' model name above the Heuer shield, with an inscription on the outer edge that reads – Stainless Steel Chronograph – Waterproof – Guaranteed 330FT Under Water, a trait that can been seen on all Autavia's from the 60s. Another indication of very early Autavia's are the pushers, which appear to be just a tad smaller, with an hour rotating bezel, with a triangular Radium lume piece at 12 o'clock that has a coin edge finish, but interestingly enough, early Autavia's did not feature signed crowns.
Estimate: £18,000 – £22,000
---
OMEGA SPEEDMASTER
Lot 102: Vintage Omega Speedmasters have come into their own of late, with the straight-lug models of the CK2915, which is right at the top of the pyramid, the CK2998 (aka the Wally Shirra) and then the 105.003, also known as the 'Ed White' – which is perhaps more common than the first two mentioned but also more attainable. Then there's the twisted-lug examples with the most coveted pieces being the Alaska Project examples. That said, there is still a healthy appetite for the post-moon examples (reference 145.022), which have seen some interesting results at auction. And this particular example seems to have all the attributes that make it rather attractive.
Post-moon Speedmasters are not particularly rare, however, each example has to be looked at individually to uncover what unique qualities it possesses. That said, when such an example features a tropical dial, its appeal is somewhat captivating, and this particular lot features such attributes. The matte black dial has discoloured to a rich dark chocolate brown hue, which is nicely accented by the creamy tone of the hour markers. The DON bezel also exhibits signs of patination, which have turned it a grey-ish blue. Of course, inside is the cam-lever chronograph calibre 861, which marked a major turning point for the Speedmaster. It comes on an original 1039 flat-link bracelet with 516 end pieces that has a decent bit of length to it. This 1970 example also comes with its Omega Extract from the Archives, which states the watch was originally delivered to Spain.
Estimate: £4,500 – £5,500
---
ROLEX EXPLORER 1016
Lot 138: The Rolex Explorer 1016 has always been the Rolex sports watch that has somehow sailed under the radar, in comparison to the brands big hitters; such as the Submariner, GMT and Daytona. The no nonsense of the 3-6-9 dial perhaps lends to its more simplistic nature and by virtue probably makes it more underrated and underappreciated. That said, it is likely the reason why it remained hardly unchanged for nearly 30 years. As you'll likely know from my in-depth article on the 1016, I am a massive fan of the Explorer and while this ref. 1016 is nothing extra special it is accompanied by its original double punched papers.
This circa 1968 Rolex Explorer ref. 1016 has a matte black dial with applied luminous markers, 3-6-9 Arabic numerals and Mercedes hands. The lume on the dial has patinated to a warm cream hue. Inside this Explorer ref 1016 is the 26-jewelled automatic calibre 1570 movement, signed Montres Rolex S.A. The case is in good condition and on a later style Rolex Oyster bracelet but as mentioned, comes with its original double-punched papers – oh, and original box too.
Estimate: £11,000 – £13,000
---
ROLEX 'RED WRITING' SUBMARINER
Lot 158: The Rolex Red Submariner was produced from roughly 1969 to 1973. It is entirely possible that many of you reading this may well have seen a Submariner Date but this one has a small difference, making it highly covetable: it's the first Submariner with a date. Today it may not seem like such a big thing, considering that a large percentage of Submariner's you see on wrists feature a date aperture. The Rolex Cyclops actually started out years back in 1953 on the Datejust (some say it was the Turn-O-Graph), however, what you need to remember is that it didn't begin life on the Submariner Date.
Inside this reference 1680 Rolex Red Submariner beats the 26-jewel calibre 1570 movement. The reference 1680's 40mm stainless steel case offers wearers 200 meters of water resistance, which is more than adequate for the majority of real-world applications – however, these Submariners were considered a watch for the desk-divers. Due to their limited production numbers, Rolex Red Submariners are considered quite rare, and generally sell for significantly more than their equivalents with white text – but take an even closer look and you'll notice that this Red Submariner sports a very early metres first depth rating dial.
Additionally, their rarity has only increased over the years, as it was a standard practice for Rolex to replace damaged Red Submariner dials with white-text, service dials when watches were sent in for servicing. Moreover, this example is in excellent condition as well. Furthermore, it comes on a patent pending diving extension Oyster flip-lock clasp bracelet and if that wasn't enough it comes complete with its original box and hole-punched papers.
Estimate: £30,000 – £35,000
---
ROLEX SUBMARINER REF. 5513
Lot 164: There is no denying that the Submariner is the ultimate tool watch and we have highlighted quite a few here over the past few years. But there's nothing quite like showing our readers a humble and modest 5513, albeit, with a one particular sought-after detail that makes collecting Rolex timepieces so intriguing. As you've likely heard me say before, it's the little details and unique characteristics that make Rolex watches not only interesting but highly collectible. One of the first things to point out is the rather fatter than usual Rolex coronet on the dial. These dials are known as the "Bart Simpson" dials, simple because the cornet has an uncanny resemblance to the mischievous fictional character of the famous American cartoon "The Simpsons".
The most important aspect of any vintage watch is the condition of its dial and what kind of patination has taken place. Perhaps the most sought-after aged dials, are those that have morphed from a deep black to a warm tobacco brown, a process known as "tropical." This aging defect, as this is what it is, tends to happen in much warmer climates, hence the nickname given to this process. This Submariner 5513 features a black gloss dial with applied luminous markers, that has patinated to a nice warm tobacco-like brown hue. Inside is the 17-jewelled calibre 1520 movement signed Rolex SA and is marked ROW, a well-known short code that indicates the watch was imported to the USA. And if that wasn't enough, it also features a long 5, fat font 60-minute rotating bezel.
Estimate: £14,000 – £18,000
---
ROLEX GMT-MASTER
Lot 167: As the successor to the first GMT-Master reference 6542, reference 1675 was launched in 1960 using a metallic bezel insert that replaced the fragile Bakelite bezels used in the 6542 models. This example from circa 1961 features a glossy dial with gilt text and chapter-ring, with markers that have aged gracefully to a warm creamy tone. The dial reads "Superlative Chronometer Officially Certified" (COSC), though not as rare as those with OCC dials, it still displays charming qualities. Such as the striking tropical patinated dial that has discoloured, turning the dial to a warm inviting brown over time. Furthermore, it sports a small GMT hand – another feature of the early GMT production.
The "Pepsi" bezel has faded to an even, light shade of blue and red, and the case while not perfect displays signs of honest aging. This early GMT case features the coveted pointed crown guards known as "Cornino" – which makes it highly collectible in the world of vintage Rolex. It also features a 'Swiss" only dial, meaning the dial has radium as luminescent material. This GMT-Master comes on a Jubilee bracelet, while not period correct, does add to the overall look of this early Rolex travel companion for the jet set.
Estimate: £18,000 – £22,000
The Watches of Knightsbridge auction will take place on the 20th July 2019, make sure you visit the official website for this month's full catalogue.
You might also like