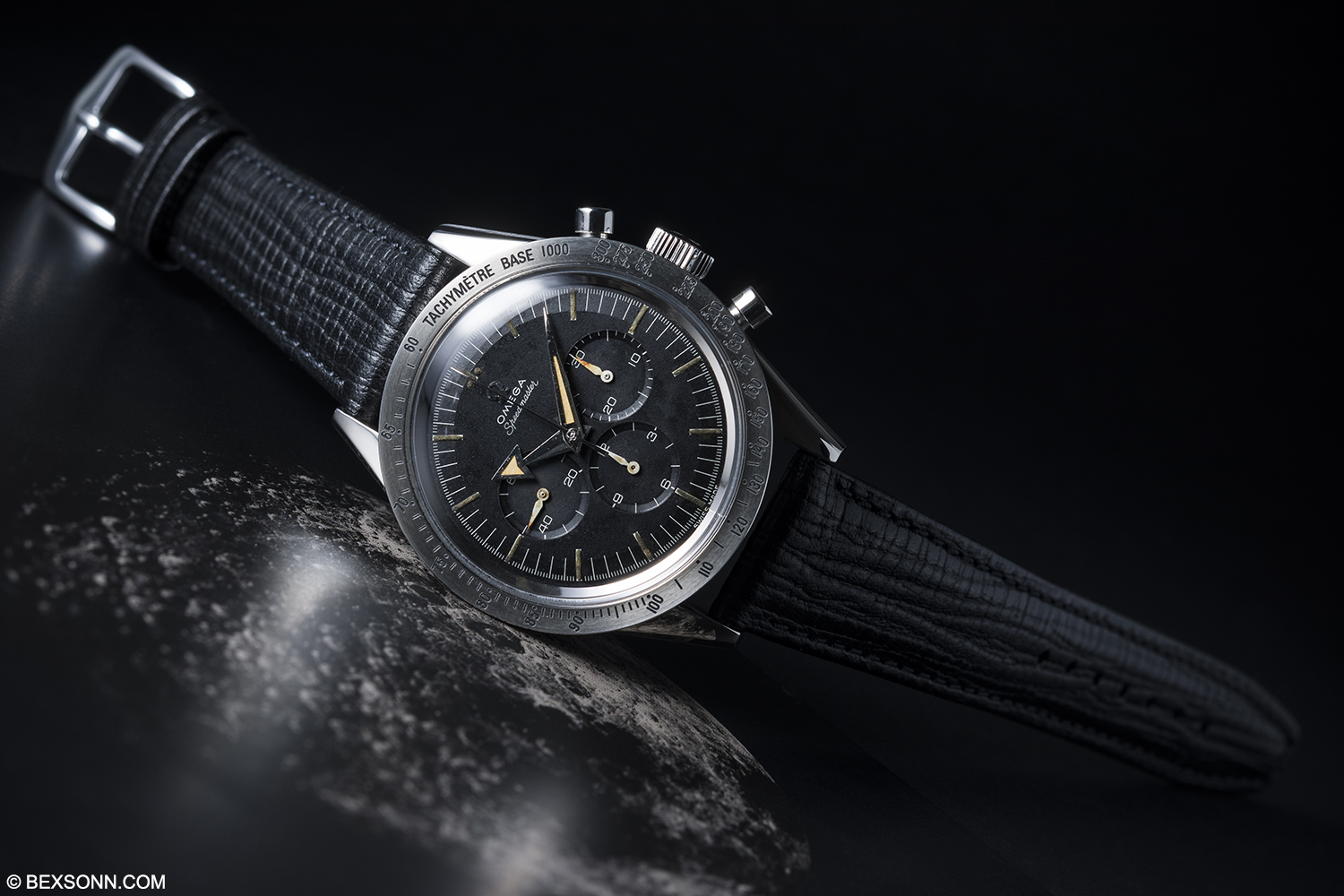 Watches of Knightsbridge March Auction: We recently spent some time over at 64 Knightsbridge to get up close with some of the timepieces in the upcoming March auction on the 21st. So we decided to round-up some of our highlights from the upcoming auction. These selected timepieces consisted of; a rare Navitimer Cosmonaute, a rather quirky Jaeger-LeCoultre Memovox, a first Speedmaster, a rare Omega Chronograph, a seriously cool Ranchero and an absolutely stunning Vacheron Constantin.
BREITLING NAVITIMER COSMONAUTE 809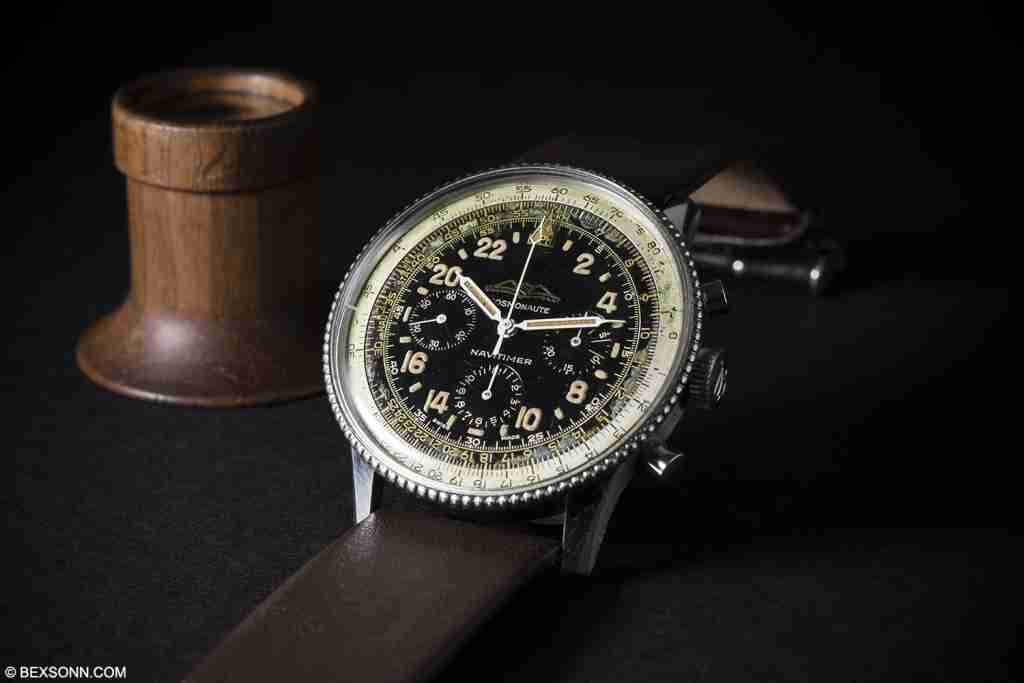 Lot 37: I'm a massive lover of the vintage Breitling Navitimers and we've looked at one here in-depth before. However, this is an AOPA Navitimer Cosmonaute that doesn't get as much attention as the base Navitimer 806 but yet it features the same layout and functions but with the added bonus of a 24-hour time indicator. Arguably, the Cosmonaute's finest hour was in 1962 when it accompanied Scott Carpenter on the Aurora 7 spaceflight mission, while it didn't have the impact on the world in the same way as the Speedmaster, I think its suffice to say that the Cosmonaute is still loved by collectors and aficionados alike.
This 1950s AOPA Navitimer Cosmonaute 809 features a nicely aged dial with applied luminous 24-hour Arabic numerals & markers, applied AOPA logo and syringe hands. Triple sub dial registers recording hour, minutes and continuous seconds, with central chronograph seconds and of course an inner rotating slide rule. Inside is the 17 jeweled manual-wind movement Venus caliber 178, which is signed Breitling Watch Ltd. The beaded bezel is in great condition as is the case, which measures 42mm. This rare AOPA Breitling Navitimer Cosmonaute 809 is up for auction at an estimated price of £4,200 – £4,800.
JAEGER-LECOULTRE MEMOVOX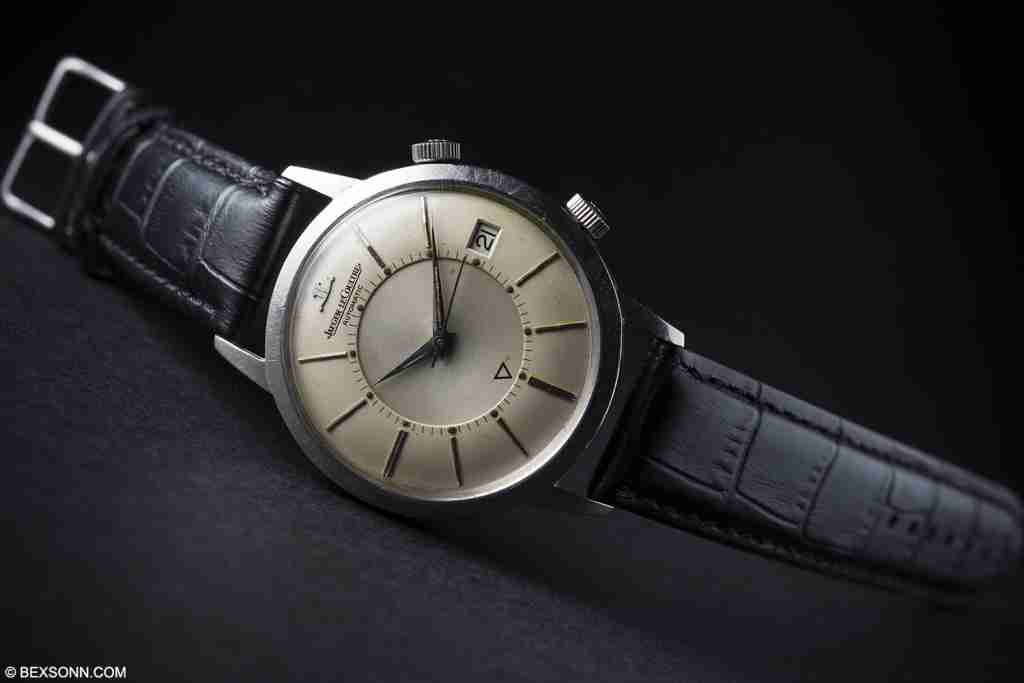 Lot 189: The Memovox, is in my opinion one of Jaeger's most understated vintage timepieces. It's a simple piece but it features probably one of the most seldom seen complications in watches today: an alarm. While most of us are more use to using smartphones to wake us up in the morning, there are still those purists that employ the use of a mechanical watch. Jaeger-LeCoultre first introduced the Memovox in the early 1950s and by the 1960s it had seen some much-needed improvements, which this particular piece has benefited from. I've always found mechanical wristwatch alarms rather quirky and endearing and the JLC Memovox is just that but it is also quite affordable too.
This 1960s JLC Memovox features a silver dial with applied silver batons, an inner rotating dial with an arrow-head pointer to set the alarm and because it uses the Jaeger-LeCoultre manufacture calibre 825 automatic "bumper" movement, it also features a date aperture at 3 o'clock. The case measures a classic 37mm and this one comes on a black leather strap. The dial has aged nicely and displays some warm, creamy patina. This Jaeger-LeCoultre Memovox is up for auction at an estimated price of £1,400 – £1,800.
OMEGA SPEEDMASTER CK2915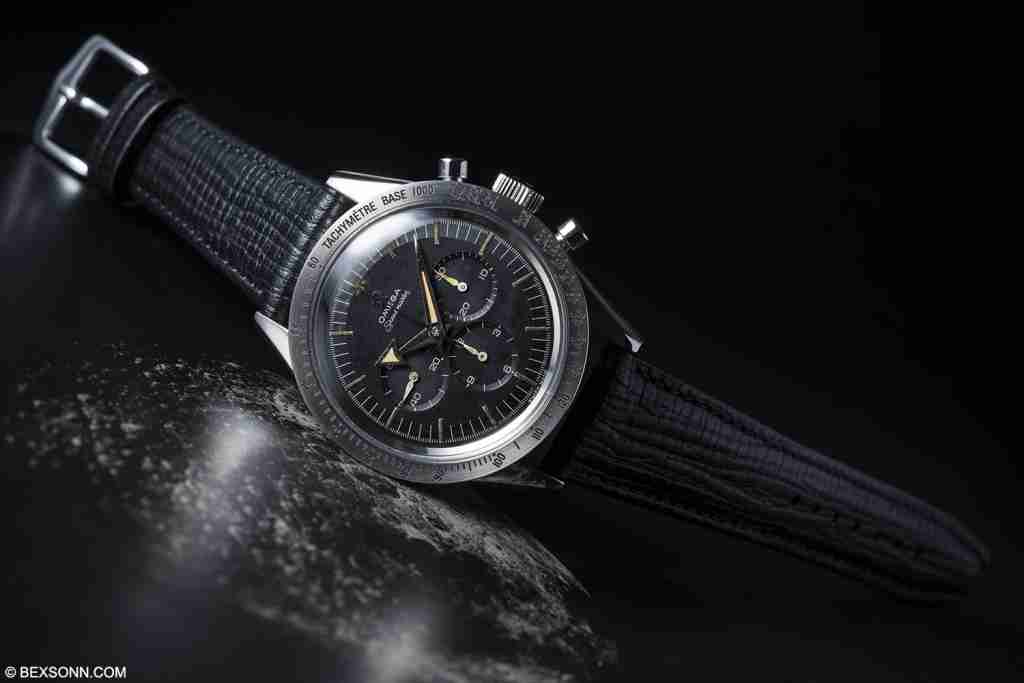 Lot 266: You may well know by now we like Speedmasters here and we've looked at Speedmasters from Watches of Knightsbridge auctions before but this one is one of the first. While many stories have been told of the Speedmaster Moonwatch, not many are told of its predecessor, the CK2915 first shown to the world in 1957. Designed by Claude Balilod, the was meant to be a chronograph wristwatch for the track though as history would have it, it would become an icon for something completely different. The CK2915 never entered space but these first Speedmasters are just so downright cool! Did you know that the Speedmaster CK2915 was the first wristwatch with a tachymeter scale on the bezel outside the dial? Well, you do now.
This 1957 Speedmaster ref CK2915-3 has been serviced by Omega and though it has had a new crown, bezel and of course plexi-glass, most importantly the dial is untouched. The aged black dial features luminous markers, triple register recording hours, minutes and continuous seconds. It also boasts steel broad arrow hands and dagger register hands. Beating away in side is the famous calibre 321. Though the 40mm case has been polished by Omega, it has been done ever so lightly. This rare Omega Speedmaster is up for auction at an estimated price of £12,000 – £16,000.
OMEGA 33.3 CHRONOGRAPH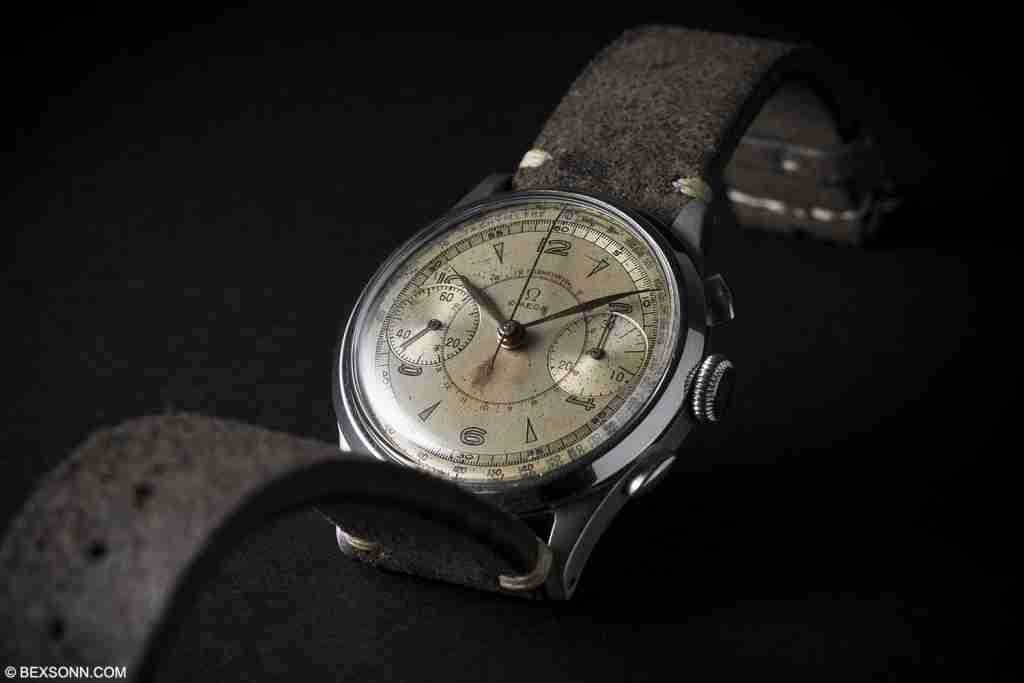 Lot 303: Another Omega that caught our eye was this 1940s beauty. While we tend to digress on the Speedmaster and its important role, Omega were of course making chronographs way before this period, one of them being the 33.3 which uses a Lemania-based CHRO T1 movement. I've always found these none Speedmaster Omega chronographs rather charming.
This Omega 33.3 Chronograph features a silver dial that has turned golden creamy, with bi-hourly applied markers and Arabic numerals. A blue outer tachymeter scale and an inner telemeter scale. Twin sub dial register recording minutes and continuous seconds. As mentioned above inside is the calibre 33.3 CHRO T1 that is signed Omega 7 Co. The case measures a rather large for the time 38mm and features olive shaped pushers. The dial is complimented with a brown suede strap. This Omega 33.3 Chronograph is up for auction at an estimated price of £3,000 – £4,000
OMEGA RANCHERO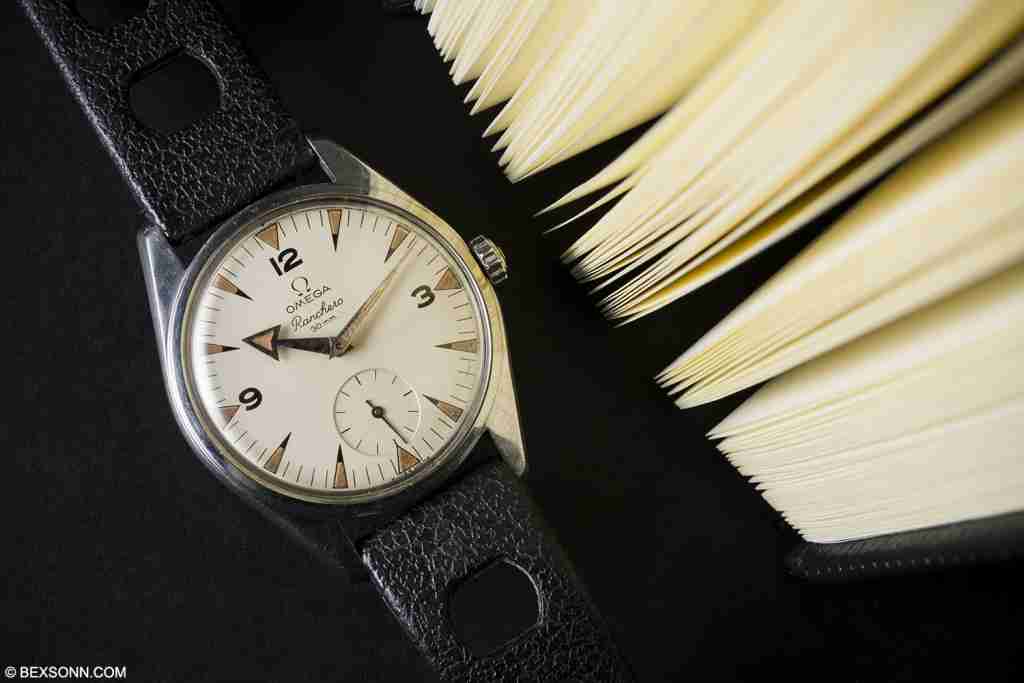 Lot 304: Another Omega that we found impossibly cool was this Ranchero. The Ranchero when launched back in 1958 as the little brother of the Railmaster, was only sold for a short period of time, 1959 to be more precise – though it was relaunched in 1976 for the Belgian market only but it eventually became one of the Lost Lines.  For Omega, the Ranchero wasn't one of their very many success stories, the watch encountered resistance in Spanish-speaking countries from potential customers who were put off by its name that means "ranch hand" in Spanish, hence the short production period. But what the Ranchero does possess is the very cool "Broad Arrow" hands similar to the Seamaster 300 and Speedmaster as seen above and a sub seconds dial at 6 o'clock. Add these little details up and the fact that it had such a short production period and you've got one incredibly desirable vintage timepiece that has now become rare and a true collector's timepiece.
This 1959 Omega Ranchero ref. 2990-1 features a white dial that has a nice creamy patina, with applied luminous markers, black Arabic numerals at 3, 9 and 12 o'clock and a subsidiary seconds at 6 o'clock. As mentioned it features "Broad Arrow" hands and more importantly has its original signed Omega Ranchero crown. Ticking away inside is the manual-wind Omega calibre 267. The water-resistant case measures 36mm and comes on a black rubber strap. This Omega Ranchero is up for auction at an estimated price of £1,800 – £2,200.
VACHERON CONSTANTIN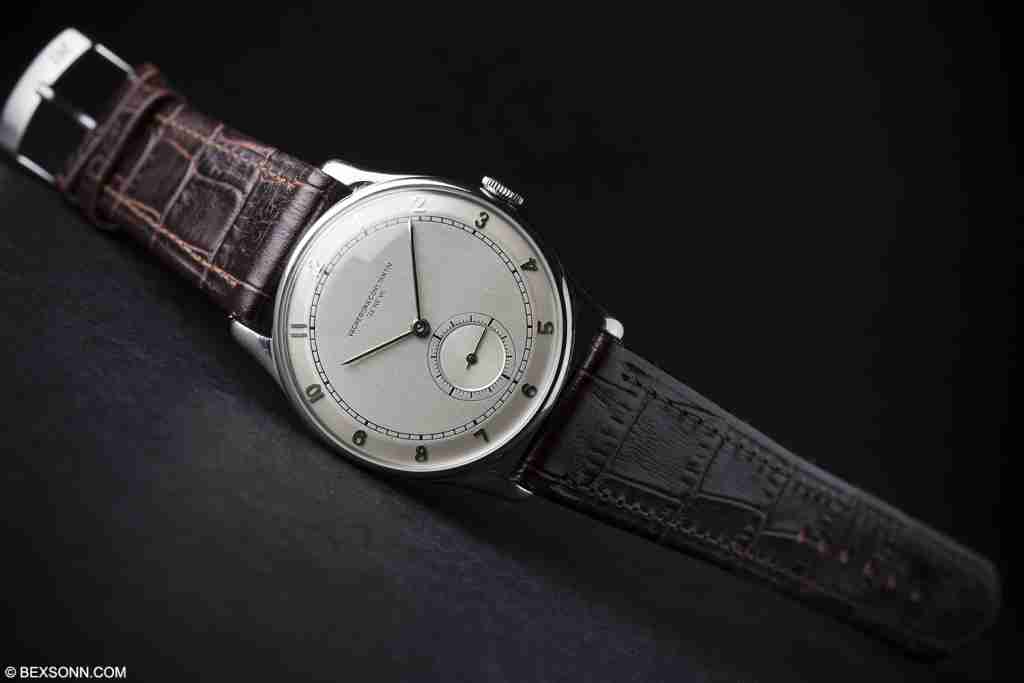 Lot 473: Last but certainly not least is this Vacheron Constantin. Why have I highlighted this piece? Well, one reason and one reason only, it's made from rare metal and I'm not talking about white gold or platinum but stainless steel. Any Vacheron Collector will tell you that finding a time only VC in stainless steel is an extremely rare thing and this my dear readers is just that.You may have heard me wax lyrical about just how rare finding pieces made by the likes of AP, Patek or Vacheron in the 1950s are. That is because when it came to these haute horlogerie brands producing dress watches during these years they always tended to use gold or to an extent platinum because steel was considered inferior. But when any of these 3 watch brands decide to make a watch in stainless steel, not many are made making them seriously rare. Though there is one caveat with this particular timepiece and while this may not deter some buyers, for me this is something that I would have to seriously think about. Looking at it closely, it would appear it has a re-finished dial but you also have to consider how often does stainless steel Vacheron like this come along?
This 1950s Vacheron Constantin ref. 274140 features a silver domed dial, with raised Arabic numerals, an applied inner rail road track minute scale, lance-style hour and minutes hands and a subsidiary seconds' dial at 6 o'clock. Inside is the manual wound calibre 453, signed Vacheron Constantin. The case measures 35mm in diameter, which was considered large during that period of time and it comes on a brown leather strap. This Vacheron Constantin is up for auction at an estimated price of £2,500 – £3,500
The Watches of Knightsbridge auction will take place on the 21st March 2015, make sure you visit the official website for this month's full catalogue.