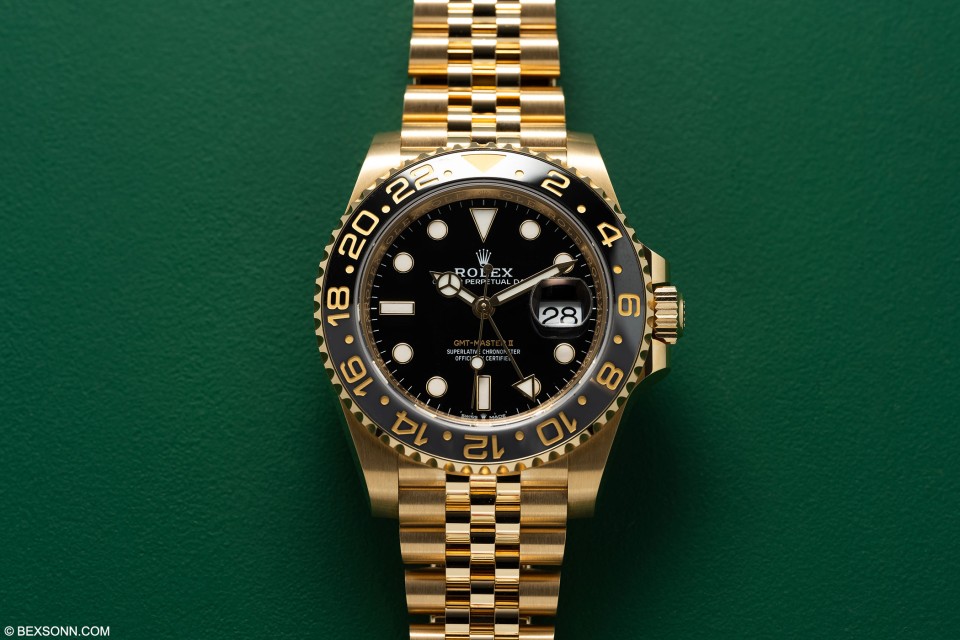 With the advent of smartphones, there is certainly argument that watches, especially mechanical ones, are simply obsolete and of no real use to everyday life. I have always maintained that there is one complication that remains relevant and useful – the GMT or dual time zone watches.
You see, with a wristwatch that displays two time zones, it is much faster to read than if one were to pull out your phone. Just a flick of the wrist and a glance, and you can immediately tell what time it is at home while travelling, whereas with phones, you always have to pull out your phone, unlock it and click around before arriving at the international time section. This is exactly why, ladies and gentlemen, I believe that the GMT-Master by Rolex is one of the best watches still made today.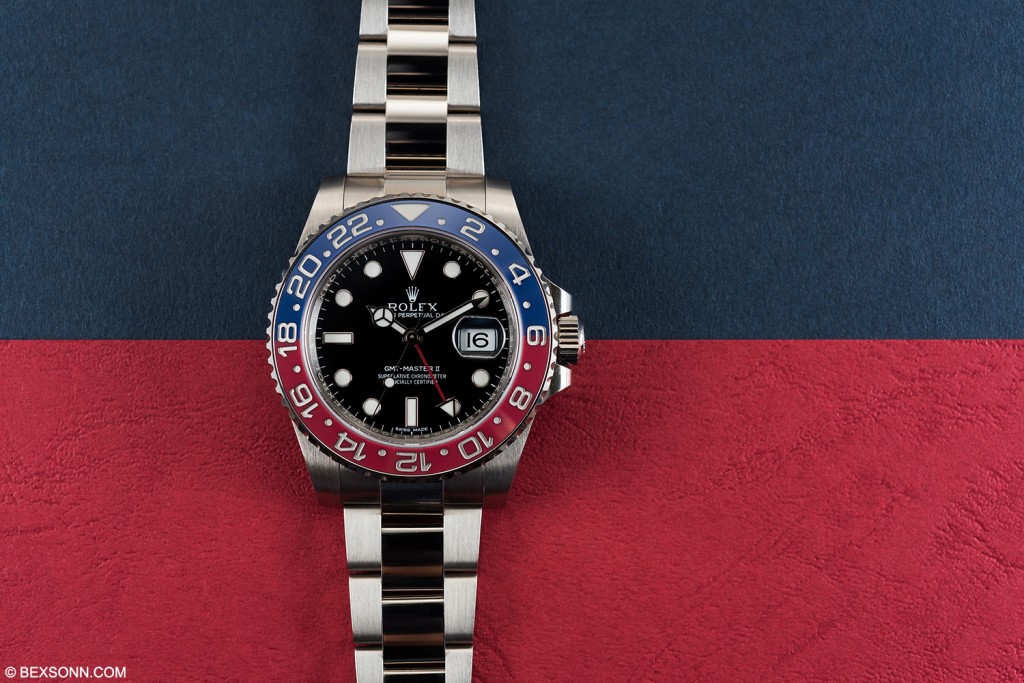 In 2018, Rolex did a major revamp to their GMT line with three new introductions. Of course, as everyone knows by now, the one that stole the limelight, was the stainless steel GMT-Master that finally came with a 'Pepsi' Cerachrom bezel. On the other side of the spectrum, there is the absolutely hard core full yellow-gold model and right in the middle is steel & yellow-gold GMT – both of which we shall look at today. A polarising model: the bi-metal GMT has always been a love hate thing but with this new bi-metal and full gold GMT-Master, Rolex are catering to those who sit either side of the fence.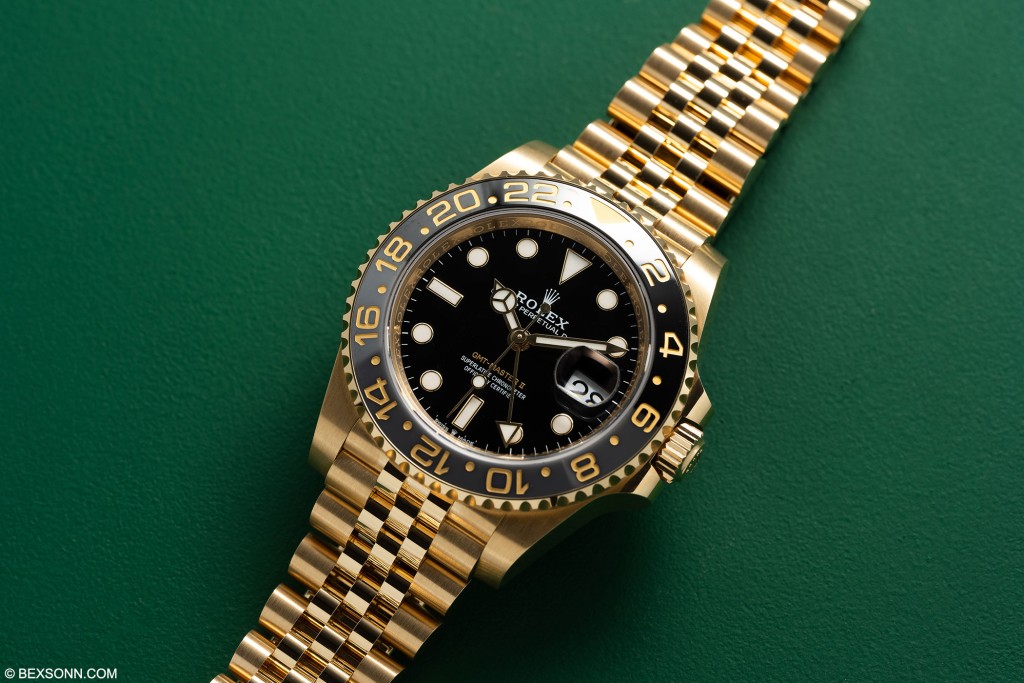 The GMT Master line has seen a few iterations of its two-tone Cerachrom bezel, with the blue and black 'Batman' being the first release several years ago. Shortly after that, Rolex finally released the blue and red "Pepsi" version, but to many people's disappointment, it was housed in a white gold case rather than everyone's desired stainless steel – but Rolex soon sorted that minor problem out. Then there was a third iteration of the two-tone Cerachrom bezel that was released, in black and brown – also known as the "Rootbeer". And let's not forget Rolex' foray into a left-handed GMT, which sports a black and green bezel (Sprite) – perhaps my favourite. That said, this new two-tone bezel is somewhat a tad more discreet.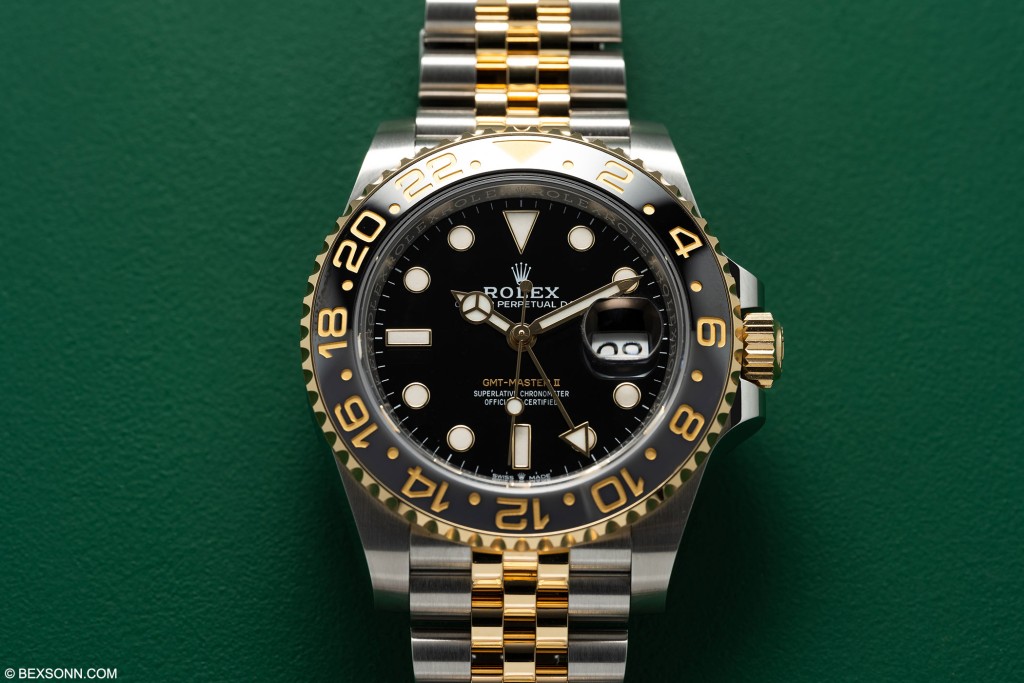 This new bi-metal and solid gold GMT-Master II sports a two-tone bezel that is entirely new to GMT model. It perhaps is a little hard to see at first, and I must add that at first glance I thought it was a full black bezel, but upon closer inspection noticed it was black and grey. This new black and grey combination is absolutely stunning in person, creating a nice backdrop for the gold GMT scale. Depending on the light source the contrast between the two colours varies quite a bit. However, that subtle colour tone difference perhaps lends itself to the all-black bezel seen on the 80s bi-metal and all gold versions. Both models feature a 40mm case made from steel and 18ct yellow-gold respectively, with the bi-metal version sporting a gold crown and bezel.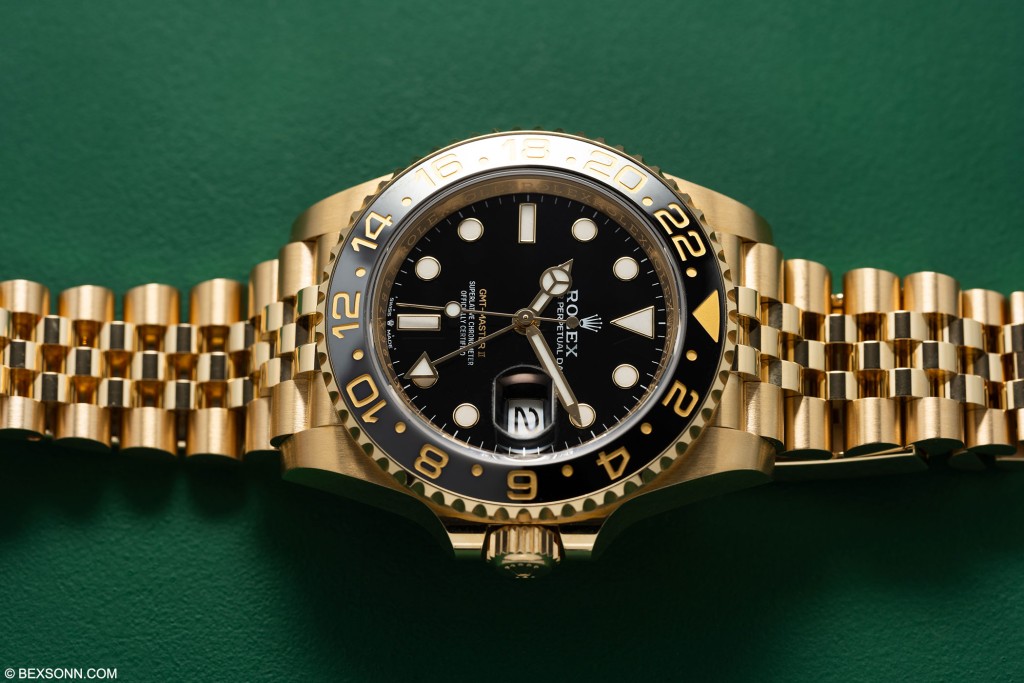 Housed in Rolex's classic 40mm case, while the original 80s and 90s GMTs came with an option of an Oyster or Jubilee bracelet, both of these new models are only available with a Jubilee bracelet – which in my humble opinion isn't a bad thing, as I've always felt the GMT-Master just seems to go so well with this bracelet type. The bi-metal bracelet features polished gold centre links and has brushed stainless steel for the outer links, completing the two-tone look, with the all gold model featuring the same finish. It has Rolex's Easylink function which ingeniously allows for up to 5mm of easy adjustment on the bracelet and all in all is insanely well made.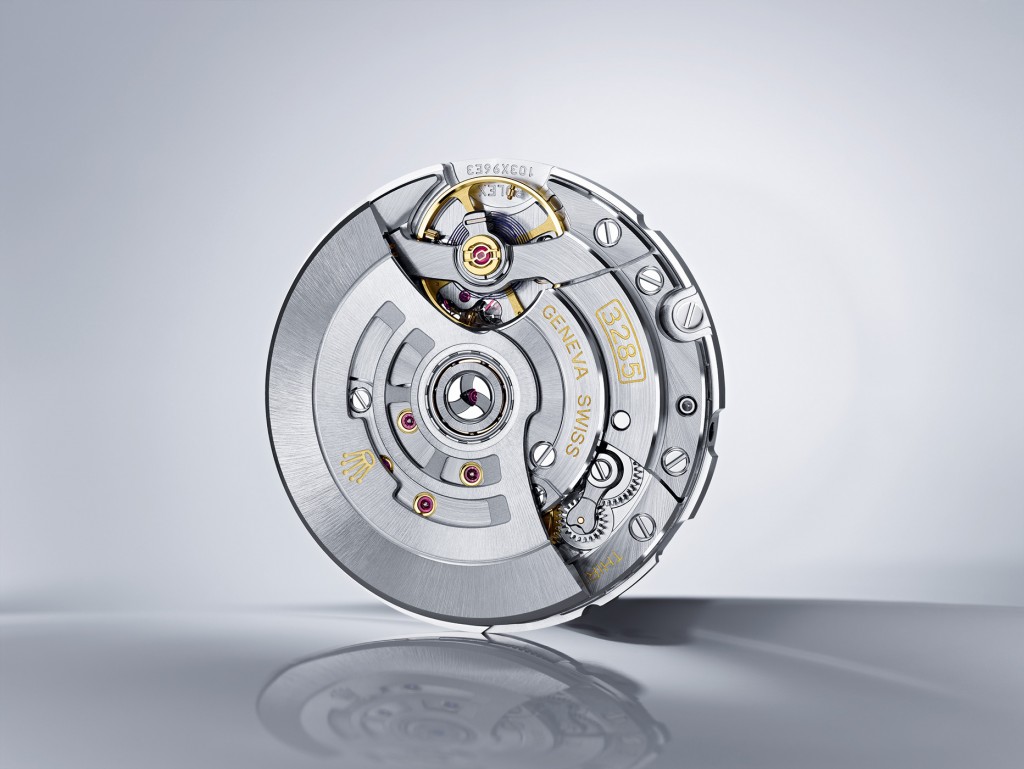 Inside these GMT-Master II bi-metal and gold models, Rolex have deployed the in-house developed and manufactured 3285 calibre movement. This new-generation movement, manufactured by Rolex, has no less than 10 patent applications filed over the course of its development, this self-winding mechanical movement demonstrates Rolex strive for perfection. The calibre 3285 offers fundamental gains in terms of precision, power reserve, resistance to shocks and magnetic fields, as well as convenience and reliability. It incorporates the Chronergy escapement patented by Rolex, which combines high energy efficiency with great dependability. Made of nickel-phosphorus, this escapement is also insensitive to magnetic interference. Thanks to its new barrel architecture and its super-efficient escapement, the power reserve of calibre 3285 extends to approximately 70 hours. All in all, it comes in line with the manufactures 'Superlative Chronometer' standard, with a deviation of +/- 2 seconds per day.
---
FLEETING THOUGHTS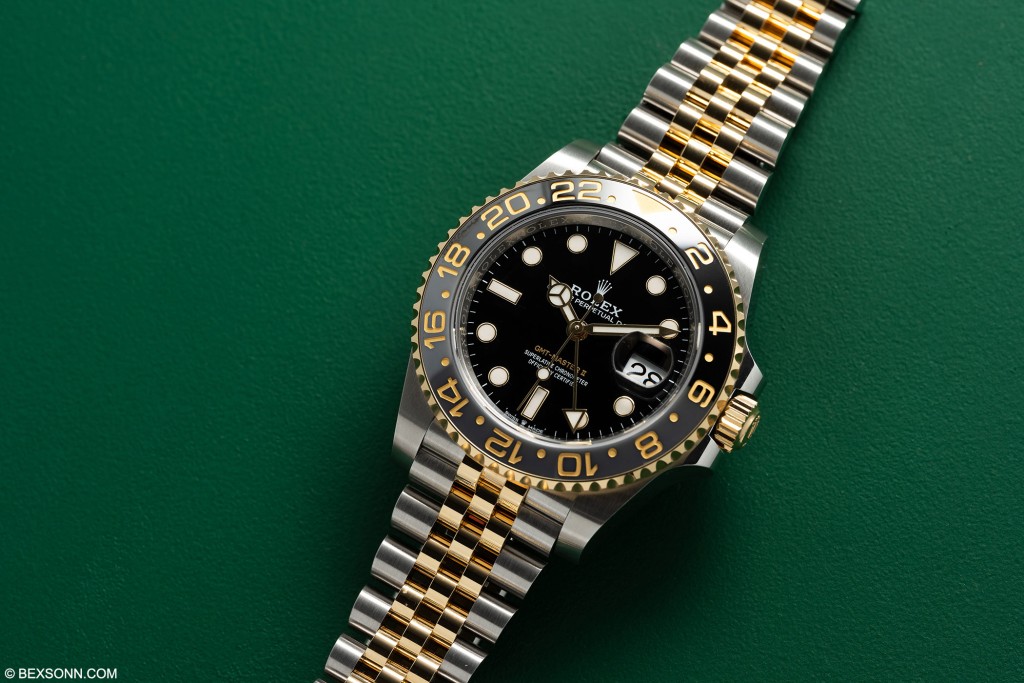 I have never been one for two-tone, and if given the choice I probably would still go for the full gold model but this new release by Rolex has certainly loosened my aversion for bi-metal watches. Whereas two-tone pieces tend to be quite loud, with the blue bezel two-tone Submariner as an example, this new yellow gold and steel GMT is much more understated, and its design language overall is more harmonious with the tones of grey and black working well with the gold. Overall, I take my hat off to all the GMTs released this year, but while the steel and full gold version were expected successes, they are still very pleasant surprises.
The Rolex GMT-Master II Ref.126713GRNR (Bi-Metal) & 126718GRNR (Gold) has a list price of approximately £13,850 & £32,700 respectively including VAT. For more information, visit rolex.com.
You might also like