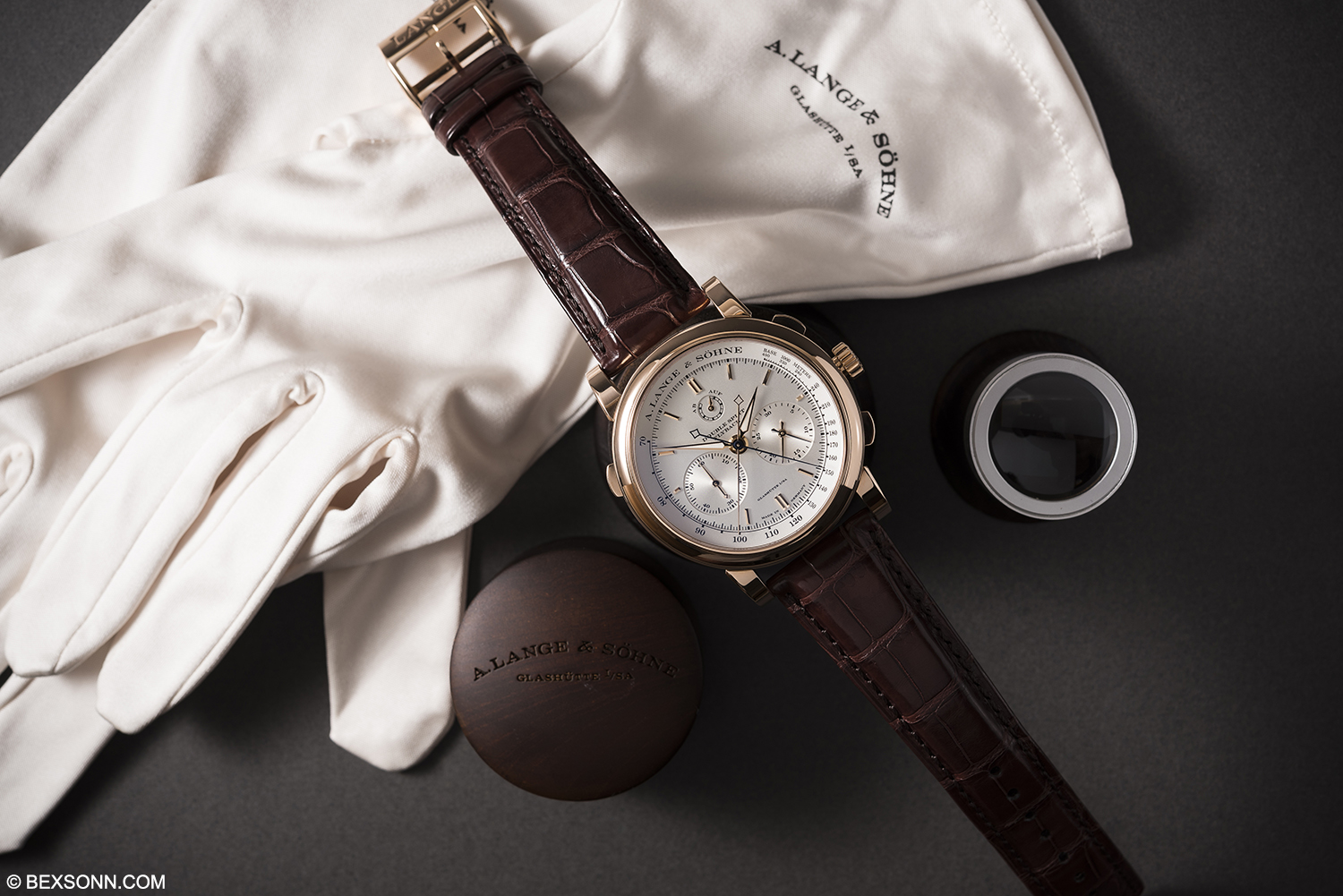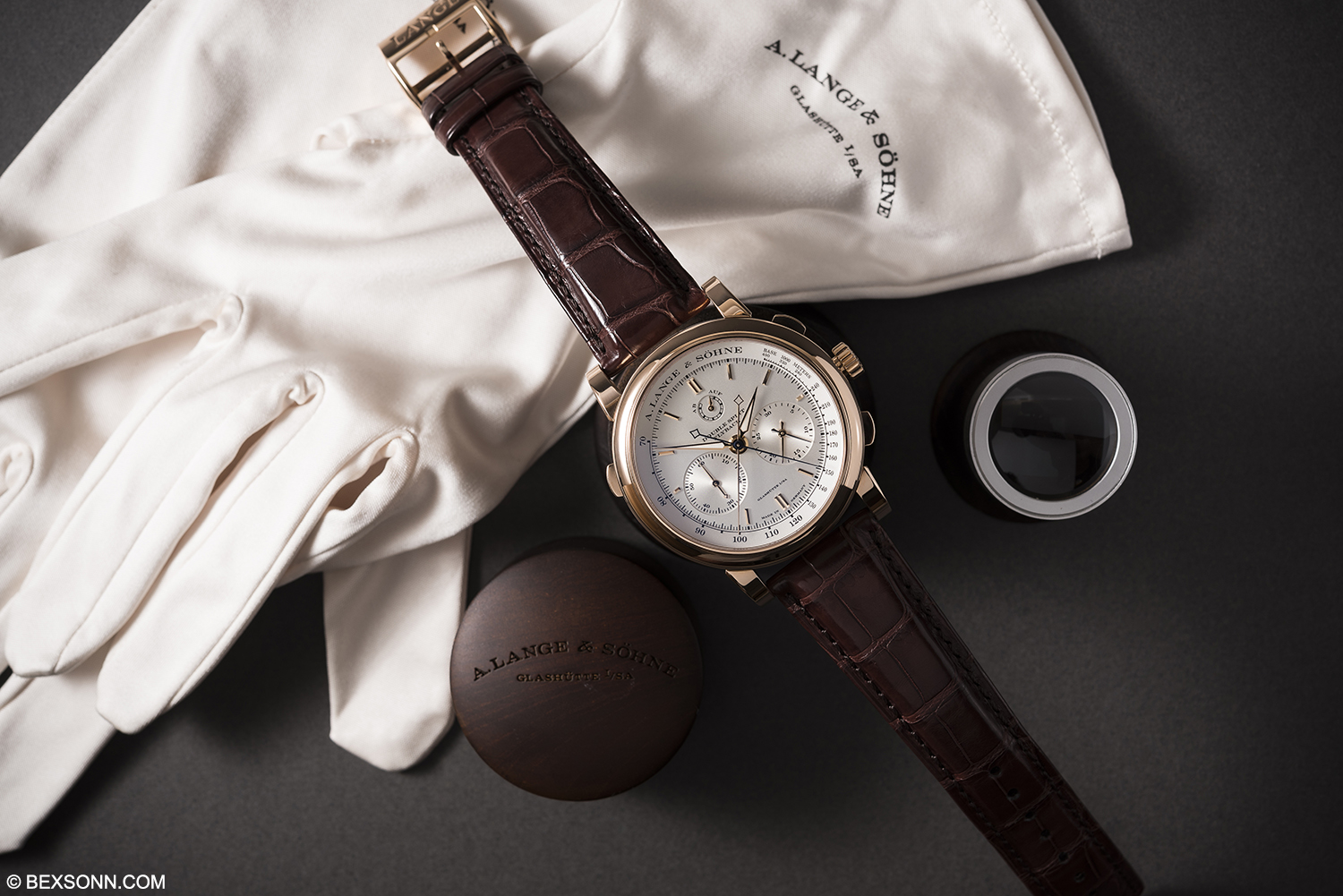 Lange Double Split Flyback Chronograph: A few months ago, the guys over at Lange were generous enough to loan us (me) this glorious timepiece for a few weeks and it was an experience that I'm sure will not be forgotten anytime soon. Surely you all know by now the love and appreciation I have for chronographs and even more so, traditional column chronographs and just how useful I find them on a daily basis. Of course this is no ordinary chronograph, as you know by now it is a Double Split Flyback chronograph but just what does this mean? I've always wondered about the development of chronographs and the ground breaking moments in its past.
THE CHRONOGRAPH
There are many forms of chronographs in the sometimes-overwhelming world of horology. The Chronograph has been around for many centuries, so I'll not go into the minutiae of who created the chronograph complication or how many forms existed centuries ago.
1927 Patek Philippe Mono-Pusher Chronograph Ref. 130
Looking at modern-day and vintage chronographs, you of course have the mono-pusher or single-button, which you can probably guess from the name features just one push piece to activate, stop and reset the timepiece. Though there are two variations of this kind of chronograph. You have one that notably displays the push piece, which is usually located at the 2 o'clock position but you also have the other; where the push piece is integrated into the crown. This allows the wearer to perform the basic function of, start, stop and reset – in that order only.
You see, the true use of a chronograph complication is to measure something but what that thing is, is predominately seen outside the minute track or on the bezel – this has always been referred to as a scale and of course there are a few different types. You have a pulsations scale, which is also referred to as a doctor's watch; this is used to read the pulse rate of a patient. You also have the telemeter scale that is used for measuring the speed of sound in the air, i.e. the distance between the observer of a particular situation and that situation observable both visually and audibly. Then there is the tachymeter, which is generally the most common scale seen, which is used for calculating speed over said distance, i.e. a car. One you are less likely to see is the decimal scale, which is used to basically measure industrial timing, statistical analysis and for calculating average cost prices with the use of decimal division.
1946 Audemars Piguet Chronograph
Moving away from the scale and back to the different types of chronographs. The most common chronograph complication layout is the two-push piece chronograph that was first seen on a Breitling in 1934. This features the same functions as the mono-pusher but with a second push piece that is usually located at 4 o'clock. This allows the wearer to reset the chronograph but more importantly allows you to use the start push piece to continue where you left off, without going through the motion of having to reset the chronograph.
Longines Flyback Chronograph 6474-7
Adding to this standard chronograph function is the flyback mechanism, which is activated by actuating the stop push piece that inherently allows you to reset the chronograph without stopping it first. This function was mainly used to measure time consecutively without the need of having to stop the chronograph before use again. Pilots mainly used timepieces like these, as it saved time and was much easier to operate to instantly restart the chronograph via one push, instead of three.
Patek Philippe Rattrapante Calibre CHR 27-525 PS
The rattrapante chronograph, or for those of you who do not speak French, split-seconds has always been something rather extraordinary. Believe it or not the so-called double chronograph has been around since the 19th century but has always been one of the most expensive and convoluted complications to produce and don't get me wrong this still hasn't changed, though there are those that are just a little bit more affordable today. The most useful purpose of this chronograph complication is to be able to compare just that, a split-second timing of say a lap or something along those lines but what happens when you want to double that up? This is where a need for a timepiece that cannot only measure split-seconds but also split-minutes comes in. Until recently not many brands could boast of having achieved this feat in watchmaking.
THE DOUBLE SPLIT FLYBACK CHRONOGRAPH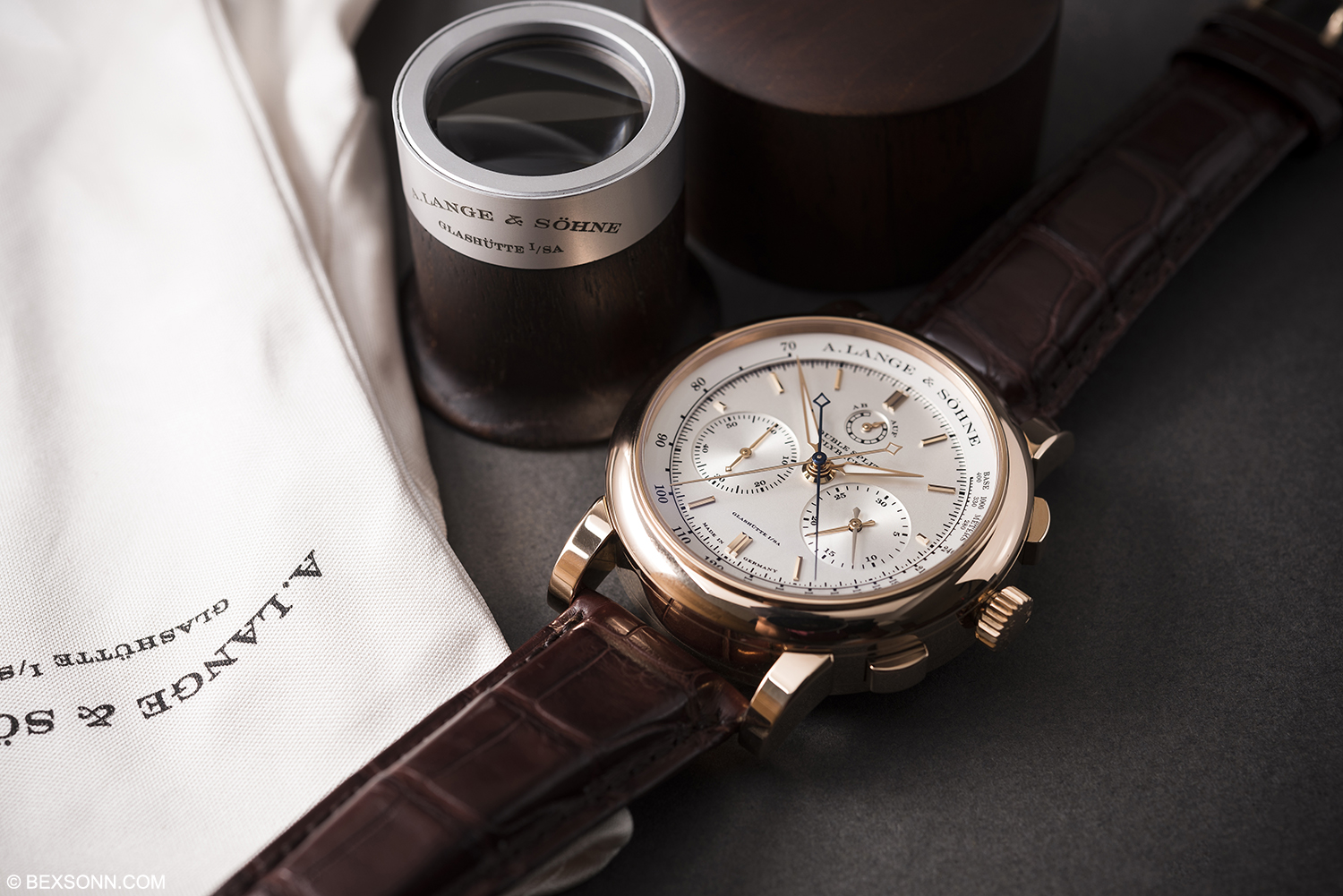 Ask any seasoned watch collector, what kind of timepieces they love to collect and undoubtedly the answer will be chronographs – there is just something that is so alluring about them. But ask that seasoned collector, what is their grail chronograph and while they will pick timepieces from the likes of Patek Philippe, more than likely you'll also hear them utter the words A. Lange und Söhne. Lange are well-known for making arguably the world's most beautiful chronograph timepiece ever. The Datograph – even in conversation with one of the world's foremost master watchmakers, Philippe Dufour, he admittedly cannot hide his admiration for the Datograph. While we are not looking at a Datograph, you must remember that it is the blueprint for this Double Split Flyback chronograph that in its own right is a timepiece just as special.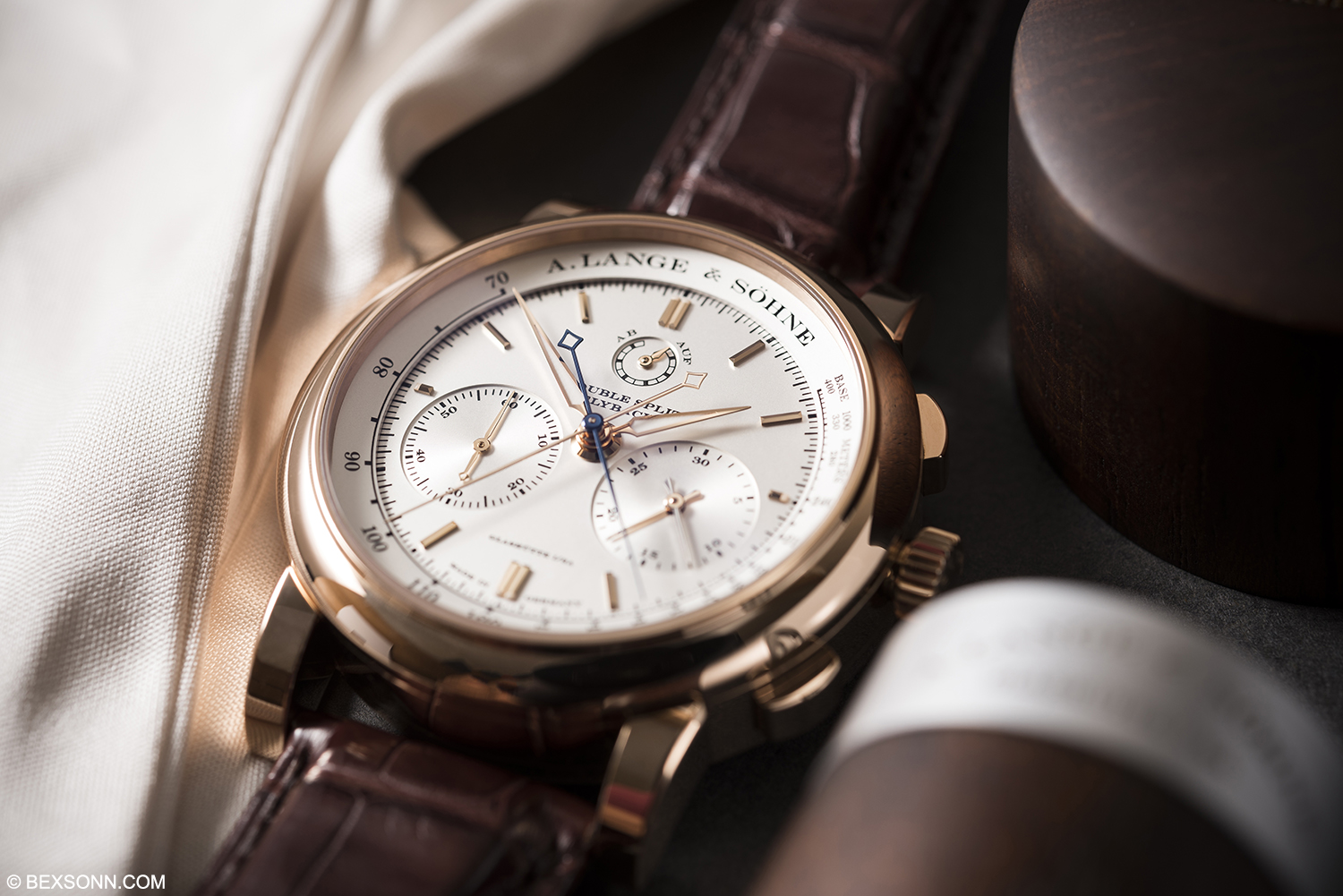 The DS Flyback was first introduced back in 2004 and actually featured a black dial with white subsidiary dials, often called panda dials but this was indeed a new era in chronography. It was as Lange put it themselves a "watch in the watch". The rattrapante itself is an intricate complication of sweep-seconds hands in a chronograph, which has always been a fabulous horological accomplishment for short-time measurements. A chronograph has always been admired as a milestone in precision engineering but it does have its limits. Unfortunately, the possibility of taking a lap-time reading with the rattrapante sweep-seconds hand during an ongoing measurement was restricted to the 60-second scale and thus to laps of less than one minute.
However, Lange overcame this when they introduced the Double Split Flyback. The principle of the rattrapante sweep-seconds hand has been extended to the jumping minute counter. This meant that for the first time, comparative lap measurements of up to 30 minutes – in Formula 1 races, to name but one example – were now possible in a classic, purely mechanical wristwatch.
THE MOVEMENT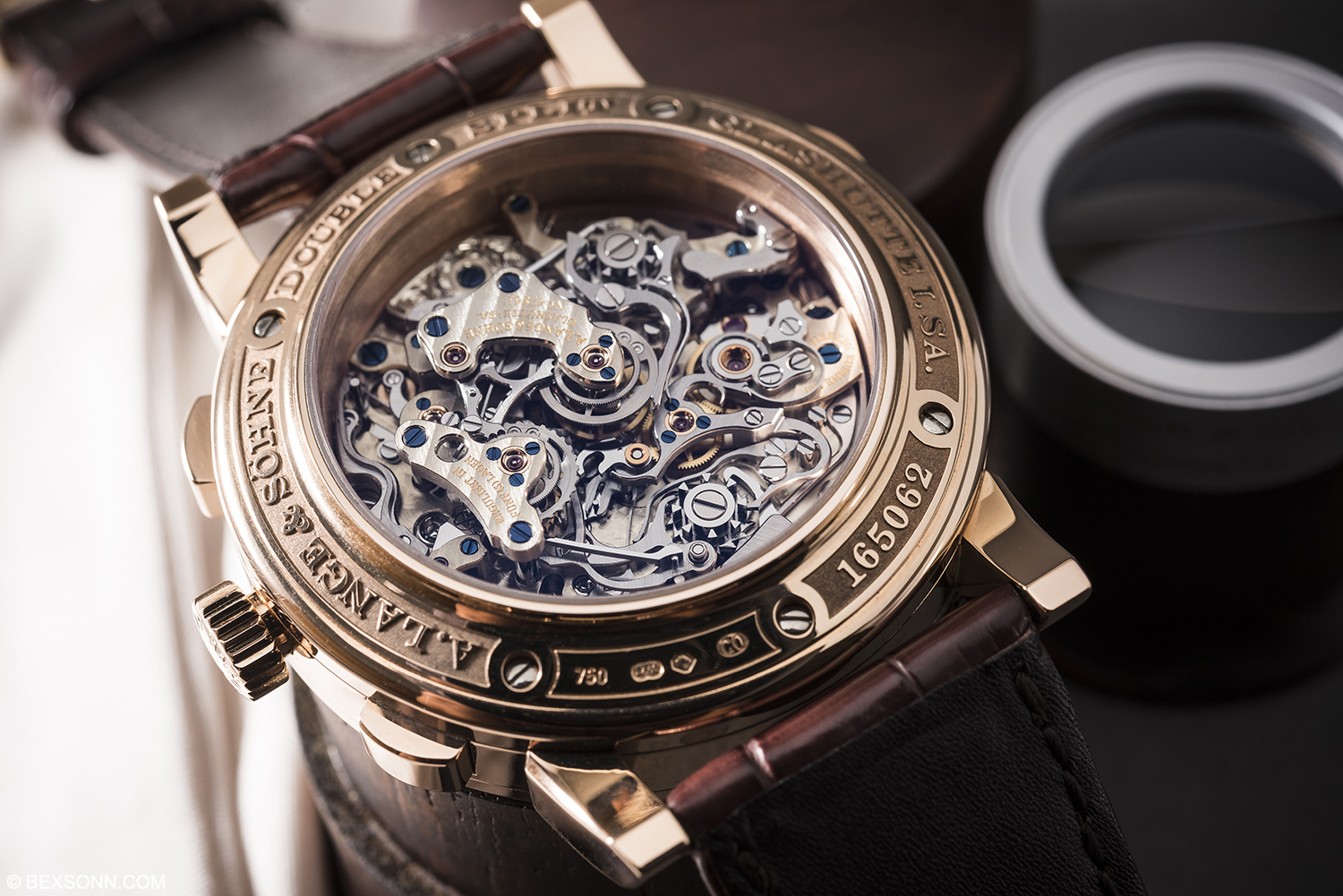 I'm going to start at the movement here because, for me, this is one of the most important aspect of the Double Split Flyback. Turning a Lange chronograph over to view the movement is always a feast for the eyes and the DS is no different. The most astounding thing about this self-wound calibre L001.1 movement has to be its depth. It is a 3D mechanical architectural work of art. Crafted to the highest Lange quality standards, decorated and assembled by hand the L001.1 is a sight to behold.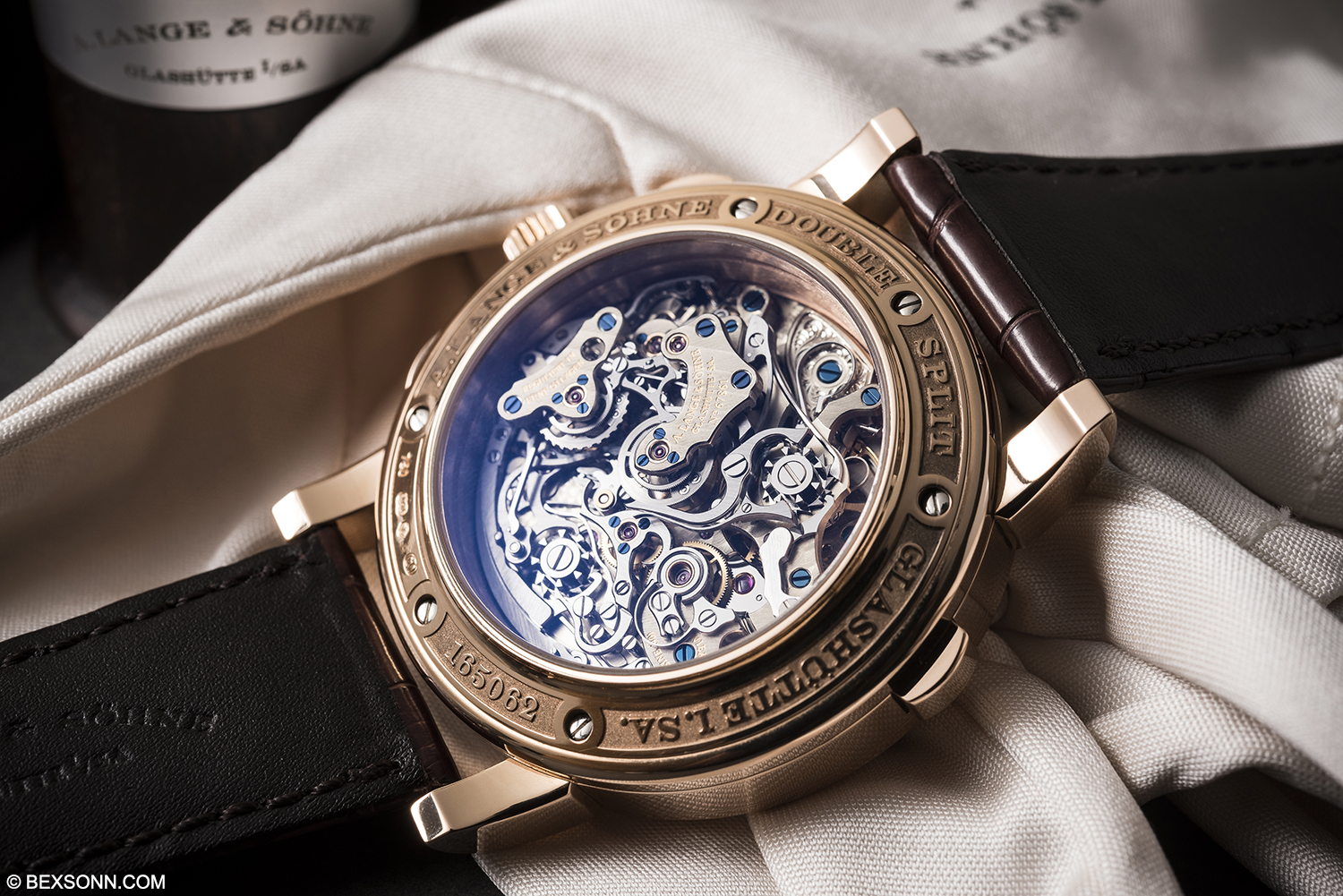 Made up of some 465 components it features a Lever escapement, Shock-proofed Glucydur balance with eccentric poising weights; proprietary balance spring with patented attachment design (balance spring clamp); frequency 21,600 semi-oscillations per hour; precision beat adjuster with lateral setscrew and whiplash spring. When fully wound it will provide up to 38 hours of power reserve. Like all Lange movements the L001.1 features a beautifully hand engraved balance cock, though this one is a little hard to see, as it is partially hidden by some of the movements other components.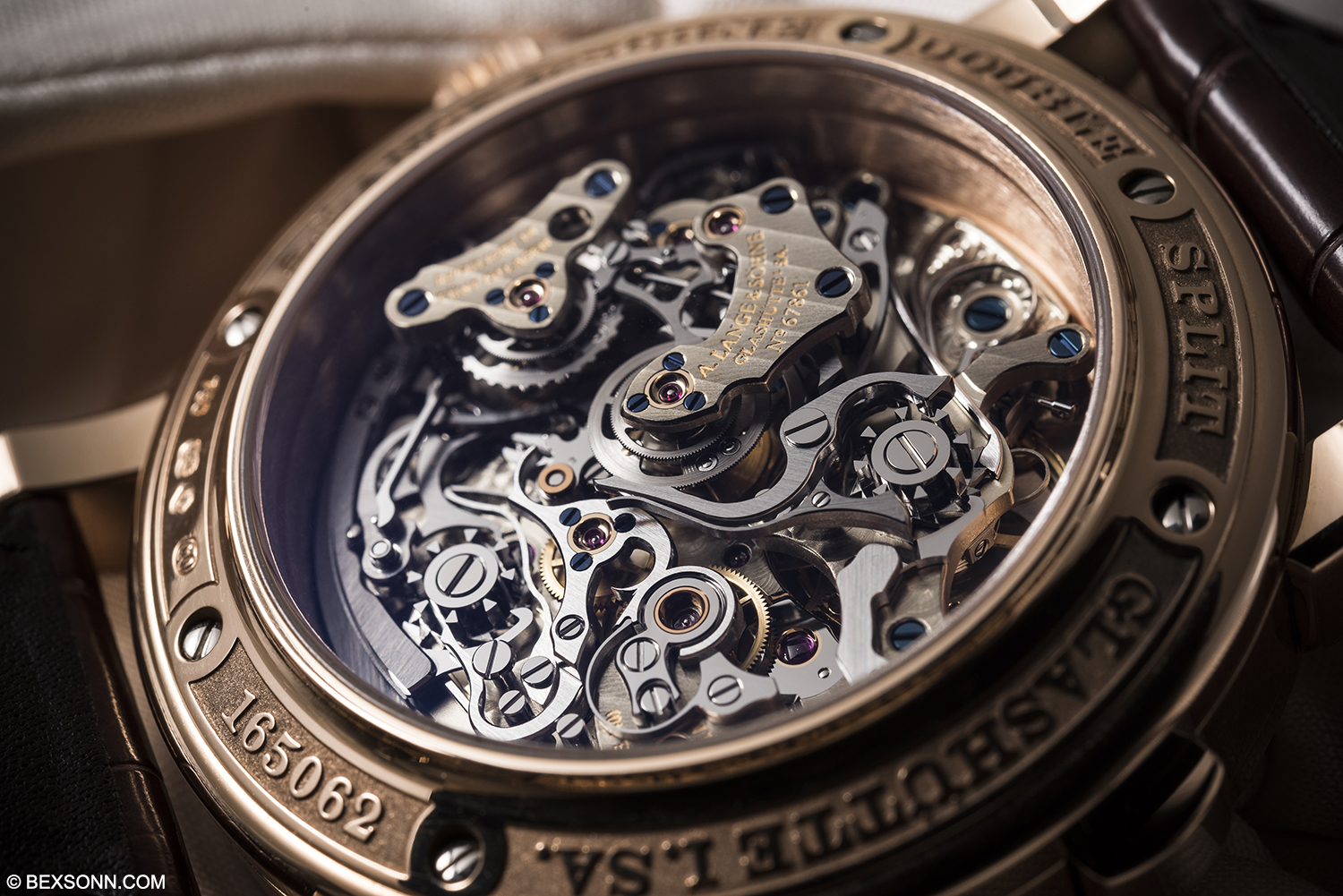 The calibre L001.1 chronograph complication makes use of a traditional column wheel but mixes that with a more modern vertical clutch. Looking at the centre of the movement you'll be able to see the rattrapante brake lever but looking over to where the recording minutes sub dial is, you'll see there is a link to the brake, which acts as a second rattrapante break for minutes, as well as a second column wheel. Just watching these untreated German silver levers and gears engage is a pure mechanical ballet.
THE DIAL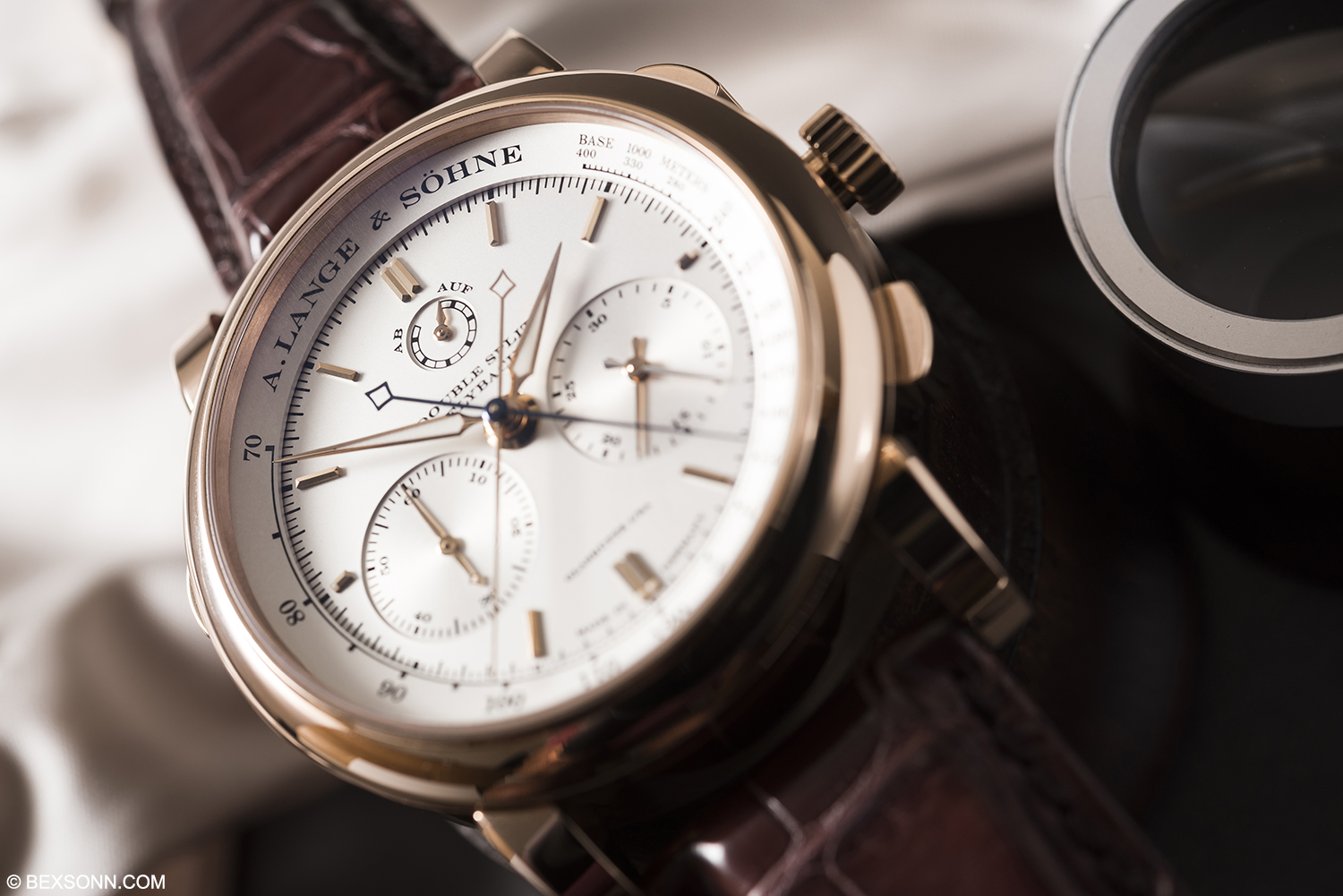 Now, before I go into the dial of this current Double Split Flyback, I have a confession to make. I've seen earlier versions of the Double Split Flyback and in all honesty the piece that really appeals to me is the originally released black 'panda' dial version with off-white sub dials, for me this is the perfect dial. In saying that, I was pleasantly surprised by the current piece in production.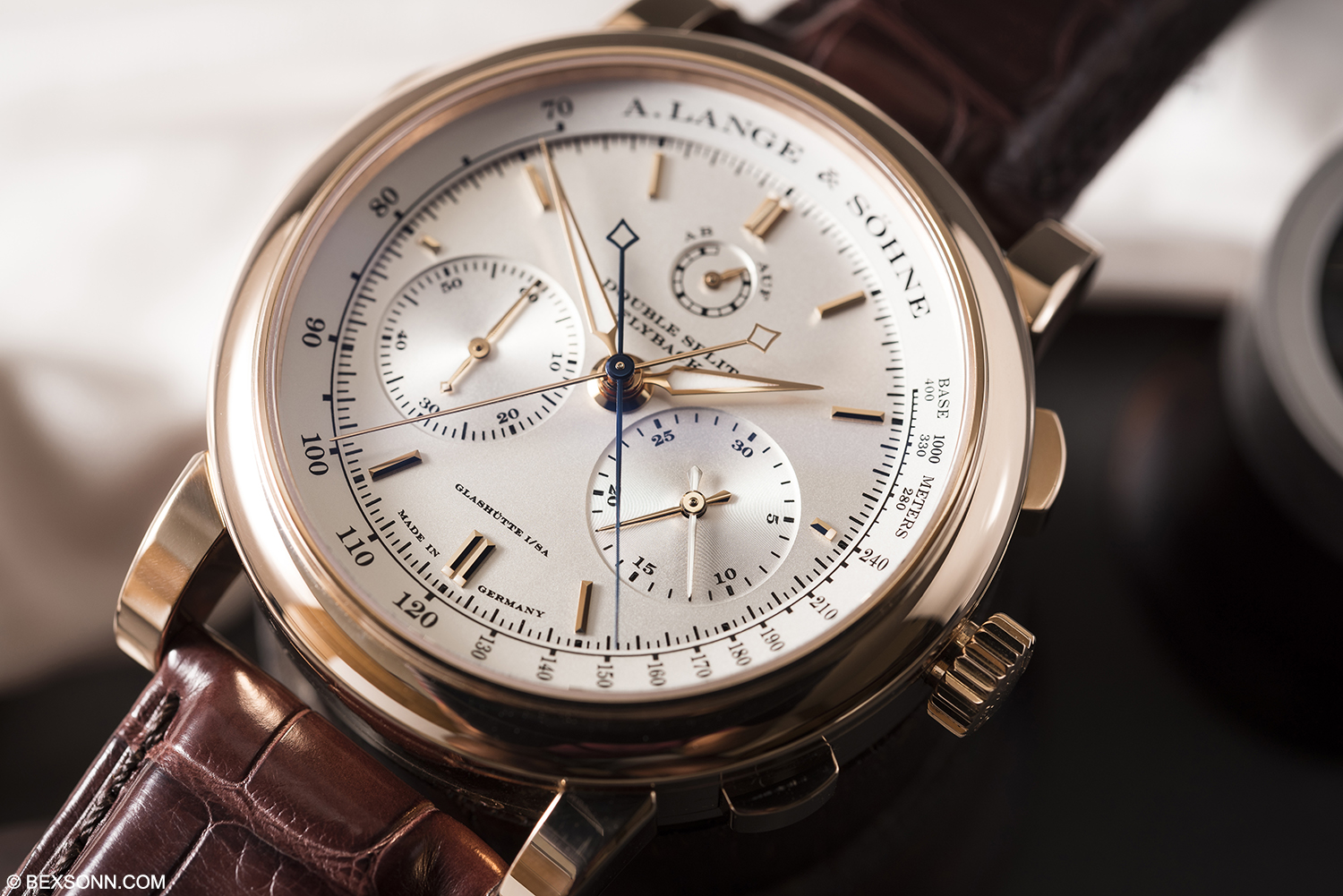 The bright solid silver argenté dial is full of little surprises and makes use of ingot-style baton markers as opposed to the roman numerals, which first graced the earlier models. While this makes the dial a lot cleaner, in my opinion it loses a little bit of character. However, the dial like the movement has tonnes of depth. First off, looking at the centre of dial you'll notice it sits below the inclined dial flange, which sports the 1000 base tachymetre scale and the inscription of A. Lange & Söhne is arched across the top. Below 12 o'clock is the power reserve, which is well placed and balances out the dial nicely. Your eyes are gently drawn to the large register sub dials that feature and engine turned finish, which sit below the centre axis of the dial.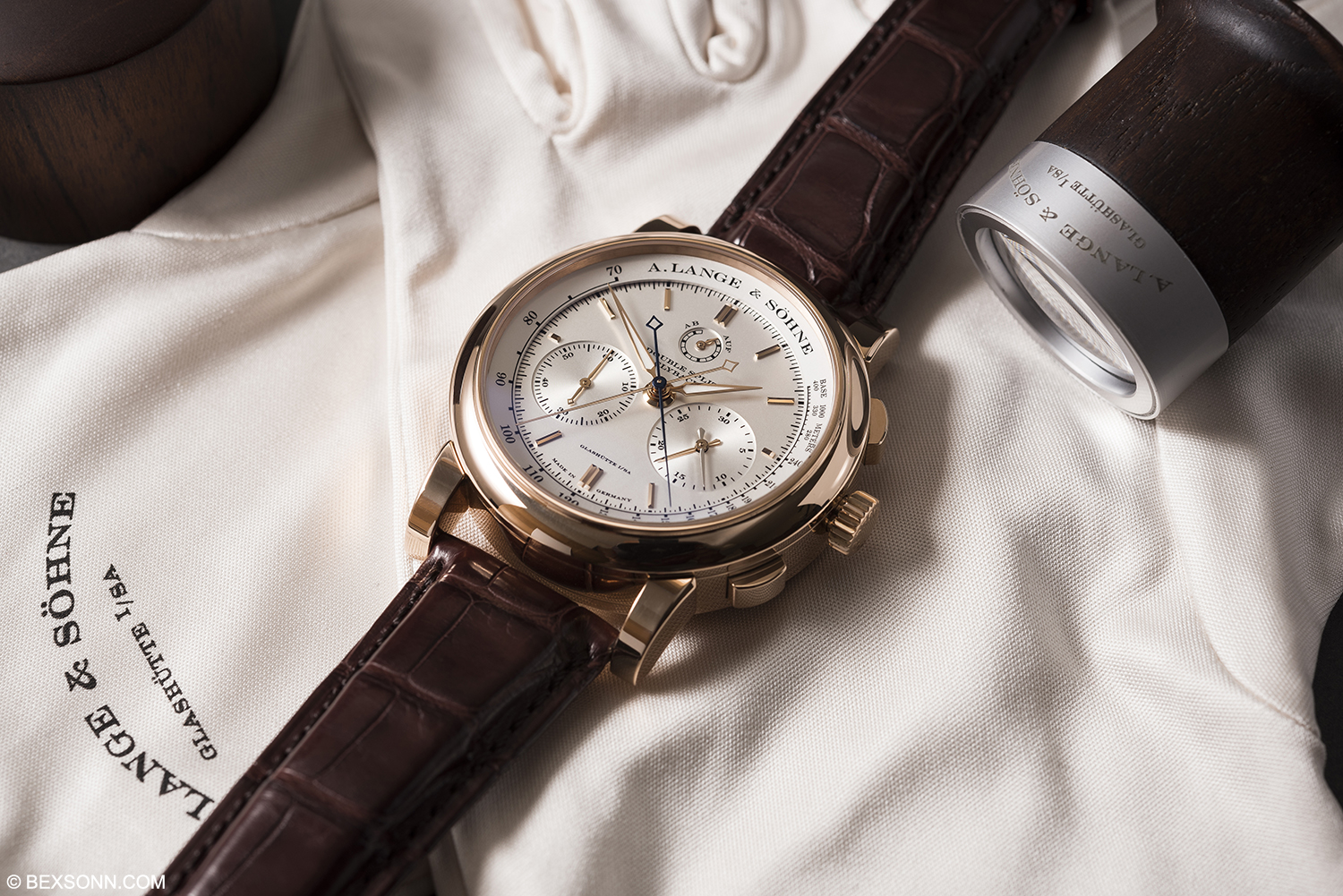 At 8 o'clock is the continuous seconds sub dial and at 4 o'clock is the recorded 30 minutes and split-minutes sub dial. At the centre are split seconds, differentiated by rose-gold and blued hands. Luminous dagger style hands indicate the hours and minutes, which lends a very industrious yet sophisticated look and feel to the dial.
THE CASE & STRAP
Okay, before getting into the cruxes of the case, let's address the elephant in the room. The case is big, in my opinion a little bigger than I'm comfortable with. The case dimensions are 43.2 x 15.3mm and when talking about a dress watch, this is considerably larger than one would expect but I'll get into that in a minute.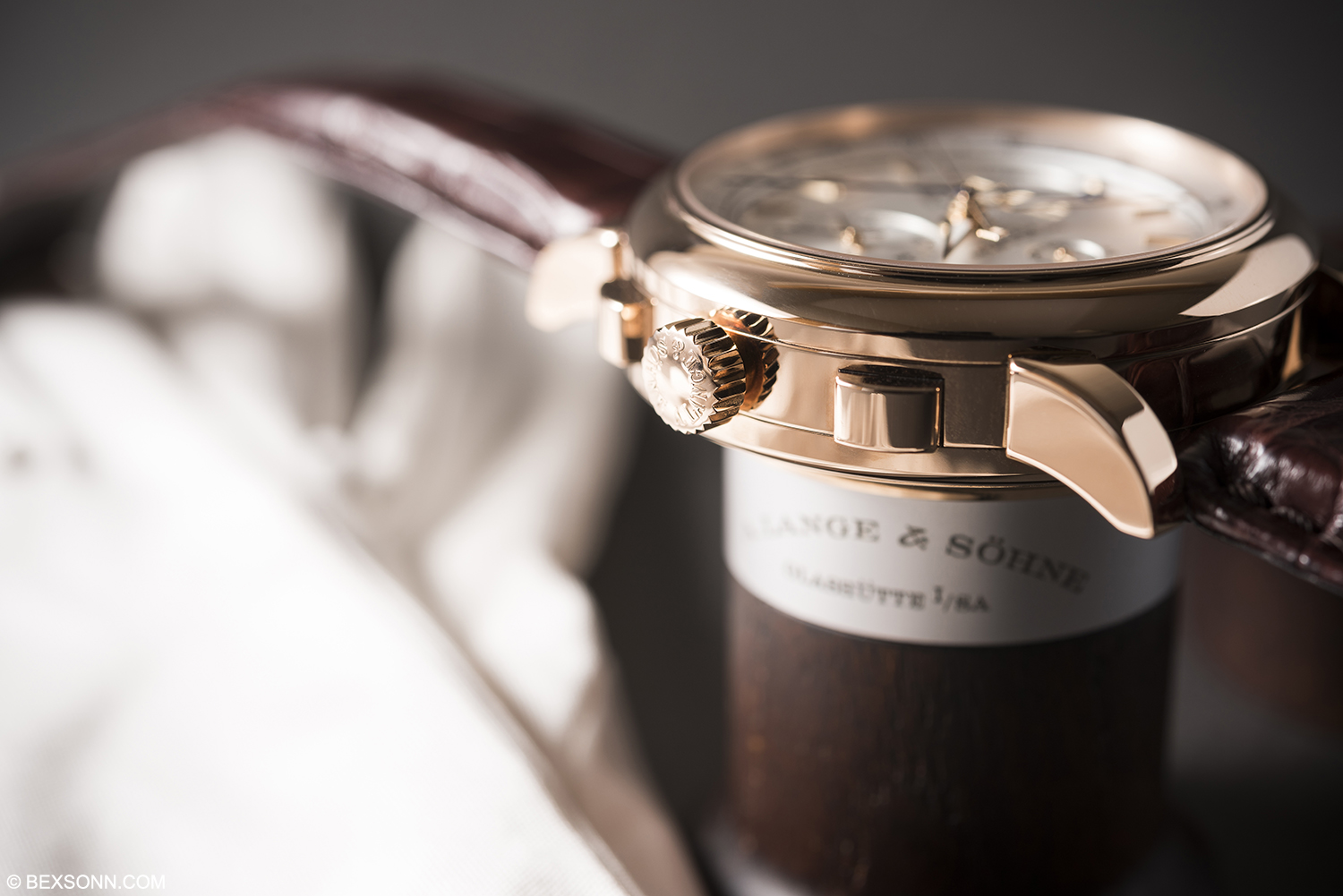 The case is classic Lange: no fuss, simple but functional. Made exclusively in pink-gold, all angles and curves have been polished to a mirror shine. One thing I've always loved about Lange's timepieces are the way the lugs meet the case and it is no different in this case; it is amazing how small details like this make all the difference to the overall look and feel of a timepiece.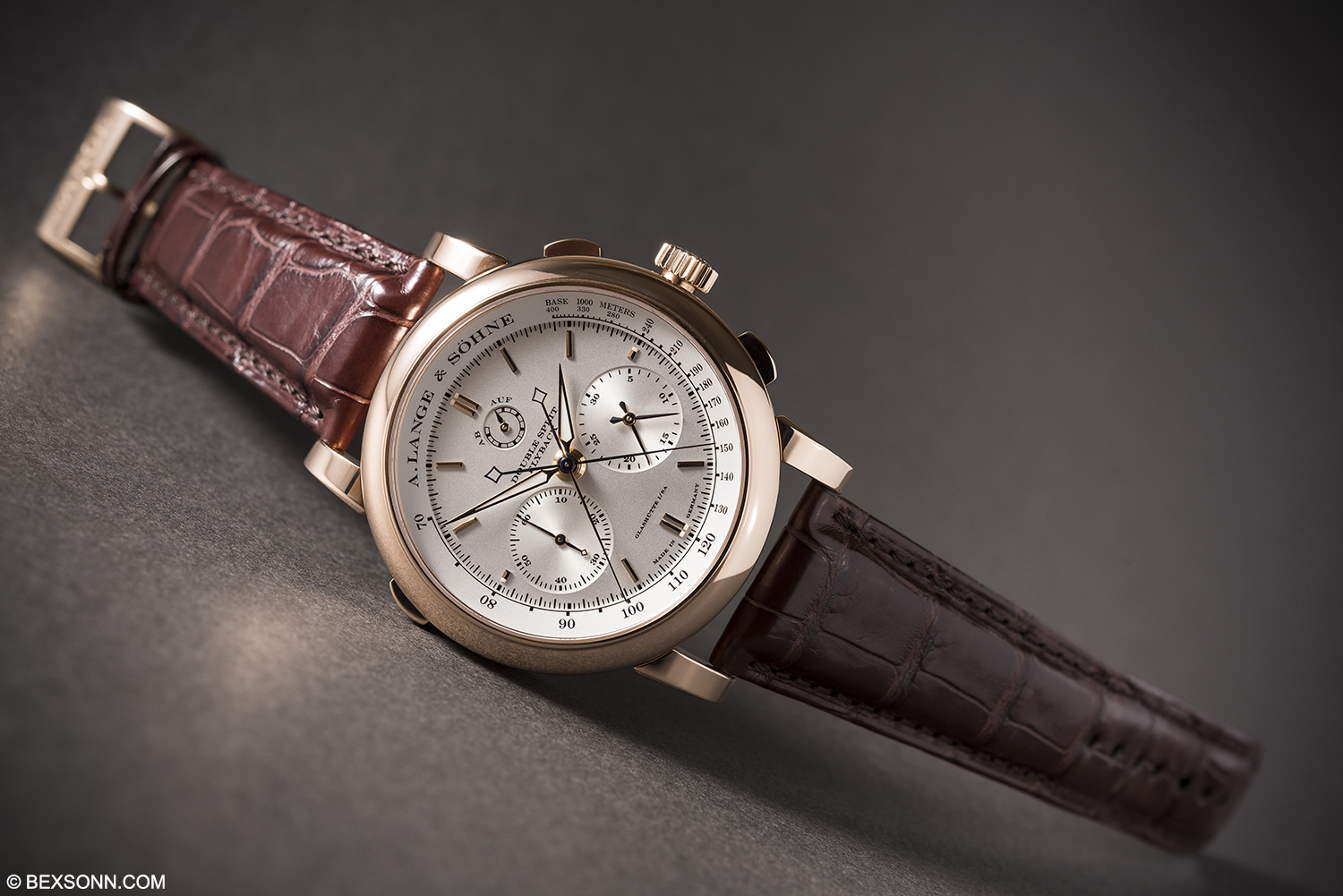 Like all of Lange's timepieces the Double Split Flyback makes use of rectangular push pieces, located at 2, 4 and one between 9 and 10 o'clock on the case band. The case features a large fluted crown that is the perfect size and has a gratifying feel about it, which is practical when considered it will get used quite often. Covering the dial is anti-reflective sapphire crystal and the same is used on the exhibition case back, which is secured using 6 screws. The case is secured to the wrist by a hand-stitched crocodile strap with solid pink gold Lange prong buckle.
FINAL THOUGHTS
From the beginning, I've been a massive fan Lange's timepieces and this was only furthered when I visited the manufacture last September. Overall, there is a lot to like about the Double Split Flyback chronograph from Lange but as mentioned the only thing I felt slightly uncomfortable with was the size. While there is a lot to feast your eyes on, I can't help but think it could've been made a tad smaller. Even 42mm, with a slightly thinner case dimension, I think would've worked better – though some of the 3D appearance may have been lost. This is not the first split-seconds chronograph we've featured before but it is indeed the first double-split chronograph and it was an absolute pleasure to wear. In all honesty I soon got used to the size and heft after a week or so and by the second week it was much more comfortable but due to its height, it's not a timepiece you can easily slip under the cuff.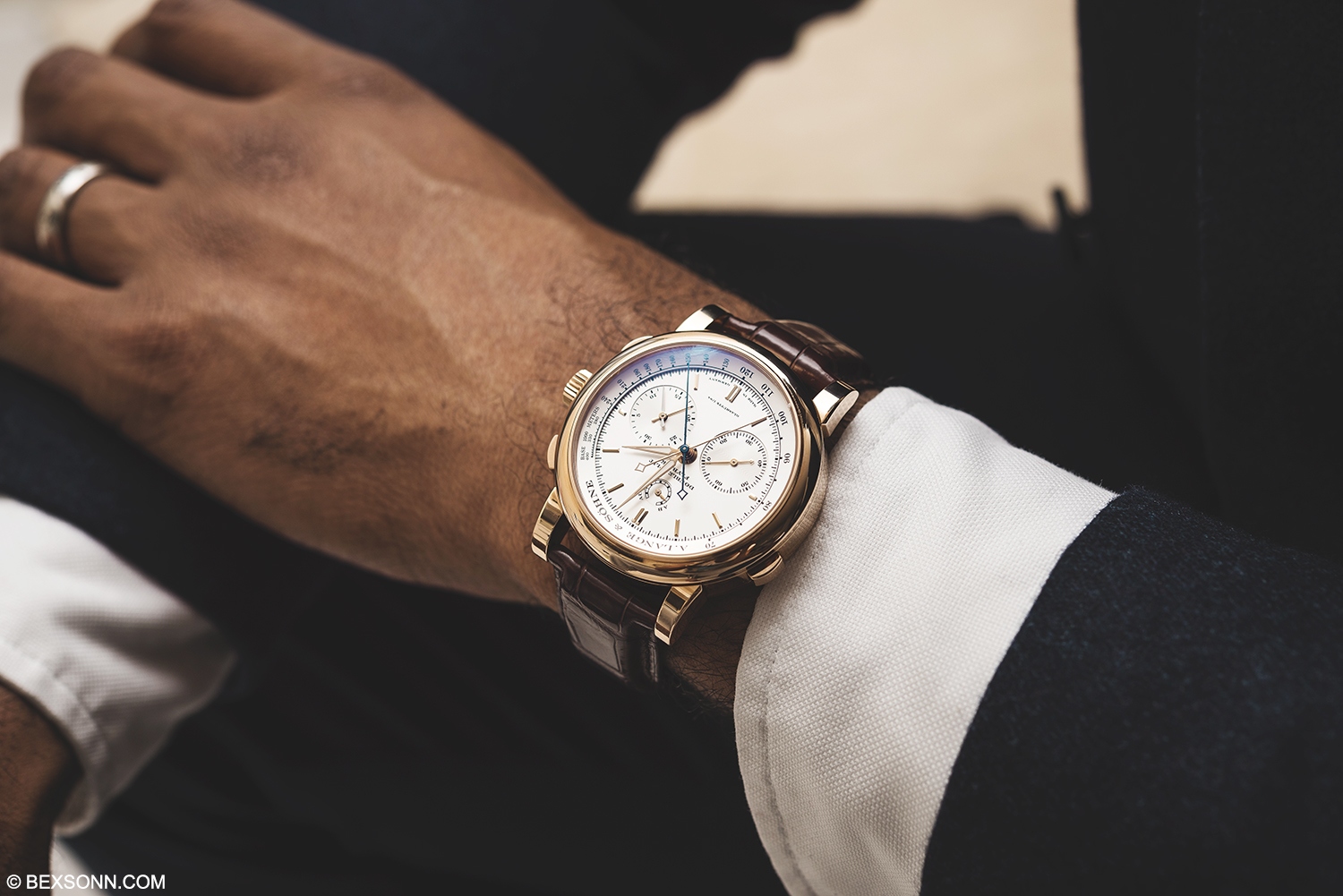 In regards to operating the double-split complication: it was a smooth as butter but there was enough tactile feedback to make sure you were aware that the chronograph function had been put into operation. As customary, the pusher at 2 o'clock starts and stops the normal chronograph function and the pusher at 4 o'clock activates the flyback function and resets the chronograph. The pusher between 9 and 10 o'clock activates the rattrapante function and of course the split-minutes.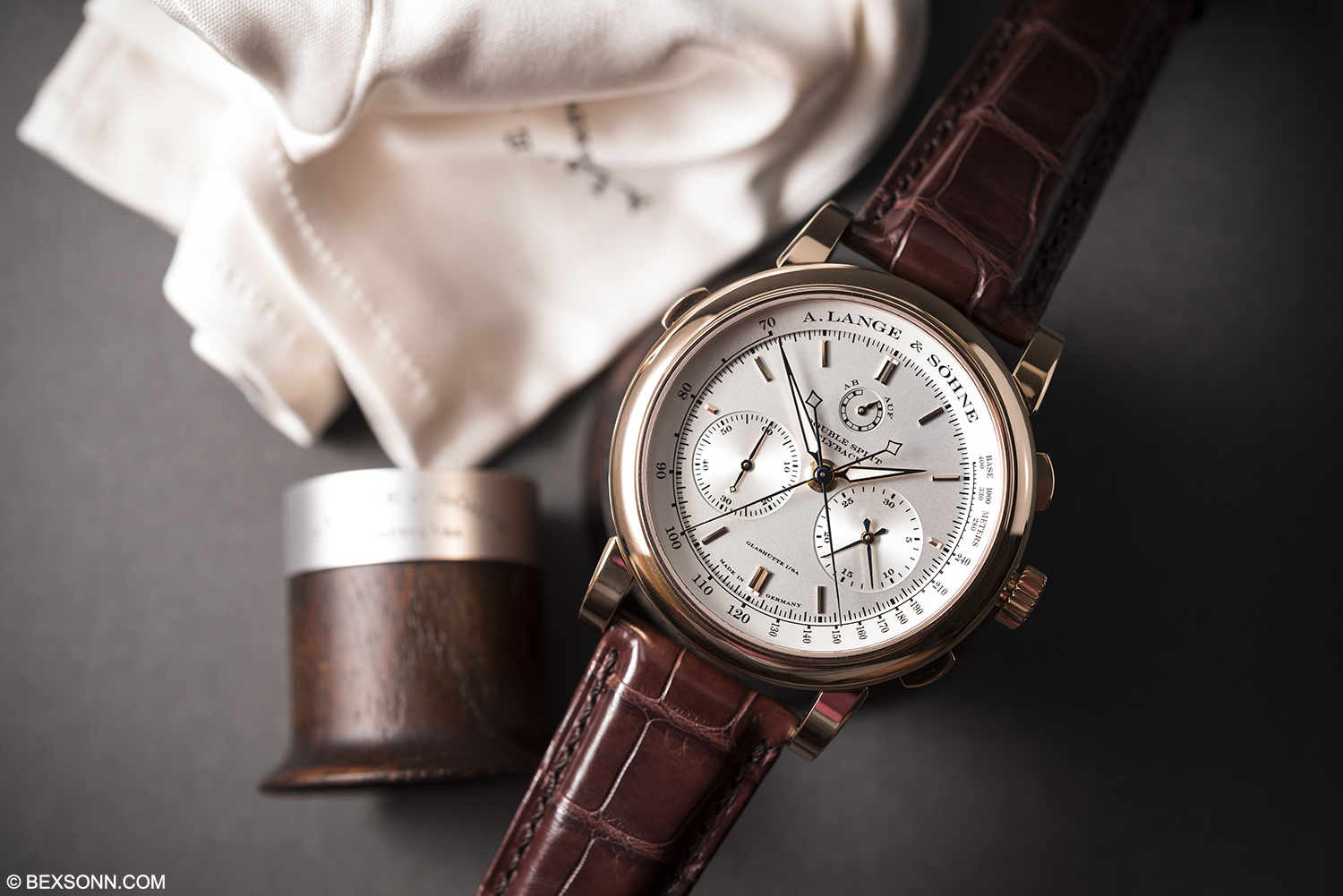 The other thing I will mention about the Double Split Flyback Chronograph, is its predecessors. Why?. In my humble opinion, I think the previous iterations of the DS Flyback just had a better look. While the case was made of a heavier metal, in platinum (there is even a one-off stainless steel version out there too), I think the fact it had a black dial just made it look inherently smaller. Plus the use of Roman numerals gave it a bit more character. It would be so nice to see this combination from Lange again.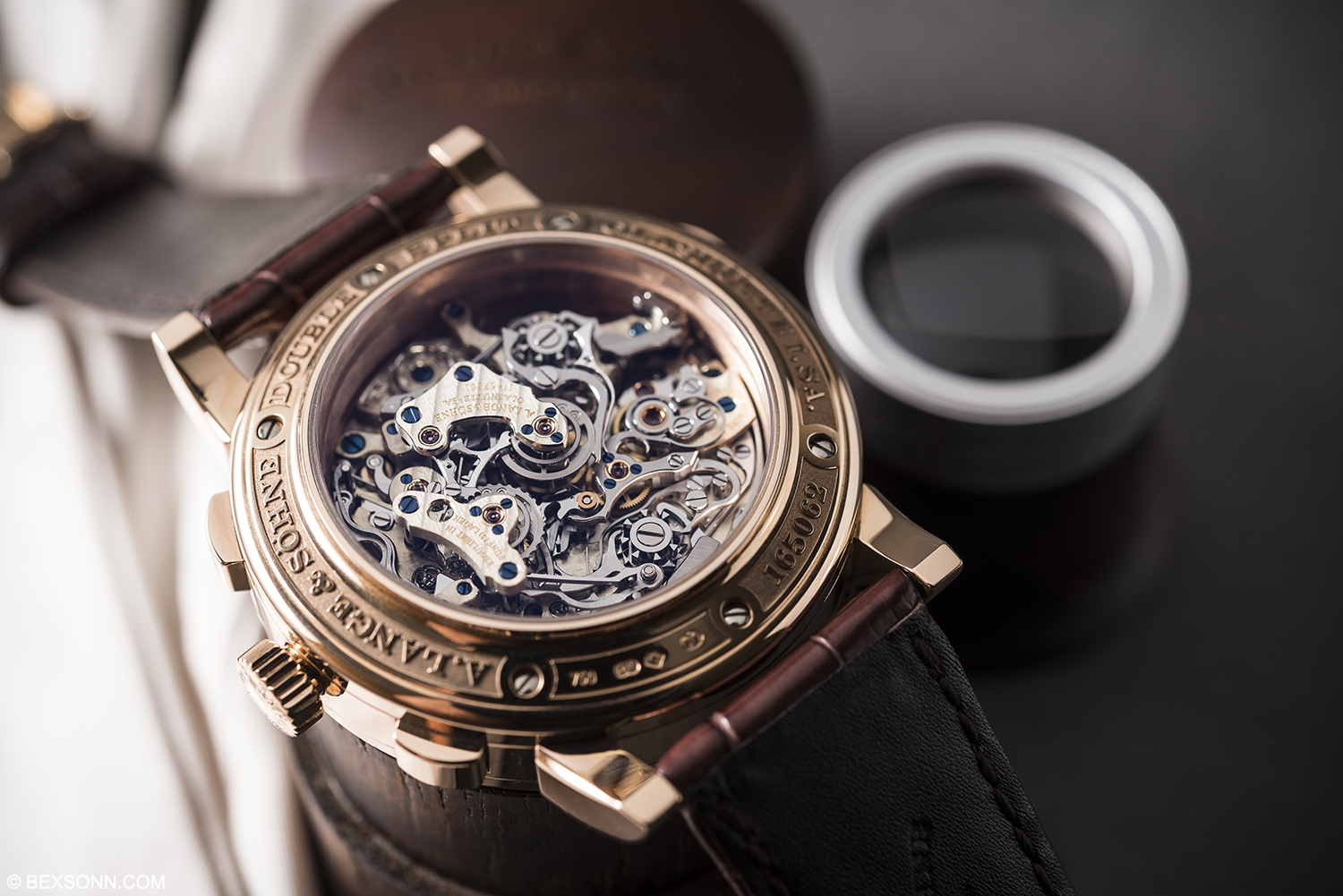 Make no mistake what you are getting is an absolute masterpiece of a wristwatch from one of the greatest watch manufacturers of our time. Not only is it a mechanical marvel but it brought something new to the table in terms mechanical split-second chronographs.
The Double Split Flyback Chronograph, as mentioned, is only available in pink-gold and comes on a brown leather crocodile strap. Priced at £88,300 it's not cheap but of course this level of mechanical engineering is never going to be.
For more information on the Double Split Flyback Chronograph, visit the official A. Lange & Söhne website.
You might also like