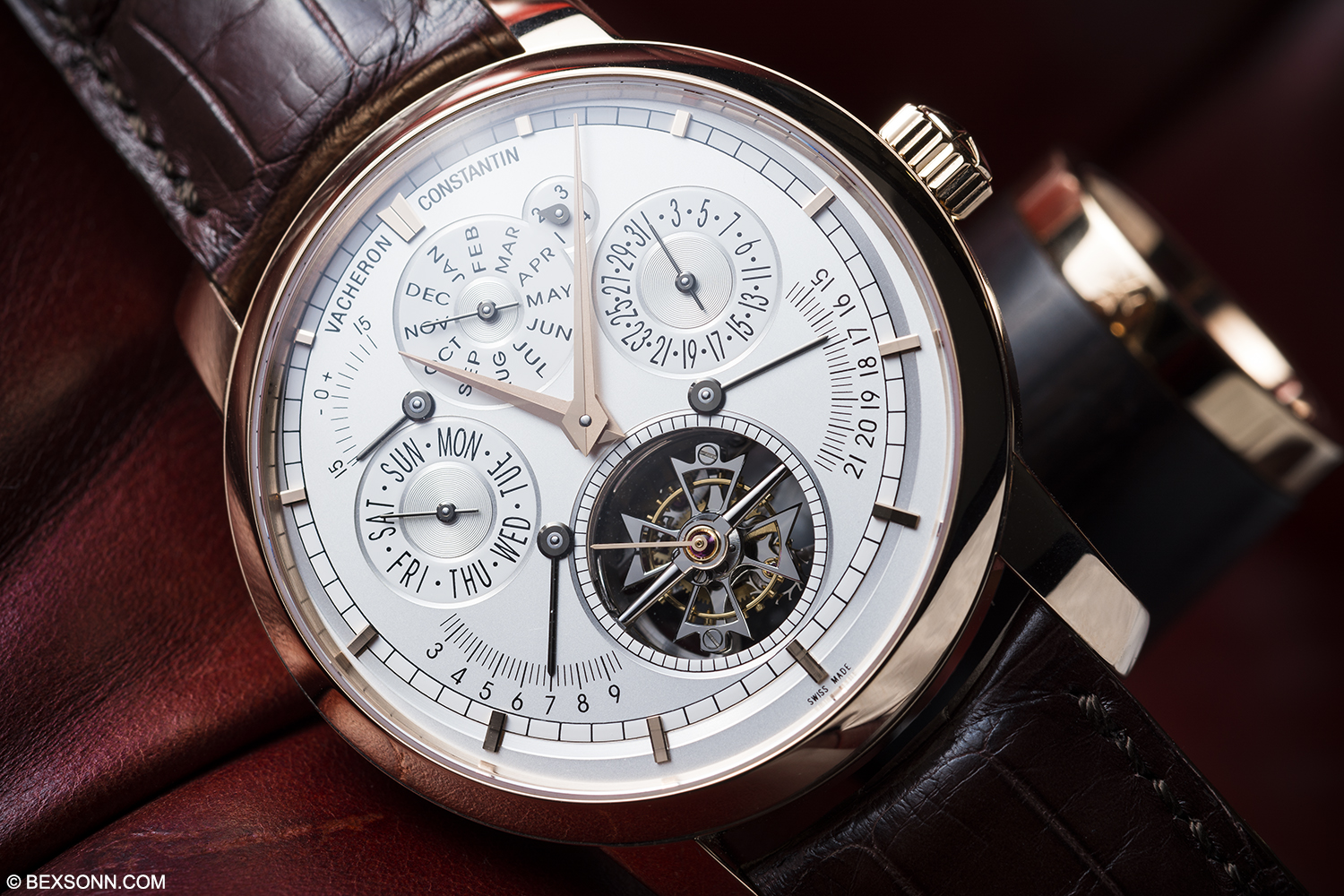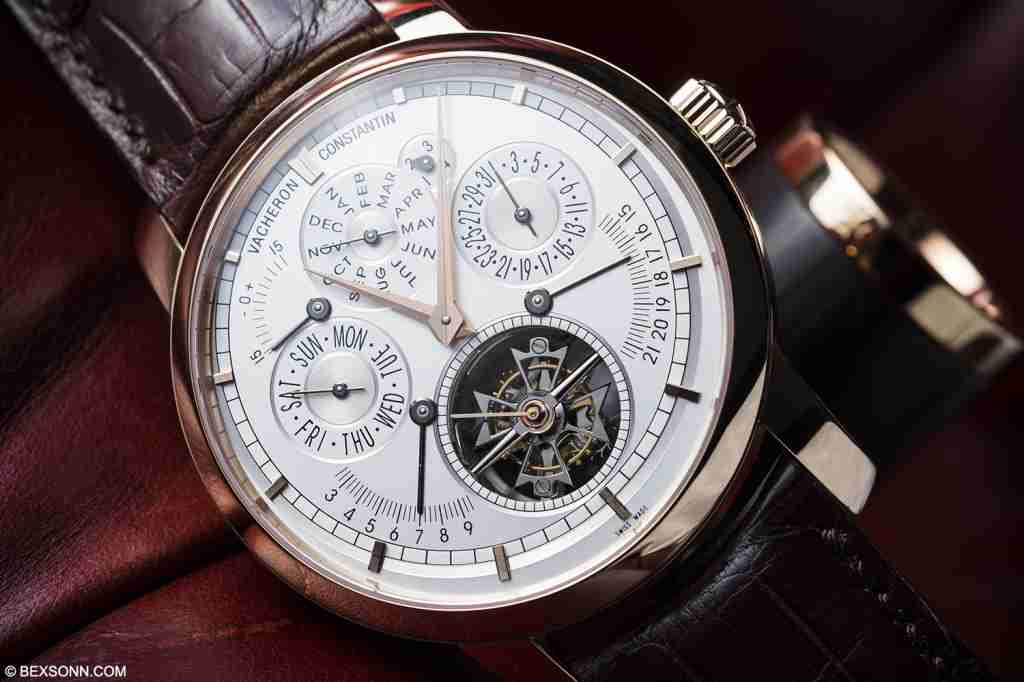 Vacheron Constantin Traditionnelle 2253: As you may have been aware from the last article we wrote on the Chronograph reference 4178, when we visited the Vacheron Boutique on London's Bond Street a few weeks back, while there we also looked at a few other VC's among this. Only very few watch brands come to mind when you think about very complicated timepieces and of course Vacheron Constantin is one of them. It is not often that one gets to hold a timepiece this complicated and for sure being a huge admirer of such timepieces I can still picture the wide smile and look of glee when one of the pieces given to me to handle was this seriously complicated Traditionnelle reference 2253 that boasts no less than 10 complications. But before we delve into this timepieces ins and outs let's look at a brief bit of history.
VACHERON CONSTANTIN'S COMPLICATED HISTORY
When I say complicated history I'm not talking about a chequered past but of course I'm referring to their long and illustrious past in making seriously complicated timepieces. Vacheron's first known complicated piece dates back to 1790, which featured just a date and day of the week complication. Some twenty years later in 1810 this was improved upon; a pocket watch that featured a triple calendar and minute repeater. By late 19th century Vacheron had already started to make watches that featured multiple complications such as, minute repeaters, chronographs and triple calendars with moon phases.
Though it wasn't until 1905 that Vacheron introduced their fifth most complicated watch that featured a minute repeater, a perpetual calendar, with 48 month indication as opposed to a 12 month indication with a leap year indicator and a split seconds chronograph (that I've already explained in past articles is one of the most convoluted complications to produce, second to the chiming complication). Vacheron even added tourbillons atop of this, though in 1934 Vacheron would produce their most complicated piece yet, which featured no less than 12 complications. Named The King Farouk after whom it was made for (King Farouk of Egypt) featured a minute repeater, Grande Sonnerie, Petite Sonnerie, Rattrapante Chronograph, Day, Date, Month, Leap year indicator, Perpetual Calendar, Moon phase, Alarm and a power reserve for the going train and sonnerie.
The King Farouk Complications
From what I've mentioned thus far you can see VC's complicated past is very robust and of course there are many watches in between this period but the piece that herald the Traditionelle 2253 is one of my favourite Vacheron complicated pieces – The Saint Gervais, introduced in 2005, featured 7 complications. The Saint Gervais was introduced alongside another super complicated piece Vacheron produced also that year to the celebrate their 250th anniversary; the Tour de I'lle, which actually boasted 16 complications making it their most elaborate wristwatch to date but in my opinion I think the Saint Gervais just looks so downright cool.
Vacheron Constantin Saint Gervais Calibre 2250
The Saint Gervais housed the in-house developed calibre 2250 and other than a tourbillon and perpetual calendar, features an incredible 250 hour power reserve. Whilst this may not seem impressive today 9 years ago in 2005 very few watch brands were reaching such long power reserves.
Vacheron Constantin Tour de I'lle
TRADITIONNELLE CALIBRE 2253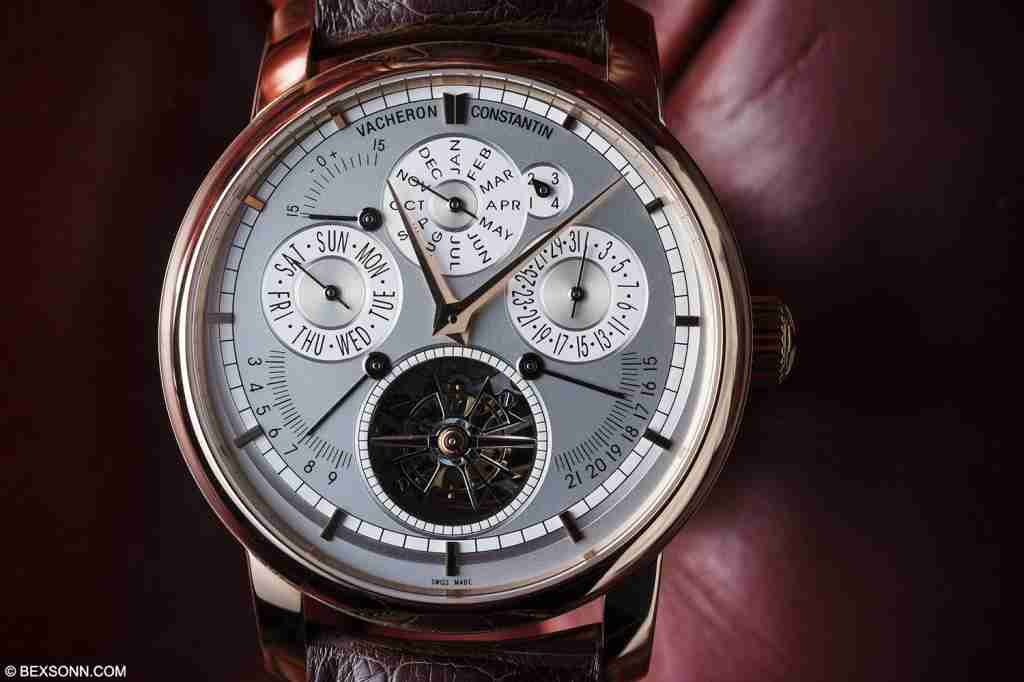 While we've been waxing lyrical about the calibre 2250 as mentioned above the 2253, which is a direct descendent, boast 3 extra complications. Those being the Equation of Time, Time of Sunrise and Time of Sunset that is rather an interesting and complex complication to include but Vacheron know their clients and this timepiece is tailor-made to their location.
There has always been a fascination with the equation of time. Its purpose is to show the difference in minutes between the variable solar time shown by a sundial and the constant mean time we use today. For practical reasons, we humans have divided each year into 365 and a quarter days, each day into 24 hours, and the hours into 60 minutes each. However, because the Earth's orbit is elliptical rather than circular, the time in relation to the sun varies daily. The noon zenith of the sun when it crosses the observer's meridian seldom occurs at exactly 12 o'clock. In fact solar time and mean time coincide just four times a year – on April 15, June 14, September 1 and December 24. For the rest of the year, the difference between solar and mean time varies from +/- 16 minutes.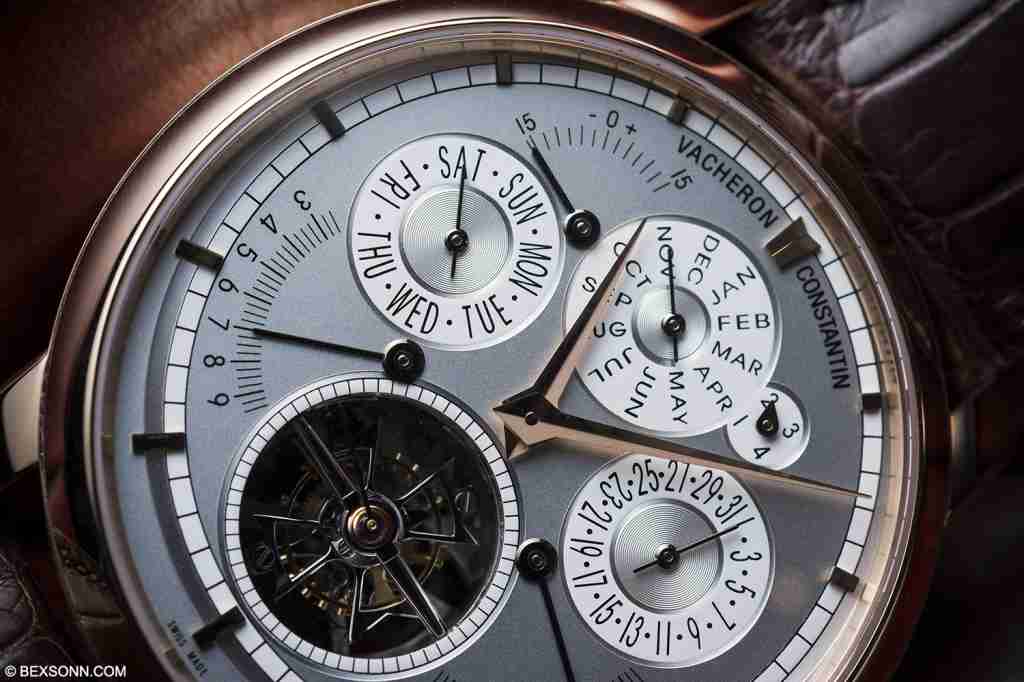 Now, making such a complication requires extreme watchmaking skill. It all depends on the equation cam, a waisted oval, shaped like a figure 8 and calculated according to the daily declination of the sun observed from a given spot. That cam rotates once a year while a hand following its contour indicates the equation of time between 10 and 11 o'clock on the dial.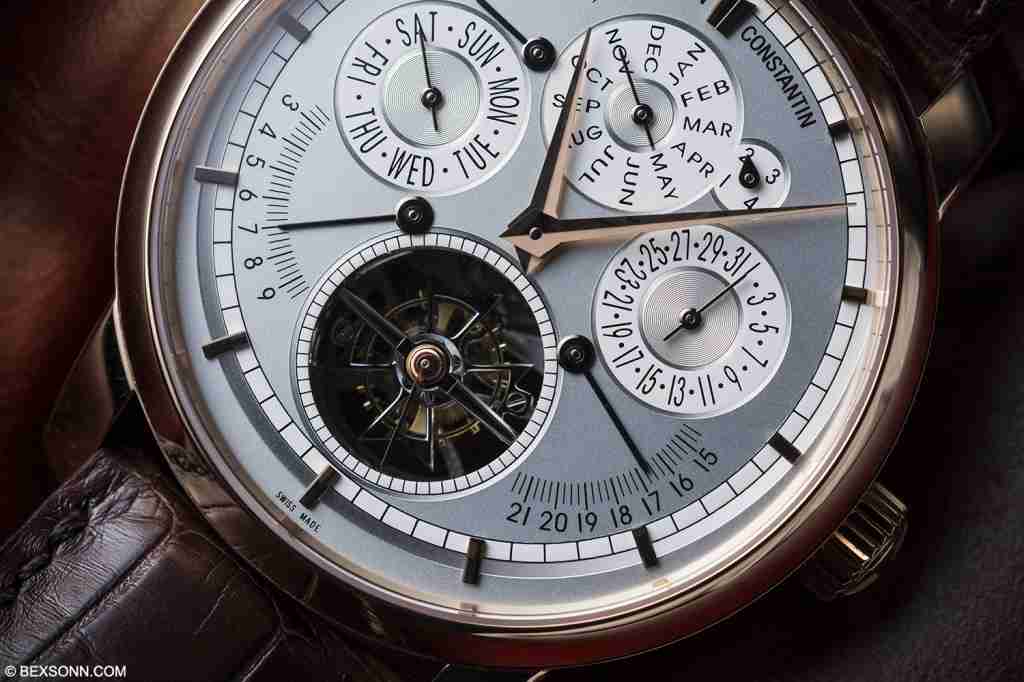 Then there is the display of sunrise and sunset, which is not often found in watches today – these are displayed throughout the year at the given location of the buyer. This is also another difficult complication that relies upon the cam, the outline of which is calculated according to the latitude of the locality. This custom-made sunrise and sunset complication can been seen on the dial at 8 o'clock and 4 o'clock respectively via retrograde hands.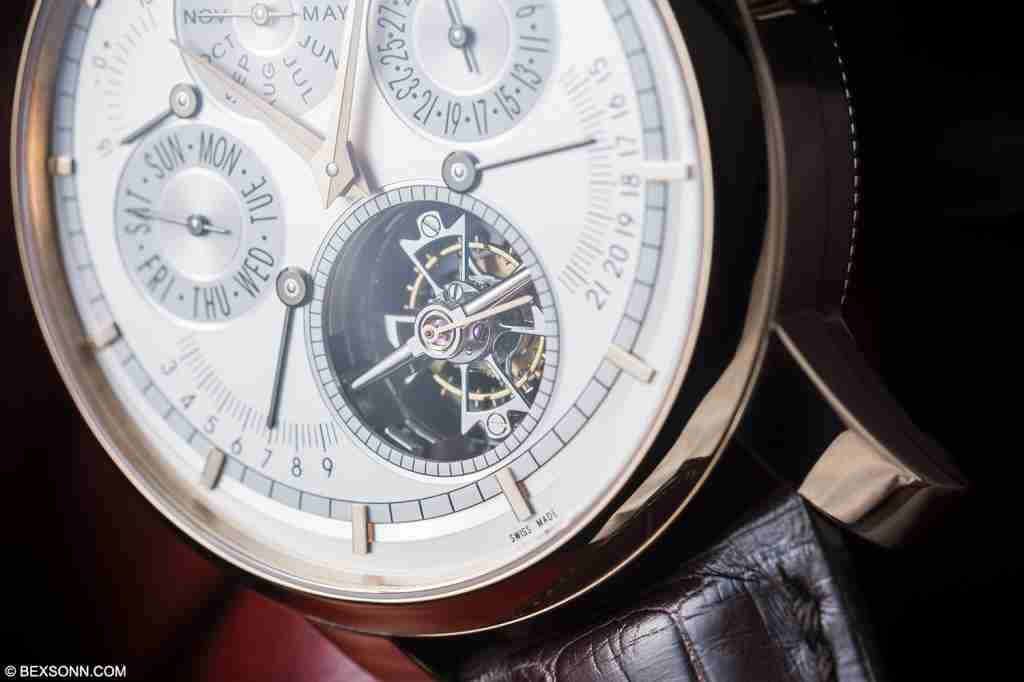 At 6 o'clock; the tourbillon carriage, as always with Vacheron is in the shape of the brand emblem, a Maltese Cross that rotates once a minute – indicated by a small seconds hand. The indications of the perpetual calendar are symmetrically laid out with the days, months and dates at 9, 12 and 3 o'clock respectively. The leap-year indicator makes a small appearance to the upper right at 1 o'clock.
The Calibre 2253 movement also bears the prestigious Poinçon de Genève, so as accustomed it means that such decorative aspects of the movement such as Côtes de Genève, circular graining, chamfering and straight graining of the steelwork are entirely done by hand.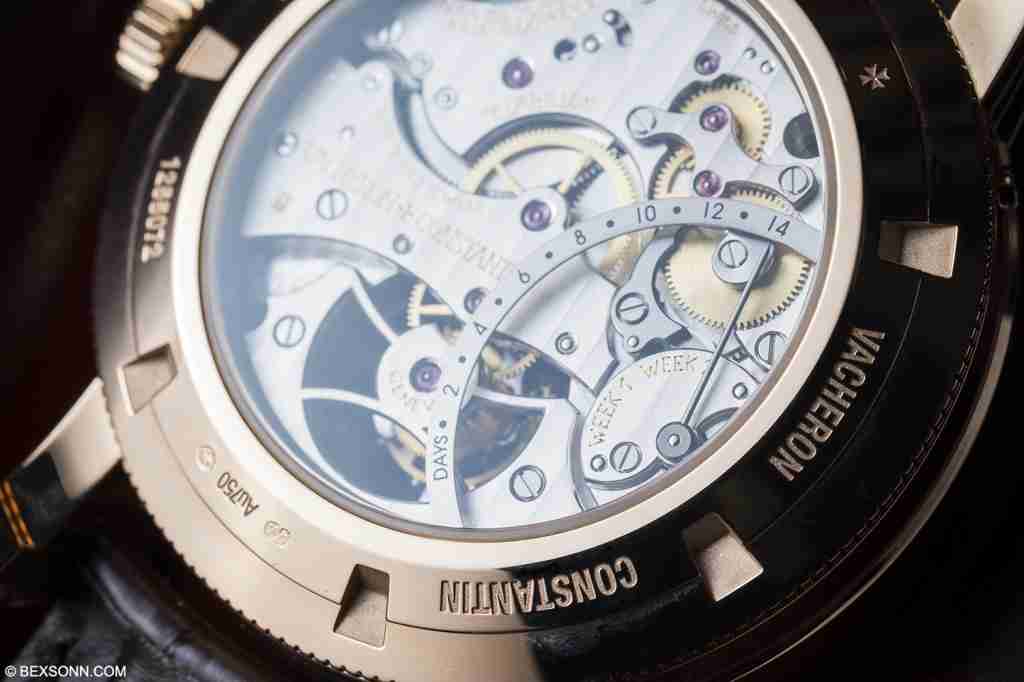 Despite all of its complex mechanical dependencies the 2253 has an outstanding power reserve of some 336 hours or 14 days. This power is taken from two pairs of coupled barrels and the reserve is shown through the sapphire-crystal case back.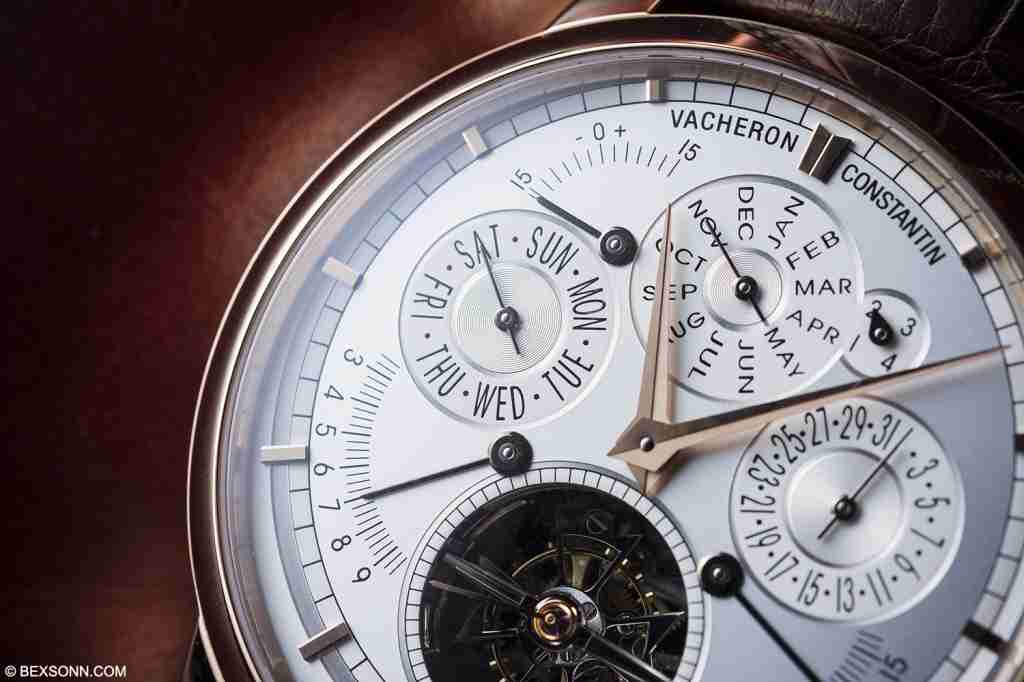 This particular caliber 2253 sports a two-tone dial, which contrasts nicely with the case metal, the very center of each subsidiary dial is engine-turned lending even further depth and contrast to the dial. The hour and minute hands are made from 18-carat gold with matching hour baton markers, which gradually lengthen towards 6 o'clock due to the eccentric dial layout. The 44mm x 15.6mm 18-carat pink-gold case is nicely paired on a hand-stitched dark brown alligator strap with deployant buckle made from the same metal.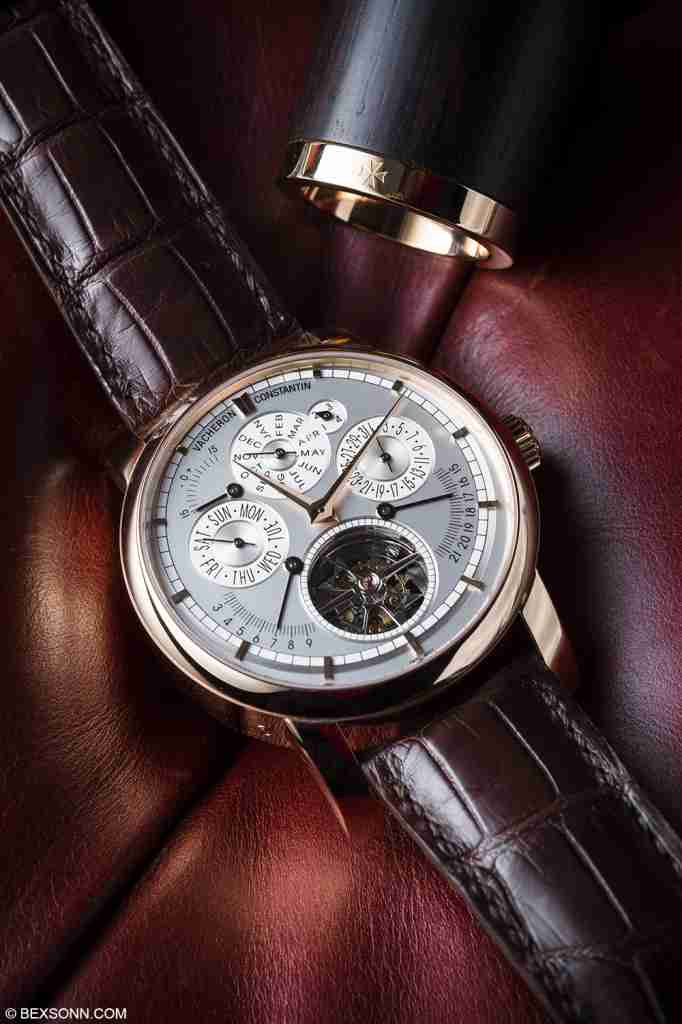 The Calibre 2253 is a complex timepiece, so much so that is comprises of no less than 457 parts in a movement only 9.60 mm thick, which is why production is limited to just 10 pieces a year. The Vacheron Constantin 2253 is an absolutely stunning piece of haute horlogerie and encompasses just some of Vacheron's technical prowess. While on paper it may sound rather large it actually feels a tad smaller than its size may suggest due to the beautifully curved lugs, though there is some noticeable weight to it. There is also a platinum version that comes with a black dial on a black alligator strap, which is another option for you if pink-gold isn't really your thing, though only 3 or 4 of these are made a year. Obviously with a timepiece like this there is a hefty price tag attached, £356,250 to be exact and if you'd prefer the Platinum version prepare to pay a bit more – £391,950.
For more information on the Traditionelle Calibre 2253, visit the Vacheron Constantin website.
You might also like