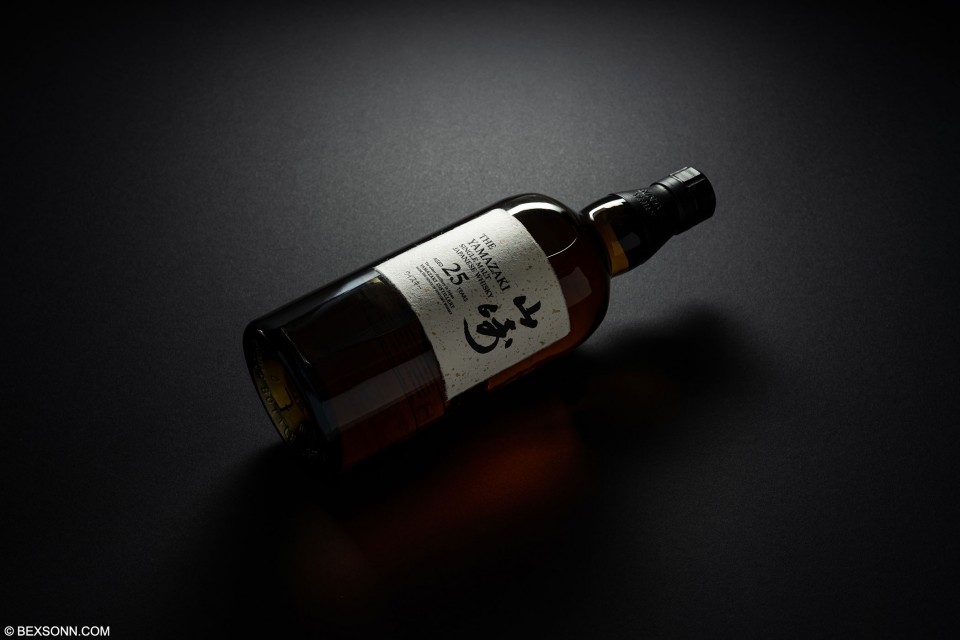 Yamazaki is one of the first Japanese distilleries to be built. Established in 1923 and situated in the vale of Yamazaki, the whisky is born from the natural craftsmanship and climate of Kyoto, Japan's ancient capital, an area of dense bamboo grooves at the foot of Mt. Tennozan. In 1984, the Yamazaki 12-year-old single malt whisky was released. The 12-year-old expression is intense, confident and yet elegant: this single malt whisky directly presents these features of the Yamazaki distillery. That said, the 18-year-old expression only further enhances these characteristics. Over the past few years, Yamazaki has won the approval of many whisky aficionados alike, as well as winning a few awards along the way too. The 18-year-old expression has, somewhat, become the cornerstone of Yamazaki, tickling the taste buds of those who chose to venture further than the brilliantly balanced 12. That said, those who choose to go just that littler bit further shall reap the rewards of this 2021 25-year-old expression.
This new 25yo expression has had it recipe redeveloped for 2021. The reformulated whisky now marries spirits aged in three types of oak – American, Spanish and Japanese mizunara – bringing it in line with the 12-year-old and 18-year-old Yamazaki expressions. Shinji Fukuyo, the producer's fifth generation chief blender, said his inspiration for the new blend recipe was the limited edition Yamazaki 1984 single malt, which was created to celebrate the 25th anniversary of the distillery and the 110th anniversary of Suntory.
"My inspiration for Yamazaki 25 was the Yamazaki 1984 statement that was awarded the ultimate recognition of the Supreme Champion Spirit at the International Spirits Challenge in 2010," said Shinji Fukuyo. "We went back to the key component whiskies of Yamazaki. We deliberately chose to feature the depth and profound nature of the notable Japanese Mizunara Oak. For in its meticulous balance with the American and Spanish Oak, Yamazaki's signature multi-layered taste profile and complex aroma is accentuated."
---
On the nose: you'll get a lovely waft of raisins, vanilla and a viscose like note, alongside rich tones of cherry and strawberries. Spices of nutmeg and cinnamon start to emerge, followed by a dry nutty aroma, tobacco, freshly ground coffee and over ripe grapes. Notes of sweet sherry, raisins and currants start to appear, as well as lime zest and strong suggestions of Mizunara. Rounding-off the nose are notes of sesame seeds, brown sugar and slightest hint of tropical notes. On the palate: you'll be able to taste those strawberry jam like notes, followed by vanilla, sherry, aniseed and pitted cherries. These are followed by notes of aniseed, stem ginger, some spices and a subtle coffee note. More rich currant like notes start to emerge, alongside some mizunara, tobacco and marzipan. Rounding off the nose are notes of red apples, a faint suggestion of treacle, acacia honey, shortbread and rich dark chocolate ganache. The finish: is long, bittersweet, with hints of smoke, incense, nuttiness, lingering dark chocolate and oak.
The verdict: It's no secret that out of Suntory's expressions, Yamazaki is by far the favourite and it is rather hot property these days. Honestly, it's not hard to see why, the balance and richness of this new 25-year-old expression is just sublime. While it's rich, it also possess some delicious delicate notes that only become apparent the more the dram opens up. Bottled at 43% ABV, in my opinion, I don't believe there is any need to add water, however, do so if required. Also leaving it to breathe for up to 10 minutes, also yields more depth in flavour.
Suntory Yamazaki 25 Year Old Japanese Single Malt Whisky, can be found online or in-store at any well-stocked whisky shop from anywhere between £3000. For more information on this 25 year-old Yamazaki expression, visit the official Suntory website.
You might also like