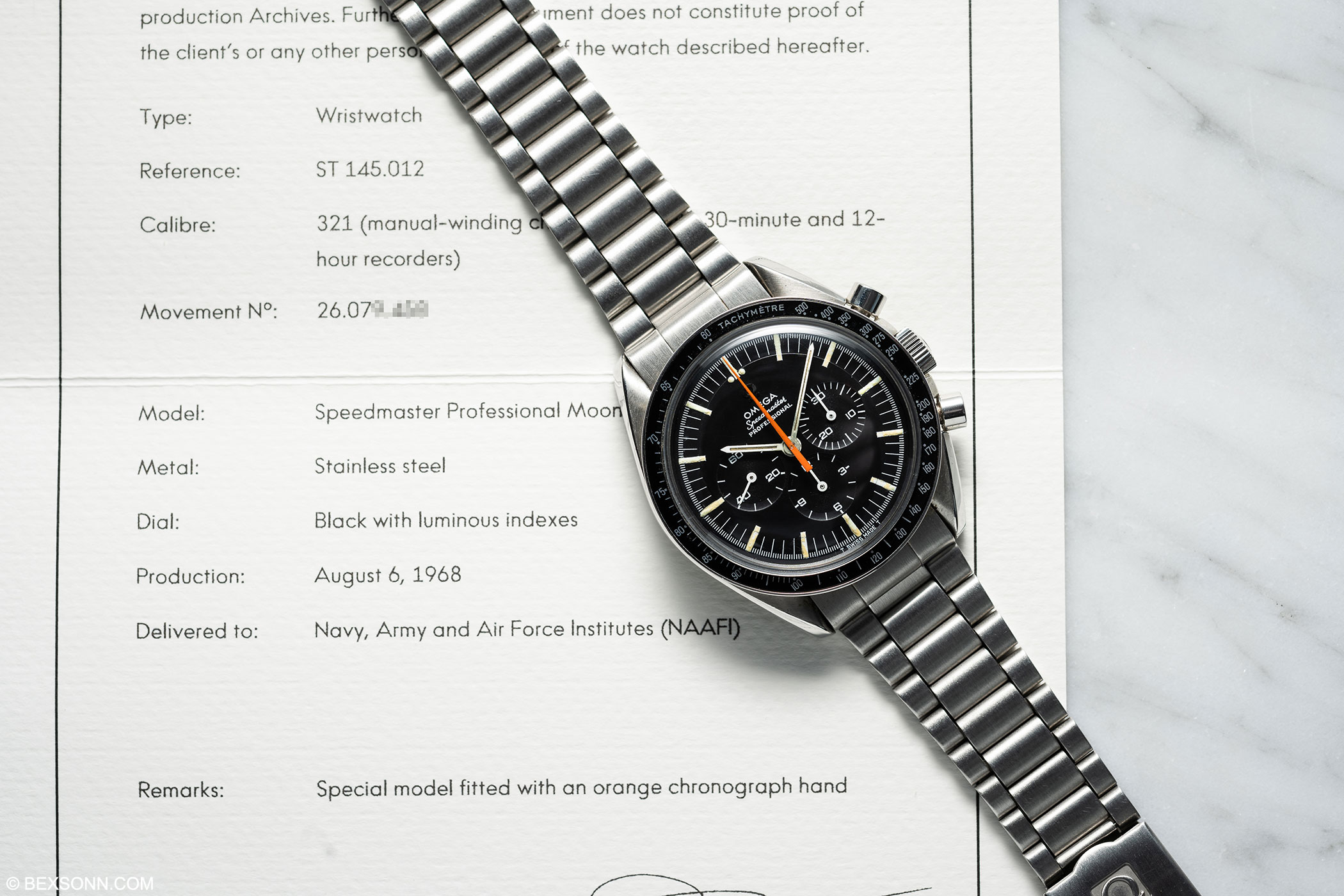 We are perhaps accustomed to the November WoK auction, however, due to this rather precarious year the auction will take place in December. This auction marks Watches of Knightsbridge's last London auction of the year, though it doesn't feel that long ago that we were going through their first 2020 catalogue. It perhaps goes without saying that we would inevitably highlight some of our favourite lots. A couple of weeks ago we spent some time over at their South Kensington offices in the Michelin building, to get hands-on with some of the timepieces in the upcoming December auction. As per usual we decided to pick out some of our highlighted lots and share our thoughts on them.
---
OMEGA SPEEDMASTER "ULTRAMAN"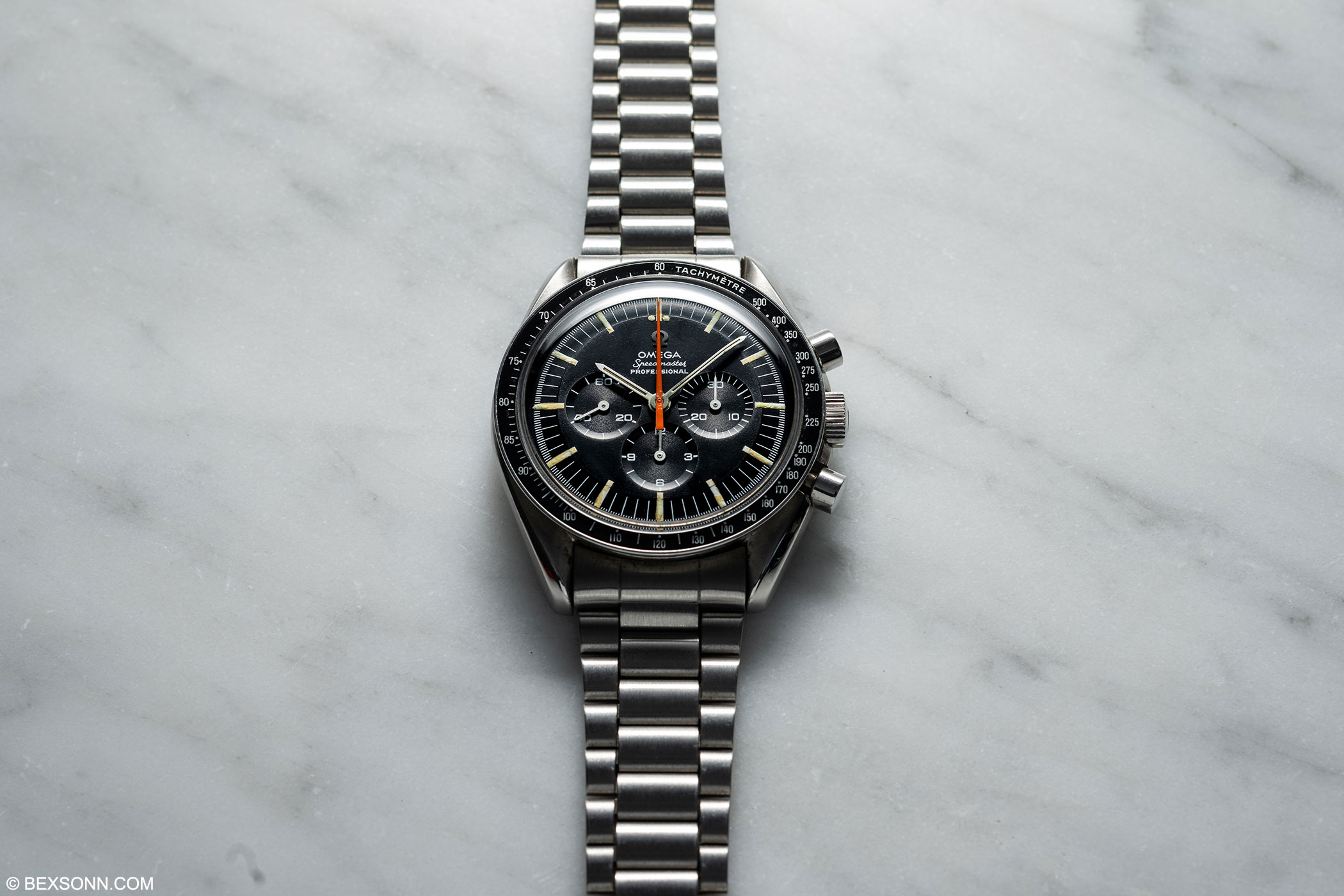 Lot 93: Vintage Omega Speedmasters have come into their own of late, with the straight-lug models of the CK2915, which is right at the top of the pyramid, the CK2998 (aka the Wally Shirra) and then the 105.003, also known as the 'Ed White' – which is perhaps more common than the first two mentioned but also more attainable. Then there's the twisted-lug examples with the most coveted pieces being the Alaska Project examples. That said, there is still a healthy appetite for the pre-moon examples (reference 145.012), which have seen some eyebrow raising results at auction. And this particular example seems to have all the attributes that make it rather alluring.
Pre-moon Speedmaster are considered among collectors to be special, as these examples were the first to exhibit twisted/bombe lugs. But when such an example features an orange central sweeping chronograph hand, its status is somewhat elevated. This Speedmaster is not only rare but seriously sought-after in not only Speedmaster collecting circles but the wider watch collecting community and is known as an "Ultraman". The Ultraman is a tribute to the key character in the Ultraman series, a collection of shows created by Tsuburaya Productions in Japan: one of the most famous examples of the Kaiju "giant monster" genre.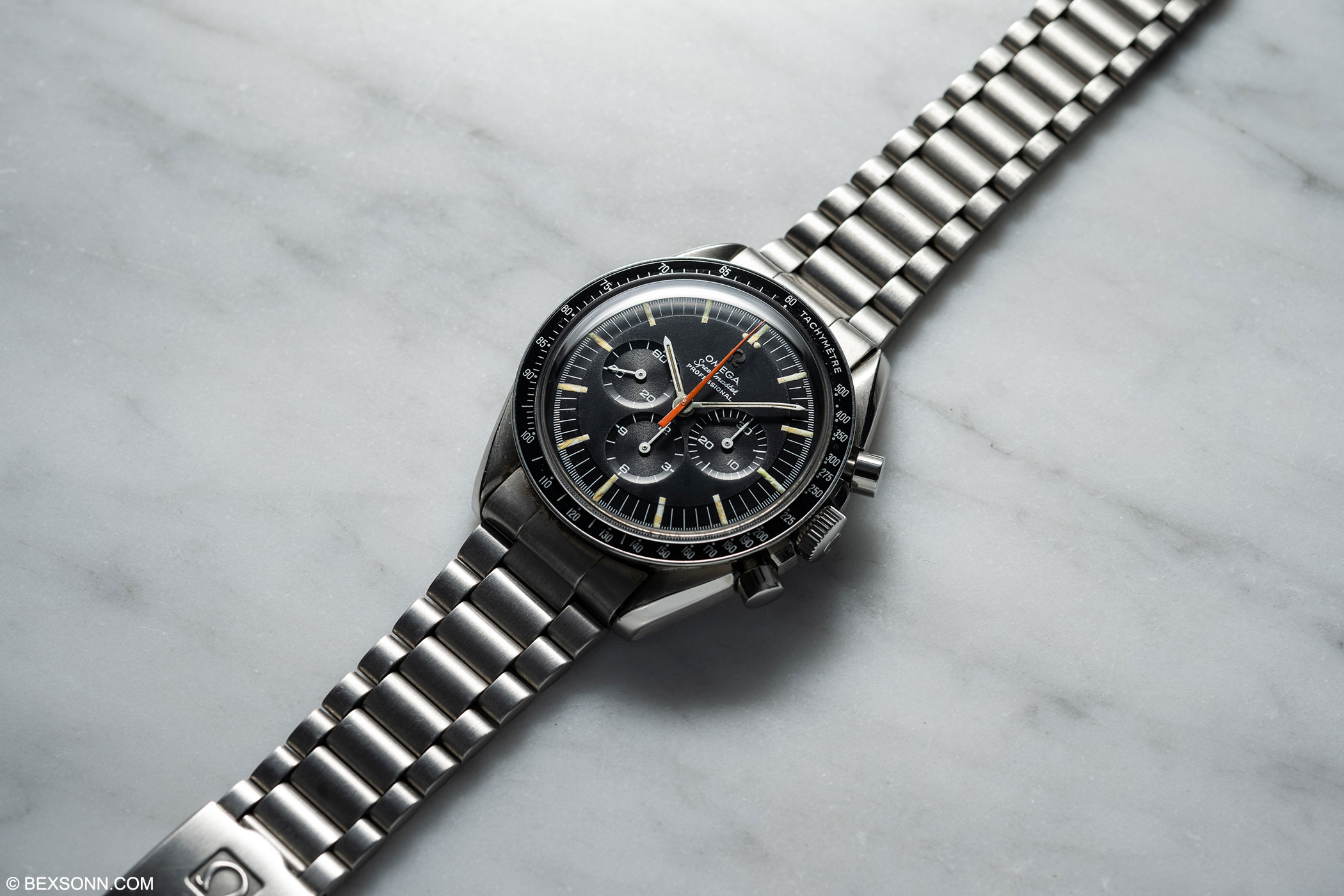 This particular lot features a matte black dial, which is nicely accented by the creamy tone of the hour markers. Ticking away inside is the critically acclaimed 321 chronograph calibre, not only because its reliability but also for its ease of service. It comes on an original 1171/1 flat-link bracelet with 633 end pieces that has a decent bit of length to it. Moreover, this 1968 example also comes with its Omega Extract from the Archives, which states the watch was originally delivered to British military suppliers NAAFI and also confirms it was originally fitted with an orange chronograph hand.
Estimate: £15,000 – £25,000
---
ROLEX EXPLORER 1016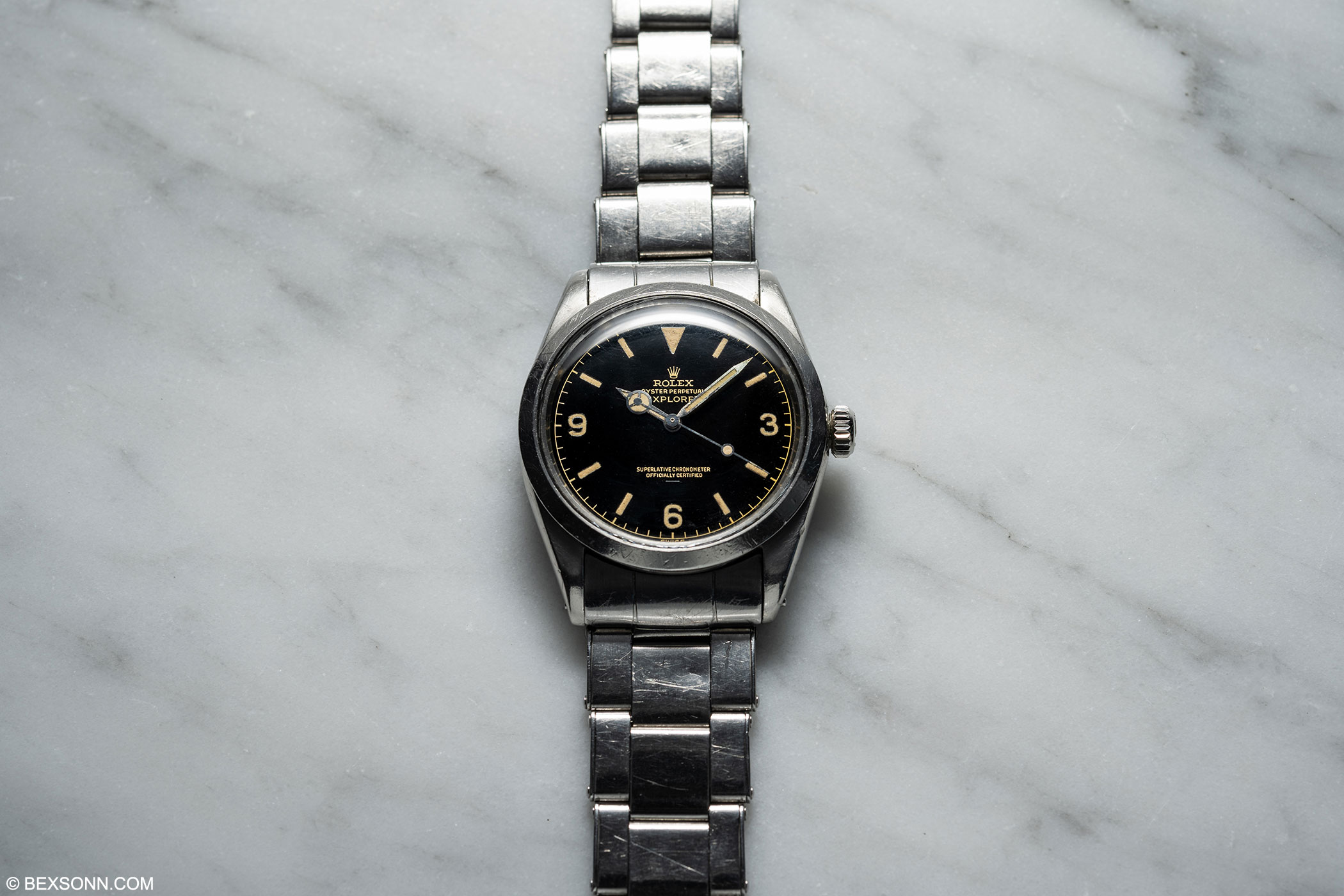 Lot 128: The Rolex Explorer 1016 has always been the Rolex sports watch that has somehow sailed under the radar, in comparison to the brands big hitters, such as the Submariner, GMT and Daytona. The no nonsense of the 3-6-9 p dial perhaps lends to its more simplistic nature and by virtue probably makes it more underrated and underappreciated. That said, it is likely the reason why it remained hardly unchanged for nearly 30 years. As you'll likely know from my in-depth article on the 1016, I am a massive fan of the Explorer and while this ref. 1016 to the layman doesn't look particularly special, those "in know" will know it quite a rare variation.
However, there is more than meets the eye with this particular 1016. The 60s were considered to be a transitional period for many watch manufacturers as they attempted to move away from the much harmful substance of radium to tritium. It is widely accepted that Rolex first signified this change with the use of a small horizontal line on the dial – also known as the "Underline Dial." However, this was rather unclear and so Rolex went down the route of using small T's, usually flanking the wording "SWISS" – denoting tritium had been used. This meant that old stock dials had to be modified to denote this change by using, as already mentioned, an "underline" or "T" on the dial. In most cases this addition is quite noticeable, as the colour slightly differs from the original text, but this subtle difference makes these examples extremely collectible today.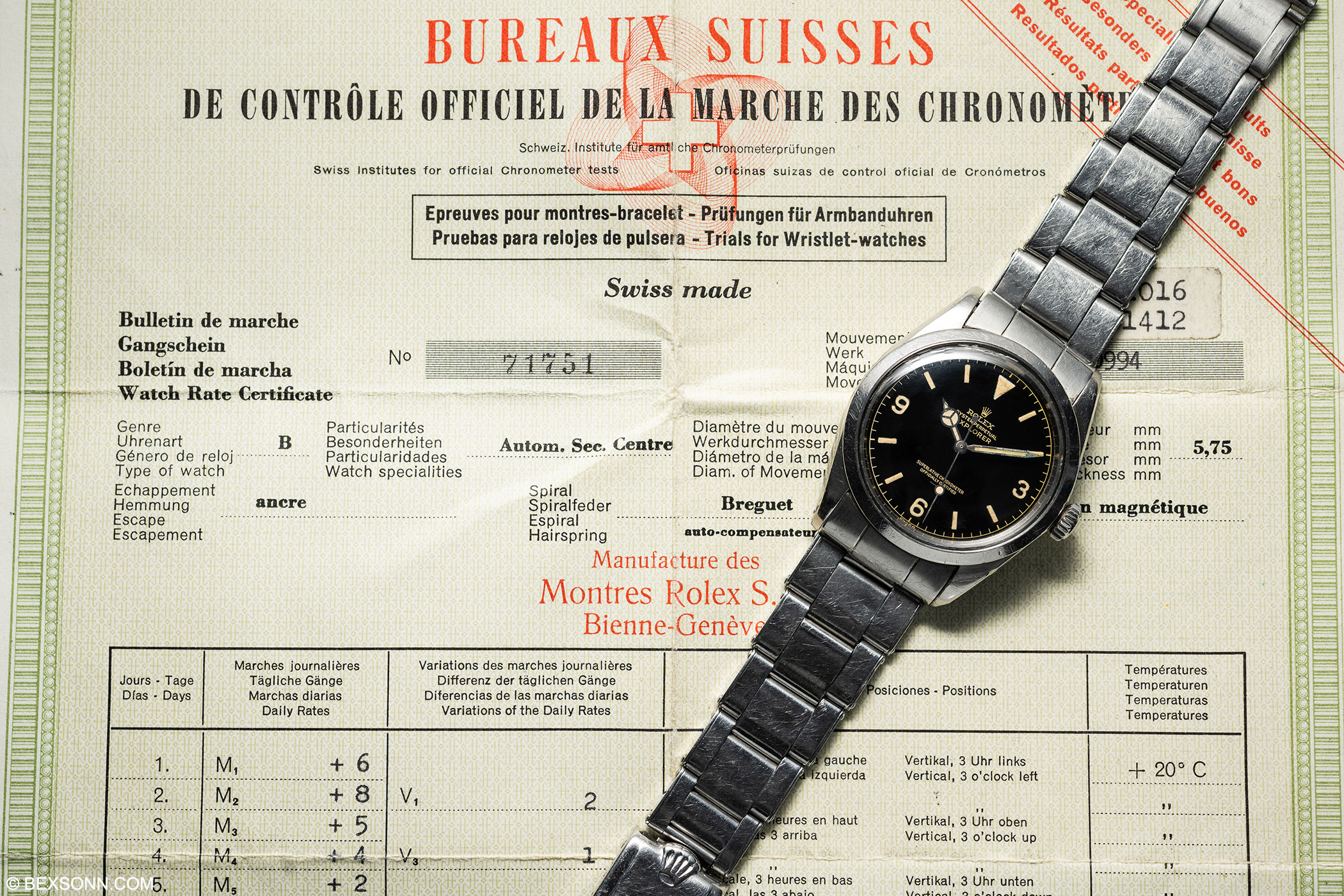 This circa 1964 Rolex Explorer ref. 1016 features a black gilt gloss dial with applied luminous markers, 3-6-9 Arabic numerals and Mercedes hands. However, as mentioned, this one is a little bit special and you'll notice it features an underline just below the chronometer certification, which is only seen on very early examples. As well as that, inside this Explorer ref 1016 is the 25-jewelled automatic calibre 1560 movement with butterfly rotor, signed Montres Rolex S.A. The case is in a good, honest, condition and comes with its original box, as well as matching serial chronometer certificate.
Estimate: £12,000 – £18,000
---
ROLEX 6239 'PICCOLO DAYTONA'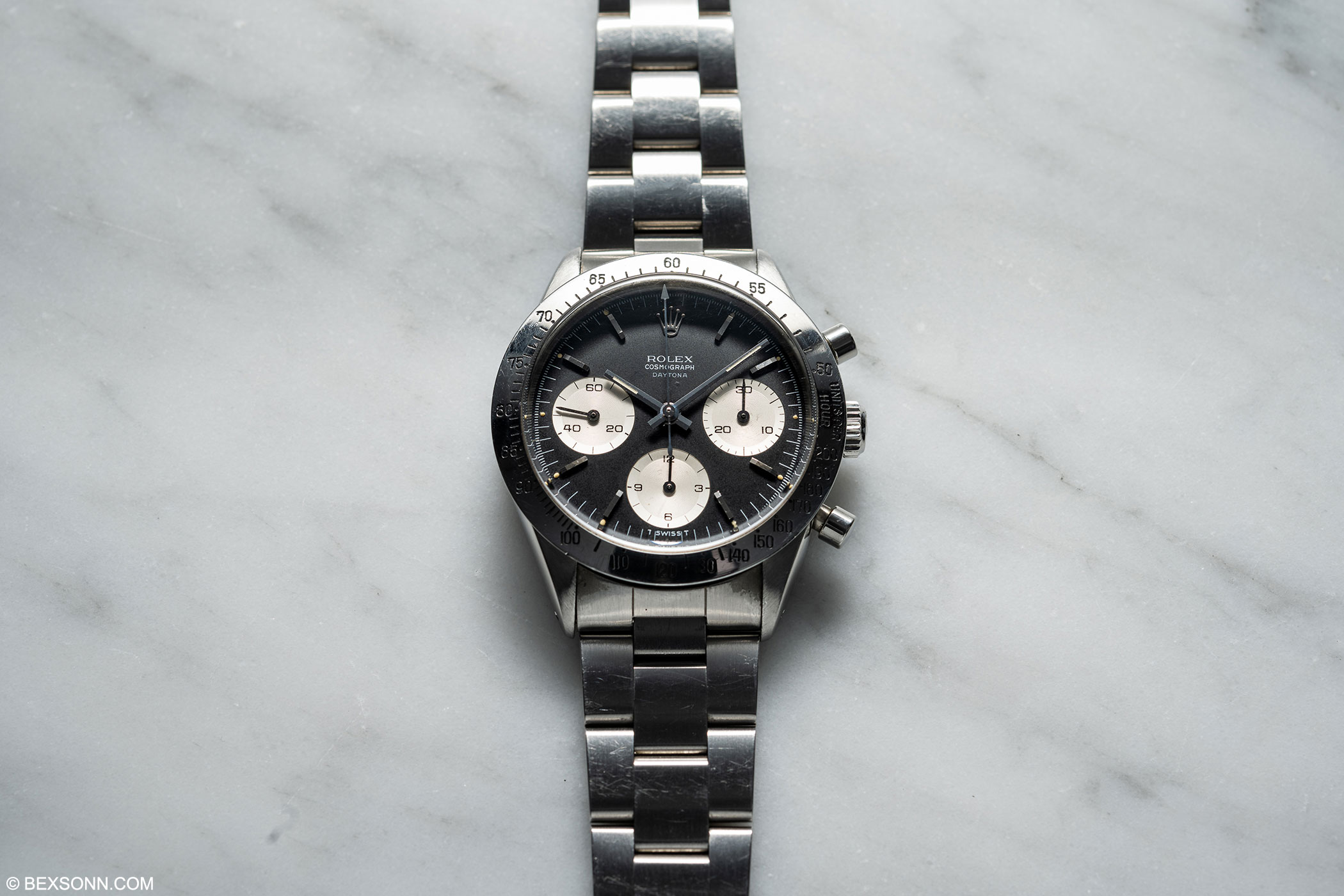 Lot 130: The reference 6239 is the first Daytona ever produced by Rolex, even though the watch had yet to be formally named as such. Introduced in 1963, the iconic chronograph timepiece for the first time featured an external tachymetre scale on its bezel. This early example features an early bezel calibrated to 300 units, while this is not the extremely rare MK1 bezel which features hash marks instead of dots, it is still quite sought-after. Moreover, this lot not only features a case that is in exceptional condition but a quirk that makes it quite interesting, as well as a dial that makes it just that little more desirable.
The case for this Daytona features something rather unusual. I'm guessing this is not something that happens often but every once in a while, someone has an off day and it would appear in this case (pun intended), the serial number has been stamped between the lugs at the top and reference number at the bottom – instead of the other way around. It's not uncommon to see irregularities such as these and knowing that Rolex didn't like waste, they figured it perhaps would go unnoticed but luckily for us today, this lends to its overall rarity.
Furthermore, it sports a 'small font' Daytona dial, something only seen on early 6239s. Before 1963, Daytona's never featured the wording 'Daytona' dial, this name was only given to the Cosmograph after 1964. The rarity of this ref. 6239 Daytona coupled with its well-preserved dial and quirky case makes it a lot that should be taken note of – these early 'small Daytona' 6239s in my opinion are just so beautiful.
Estimate: £25,000 – £35,000
---
ROLEX GMT-MASTER 1675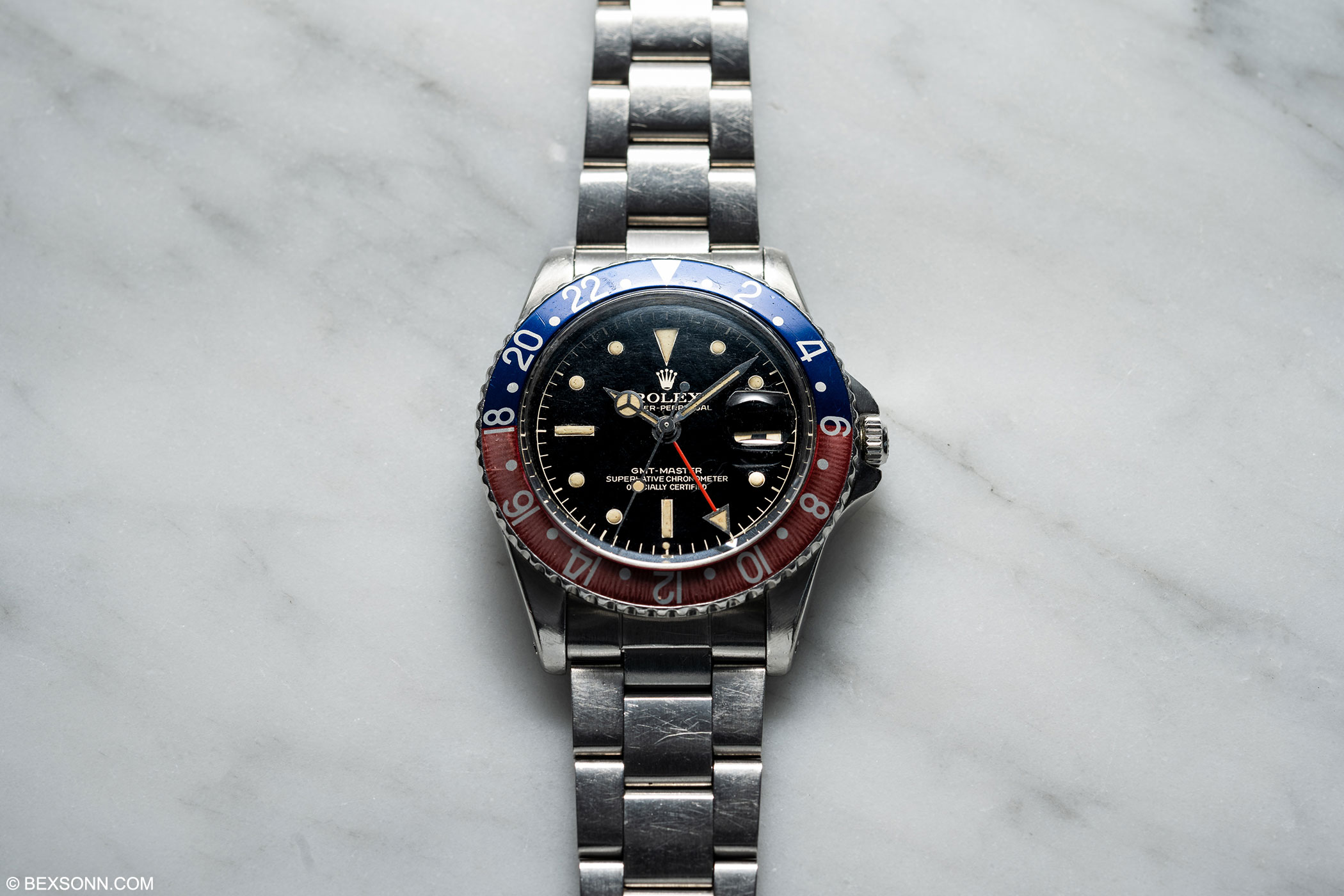 Lot 131: As the successor to the first GMT-Master reference 6542, reference 1675 was launched in 1960 using a metallic bezel insert that replaced the fragile Bakelite bezels used in the 6542 models. This example from 1961 features a glossy dial with gilt text and chapter-ring, with markers that have aged gracefully to a warm cream colour, but as you'll notice the dial reads "Superlative Chronometer Officially Certified" (COSC), though not as rare as those with OCC dials, it still displays charming qualities. One of which is the exclamation mark at 6 o'clock.
Part of the bezel has faded to an even, with the red section displaying signs of patina with a rather unusual faded pattern. The early case features coveted pointed crown guards known as "Cornino" – making them truly collectible in the world of vintage Rolex. It also features a 'Swiss" only dial, meaning the dial has radium as luminescent material. Another trait of this early GMT is the chapter-ring and small luminescent dot above the 6 o'clock index. Known in the collectors circles as exclamation point dials, which were produced during a short period from 1960-63, making it more desirable amongst aficionados. However, it is believed that this trait signified lower radioactivity of the luminescent material on the dial.
Estimate: £15,000 – £25,000
---
ZENTIH EL PRIMERO A385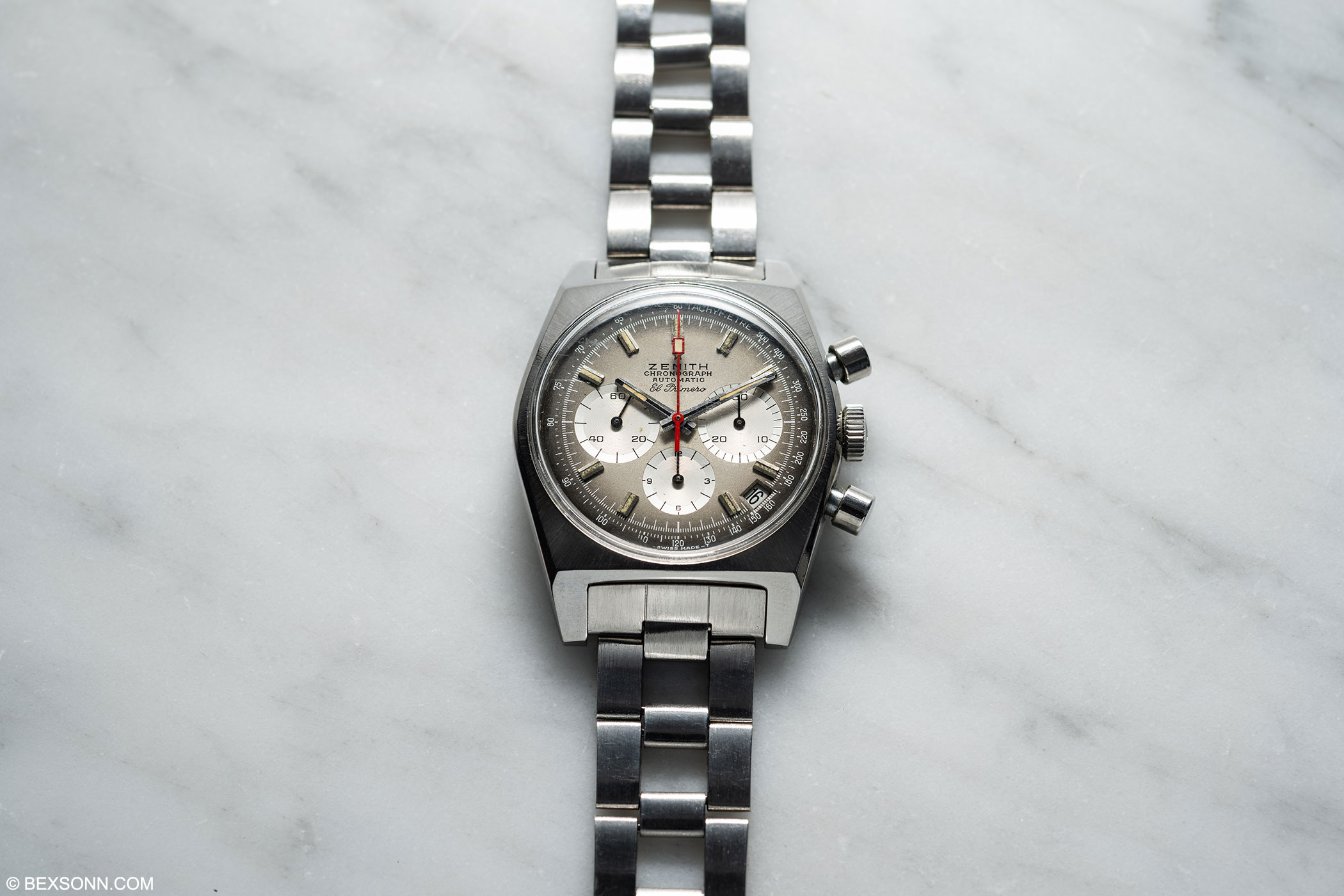 Lot 188: The El Primero is a legend within its own right but there is a much debated story behind it. During the early 1960s there was a race on to see who could create the world's first self-winding (automatic) chronograph. There were of course a few companies that shared an interest in claiming this technological breakthrough: Heuer/Buren-Hamilton/Breitling. However, there were a couple of silent watch manufactures working on this advance too: in the Far East was Seiko, who were busy working on their own version and then there was the company from Le Locle – Zenith! While there is a debate on who was first, there's no doubt that Zenith were first to announce the El Primero, with three different references. The A384, the A386 and of course this model, the A385. This A385, in contrast to the A386, features a tonneau shaped case but comes on the all-important, original, Gay Frères ladder bracelet. The dial sports a fume grey finish, with inlaid silver batons, and three silver registers, recording minutes, hours and continuous seconds.
Estimate: £4,500 – £5,500
The Watches of Knightsbridge auction will take place on the 5th December 2020, be sure you visit watchesofknightsbridge.com for this month's full catalogue.
You might also like