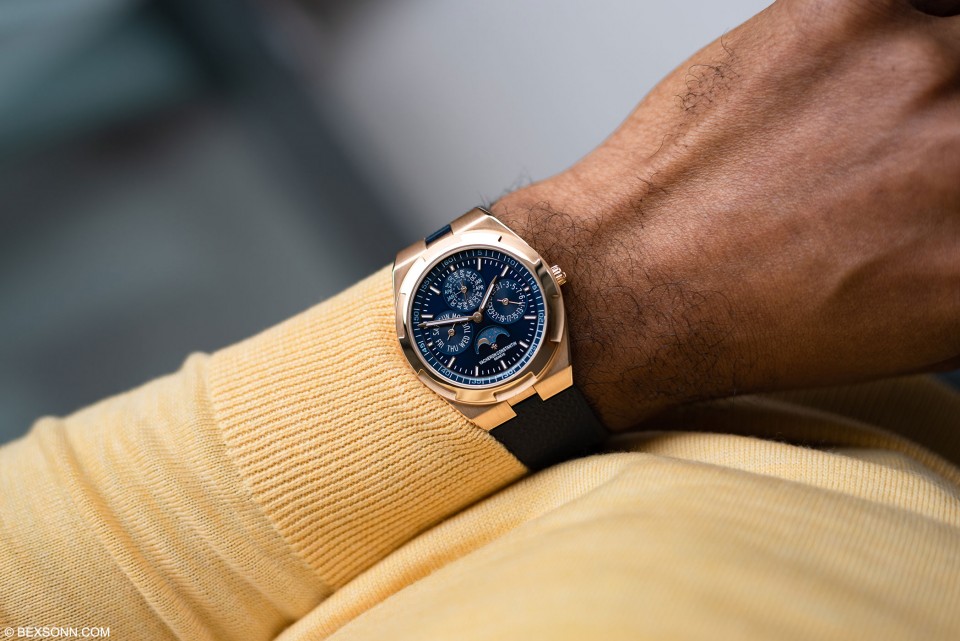 Having a sports watch with an integrated bracelet was all the rage back in the 1970s. Having a steel sports watch that not only looked the part but was also a tool watch that would accompany you through pretty much everything and be your faithful wristwatch companion, was essential. The Royal Oak, designed by one Gerald Genta, was AP's answer to this conundrum. Patek Philippe had theirs in the form of the Nautilus (also design by Mr. Genta) and Vacheron Constantin had what was called at the time, the '222' (design by a young Jorg Hysek), which marked the brands 222th anniversary. It would later evolve into the Overseas via the 333 and Phidias. Back in January at SIHH, Vacheron introduced a new solid 18-carat rose-gold Overseas Perpetual Calendar Ultra-Thin.
The Overseas has always been a timepiece that wasn't designed to be a sports watch but more of a casual/leisure, timepiece. When you think about it, sports watches are made for sports and while the Overseas can be worn during said sporting activities, it is also a discreet model which can be worn with pretty much any attire. I've always been rather fond of the 222 and until now have never really appreciated the Overseas. But with its new design, flowing lines and delicate finishes, the new Overseas model has a more seemingly timeless appearance but one that is still very contemporary.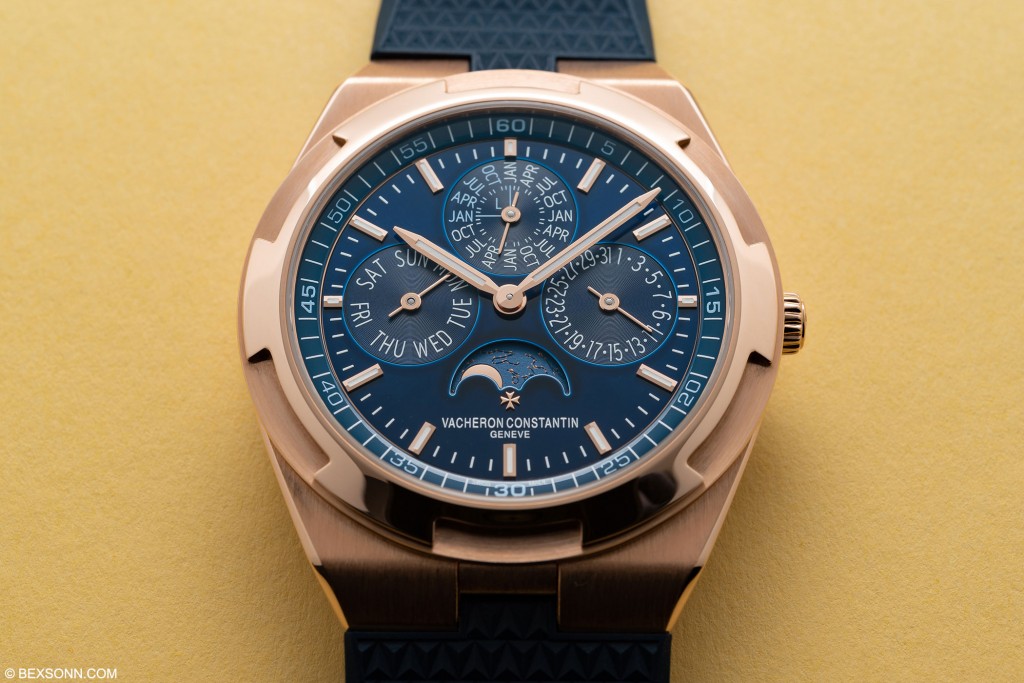 The case features a six-sided bezel and the fluted crown with grooves that evoke the Maison design codes. The rounded, polished and satin-finished opening dips towards a refined dial topped by a sapphire crystal glare-proofed on both sides. The dial has been coated with a translucent blue lacquer, which creates an illusion of depth when gazed upon. The screwed-down case back fitted with a sapphire crystal reveals a 22K gold oscillating weight adorned with a wind rose, a universal symbol indicating the cardinal points for travellers, and adorned with sandblasted, polished and finely grained finishes.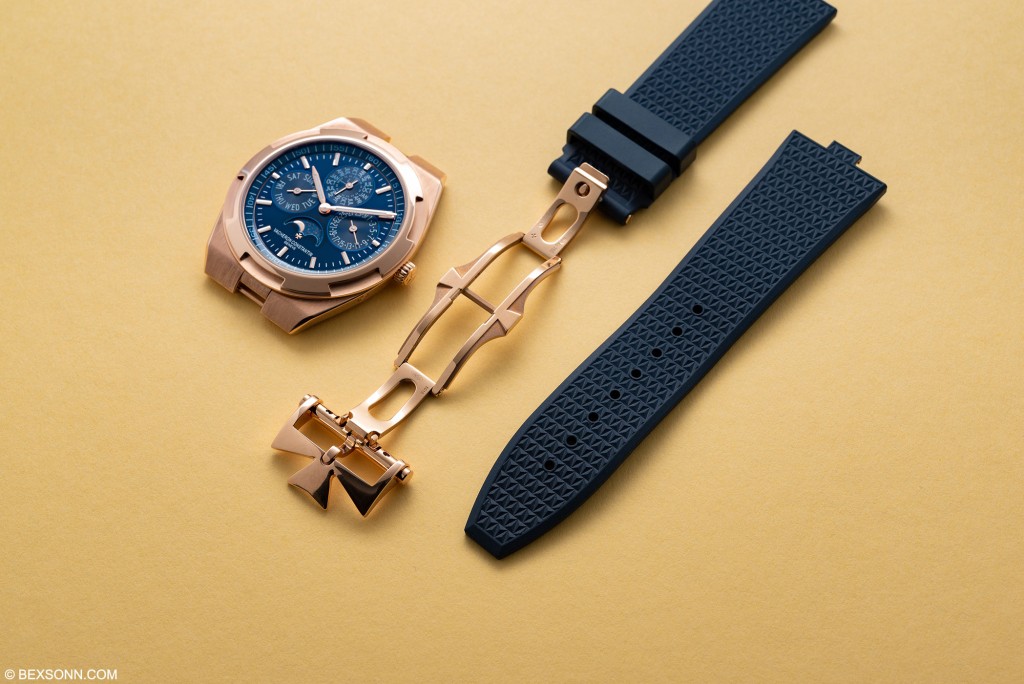 The use of an integrated bracelet is something that is rather emblematic of these 70s casual, sports wristwatches but with wearers wanting to change the look and feel of the Overseas, every now and then, Vacheron started to make versions of the Overseas with leather and in some cases rubber straps. Vacheron took this concept a little further on the new Overseas released a few years ago. Each Overseas model is supplied with at least two types of easily interchangeable bracelets, including a solid 18-carat gold bracelet, leather and the all-important utilitarian rubber strap. An ingenious interchangeability device for the bracelets/straps and the folding clasp, serves to secure them in place without any need for tools. And while this is something extremely new, just the fact this can be done on a Vacheron Overseas, I think is pretty darned cool.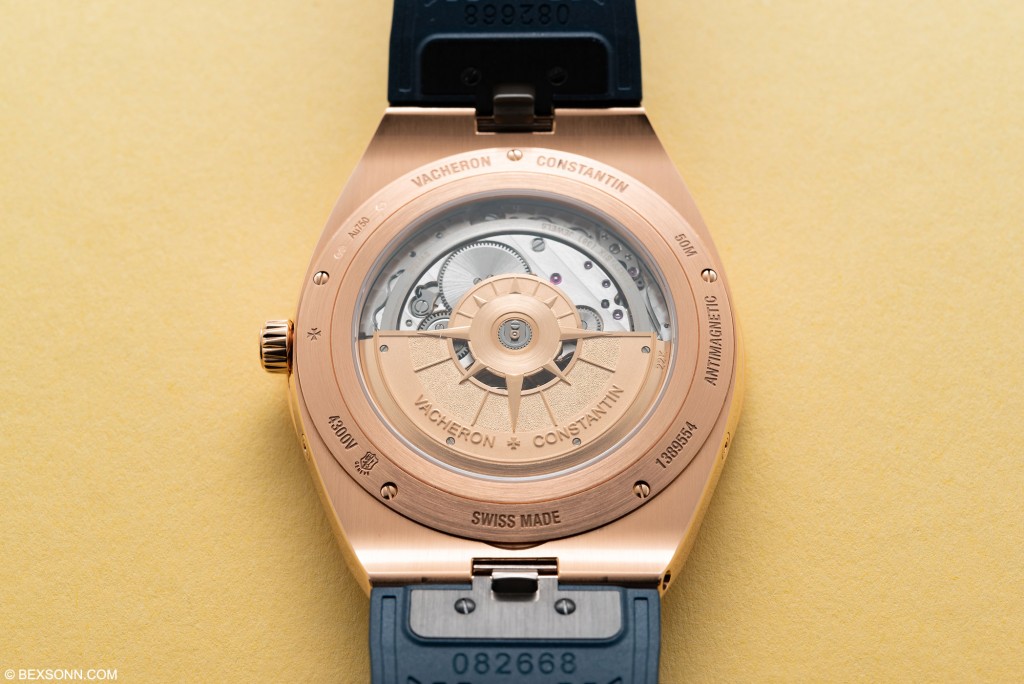 The original 222 housed the calibre 1120 developed by Jaeger-LeCoultre as the calibre 920 in 1967 for exclusively joint use by Audemars Piguet and Vacheron Constantin but it is interesting to note that JLC themselves never actually used this movement. Ironically enough, the big three (AP, Patek and Vacheron) are known to have used this same ebauche for their leisure/sports wristwatch equivalents launched in the 70s. This Overseas QP (Quantième Perpétuel) makes use of the original calibre 1120 QP/1, which has been developed and crafted by Vacheron Constantin to Poinçon de Genève standards. Calibre 1120 QP/1 uses as traditional a perpetual calendar plate you can find in a modern wristwatch, with a program wheel, moonphase, and all the intricate steel cams and jumpers, which incorporates historic watchmaking techniques that make this kind of perpetual calendar rather important.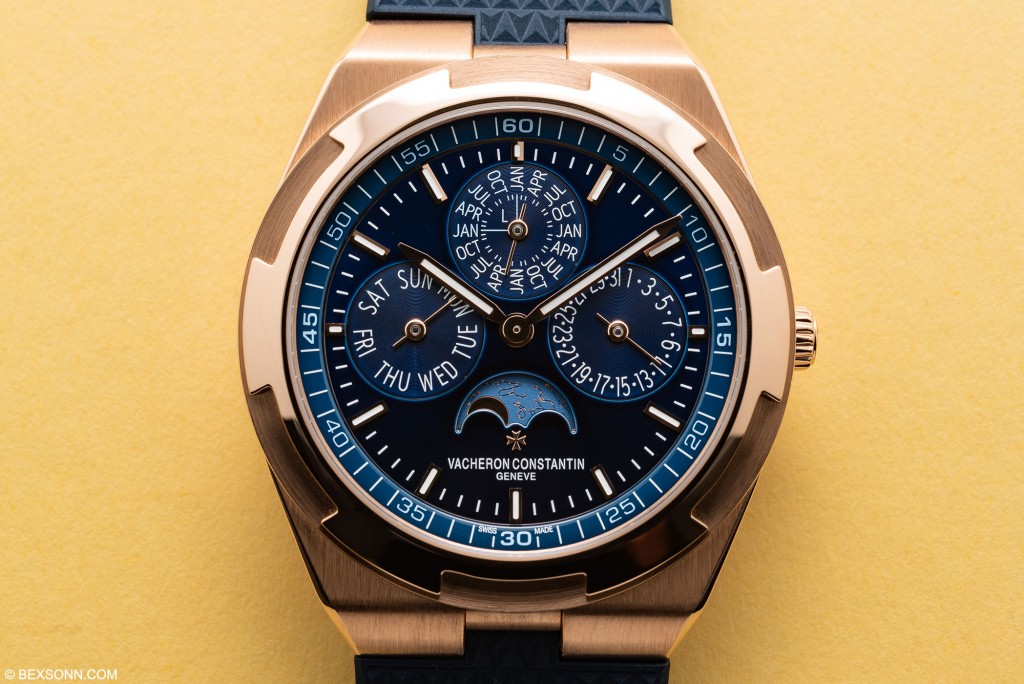 As mentioned, the dial features a deep blue lacquer dial, with gold applied markers and matching hands, both inlaid with luminescence. The perpetual calendar is indicated using three sub-dials. At 3 o'clock is the date indicator, with the day at 9 o'clock and the leap year and month indicator at 12 o'clock. There are varying ways to display the leap year but the Overseas Perpetual Calendar Ultra-Thin uses a single hand for both, which makes one full revolution every four years. It is a pretty nifty mechanical solution because you need only to put a hand on the program wheel, which turns once every four years, giving you an integrated month and Leap Year indicator.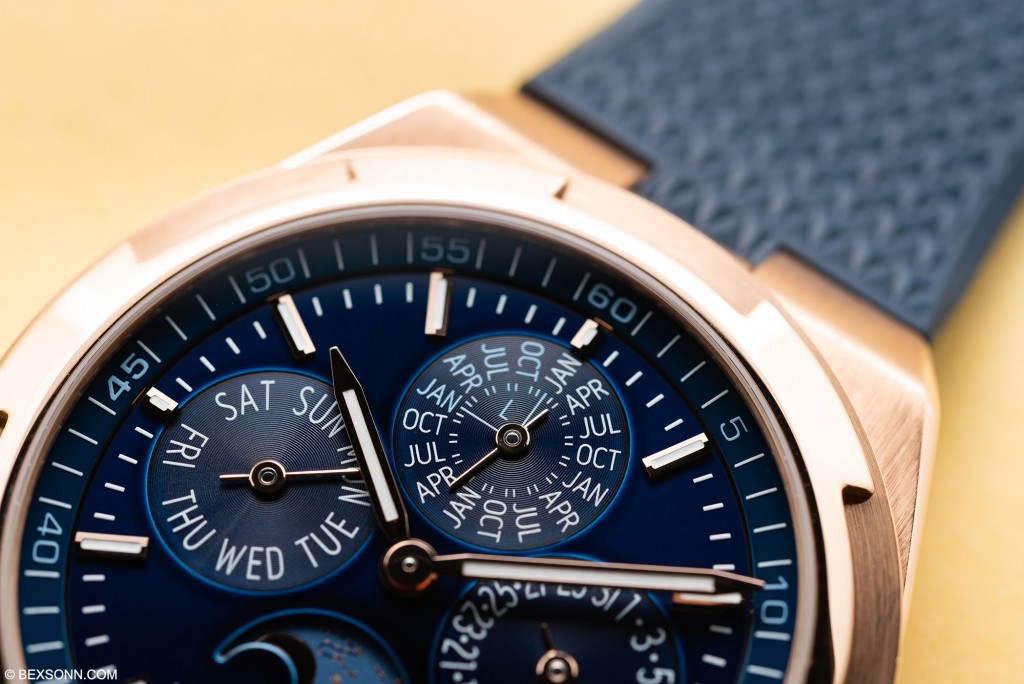 However, with so much information squeezed into one register, the problem of maintaining legibility becomes rather tricky. What Vacheron have done is squeezed all the required 48 months into the register at 12 o'clock but have maintained legibility by using letters for only every third month. The months that don't get letters, are indicated by dial markers, and the leap year is shown by quartering the sub-dial at the Leap Year.
The QP system is rather simple and this simplicity is also carried over in setting it up. While the method over setting it up isn't fool-proof, it is at least straightforward. Setting the day of the week, date, and month is done via push-pieces that are recessed into the case, which index the wheels of the respective indications; the moonphase has its own separate corrector, which can be advanced without affecting any of the other indications. And while we are on the subject of the moonphase, you'll notice this is no ordinary one.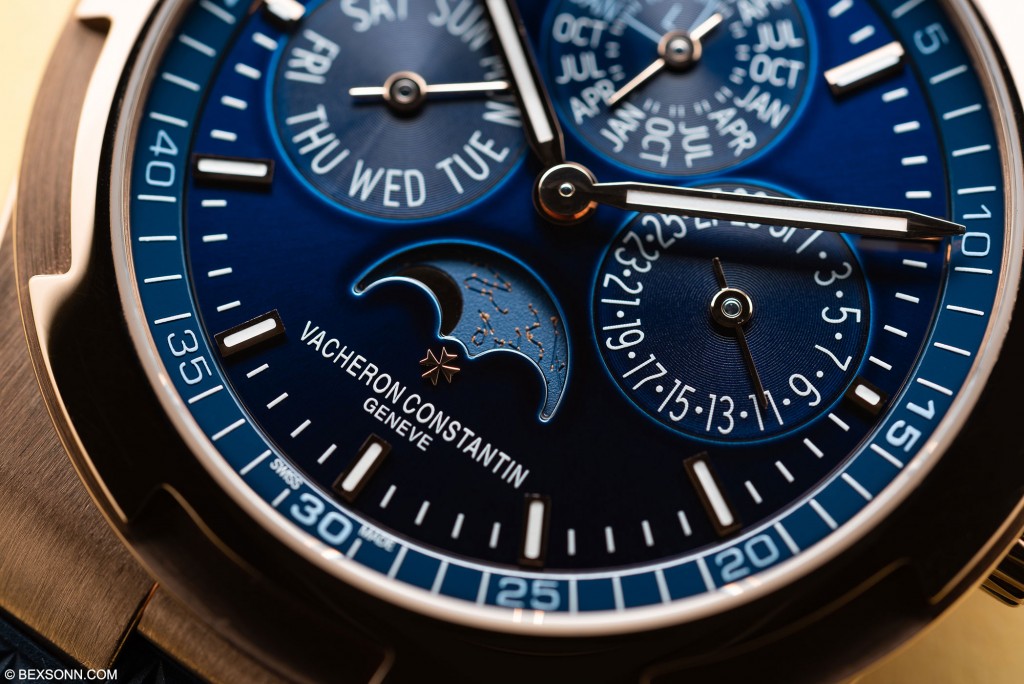 Like any perpetual calendar, the moonphase isn't actually required for displaying the calendar information as such, but it is a rather majestic addition to any perpetual calendar which, after all, is a kind of astronomical complication itself. Not all moonphases are created equal and the moon phase that Vacheron have used on the Overseas QP Ultra-Thin is rather sobering. The moonphase disk itself is lightly textured and decorated with engraved constellations and hand-painted stars, which nicely contrasts with the blue lacquered dial.
---
FINAL THOUGHTS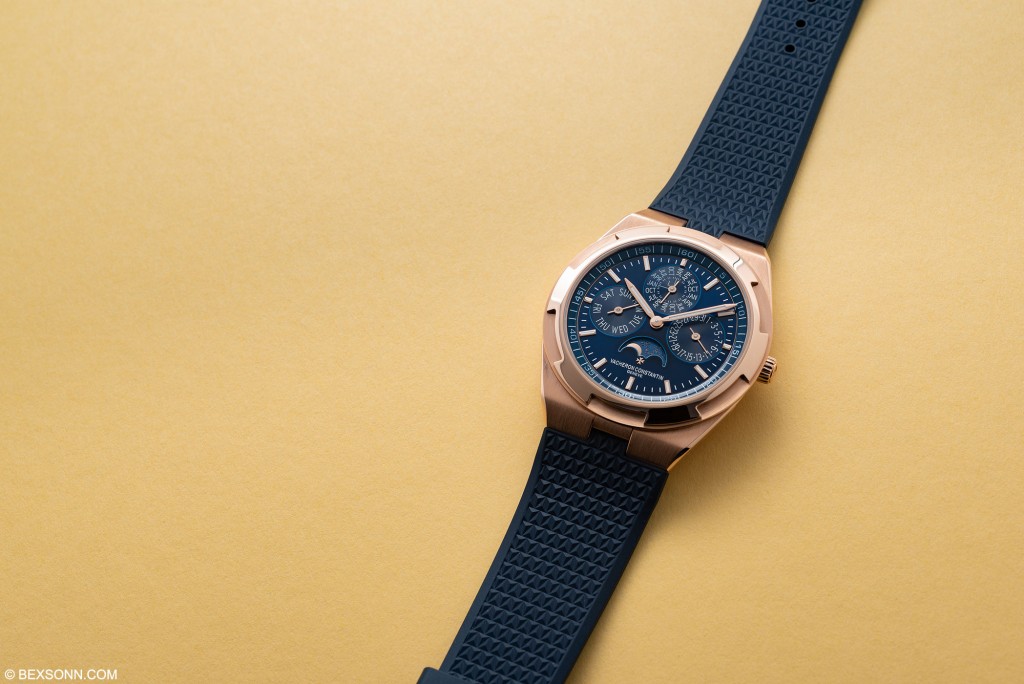 Aesthetically this Overseas Perpetual Calendar Ultra-Thin, ticks all the right boxes on a personal level. It is very enjoyable to wear, not to mention very, very comfortable too. Of course, the interchangeable straps make it a more versatile wrist companion. As mentioned, the perpetual calendar is nice and easy to set, though not completely fool-proof. The use of the 1120 QP/1 calibre make this Overseas even more likeable but also incorporates a perpetual calendar mechanism that is concealed under the dial, which is part of the attraction of this movement and is something that is a rather traditional approach.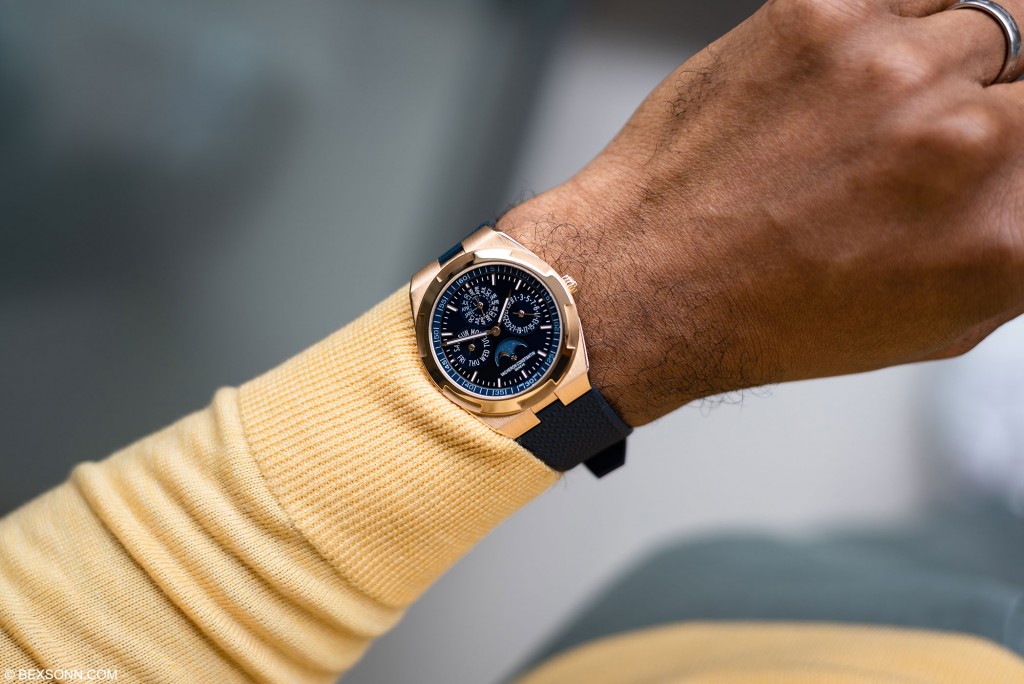 In my humble opinion, this is perhaps my favourite Overseas implementation, since the inception of the Overseas back in 1996. This Ultra-Thin Overseas harks back to the roots of the 222, as it makes so much more sense as a slim watch. The subtleness of angles on these newer Overseas afford a much more elegant look and feel, something I think the previous version lacked, which made them a little too aggressive in my opinion.
At £66,500 with the inclusion of a leather and rubber strap, the Overseas QP Ultra-Thin is probably not your cheapest perpetual calendar. However, this sort excellence from one of the oldest watch Maison's is never going to be. Enthusiasts will highly appreciate that there are certain factors which dictate the price of timepieces like this. Such as the level of detail that Vacheron put into the finishing of their movements, the level of detail that has gone into the blue lacquer dial and not forgetting the level of detail put into the case, which brings this enviable package all together.
The Vacheron Constantin Overseas QP Ultra-Thin is available in 18-carat pink-gold, with a blue or silver-toned dial and 18-carat white-gold with a grey dial. All variations are available on either a matching metal bracelet and come with additional leather or rubber straps. For more information visit the official Vacheron Constantin website.
---
GALLERY
You might also like