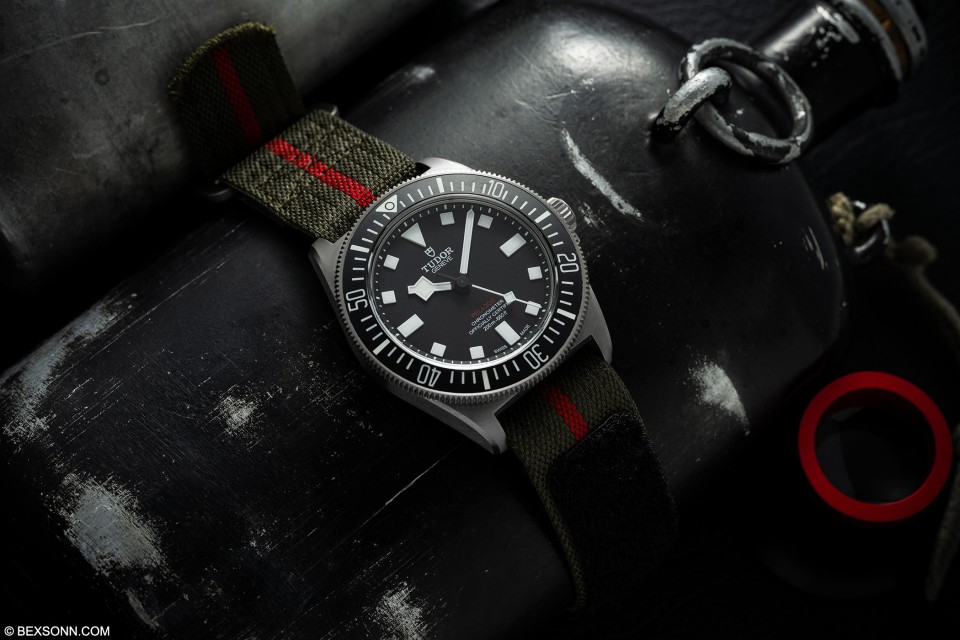 It feels like just yesterday that Tudor introduced the Pelagos FXD MN, but it's been two years since its release. Each time we examine a new timepiece from Tudor, we're continually impressed by their consistent ability to produce exceptional watches. This latest release is no exception. We previously examined the Pelagos and recognized it as a reliable wrist companion with a plethora of features. Tudor even expanded the range by introducing a left-handed version of the Pelagos, showcasing their dedication to diversify the collection.
Since Tudor's resurgence, they've achieved considerable success by unveiling vintage-inspired timepieces, often delving into their archives for inspiration. The Pelagos FXD US Navy, their latest addition to the line-up, is a refinement of an already outstanding model, showcasing their commitment to innovation and craftsmanship.
Last week Tudor announced that they'd be paying tribute to the decades of Tudor watches on the wrist of US Navy divers. Tudor supplied diving watches to the US Navy during the latter part of the 1950s, a practice that endured for decades. These watches gained renown for their extensive use by SEAL teams, a tradition that began in 1962 and persisted until the late 1980s. Beyond SEAL teams, Tudor watches served a crucial role for sailors across various underwater assignments, encompassing UDTs, Seabees, and Navy dive school instructors. The issued Tudor Submariners not only contributed to instructing scuba diving fundamentals at the Underwater Swimmers School but also proved invaluable in underwater submarine maintenance at submarine bases both in the US and abroad. Furthermore, these issued Tudor watches played a pivotal part in pioneering innovative underwater technologies in oceans worldwide.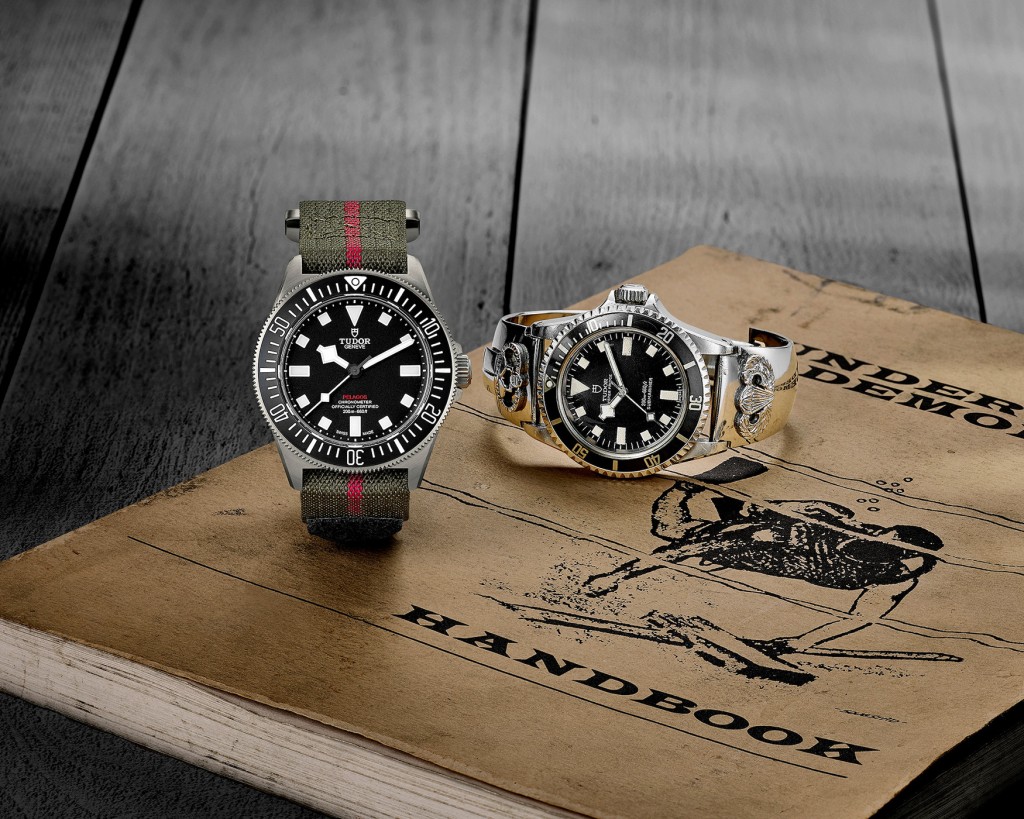 Throughout the 1960s, 70s, 80s, 90s, and into the early 2000s, Tudor remained a steadfast supporter of the US Navy as a designated watch supplier. Notably, in the 1965 "First Edition" of the Underwater Demolition Team Handbook, a Tudor Oyster Prince Submariner ref. 7928 was prominently featured alongside the "Diving Watch" section. This handbook held paramount importance for new operators, serving as a comprehensive guide to UDT operational protocols.
Later, in 1973, the US Navy Diving Manual officially recognized Tudor Oyster Prince Submariner references 7016 and 7021 as "Navy-approved" diving watches. Subsequently, in 1974, the National Stock Number system was introduced to streamline the US Department of Defence's supply management. Under code 6645-01-068-1088 starting from 1978, supply officers were able to procure and issue Tudor Oyster Prince Submariner references 9411, and later 76100, to approved sailors and operators in need of reliable Navy-approved dive watches. Remarkably, this specific catalogue entry remained active until 2004, underlining Tudor's enduring commitment to supporting naval operations.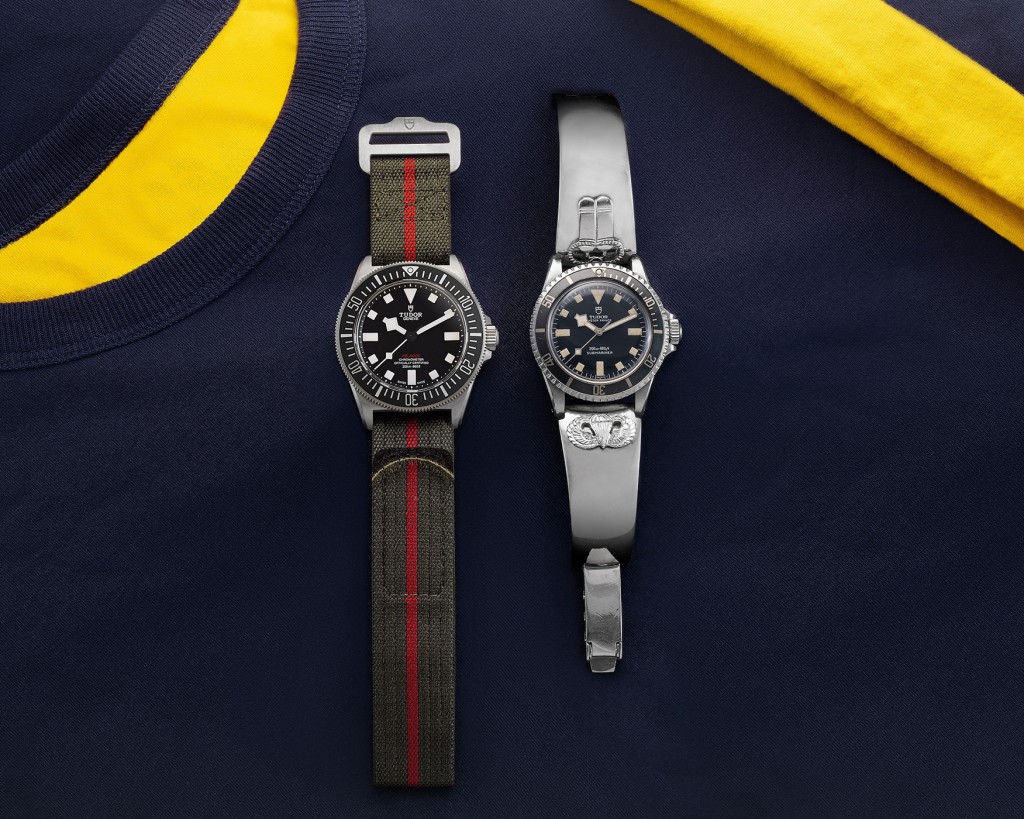 However, there was a unique aspect regarding the watches supplied to members of the US Navy. In contrast to other military-issued watches, which were usually engraved with specific inventory codes, Tudor watches issued to the US Navy did not follow this convention. Consequently, it becomes challenging to ascertain if a Tudor watch was indeed issued to a Navy member, given that many of these watches lack distinct markings. This absence of clear markings presents a significant obstacle for present-day watch scholars attempting to determine the military origin of a particular Tudor timepiece, despite official records indicating substantial quantities being delivered across various references over several decades.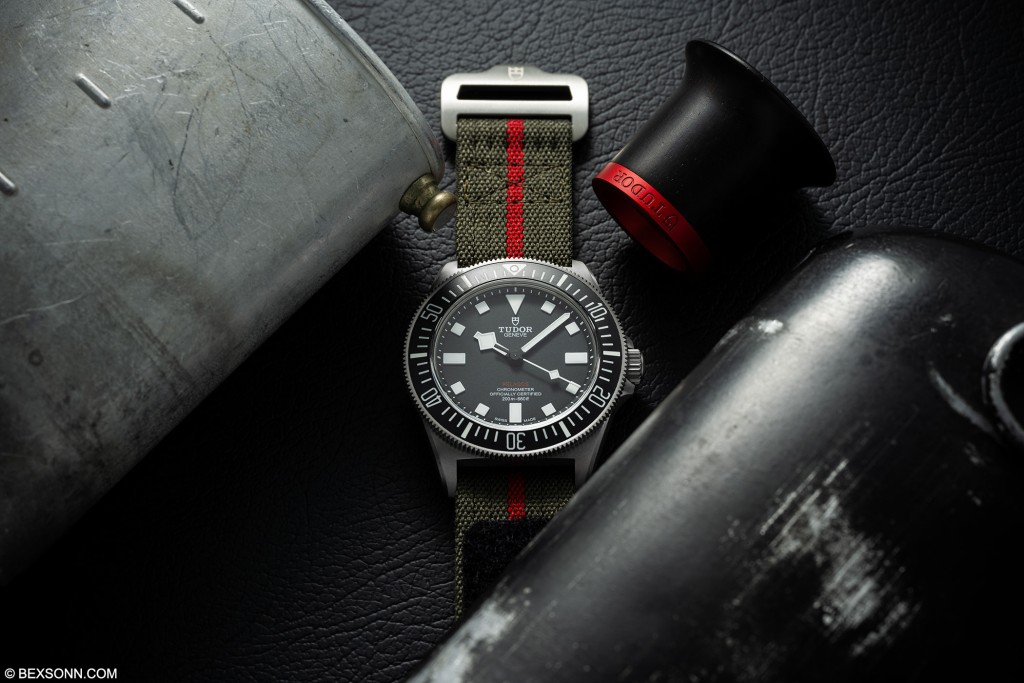 The new Pelagos FXD retains the distinctive sandblasted titanium case, measuring 42mm and featuring subtle nods to classic design elements like chamfered lugs and pointed crown guards. However, a notable upgrade in this new model is the introduction of fixed strap bars, indicated by the 'FXD' in its name. In the past, fixed strap bars were crafted by removing the spring bars and soldering steel bars between the lugs. However, such an approach today might compromise the overall robustness of the watch. In the Pelagos FXD, the fixed strap bars are seamlessly machined into the main body of the 42mm titanium case, effectively eliminating potential weak points.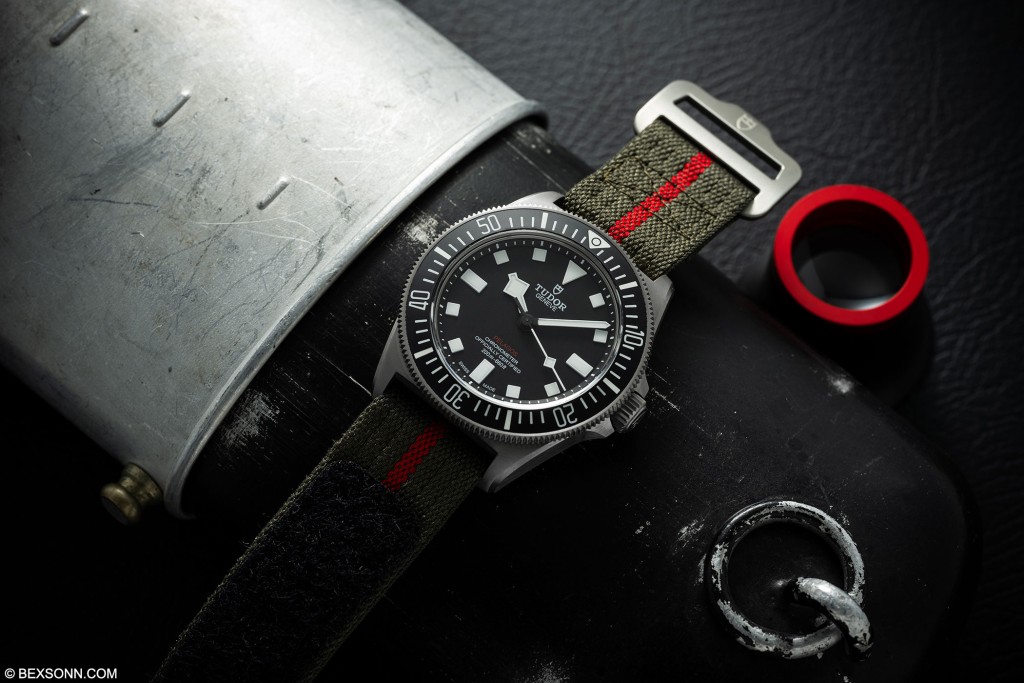 This design choice creates a cohesive and visually striking silhouette, where the lugs seamlessly extend from the case. A feature that I've always loved about MilSubs, specifically Rolex ones, is the fully demarcated graduated bezel and though the original issued watches didn't feature them, Tudor saw it fit to embody that trait of the MilSub on this new FXD. It features a 60-notch rotating bezel, that is Unidirectional with a retrograde graduation from 60 – 0, which correspond to the ISO 6425:2018 standards of diver's watches. And if that wasn't enough, because of the poorly lit conditions combat divers are known to work in, the ceramic bezel insert is also luminescent.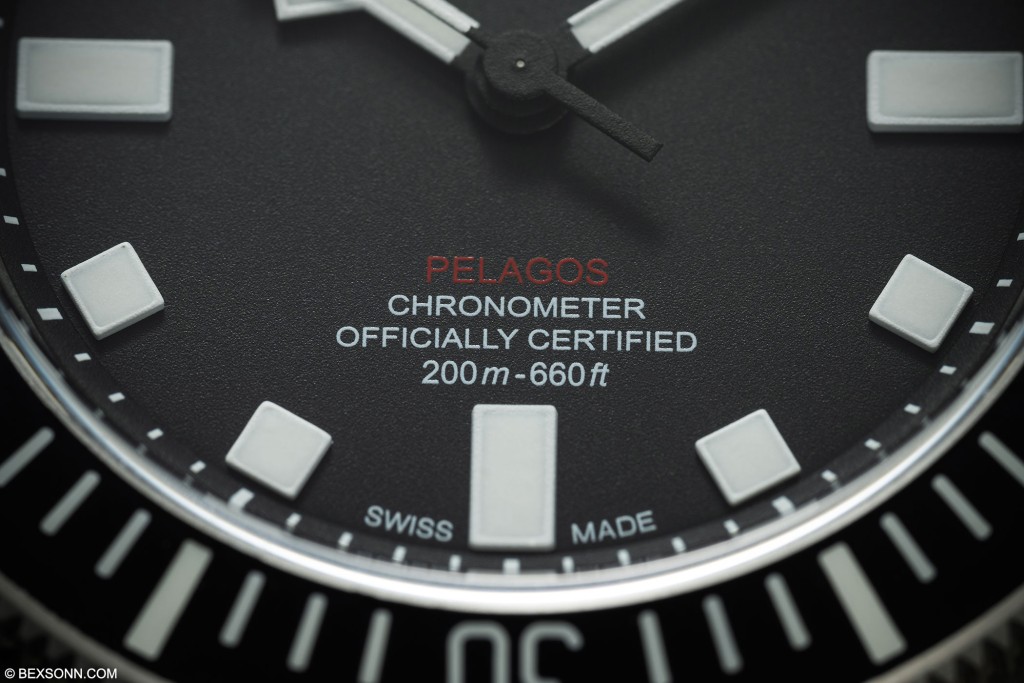 Another prominent design characteristic of the Pelagos is its dial, constructed with layered elements, the dial offers a captivating three-dimensional effect. Much like the standard Pelagos, the dial maintains a sleek aesthetic, employing square hour markers accompanied by a distinctive triangle at 12 o'clock and rectangle markers at 3, 6, and 9 o'clock. Keen observers will immediately notice the absence of a date aperture, contributing to the dial's uncluttered appearance. A subtle yet significant distinction lies in the depth rating below the 'PELAGOS' and COSC inscription, as well as the red script writing. The original Pelagos boasted an impressive 500m depth rating, necessitating a Helium Escape Valve (HEV). In contrast, the new FXD model has a depth rating of 200m, rendering the HEV unnecessary and resulting in a slightly slimmer case profile.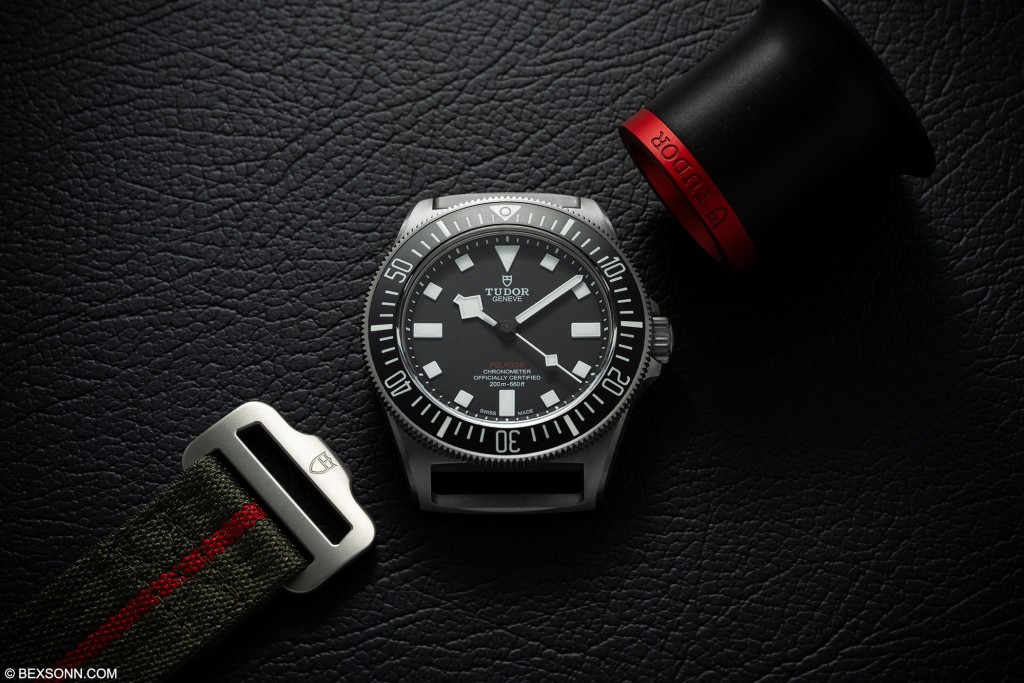 It's widely known that MilSubs were originally supplied without bracelets or straps, allowing wearers to opt for a NATO or a custom-made strap, typically crafted from resilient parachute cord. Paying homage to this tradition, Tudor ensures that the new FXD comes with a single-piece fabric strap. Additionally, the Pelagos FXD package includes a one-piece rubber strap featuring an embossed motif. Notably, unlike the MN FXD released in 2021, the US Navy variant does not feature case back engraving. This choice aligns with historical accuracy, as US Navy-issued watches were not documented in this manner.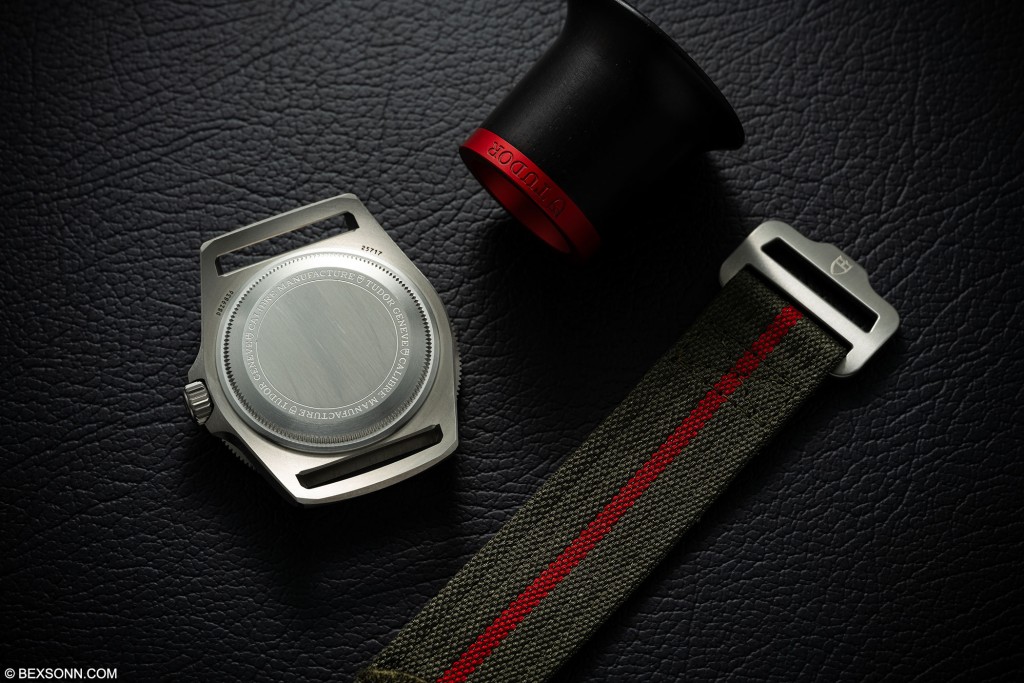 The new Pelagos FXD is powered by the in-house developed calibre MT5602, a movement akin to the MT5612 but notably lacking the date complication. It elegantly presents the hours, minutes, and seconds functions, embodying the hallmark Tudor finishing. The distinctive open-worked tungsten rotor, satin-brushed to perfection, and the meticulously sand-blasted and adorned bridges, add to its aesthetic appeal. Additionally, it holds certification from the Swiss Official Chronometer Testing Institute (COSC) and boasts an impressive power reserve of approximately 70 hours.
---
FLEETING THOUGHTS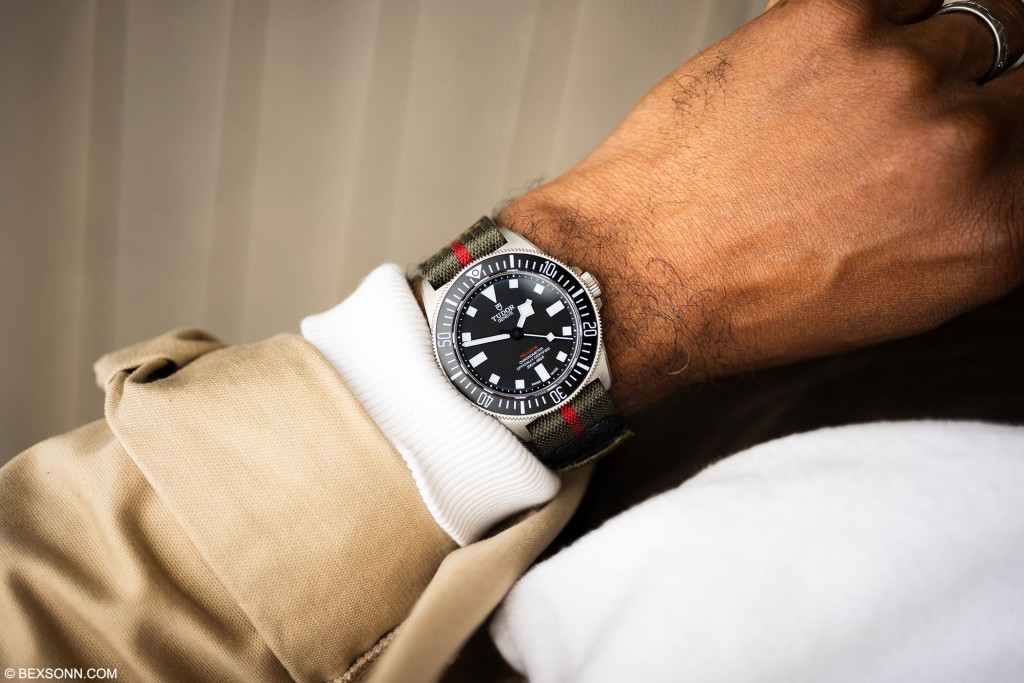 In general, the new Tudor Pelagos FXD closely resembles the initial Pelagos FXD. From a personal perspective, I find it to be a valuable addition to the Tudor line-up and a thoughtfully crafted one at that. As previously noted, Tudor has been skilfully resurrecting historical timepieces, and this model draws upon excellent elements from past designs, likely sparking a sense of nostalgia for many. What stands out to me the most is its bold and enjoyable character—making it an overall fantastic timepiece offered at an attractive price point.
The new Tudor Pelagos FXD is available now to purchase and is priced as £3,490. For more information on the new Pelagos FXD, visit tudorwatch.com.
You might also like