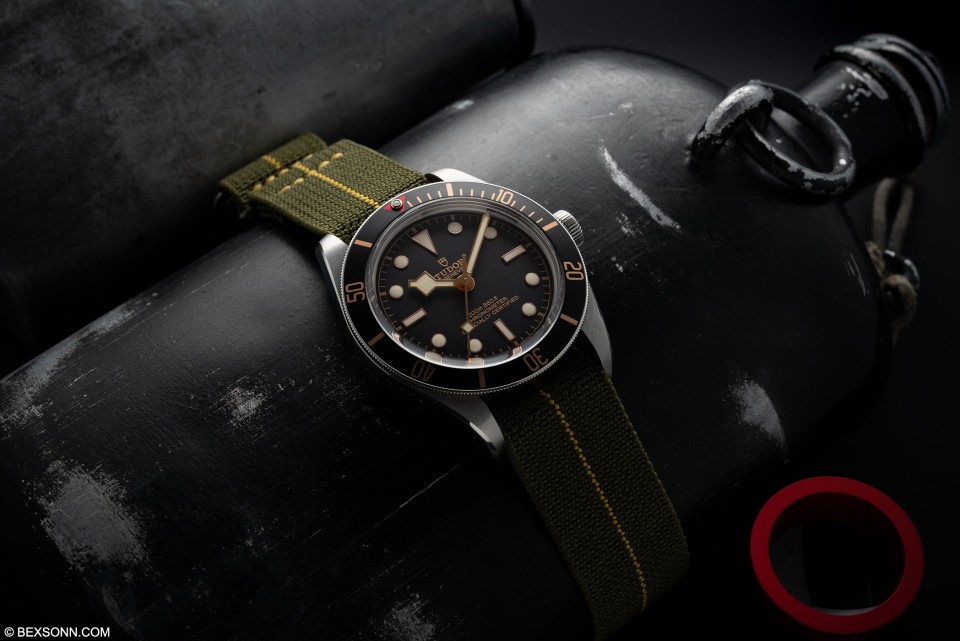 Last year, Tudor introduced arguably their best vintage inspired watch in the Tudor Black Bay Fifty-Eight. While 2018 was the year of the GMT and the watch people couldn't stop talking about, the BB58 was a nod to the past but done with Tudor panache. Of course, over the past few years we've seen the emergence of vintage inspired watches but only a handful of brands are even capable of pulling this feat off. That said, I'm sure this is something that Rolex would like to participate in but fortunately for them they have a sister brand that can indulge in these nostalgic exercises – plus, let's be honest, Rolex don't do trends, even if they do have quite the back catalogue.
Previous Black Bay models have maintained the link to previous Tudor diving watches with nice little historical nods through visual elements but perhaps the biggest differentiator has always been the size of the cases, sized at a very modern 41mm. However, the new Black Bay Fifty-Eight is aptly named after the year in which the first Tudor divers' watch, waterproof to 200 metres, the reference 7924, dubbed the "Big Crown", was introduced. What's more, among other aesthetic illusions to the historic watch, this model has been endowed with a 39 mm case, in-keeping with the characteristic proportions of the 1950s. But more interestingly the case has a slender profile of just 11.9mm and though this may sound like I'm exaggerating, trust me this makes all the difference.
There's no secret that Tudor was created by Hans Wilsdorf to cater to those who couldn't afford a Rolex by virtue making the Tudor cheaper. However, one of the ways in which this was done was by using non-in-house movements, such as the ETA workhorse 2483 calibre, this kept costs down, which allowed Tudor to compete at a lower price point. That said, the Tudor Black Bay of today makes use of an in-house calibre. Three years ago, Tudor introduced their first in-house calibre and last year when this watch launched it, they added another.
In order to make this slender Black Bay 58, Tudor had to produce a new smaller and thinner calibre – the MT5402. With its 26 mm diameter, the Calibre MT5402 displays hour, minute and second functions and has been designed for medium-sized Tudor watches. And, just in case you were wondering the normal Black Bay makes use of a 31.8mm calibre – so the difference is rather significant. Moreover, it is certified as a chronometer (COSC), with a 70-hour power reserve.
The dial on the BB58 is well executed and incorporates an all matte black dial with finishing touches of text in gold, as well as minute track – evoking memories of the original negative relief gilt printing method used by Tudor in the 1950s and 1960s. Tudor have also gone further by using gold-plated hour marker inlaid with Super-Luminova which have had some patina added, which adds some vintage warmth. The gold snowflake hands also make use of the same faux patina though it would've been nice to see different hands (perhaps pencil hands) but it is in-keeping with the identity of the Black Bay line.
Like the rest of the Black Bay Fifty-Eight, the bezel has been well executed too. The black "coin edge" bezel creates the perfect backdrop to the gold scale, with a red triangle at 12 o'clock with a pearl that has also been treated with matching faux patina. Adding to the overall vintage inspired look too is the "Big Crown", though this is more finely fluted and features a Tudor rose. Oh, and of course there is the bracelet. We first saw this 1950s/1960s vintage-style inspired, riveted bracelet last year on the Black Bay Black/Dark. This modern interpretation is true to form and features the very distinct stepped construction, though instead features faux rivets, with solid links that deliver that vintage look with modern robustness and added bonus of a micro adjuster.
---
FINAL THOUGHTS
The Tudor Black Bay Fifty-Eight has been so well executed and pays homage to the original 1958 Tudor Submariner "Big Crown" 7924. The 39mm x 11.9mm case is just the perfect size for those who prefer vintage watches. The balance of the watch is just right and incorporates enough vintage touches, which always makes people have a double take – me included. But the contemporary waterproofness and overall robustness make it the perfect everyday wearer.
On the wrist it just feels so right especially if you already own a vintage submariner or two, though you'll of course notice there is a lot more heft to it, which mainly comes from the solid riveted bracelet, but this extra weight will soon disappear with regular wear. Moreover, if you already own some 20mm straps for any of your vintage pieces, you'll be glad to learn they'll also fit the BB58 perfectly.
That said, with all the glowing praise I've given the BB58 there are perhaps a couple of things that would've been nice to see. It would've been nice to have seen the Tudor rose insignia on the dial and as already mentioned, the use of pencil hands that were used on the 2015 Black Bay Only Watch. These are only minor gripes and to be honest I can see why Tudor didn't opt to do this as they of course needed to preserve the identity of the Black Bay.
Nonetheless, the real question is does it have the same allure of the very watch for which it pays homage to – that is perhaps a difficult question? On the one hand it doesn't have the provenance or the feel of a 7924 but on the other hand it's perfect for those of us who don't have the means to buy an original 7924, and that's providing you'd be able to find one in a well-preserved condition. Not only that but there is plenty to be said for its modern waterproofness. Since purchasing this Tudor Black Bay back in October of last year, I've pretty much worn it every day, which says a lot considering it's the only modern watch I own. But what's surprised me, is how many other vintage collectors I know that have bought or are in the process of buying one (yeah there's a waiting list). It's just got all the right ingredients which make it pretty much the perfect modern watch for the vintage watch guy.
The Tudor Black Bay Fifty-Eight on the riveted steel bracelet is priced at £2,560 and is priced at £2,340 on the leather or fabric strap. For more information on visit the official Tudor website.
---
GALLERY
You might also like