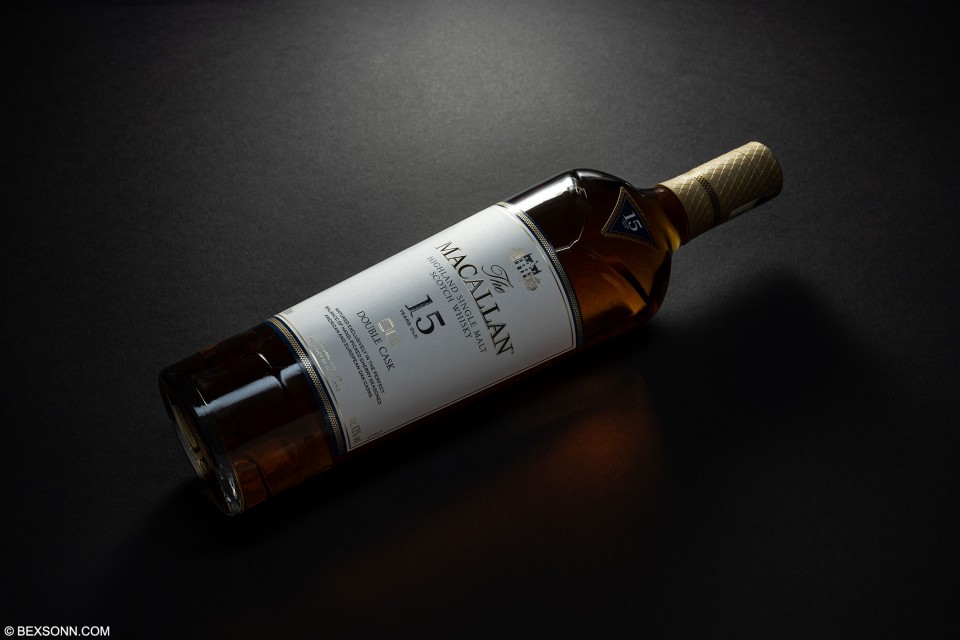 Earlier this year The Macallan distillery revealed two new Double Cask expressions to accompany the once solitary 12yo expression. Macallan's extensive knowledge of casks has been leveraged here to create two new expressions to whet the appetite. Like the 12-year-old expression we tasted a couple of years ago, Macallan have used two distinct oaks to create the perfect harmony within one exceptional single malt whisky. Their Double Cask whiskies are aged in two types of oak, in specially selected hand-crafted casks seasoned with dry Oloroso sherry. American oak imparts delicate flavours of vanilla, citrus and butterscotch. European oak delivers the unmistakable subtle spice of The Macallan. Once matured after 15 years, these two exceptional whiskies unite to create a distinctive single malt.
On the nose: you'll experience an initial waft of oranges, currants and vanilla. After a couple of swirls notes of honey and a touch of citrus zest starts to emerge with a hint of marzipan and ginger stem. Notes of aniseed and the spiciness from the oak start to appear, followed by suggestions of toffee apple. Rounding off the nose are notes of caramel, light herbs and a hint of milk chocolate. On the palate: those sweet oranges notes are present, followed by vanilla, almonds and those ginger notes. Those spices nosed start to emerge, alongside some cinnamon and a hint of citrus zest. Tasting it again, notes of honey start to appear, followed by that , toffee apple note, with a hint of chocolate and nuttiness. The finish: is medium, sweet, with lingering mixed dried fruits, spices and creamy.
The verdict: Macallan as a brand are so well revered around the world and on evidence of this 15-year-old from the Double Cask range, it's not hard to see why. This is a Scotch that on the nose is rather rich and complex, with a palate that is rather spicy and fruitier than one would've thought. It is a delightfully balanced dram, not overly oaky but does lack a little in the mid-palate area. With an ABV of 43%, this is probably not a Scotch that I would add any water to but if you feel the need then only add in small quantities until it just right for you.
The Macallan Double Cask 15-year-old Single Malt Scotch Whisky is available online or in well-stocked Whisky Shops, for approximately £100. For more information on the Double Cask 15-year-old, visit themacallan.com.
You might also like