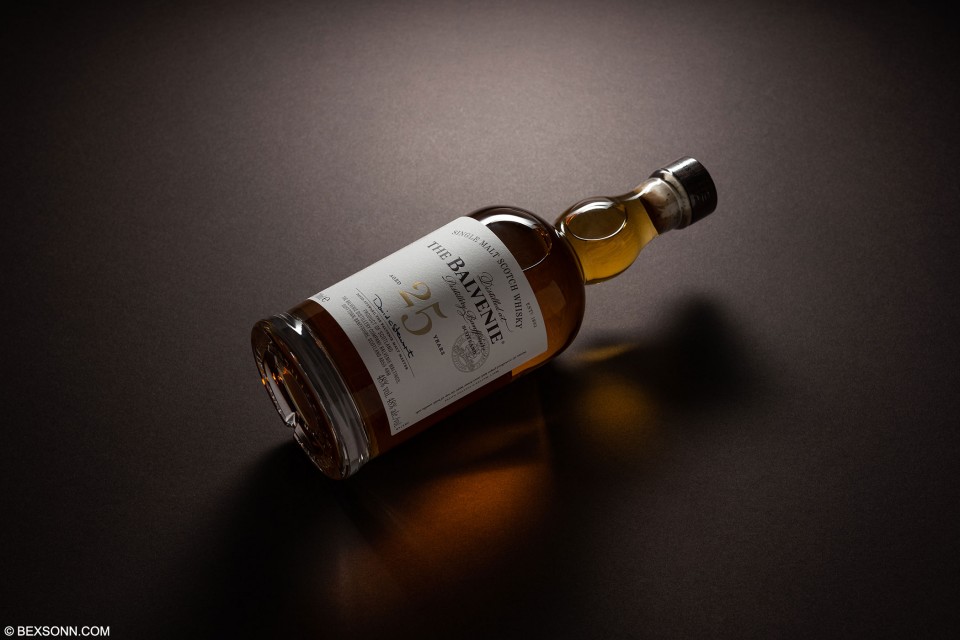 The Balvenie feels somewhat like a London bus at this moment in time: you wait for the next release and two come along at once. A couple of weeks ago, we were invited to a delightful dinner in Harvey Nichols. A scrumptious 6 course menu was artistically prepared by distinguished chef Emily Roux, with each course being carefully paired with a Balvenie expression.
The newest expression to the World's Most Handcrafted Single Malt portfolio, The Balvenie Twenty-Five will form part of the Rare Marriages range, a tribute to David's dedication to designing and building exceptional flavour through the marriage of rare casks and will join the highly- acclaimed The Balvenie Thirty and The Balvenie Forty within the collection. As a permanent fixture in the Speyside distillery's portfolio, the Rare Marriages range is created for discerning drinkers to discover the incredibly complex in the seemingly simple – understanding the marriage that occurs in the Traditional Oak Marrying Tun is an art form of science and alchemy.
On the nose: you'll experience sweet notes of honey, nectarines, oranges, caramel, vanilla and a touch of crystallised ginger. These initial notes are closed by notes of brown sugar, peaches, lemon bon bons and parma violets. Subtle notes of cinnamon and nutmeg start to emerge, that are nicely rounded-off by notes of butterscotch, toasted oats, with a hint of candy floss and strawberries. On the palate: there are distinct notes of nectarines, alongside notes of watermelon, peaches and lemon tart. Those notes of candy floss start to appear, as well as notes of vanilla, cinnamon, nutmeg and a hint of black pepper. Completing the palate are notes of toasted marshmallows, green herbs, bitter chocolate and a hint of fennel. The finish: is long and bittersweet, with a creamy texture and lingering notes of mixed spice and apple crumble.
The verdict: Another elegant drop from Balvenie. It is a dram that encapsulates the classical Balvenie expression from nose to palate. It has loads of lovely little subtle and sweet notes that wonderfully balances this dram out. Bottled at 48% ABV, it is definitely a drop that doesn't need any water – though if you do need to then only add a very small amount. For me, I found when I left it for a short amount of time to sit in the glass between nosing and tasting – this yielded the best results notes wise.
The Balvenie 25 Year Old Single Malt Scotch Whisky can be found in all well-stocked whisky shops for approximately £600. For more information on this 25-year-old expression, visit the official Balvenie website.
You might also like