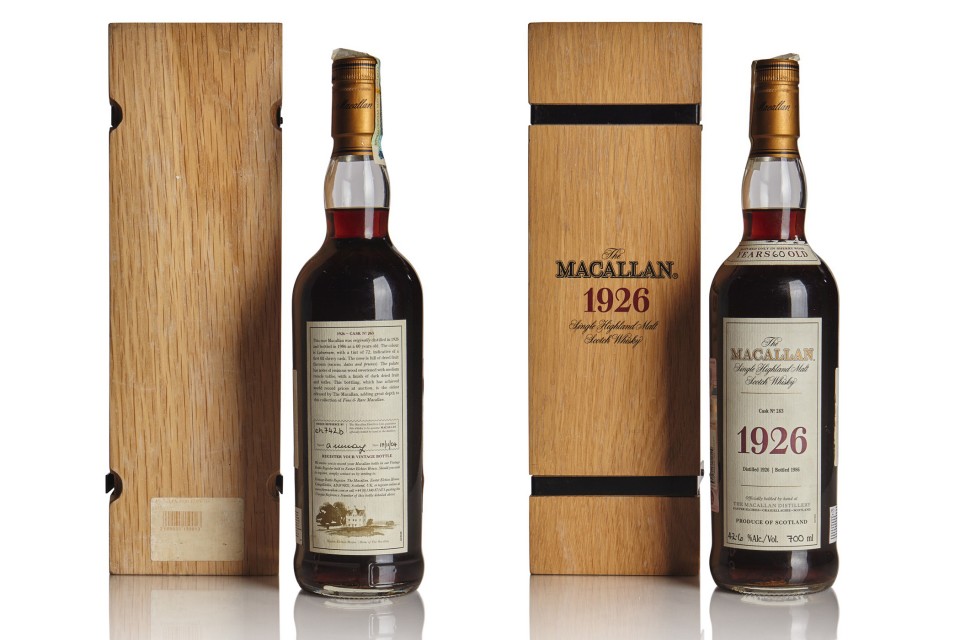 We've covered many auctions over the years, but rarely do we highlight whisky auctions. I believe I'm right in saying this is the world's most important single-owner spirits sale to date (and the most valuable). You see, most of the time whisky is usually sandwiched between wine and seen as more of a sideshow during said wine auction. As we saw last year, whisky has come into its own at auction setting some enviable records along the way – such as this rare bottle of 60yo Macallan sold at Christie's for £1.2m. For once, it is encouraging to see whisky is the only and main attraction from a major auction house. That said, a few weeks ago, we were invited to a private tasting at Sotheby's London H.Q. to sample some of the exclusive bottlings in this auction. But first we'll take a look at some of the more notable lots in the extensive offering.
It is no surprise that The Ultimate Whisky Collection is defined by its strong representation of The Macallan bottlings. Comprising half of the lots in the sale and with a combined estimated value in excess of £2.2 million, this is the most comprehensive collection of the Macallan Fine and Rare series ever offered at auction.
---
THE MACALLAN 1926 60-YEAR-OLD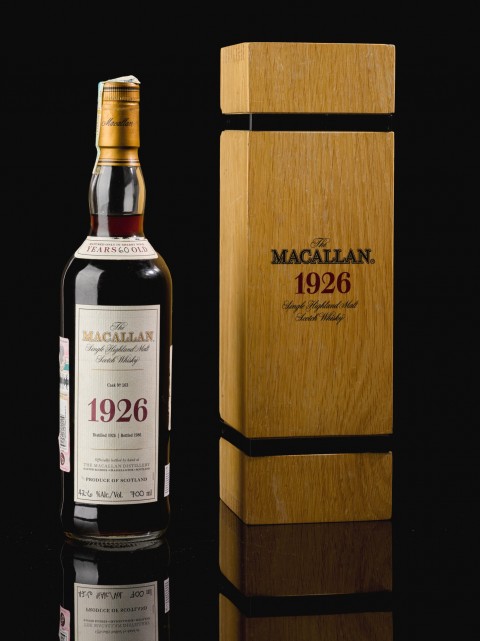 Most notable is the 178 bottle-strong collection of Fine and Rare spanning seven decades, from 1926 through to 1991. The outstanding line-up is headed by the originally-labelled 60 years old The Macallan 1926 from cask #263. Cask 263 yielded only 40 bottles, considered the 'holy grail' of whiskies; 12 bottles were labelled by Peter Blake, 12 by Valerio Adami, and two bottles were sold individually and given private labels, one of which was hand-painted by Irish artist Michael Dillon. The remaining 14 were bottled as the anchor for the Fine and Rare series and labelled as such, making them the oldest bottles in the iconic 'Fine and Rare' series, both by age and by vintage. In the last two years, three versions containing liquid from Cask 263 have all broken records at auction, but the fourth bottling from this cask has not been seen at auction for over a decade.* The Macallan 60 Years Old, Fine & Rare Series is the only bottle required to complete both the full collections of bottlings from cask 263 and the Fine and Rare vertical, a series to which The Macallan is continuing to add releases annually.
Estimate: £350,000 – £450,000
---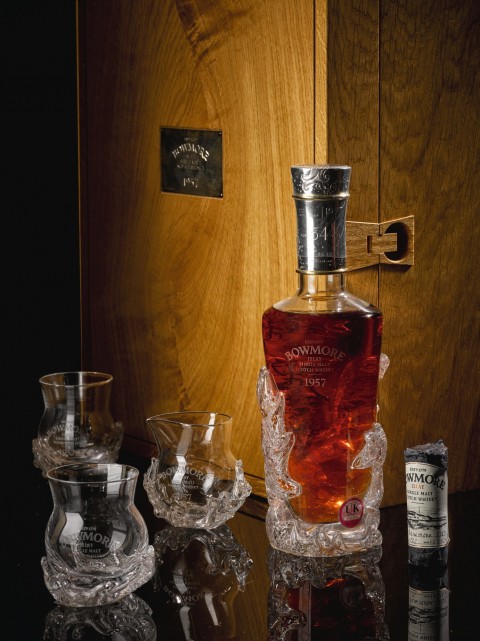 The smoky style of Islay's whiskies has shown remarkable growth in recent years. Of all Islay's distilleries, Bowmore holds the lion's share of collectible bottlings, boasted in this sale by the inclusion of all the Bowmore Black releases (First, Second, Final and Bowmore Black 50 year old Last Cask) as well as Bowmore Black, Bowmore White and Bowmore Gold from the Bowmore Trilogy series, all of which were distilled in 1964. The Bowmore collection continues with the 1957 54 year old "Crashing Waves" (pictured above) and the 50 year old releases from both 1961 and 1966.
---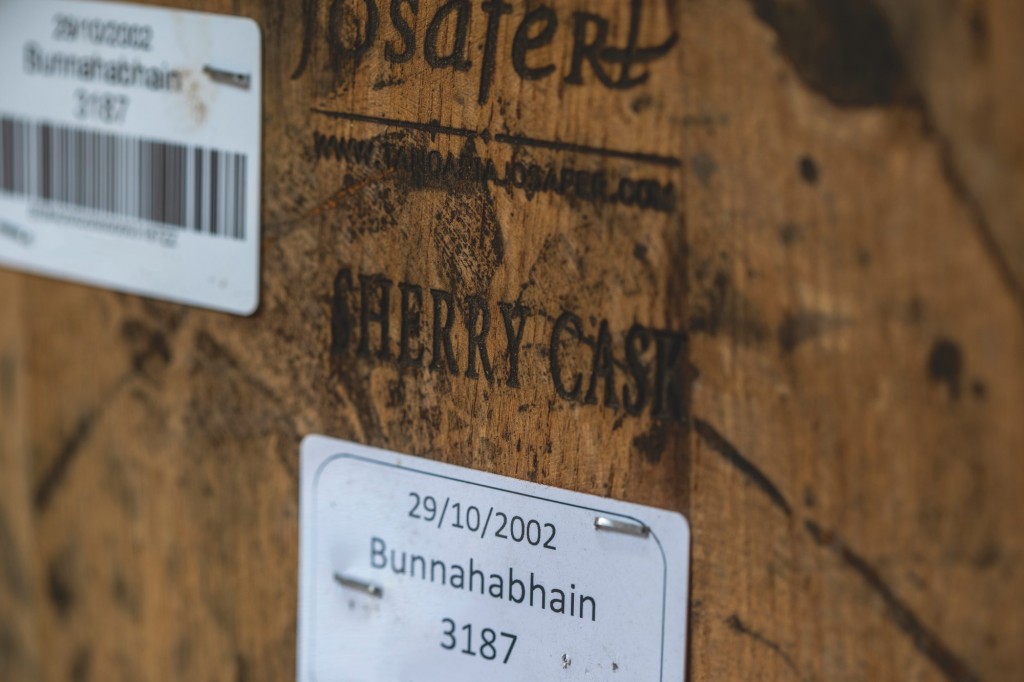 As mentioned above, we managed to sample a few drams of some of the expressions of The Ultimate Whisky Collection exclusive bottlings, from the Bunnahabhain distillery (lot 337 to 342) and also a sample of lot 286, which is a cask of first fill oloroso sherry Bunnahabhain. For you convenience we also took some tasting notes of what we tasted and thought we'd share two of our favourites from said tasting session.
---
BUNNAHABHAIN 24YO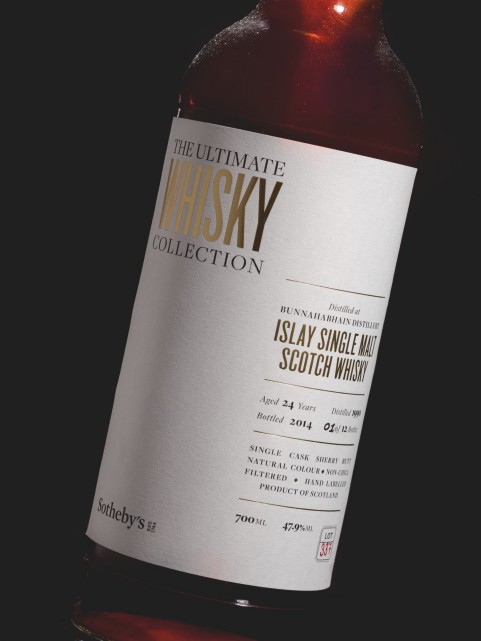 On the nose: is an initial waft of raisins, blackberries, honey, almonds and a meaty note, which are closely followed by dark chocolate, aniseed, marmalade, and lemon zest. Notes of red apples, spices, ginger, vanilla cinnamon, herbs and tobacco complete the nose. On the palate: notes of dried fruits a currants are ever-present, alongside notes of dark chocolate, orange peel, gentle warm spices and marzipan. Notes of toasted oats and black pepper start to emerge. Rounding-off the palate are notes of apricots, marmalade, brown sugar, coffee, honey, turmeric and green herbs. The finish: is long, sweet and slightly spicy, with lingering notes of chocolate, coffee and a hint of smoke.
Estimate: £500 – £600
---
BUNNAHABHAIN 27YO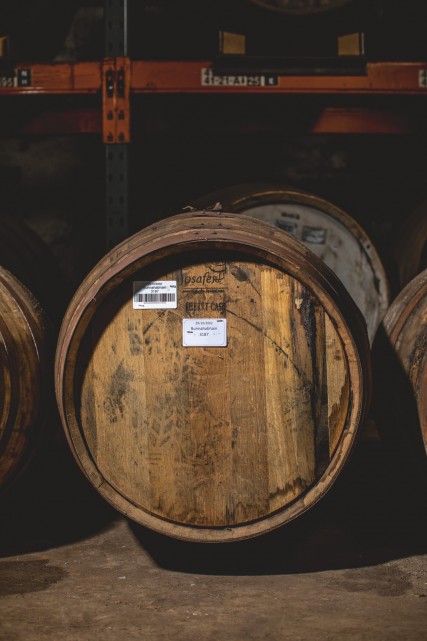 On the nose: is an initial waft of raisins, currants, mint and a hint of peat. Notes of cinnamon, cherries and orange peel start to appear, followed by candy, Parma violets. Notes of tobacco, dark chocolate and maple syrup start to emerge. Notes of rosemary, musk, lemon zest, toasted oats and damsons complete the nose. On the palate: notes of blackcurrants, raisins, cinnamon and peat are ever-present, alongside that note of mint and tobacco established on the nose. Notes of dark chocolate ganache, aniseed and rosemary start to appear. Rounding-off the palate are notes of candy, treacle, stem ginger, Christmas pudding and a smoky note. The finish: is long, sweet, with a hint of marzipan and lingering notes of chocolate, tobacco and peat.
Note: this particular expression isn't listed in this sale but is a single cask sample from part of the same Josafer Oloroso cask rerack project as the casks that are in the sale. This cask is to be sold privately. In the auction, however there is a  2002 bunnahabhain, which will one day mature into a similar liquid to this 27yo. This sample we sampled was a glimpse into the future.
Estimate: £15,000 – £20,000
---
All whisky listed in this sale is the property of one collector, who wants to remain anonymous but had these words to share –
"Collecting whisky over these past twenty years has been a real passion of mine, though it was not something I set out to do. I have always loved drinking whisky – as family and friends will attest, to this day I can be found most evenings with a cigar in one hand and a glass in the other – but I was a wine collector first. I then found myself looking at unique bottles of Scotch, initially attracted by the beauty of the labels. So, I started this collection and realised that if I really spent time on it and was selective in my choices, I might be able to put together something significant and unique. Two decades on, I think the collection is at that point where it is indeed unique. Having cherished these bottles, I am now ready to share them with collectors around the world. I hope they find good homes in the hands of whisky lovers who will enjoy the experience as much as I did, both the drinking of them and the sense of history that each of these bottles brings."
The sale opened for online bidding on 27 September 2019 and will culminate in a live auction on 24 October at the Olympia event space in West Kensington, London, alongside RM Sotheby's sale of collectible motor cars on the same day. For more information on this special whisky auction and to the entire whisky listings, head over to the Sotheby's website.
You might also like