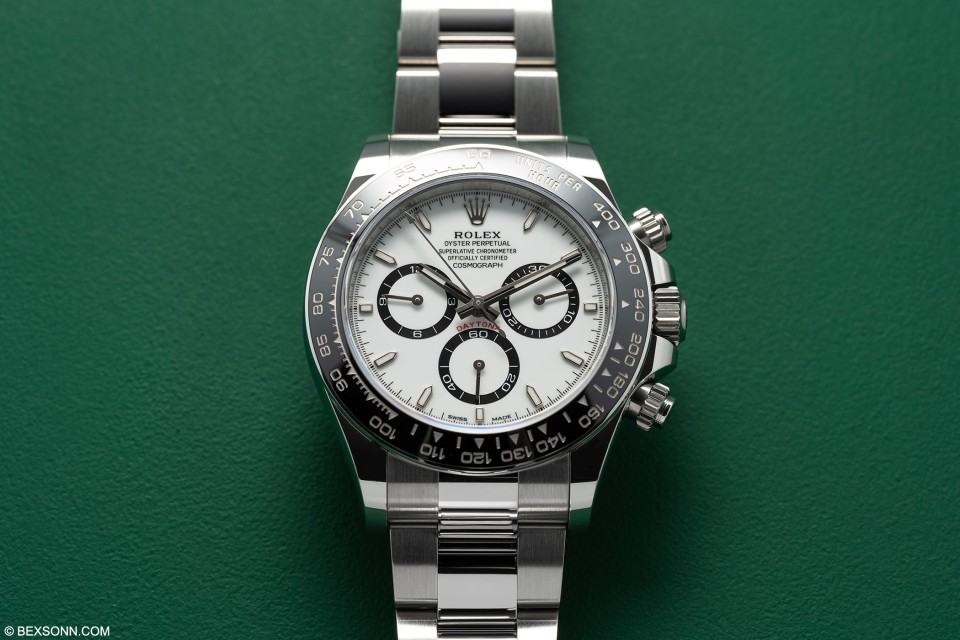 We've become accustomed to Rolex making minor changes every year, which they then showcase at Watches and Wonders. It goes without saying that this year was no different, however, Rolex have delivered the Rolex Cosmograph Daytona that everyone, including me, didn't quite expect to see. Ever since the Daytona 6240, 6241 and ultimately the 6263 that sported the ever fragile but seemingly downright cool, acrylic black bezel – Rolex owners had been crying out for something similar from Rolex, and in 2016 they delivered. So, the question most had on their mind's is would they do something special for the Daytonas 60th anniversary? And guess what, they have but in true Rolex style: subtly.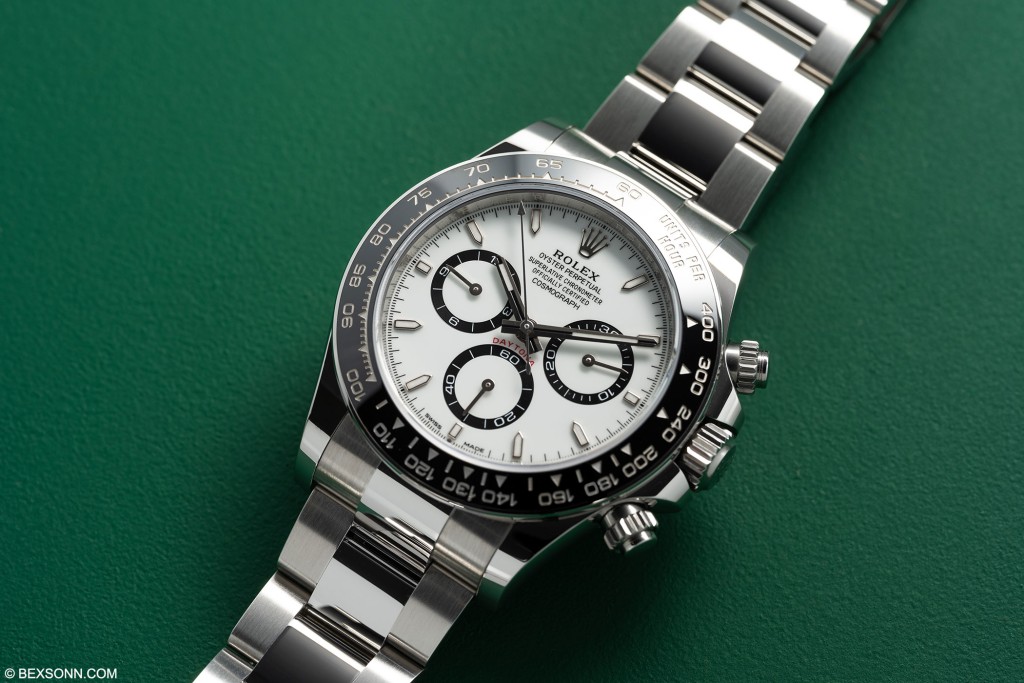 So, what has changed in comparison to the old reference 116500? It still features a black Cerachrom tachymetre bezel but there are a couple of other subtle changes they may go unnoticed by some. Looking closely, you'll notice the bezel is now closed in by a steel ring, harking back to the 6263 and 6240. Furthermore, peering at the dial you'll notice the hour markers have become rather slender and pointed, again, harking back to a design seen on the "Zenith" Daytonas. The only other minor detail that may go unnoticed is the coronet that is flanked by the text "Swiss Made" at 6 o'clock. This is there to denote the use of an upgraded movement.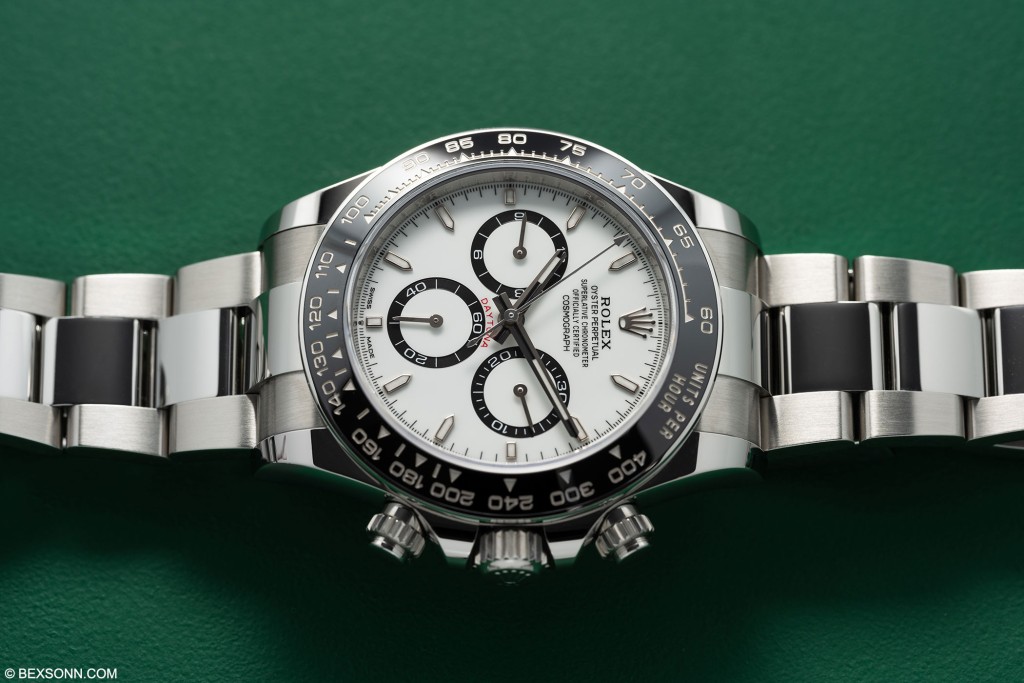 The monobloc Cerachrom bezel by virtue offers several advantages: it is corrosion resistant, virtually scratchproof and the colour is unaffected by UV rays – which means zero patina. This extremely durable bezel also offers more legibility to the tachymetric scale, thanks to a thin layer of platinum in the numerals and graduations via a PVD process. The monobloc Cerachrom bezel is made in a single piece, which holds the crystal firmly in place on the middle case, ensuring Oyster tight waterproofness. The is said to remain the same size: 40mm to be exact but that isn't true. Now, all previous Daytona never actually measured 40mm in size, they approx. measured about 1mm shy of 40mm. That said, this new Daytona measure 40mm in size and is all-round a larger watch. Looking at the side profile and comparing it to the watch I had on at the time (a 2006 Daytona) the case is significantly bulkier, almost like that of the big-block.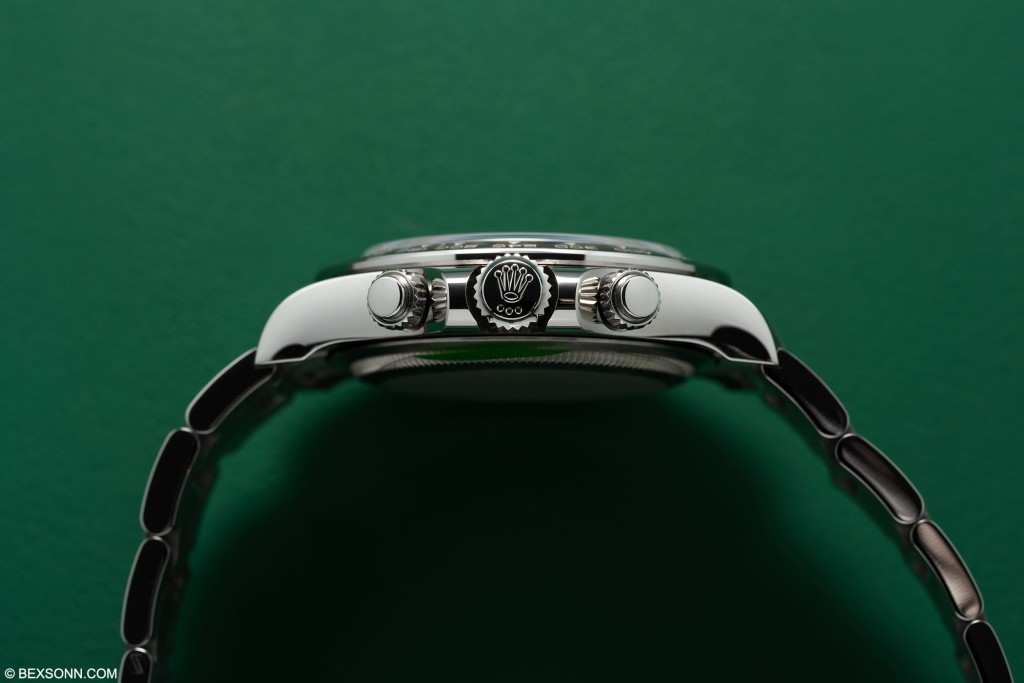 This new Daytona is made from Oystersteel (904L), like the previous model, though if you look closely at the side profile image we've taken above, you'll notice the lugs resembles those that were only previously seen on the precious metal models. As standard on an Oyster bracelet that incorporates a neat little 5mm comfort extension link. Inside though, is the new calibre 4131 automatic chronograph movement.
The new-generation Cosmograph Daytona is equipped with calibre 4131, a chronograph movement unveiled this year, entirely developed and manufactured by Rolex. A distillation of technology, this self-winding mechanical movement delivers outstanding performance in terms of precision, power reserve, convenience and reliability. It incorporates a chronograph function with a reduced number of components, thereby also enhancing the movement's reliability. It is engaged by a robust mechanism with a column wheel and vertical clutch, allowing an instantaneous and extremely precise start. The bridges of calibre 4131 feature a Rolex Côtes de Genève decoration, which differs from the traditional Côtes de Genève by the addition of a slight polished groove between each band.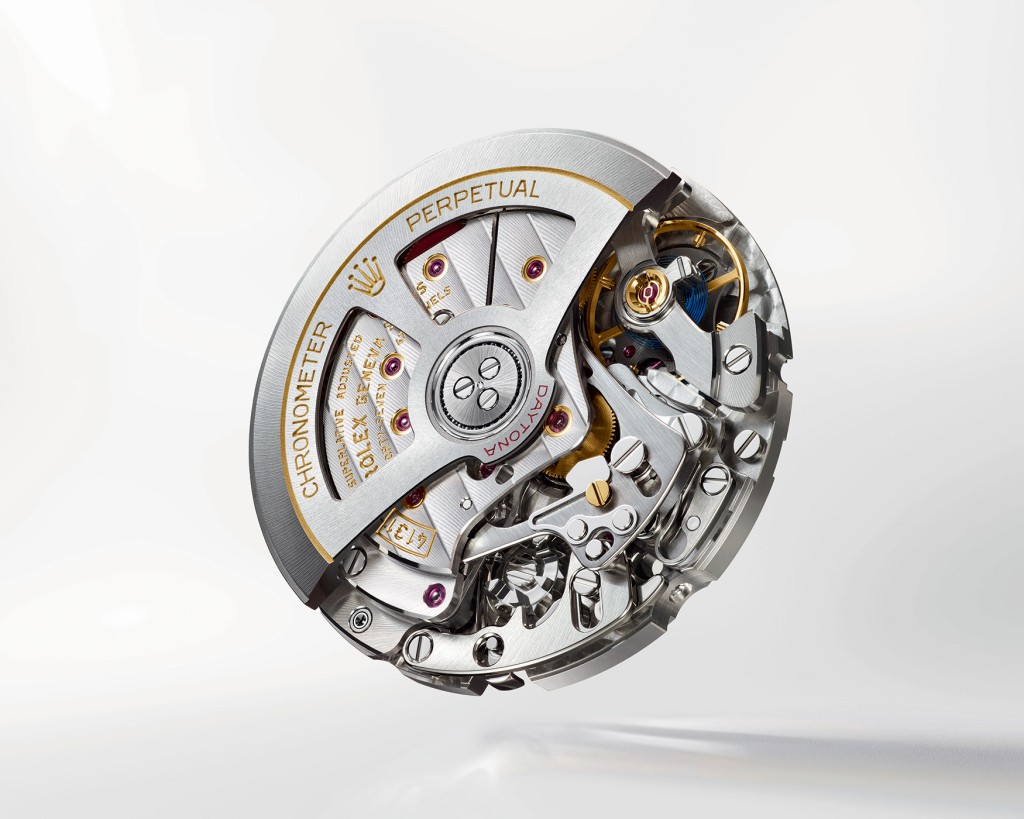 The new calibre 4131 incorporates the patented Chronergy escapement, which combines high energy efficiency with great dependability. Made of nickel-phosphorus, this escapement is resistant to strong magnetic fields. The movement is fitted with a blue Parachrom hairspring, manufactured by Rolex in a paramagnetic alloy. The hairspring offers great stability in the face of temperature variations as well as high resistance to shocks. It is equipped with a Rolex overcoil, ensuring the calibre's regularity in any position. The oscillator is mounted on the Rolex-designed, patented high-performance Paraflex shock absorbers, increasing the movement's shock resistance. The oscillating weight is fitted with an optimized ball bearing. The calibre 4131 is equipped with a self-winding system via a Perpetual rotor. Thanks to its barrel architecture and the escapement's superior efficiency, the power reserve of calibre 4131 extends to approximately 72 hours, making it weekend proof.
---
FLEETING THOUGHTS
Back in 2016, it was great that Rolex have finally introduced a steel Cosmograph Daytona with a black bezel, which for many completed the Daytona cycle. It perhaps took a little longer to get there but it was worth the wait. That said, while this new Daytona will be warmly welcomed, it would've been nice to see the option of a steel bezel too. When Rolex offered the Daytona back in the 70s and 80s, you had a choice of either an acrylic bezel (6263) or a matching metal bezel (6265) but only having one option in steel seems a little narrow, in my humble opinion. Variety is the spice of life.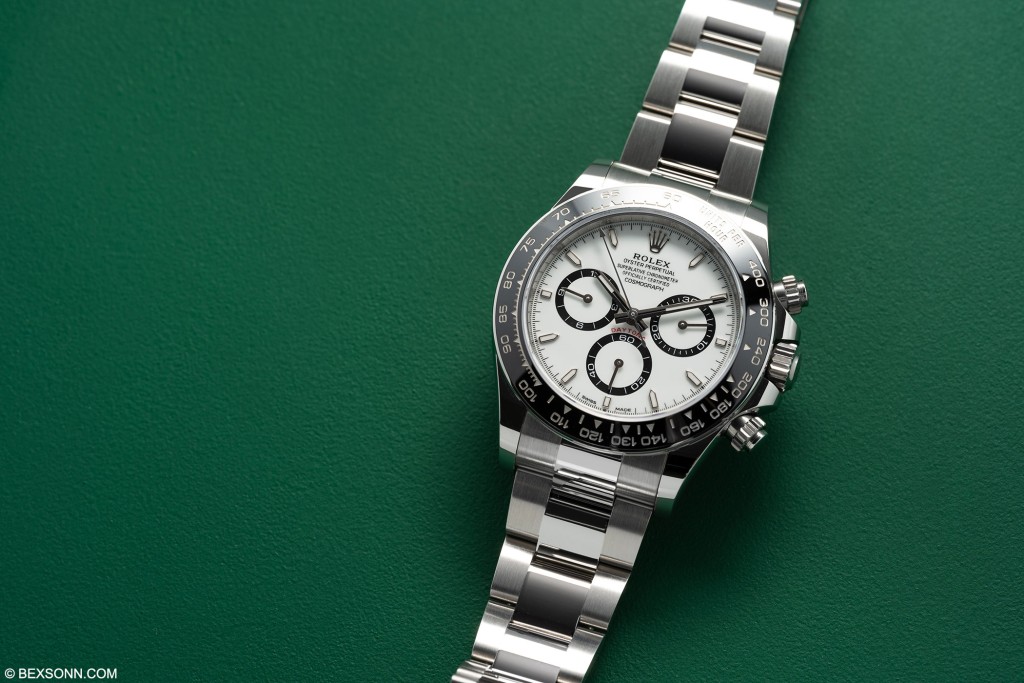 Furthermore, one other detail that would've have been nice to see Rolex resurrect, is the full white on black and black on white sub dials but who knows, maybe Rolex are making us wait just that little bit longer, or perhaps I'm just being pernickety. That said, there is no doubt that right now the new Rolex stainless steel Cosmograph Daytona list is growing by the second as you read this and that my dear readers are just how sought after the new Daytona is and will be for many years to come.
The new Rolex Cosmograph Daytona 126500LN is priced at £12,700 including VAT. More information is available on rolex.com.
You might also like