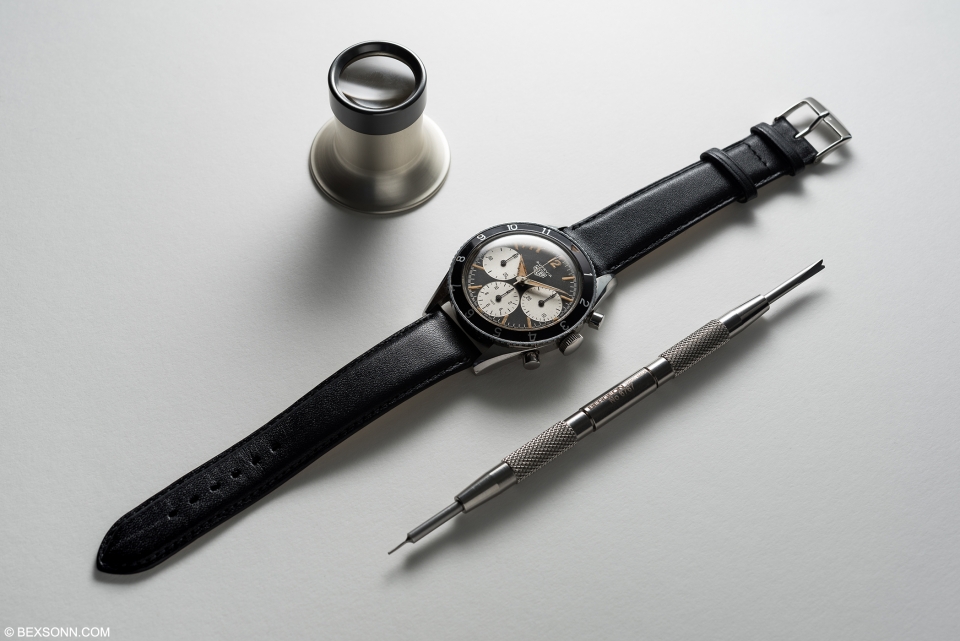 There is no denying that vintage Heuer chronographs right now are more prominent than they've ever been and there are a lot of contributing factors to this, to name a couple; design and rarity. Out of all the chronographs Heuer made during the 60s and 70s, the one that seems to gain the most attention now is the Autavia and there is good reason for this. You see, the Autavia was the first chronograph from Heuer to actually be given a name, before this Heuer just merely used reference numbers and this was an important change. Naming a watch range has more of an impact than just using a reference number, it is of course much easier to remember a name than to remember a series of numbers. And the Autavia was just the beginning of this, which in my opinion, makes it just that little extra special.
---
BRIEF HISTORY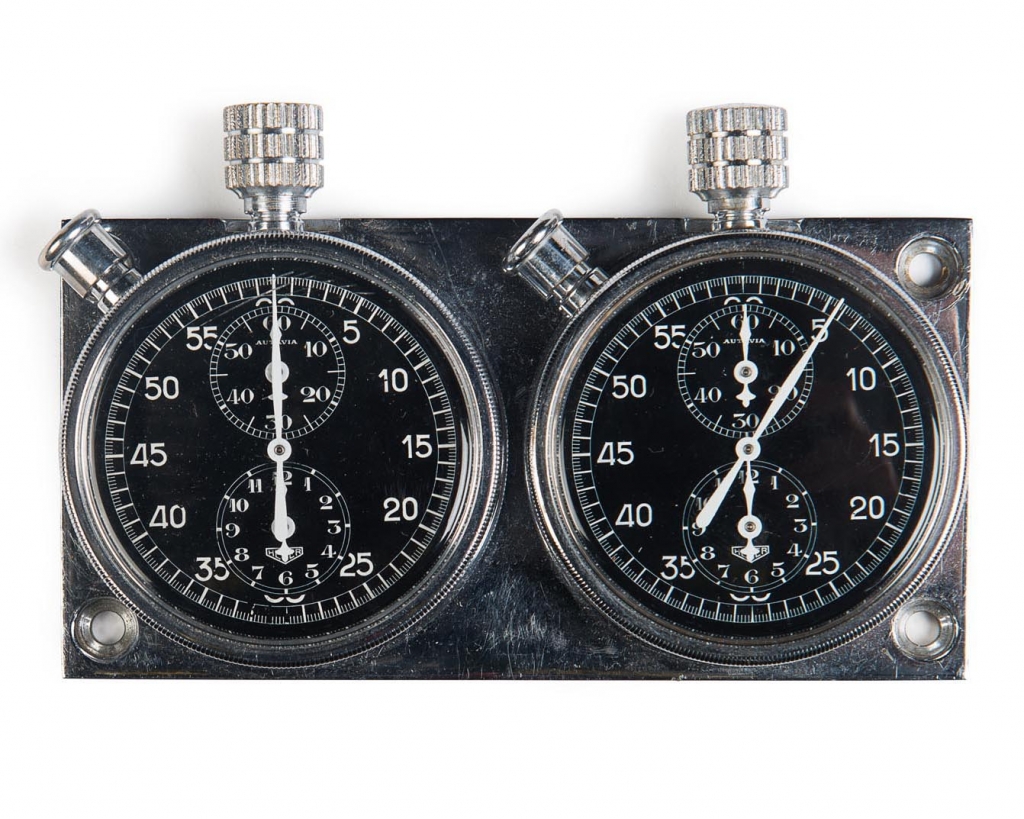 If you were not aware the model name Autavia is derived from the amalgamation of Automobile and Aviation, and the first piece to bear this model name was a dashboard chronograph made in 1933. However, the first Autavia wristwatch didn't arrive until 1962 and as mentioned, was the first piece from Heuer to make use of a specific model name. But not only this, it was also the first chronograph from Heuer to incorporate a rotating bezel and of course this was used to calculate various measurements, such as: measuring elapsed time, determining speed over a measured distance, etcetera, etcetera.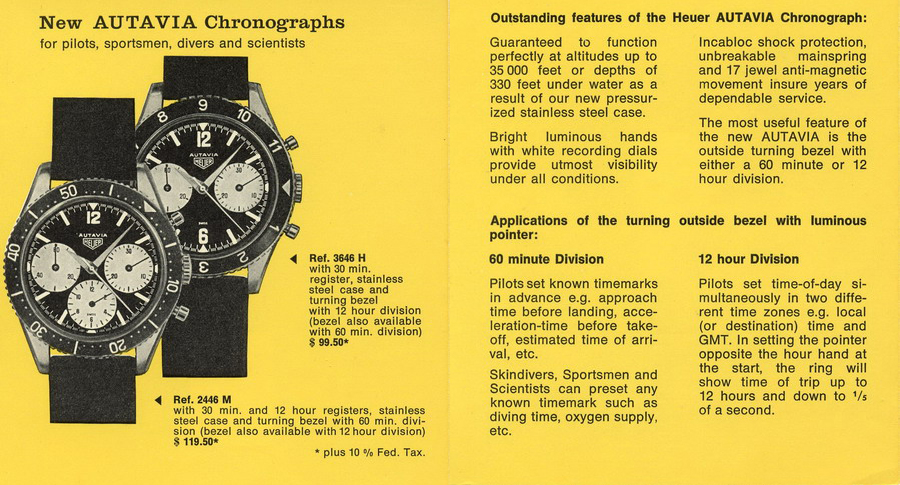 But what also made this watch rather famous was the fact it adorned the wrist of many, many racing drivers and this feat was achieved by none other than Jack Heuer, great-grandson of the founder, Edouard Heuer, who himself created the Autavia at the somewhat tender age of 30. But what made the Autavia so well-known among racing car drivers, was the fact that Jack Heuer personally travelled from race-to-race trading stopwatches, timing equipment and gear, and with the Autavia timepiece chronograph, Heuer had the ideal wristwatch for drivers. During the 60s the Autavia graced the wrists of racing drivers such as Jochen Rindt, Mario Andretti and during the 70s even more high-profile racing drivers.
---
2446 M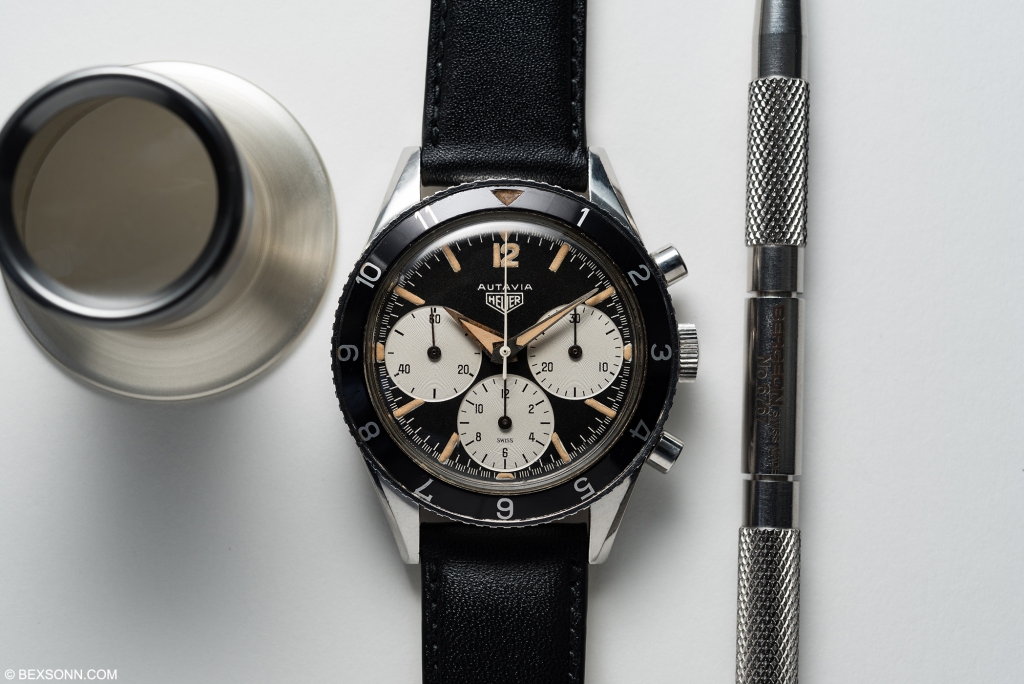 Like many timepieces during the 60s, there were numerous variations and things are no different with the Autavia. This particular reference 2446 Autavia is considered to be the first execution, however features second execution dauphine hands. The previous iteration was identical to this example but featured what was known as "all lume" dauphine-shaped hands, while this variant features the later wide steel dauphine hands, with inlaid radium luminous and a vibrant white, central chronograph hand.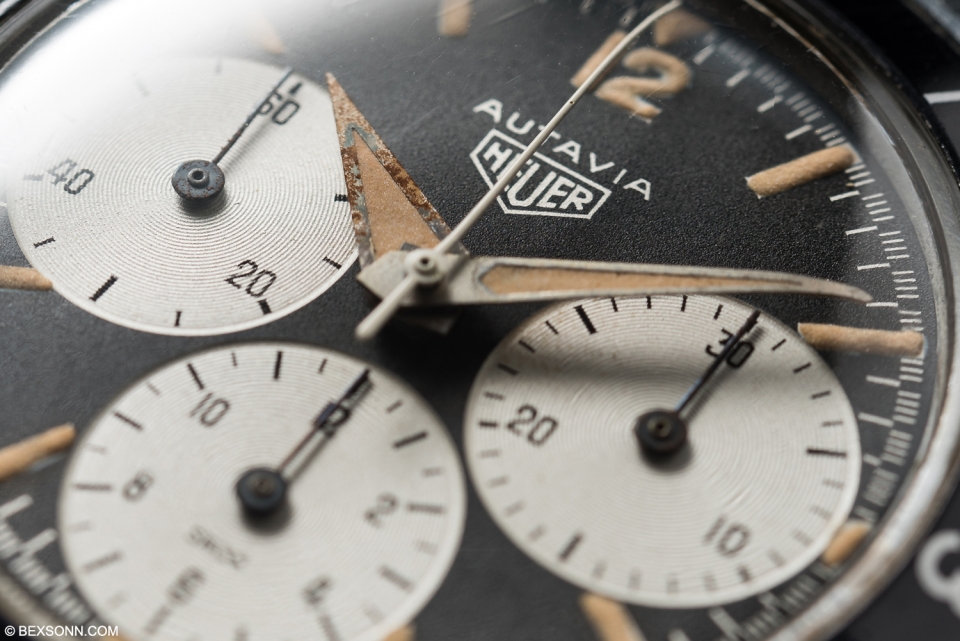 The winning factor of the Autavia and more specifically the 2446, is it is perhaps the purest of all Autavias. The dial features what is considered a reverse-panda dial and its stark contrast adds to its racing looks but look closely and you'll notice just how much detail the dial has. Its balance is pure genius and has wonderful symmetry, but its oversized chronograph sub dials, referred to as "Big Subs" by collectors, are its true signature and distinguish this first execution from all others. And another unusual trait is the use of Arabic numerals: 2, 4, 6, 8 10 & 12 within the hour subsidiary chronograph register. The dial features applied radium luminous block hour markers and a singular Arabic numeral at 12 o'clock, and the intricacy of the outer minute track is a beautiful thing.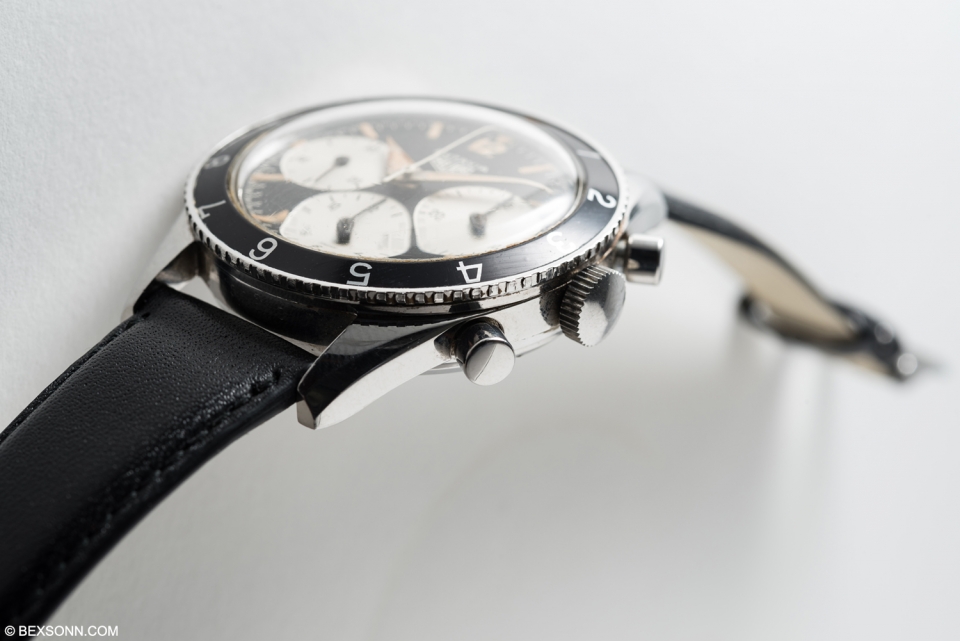 Being a triple register Autavia, it makes use of the infamous Valjoux 72 movement that is signed Ed Heuer & Co. on its bridge and operates, one would assume, just as smoothly as the day it was made. This movement is cased up in 39 millimetres of stainless steel, with bevelled lugs that boasts three separate surfaces – top, side and of course the chamfer between these two angles, which only adds to the allure of this timepiece. Admittedly they've been pretty well-reserved on this example.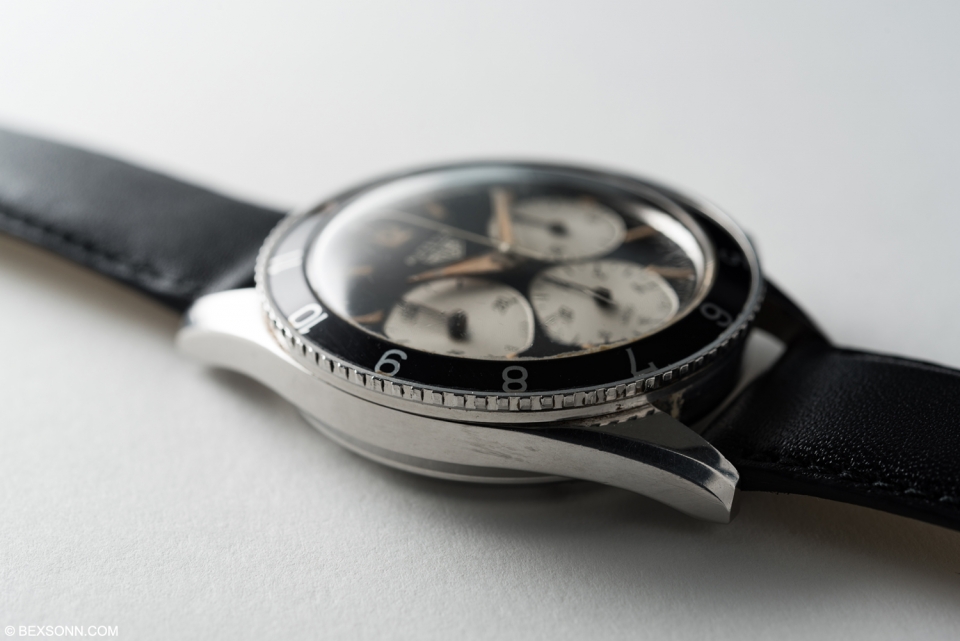 This 2446 sports an hour rotating bezel, with a triangular Radium lume piece at 12 o'clock, that has a lovely coin edge finish. Being a triple register Autavia, it sports a two-step screw-back case that bears the 'Autavia' model name above the Heuer shield, with an inscription on the outer edge that reads – Stainless Steel Chronograph – Waterproof – Guaranteed 330FT Under Water, a trait that can been seen on all Autavais from the 60s. Another indication of very early Autavia's are the pushers, which appear to be just a tad smaller but interestingly enough, early Autavia's did not feature signed crowns, which is in-keeping with this example.
---
How Rare Are They?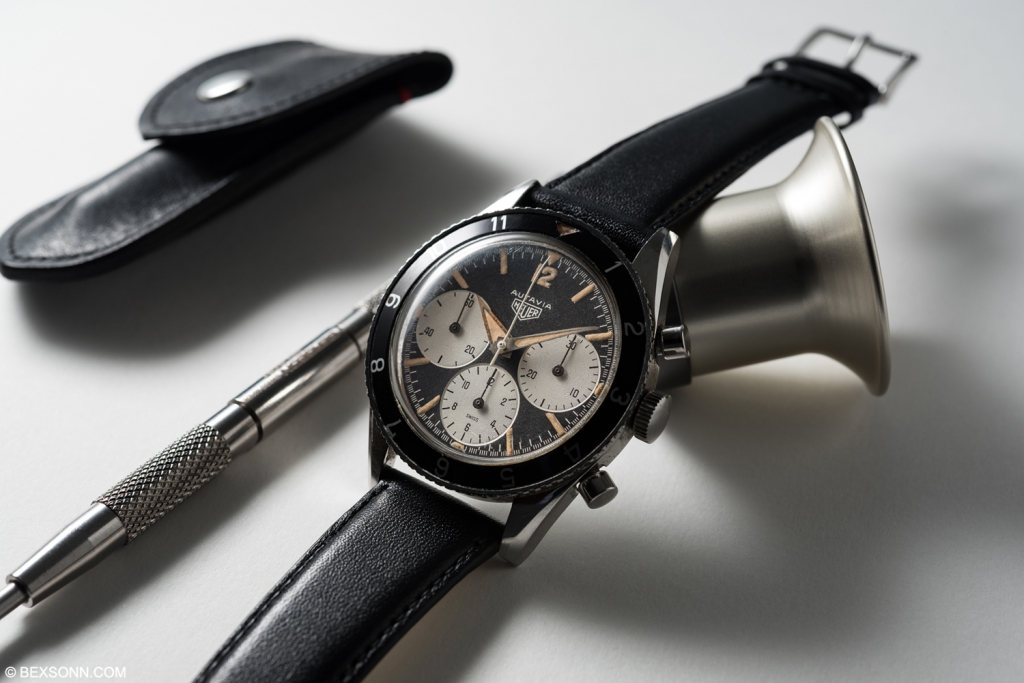 Early Heuer Autavias never really receive too much attention, however, more emphasis is placed on the models worn by the likes of Jochen Rindt (3rd exec ref. 2446) and Mario Andretti (3rd exec ref. 3646) but even this trend is something rather new as well. You see, it was usually the likes of the Monaco's (famously worn by Steve McQueen) and the Carrera that grabbed the headlines at auctions, as these Heuer ranges, till this day, have more of a presence, so naturally collectors become more inquisitive about their vintage counterparts, plus the presence both these timepieces had at Grand Prixs and in pit lanes is evident. However, the earlier Autavia's don't have this modern-day link. That said, it is something TAG Heuer are taking care of next year, with the Autavia Cup.
That said, to find a Autavia 2446 first execution that was last offered at an auction you have to go back to Bonhams 2010 Haslinger Collection Sale and even then the hammer price was nothing spectacular and yet a PVD Monaco's and other special variants were commanding five figures and if not, knocking on the door closer to five figures. As recently as 2012 you could still pick up an Autavia 2446/3646 1st execution, for as little as 20-25% of the value of a similar period Rolex Daytona and coincidentally they both driven by the same movement. Even this shift in value was seen as quite a good increase. However, the demand for vintage Heuer's is strong, particularly those worn by the likes of Jochen Rindt and Mario Andretti, and of course with such a demand, prices have risen to polarizing heights in some cases 60% on prices seen only a few years ago. But as with all vintage pieces from this era at a point it's no longer just about rarity but the quality, the desirability and above all, the condition.
"And what I've mentioned here will only hit home when you take a look at all major watch auctions and do a search for a piece identical to this and see how many results actually appear, you'll be stunned."
The Demand for early Autavia's have reached fever pitch but with supply being sparse, and the fact that we'll be lucky to see 3-4 of these, if that, come up for sale each year in this condition. I still believe there is an imbalance in its current market value, I can only see pieces like this continue to rise, especially when you consider just how rare these first execution Autavias are in comparison to Daytonas from the same era. And what I've mentioned here will only hit home when you take a look at all major watch auctions and do a search for a piece identical to this and see how many results actually appear, you'll be stunned.
This timepiece is up for sale in the upcoming July 2nd auction, for more information on this Autavia, visit the official Watches of Knightsbridge website.
You might also like