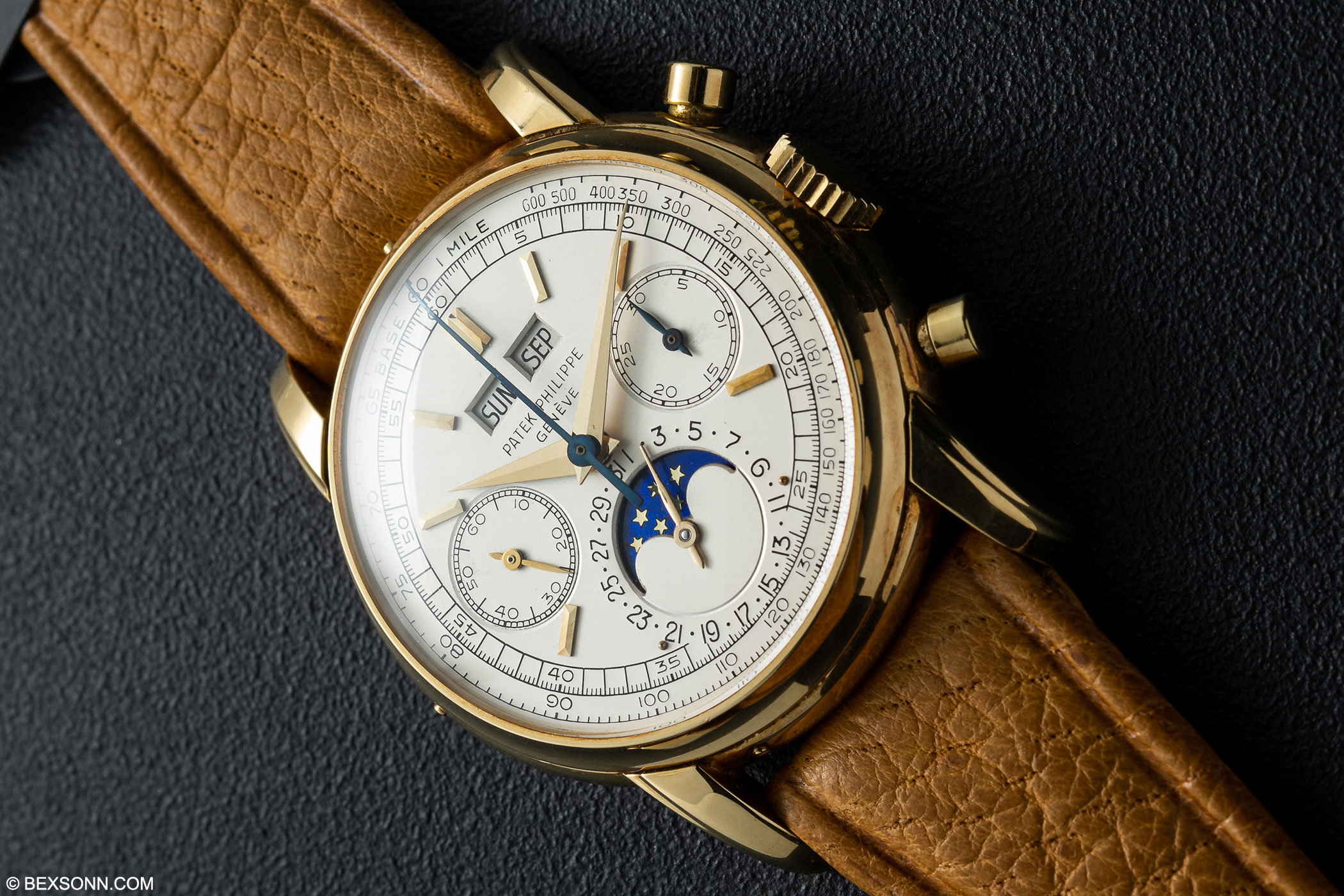 This year will be a year that goes down in history for good and bad reasons. It's perhaps been one of the most bizarre years that I've ever experienced in my existence and I'm 100% certain I'm not alone in my thinking. We've covered many PHILLIPS watch auctions in the past and as you'll likely know, the Geneva auctions take place twice a year, one in May and the other in November. However, because of the 2020 pandemic, their first auction took place in June, the next auction is in a more familiar month: November. A few weeks ago, we had the opportunity to get up close and personal with some of the watches and we thought we'd share some of our favourite lots.
---
AUDEMARS PIGUET ROYAL OAK PERPETUAL CALENDAR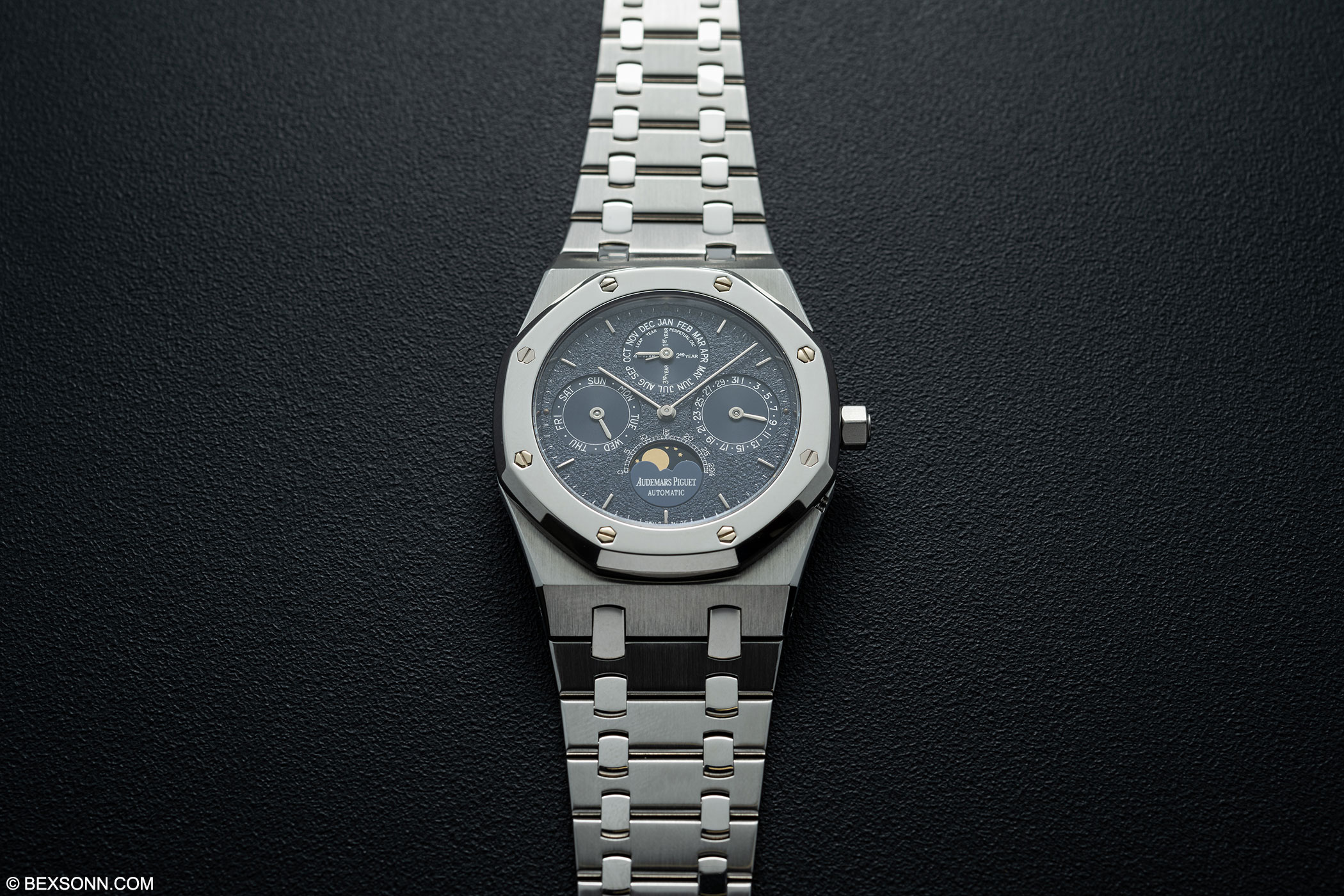 Lot 9: The Royal Oak is perhaps one of the most distinctive watches around. With its masculine octagonal shape, exposed screws and integrated bracelet, it is easy to recognise from afar. More importantly, the watch is a legend for pioneering the use of stainless steel in haute horlogerie, thanks to a watch designer, Gerald Genta, who was inspired by the porthole of a naval ship. Though back in 1971 when this inspiration led to the Royal Oak, Mr. Genta wasn't yet the household name it is today.
The first ever Royal Oak debuted at The Basel Watch Fair back in 1972 and it caused quite a stir. You see, it was the world's first luxury sports watch; it was imposing, yet impressively thin and, despite being the most expensive watch of its type on the market, it was available only in stainless steel. However, things started to change in the coming years and in 1982 – a whole 10-years after its launch, the Royal Oak was presented with a perpetual calendar.
As I've mentioned in the past on previous posts, AP have a deep rooted history in producing perpetual calendars and the movement for the perpetual calendar Royal Oak is the result of a joint effort from three brilliant watchmaking minds. The culmination of which is the calibre 2120/2800, first produced in 1977 and making it the worlds thinnest perpetual calendar, a feat which has since been surpassed. During those early years before it, the movement was refined before it was finally made it's way into the RO Perpetual Calendar in 1982.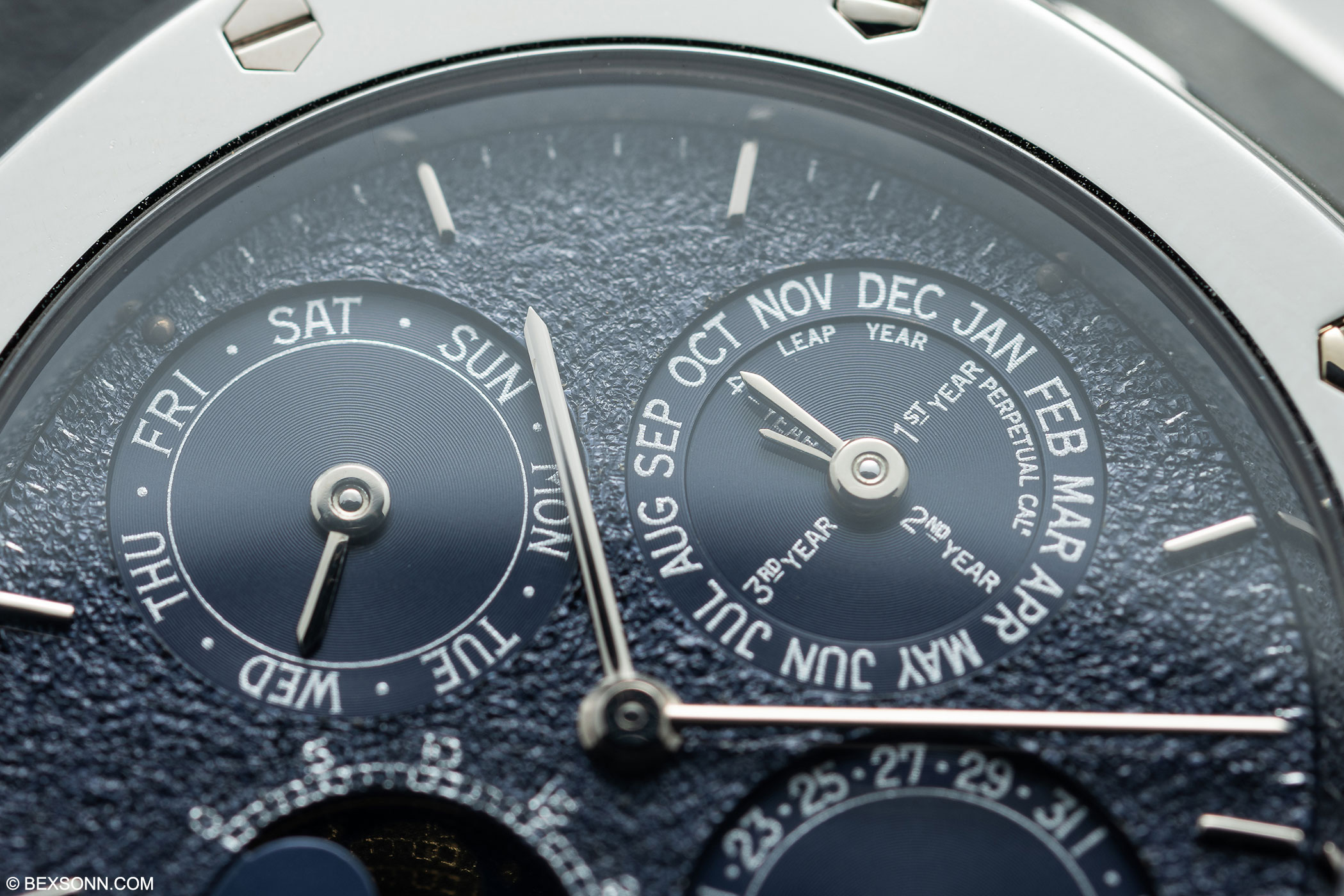 This present lot is considered to be extremely rare. You see, this watch uses a combination of steel and platinum and is limited to just 25 pieces. Futhermore, it features what is known as a "Tuscan" blue dial, which has an almost frosted look, allowing light to bounce of the fine ridges and create a rather interesting shift in hues of blue depending on the angle. If that wasn't enough, it also comes with its original certificate, which states it is number 9 of only 25 pieces ever made.
Estimate: CHF 60,000 – 120,000
---
ROLEX GMT-MASTER REF. 1675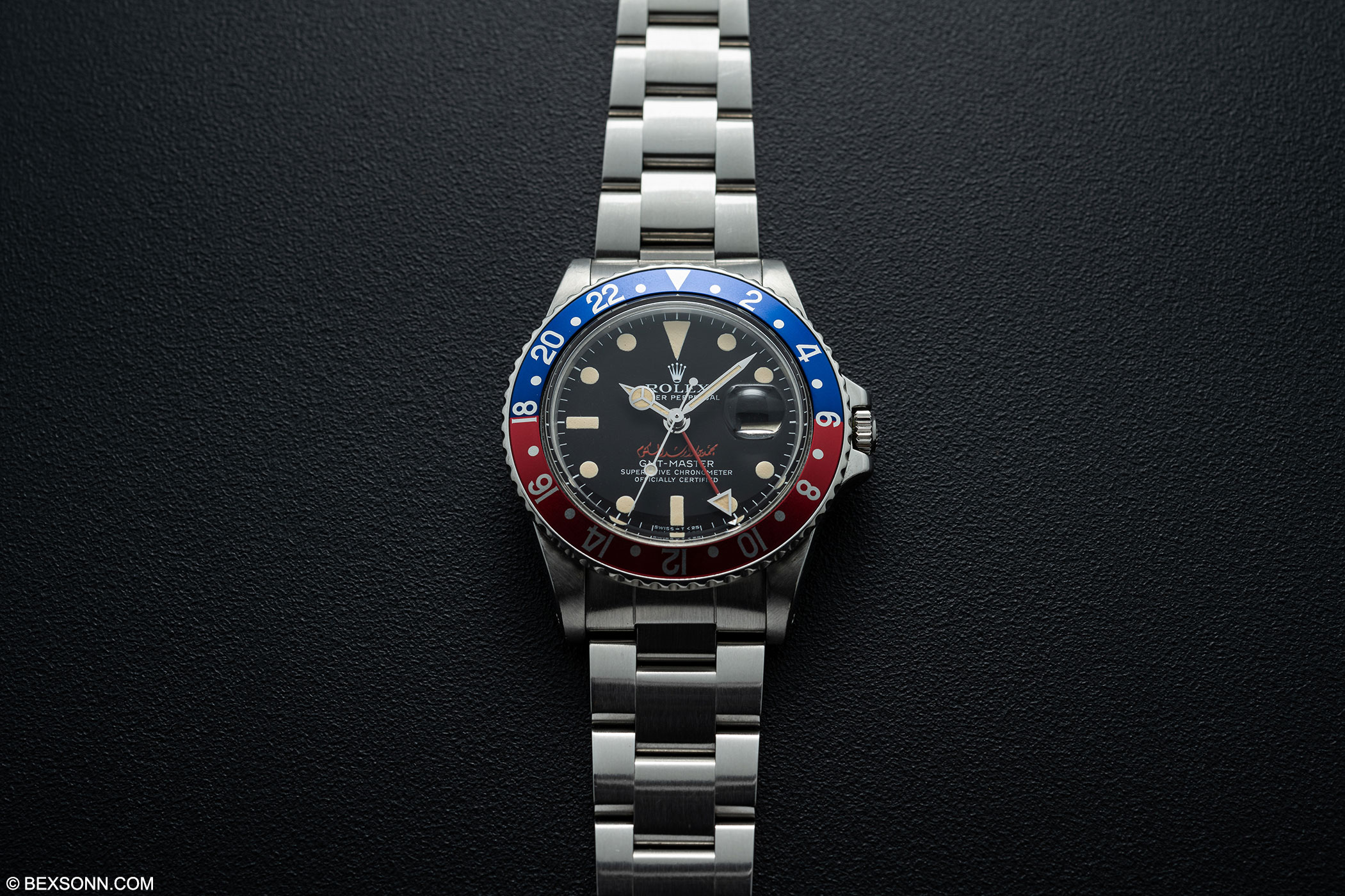 Lot 111: The Rolex GMT has quite a bit of history. The GMT has long been connected with aviation and as you may be aware it was made at the request of Pan-Am (Pan America World Airways), who required a wristwatch that could display multiple time zones simultaneously, during their transatlantic flights. Of course, having an accurate wristwatch as a pilot in those days was absolutely paramount. The GMT-Master wasn't only popular among Pan-Am pilots but also NASA, US Air Force pilots and of course the serial jet-setter.
I've said it before and I'll say it again, the Rolex GMT-Master is, arguably, more revered than the Submariner. Why? Perhaps the actual everyday usefulness is much more appreciated and there is also the point of, when you have a GMT, you just kind of have a GMT. Not to say there aren't subtle differences between them but each one just seems to be appreciated for what it is. That said, this GMT-Master is a little extra special.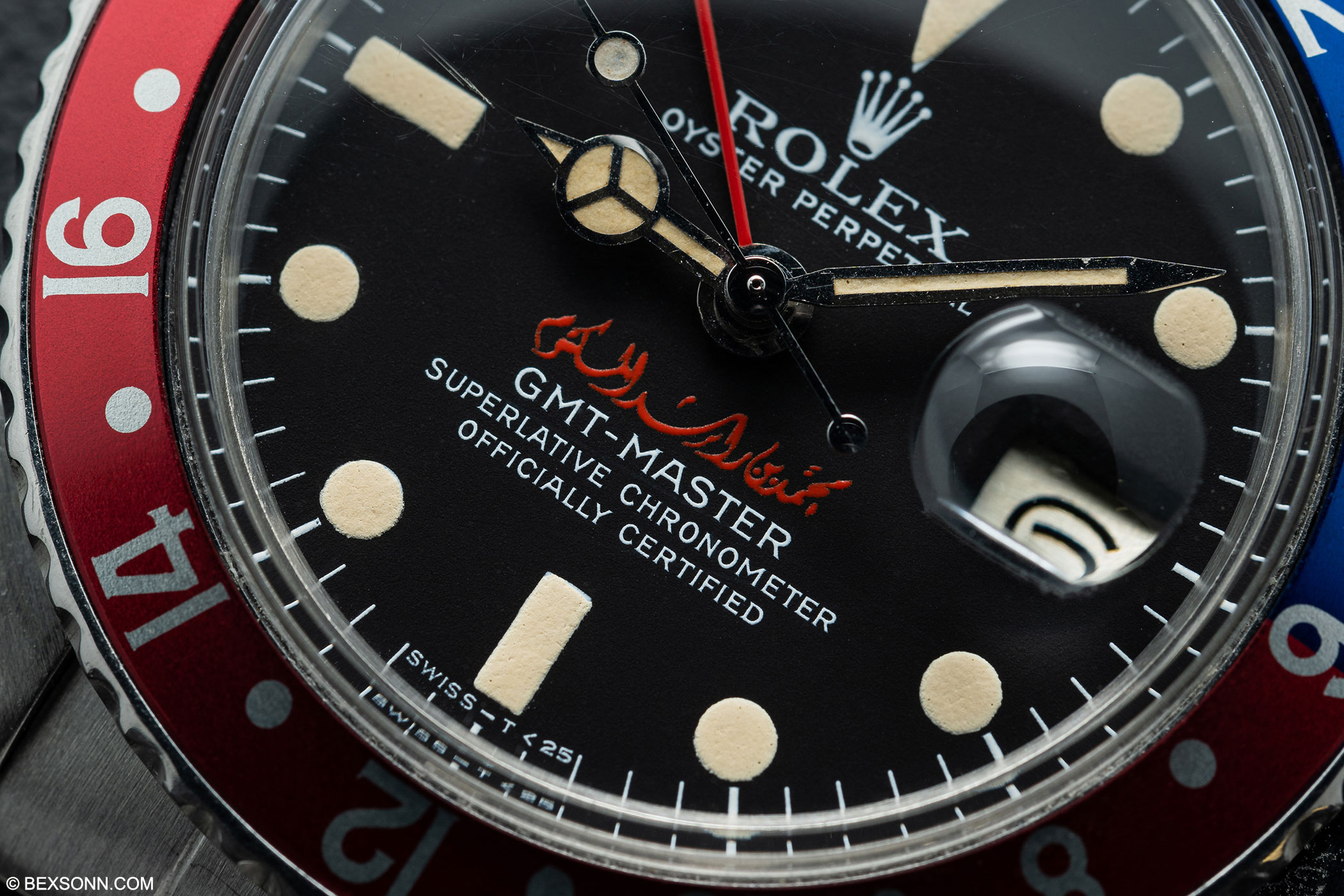 As you may have well noticed from the images this watch has been rather well-preserved and not only that but also comes with its original hole-punched papers and box. Moreover, you'll notice the dial bears an Arabic inscription in red, which is the signature of His Highness Sheikh Mohammed bin Rashid Al Maktoum just beneath the centre pinion, making it part of an extremely limited number of pieces with this marking. It is understood that watches which bear His Highnesses' signature were ordered during his time as Minister of Defense of the UAE and were offered as gifts to dignitaries and foreign officials. The condition and rarity of this GMT-Master reference 1675 places it firmly in the realm of very rare among vintage Rolex pieces – hence it's not too modest estimate.
Estimate: CHF 70,000 – 140,000
---
ROLEX DATEJUST REF. 6305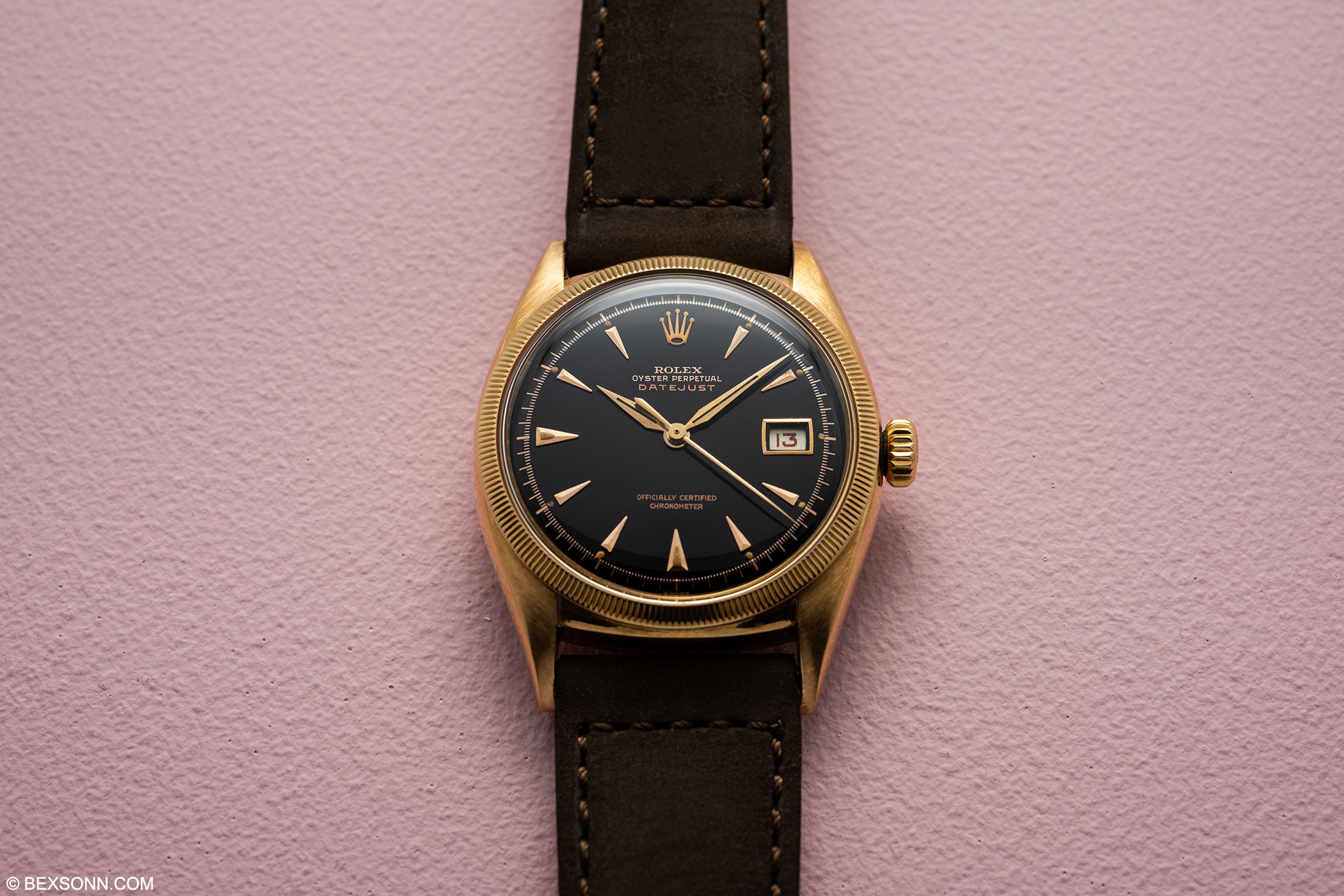 Lot 143:The Day-Date, in my humble opinion, always seems to garner more attention than the Datejust. That said, there are quite a handful of Datejusts that deserve just as much attention. When you think of Rolex, undoubtedly you automatically think of the Datejust. It is a timepiece that Rolex have been producing for many, many years before any other serially produced timepiece from their range. The impact the Rolex Datejust had on the 20th century watch market was immense. It was an automatic, waterproof timepiece, with instantaneous jump date aperture and though this may seem like a feature we take for granted today, let's not forget that when this was introduced, it was a game changer.
One of my favourite lots from GWA11 is this rather exquisite reference 6305 Datejust. Made circa 1954, this Rolex Datejust features the nonchalantly cool reeded bezel and "Ovettone" case. Futhermore, the case of this reference 6305 is 18-carat yellow-gold, which, has been well-preserved in excellent condition. It features an almost flawless black lacquer dial, which features two lines of script reading "Officially Certified Chronometer". Moreover, this example retains its original Oyster crown, and also comes with it's original Rolex guarantee dated 1955 and presentation box.
Estimate: CHF 30,000 – 60,000
---
PATEK PHILIPPE PERPETUAL CALENDAR CHRONOGRAPH REF. 2499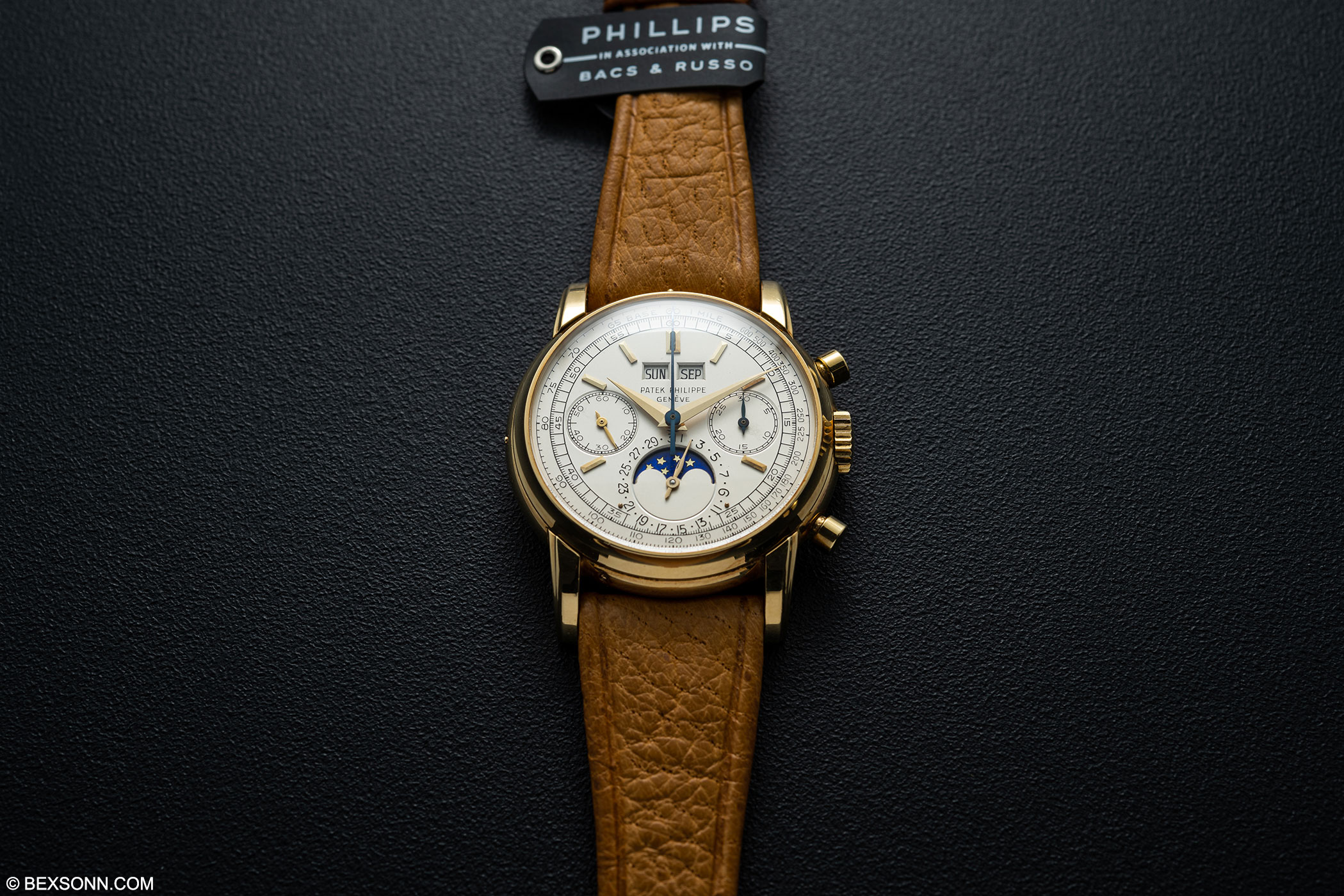 Lot 147: We've spoken about the Patek Philippe 2499 and it has essentially been described by many connoisseurs as the greatest watch ever made, period. Everything from the case shape and dial layout to the perpetual calendar chronograph complication, it is as pure an embodiment as it gets of Patek Philippe as a manufacture.
However, the 2499 isn't a straight-forward reference and was made in four distinctive series, and for those who don't know, there are a few easy traits to tell them apart. The 1st series is the easiest to distinguish, with a slightly smaller case, Arabic numerals, square pushers and a tachymeter, and while the 2nd series maintained the tachymeter, both Arabic numerals and baton markers were used. The most significant difference is that the case changed and incorporated round pushers instead. The third and fourth series maintained the case of its predecessor, but this time, Patek Philippe removed the tachymeter scale and only used baton markers. The difference between the 3rd and 4th series? Not much, except that the 4th series for the first time, used a sapphire crystal, altering its model number to Ref.2499/100.
This 2nd series 2499 is just any old example. This present lot comes directly from the collection of the highly respected watch author and collector John Goldberger. It has been in his collection for some 30 plus years; purchasing the watch back in 1988 in New York and has never left his collection. Though the most intriguing part of the 2nd series 2499 is that the extract from the archive confirms the watch was made in 1972, which is considered rather late for a 2nd series 2499. However, engraved on the back of this well-preserved dial are the last three digits of the movement number "444", pretty much confirming this to be one of the latest 2nd series 2499 with this dial mounted at the special request of the original client.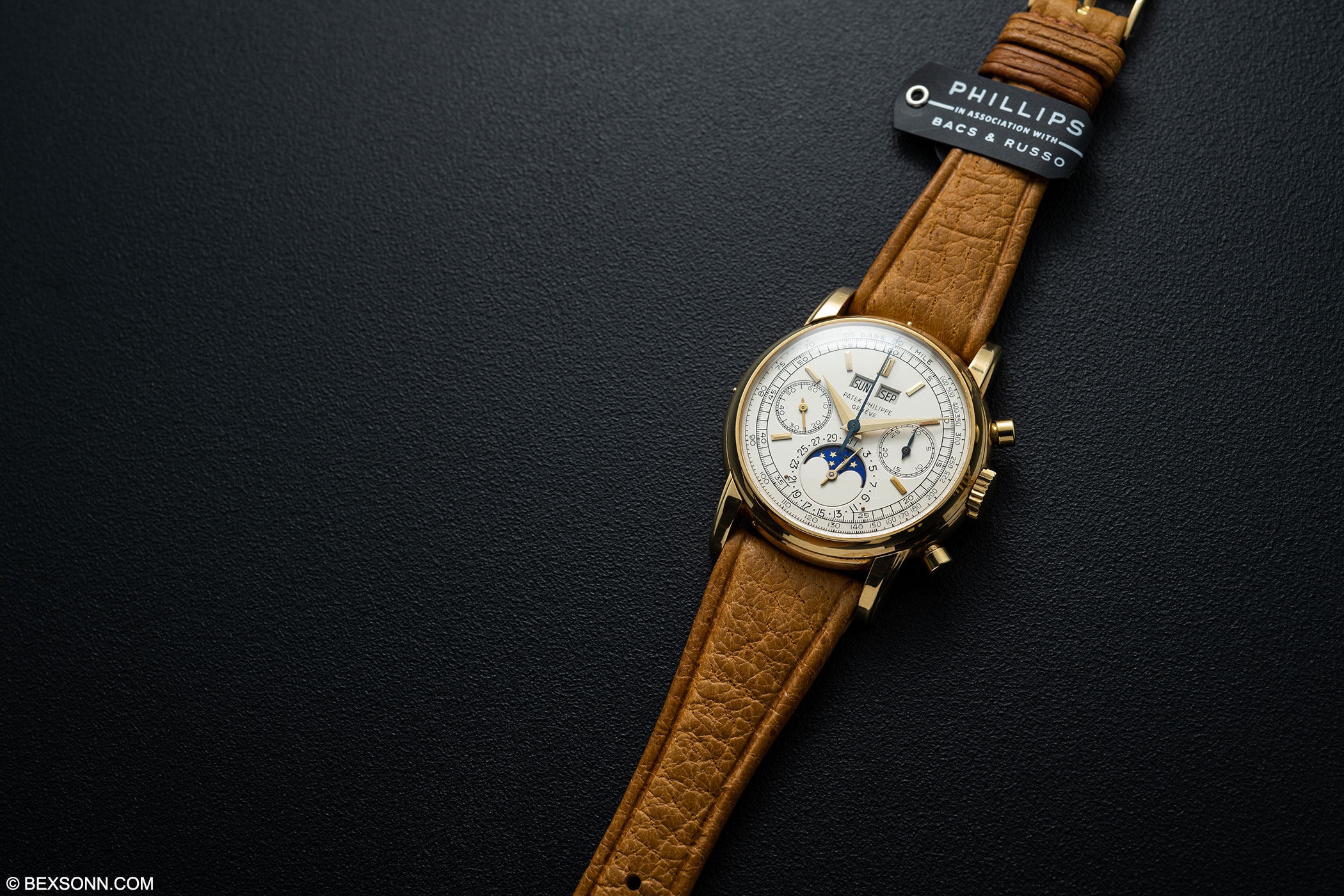 Over the past few years we've seen our fair share of Patek Philippe 2499s come up for auction but don't for one second think they are becoming too common. Spanning over 35 years of production, Patek Philippe only produced 349 examples. Doing some calculations, that works out to roughly 10 watches on average per year, showing how special this watch really is. Looking at the 2499, there is a minuscule supply, yet they do tend to show up at marquee auction houses quite often, and yet still the demand remains.
Estimate: CHF 700,000 – 1,200,000
---
FINAL WORD
So, there you have it, a handful of our favourite lots from the Geneva Watch Auction XII. Phillips seem to continue to bring rare pieces to the market even in this current climate. I think this particular auction possesses those super rare pieces we are perhaps accustomed to seeing – such as the 2499 and 1675 we've highlighted. Nonetheless, there are still a few sleepers, which we haven't highlighted in there which may surprise a few of us, so I will happily be watching to see how well these lots will perform.
For more lot information on The Phillips Geneva Watch Auction XII that will take place on the weekend of the 6th & 7th of November at La Reserve Hotel, Geneva, visit the official Phillips Watches website to view the entire catalogue.
You might also like