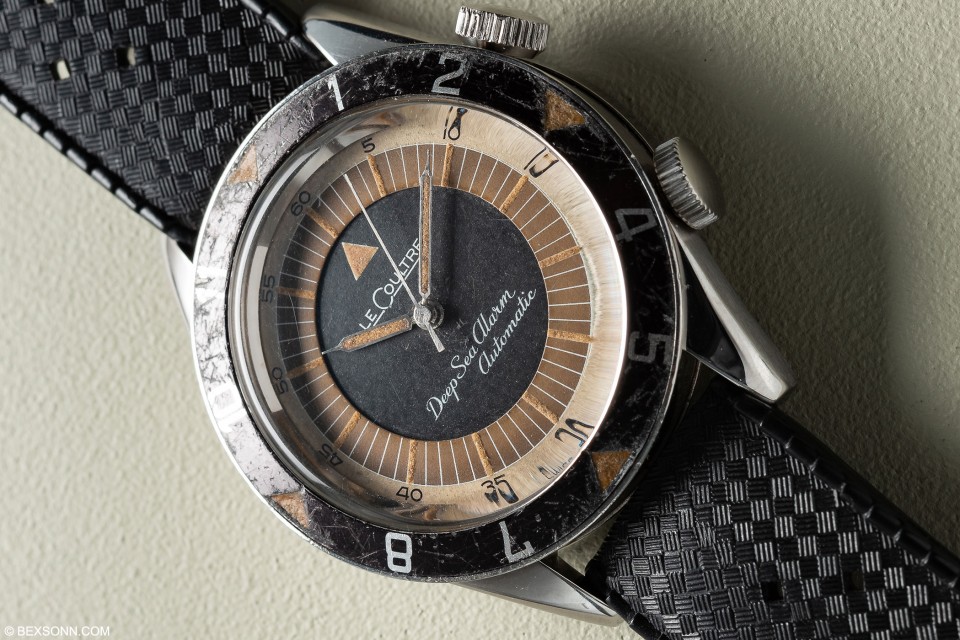 Well, its May and for us watch guys it can only mean one thing- auction season. As usual, the catalogues are stacking up in my house and thousands of watches prepare to go under the hammer with Christies, Antiquorum, Phillips, Sotheby's and many more lining up their pieces. This week, I will be taking a look at some interesting pieces from Phillips and share some of my thoughts on them.
---
ROLEX REF. 8171 'THE SLEEPING BEAUTY PADELLONE'
Lot 68: I've written quite a few times about the Ref. 8171 Padellone, and as I have mentioned before, this is one of the holy grails of vintage Rolex as they were produced in very low numbers and other than one other reference which I will highlight later, it was the only Rolex back then with a triple calendar and moonphase layout. The term 'Padellone' was given to the watch by Italian collectors due to its large and flat 38mm case which resembled a frying pan (hence the direct translation from Italian.)
This example comes fresh to auction and while the fact it is a Ref. 8171 is remarkable enough, what sets this lot apart is just how pristine the condition is. The dial is immaculate, all print is sharp, having never been restored or washed before and the case is thick and full with all the pushers and hallmarks still deep and sharp. In this day and age where the trend is not characterised by a watch model, but instead by condition, I am expecting some heavy bidding for this Ref. 8171.
Estimate: CHF 400,000 – 800,000
---
ROLEX REF. 6062 'THE S.W. LEVITAN STELLINE'
Lot 71: Moving on, the other holy grail Rolex that featured a triple calendar and moonphase was the Ref. 6062. Whereas the Ref. 8171 came in a huge 38mm snap back case, the Ref. 6062 came in a more traditional 36mm case with a screw down case, hence the designation 'Oyster' on the dial. Another thing that makes Rolex collectors across the board excited is the presence of stars on the dial in lieu of traditional hour markers. Rolex barely did this and only put it on some of their most exclusive models, including this example. As the Italians are master marketers, the Ref. 6062 inevitably received the nickname 'Stelline' translating to starlet. 
This lot looks to be a fine example with a dial free from spotting and a nice thick case with its hallmarks still present. It has a name engraved on the back, which some may or may not like and as you would expect mostly from Phillips, is a completely original and beautiful piece.
Estimate: CHF 400,000 – 800,000
---
PATEK PHILIPPE REF. 5078 P MINUTE REPEATER
Lot 84: A modern classic that if you don't know about watches, might just look like your typical Calatrava. Well, let me dive right into the details to tell you it couldn't be further from your run-of-the-mill Patek. First of all, most of you will know that it is a minute repeater and that Patek Philippe minute repeaters are not available for the public to purchase. One must have a history of buying Patek's and only then, will your AD allow you to apply directly to the Stern family to have one commissioned. On top of this, only when you have been approved, does the lengthy wait start for one, so to be able to buy one straight from auction, is an added convenience to say the least. 
The Ref. 5078 comes housed in a 38mm platinum case and it is certainly one of the most understated minute repeaters that Patek makes. Powered by the slim R 27 S movement, it features cathedral gongs, meaning that the sound is much richer and louder than a traditional minute repeater. The white grand feu enamel dial is beautifully elegant with elongated Roman numerals and the black gold hands perfectly complement this. While this isn't your super-hot Nautilus or Aquanaut, the real connoisseurs will truly appreciate this masterpiece.
Estimate: CHF 180,000 – 360,000
---
JAEGER-LECOULTRE DEEP SEA DIVER
Lot 92: Comes as a set of two watches and it is certainly an interesting approach. Of course, the star of the show is the original Jaeger-LeCoultre Deep Sea Alarm. Released in 1959 and historically important for the brand, the Deep Sea Alarm was a divers watch that featured an alarm, allowing the wristwatch to remind divers to return up for air. It was only produced for 3 years and an estimated 1,061 examples were produced. This example comes with its original presentation box which is a nice touch and while it is certainly in used condition, it looks to be a remarkably honest piece. The minute track has turned to a nice tropical tone and the patina is yellow and dirty, in a good way. 
That said, lot 92 is not alone in the offering, there is a second watch in this lot: a JLC reissue released in 2011. Funnily, the reissue is actually rarer than the original if you were to judge it based on examples produced as only 359 pieces were made. I have always said that the JLC Deep Sea reissue is one of the nicest vintage inspired pieces and it really bears a faithful and respectful resemblance to the original.
I will be very interested to see if bidders are willing to bid for two watches in one lot.
Estimate: CHF 45,000 – 65,000
---
PATEK PHILIPPE REF. 11
Lot 166: The last piece I want to highlight is one that turns 100 years old this year – the Patek Philippe Curvex from 1919. This is an extremely important piece as it was a very early example of a wristwatch made and sold in a time where pocket watches were still the accepted method of keeping a timepiece. 
The large rectangular case is characteristically from the era with beautiful enamelled graduating Breguet numerals and blued cathedral hands. The gilded dial goes excellently with the gold case and while shapes like these aren't the current trend, I do feel that it has the potential to comeback with brands like Cartier pushing more unusual shapes in today's day and age.
Estimate: CHF 20,000 – 30,000
---
FINAL WORD
The watch market is definitely going through an interesting phase where I am seeing a lot of price corrections and cautious buying. I certainly cannot tell where the market will head but the bi-annual auctions are usually a good indicator of things to come. I am kind of expecting a softer auction, but I still truly believe that the watch market is like any other, cyclical.
For more lot information on The Phillips Geneva Watch Auction: NINE that will take place on the weekend of the 11th & 12th of May at La Reserve Hotel, Geneva, visit the official Phillips Watches website to view the entire catalogue.
You might also like