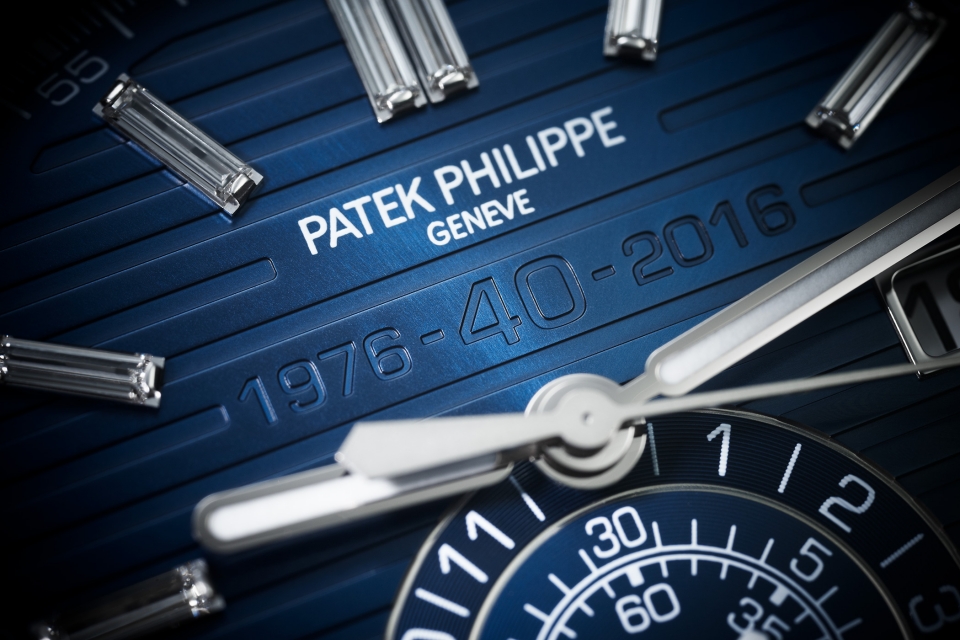 On Monday, Patek introduced to the world two limited edition Nautilus to mark the 40th anniversary since the inception of this iconic wristwatch. In normal fashion, these two new pieces caused, somewhat, of a frenzy, something we've seen all too often of late from one of Switzerland's most revered and prestigious watch manufacturers. That said, for reasons good or bad the new Nautilus timepieces have evoked countless conversations, so we thought we'd take a look at what everybody is talking about.
In case you were unaware, the Nautilus was first shown to the world way back in 1976 and even then it was greeted with scepticism. It was a stainless steel sports watch that was luxurious in its price tag and those didn't go too well together at the time. That being said, it was a timepiece that undeniably and effortlessly blended tool and dress watch into one harmonious steel sculpture. Made in close collaboration with Gérald Genta, one of the most gifted watch designers of the 20th century (whom I might add also designed the famed Royal Oak 4 years' prior), an innovative timepiece began to take shape, one unlike any seen at Patek Philippe – ever! That of course was the Nautilus 3700/1A and throughout its years in production, many iterations of the Nautilus have been launched.
---
NAUTILUS REF. 5711/1P 40TH ANNIVERSARY LIMITED EDITION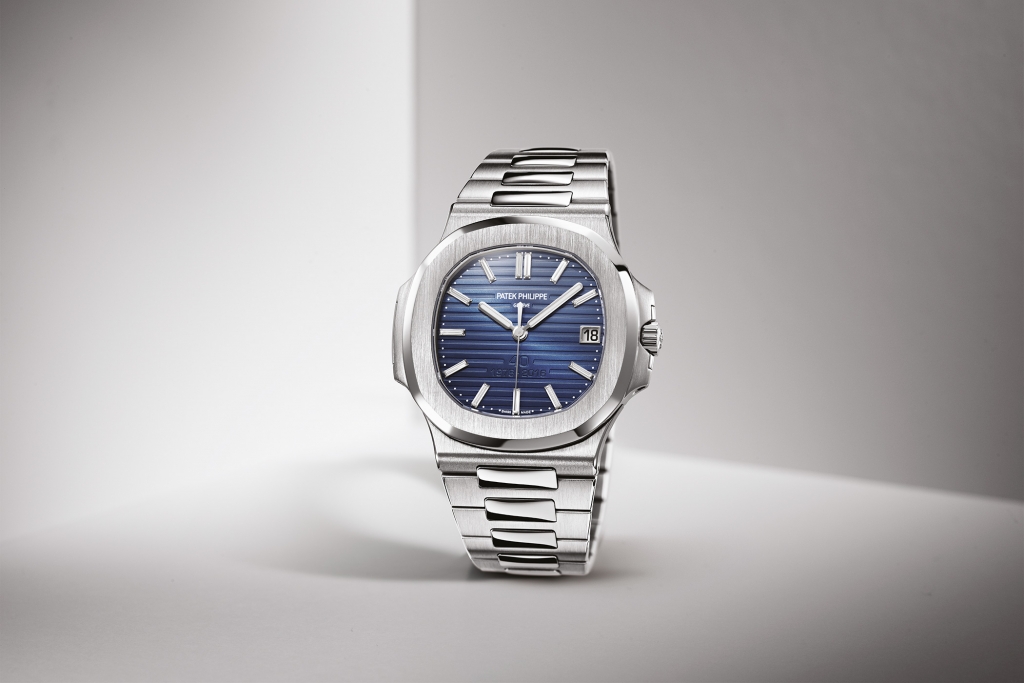 At a glance, the case appears to be classic port-hole Nautilus but look closer and you'll start to notice things look a little different. First off, the case measures 44 mm in diameter and is made entirely of platinum 950, which takes the term tool watch up a notch or two. It is made using the same case construction but you'll notice just below 6 o'clock, the bezel is fitted with a flawless rare white Top Wesselton diamond. This I can say is a cool touch by Patek, done on their platinum models to distinguish itself from its white gold counterparts.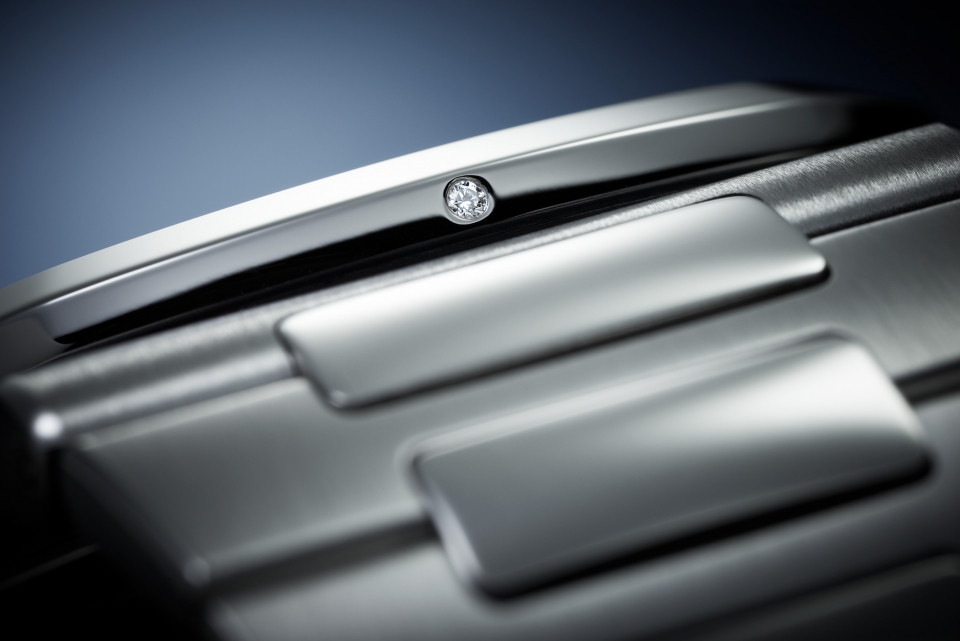 Moving on though, the instant standout feature of the this 40th anniversary Nautilus is of course the dial, which is made entirely of 18-carat gold and features a dark blue hue that makes use of the typical horizontal Nautilus embossing. However, at the bottom half of the dial, there is a two-line anniversary citation "40" and "1976–2016" which appears more prominent than it probably is but we are unable to confirm until we see one in the flesh. In stark contrast, the hour markers are made up of 12 applied batons in 18-carat white gold with flawless Top Wesselton baguette diamonds. The date aperture that's also slightly larger in proportion to the bigger 44 mm case, is located at 3 o'clock and set in a polished 18-carat white-gold frame.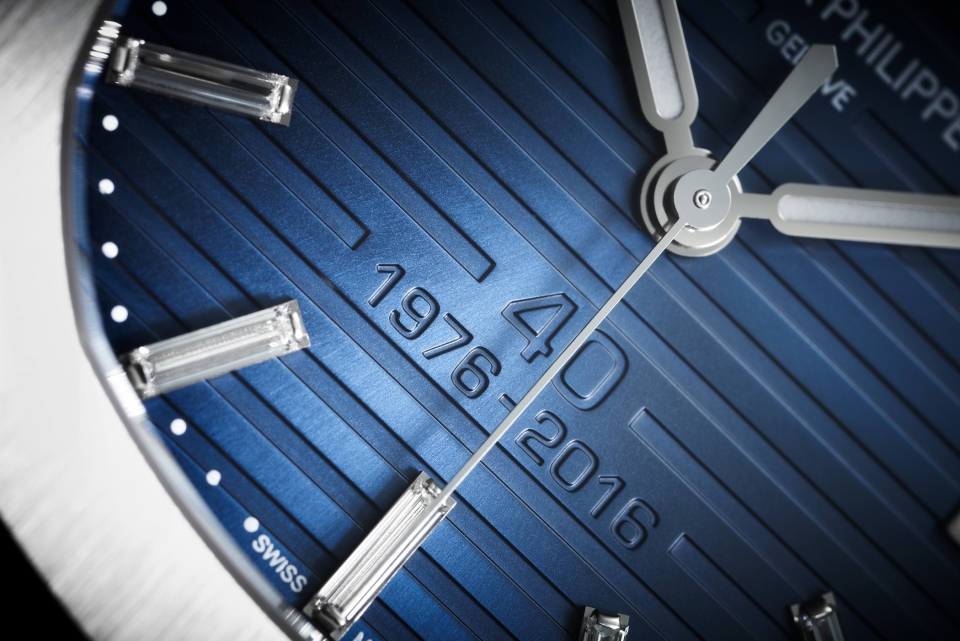 Powered by the calibre 324 SC, the Nautilus 5711/1P is an in-house self-winding movement. It has everything you would expect a Patek movement to have: discreet but expertly hand-finished parts, a Gyromax balance and Spiromax balance spring. The watch has a power reserve of up to 45 hours and a depth rating of 120m.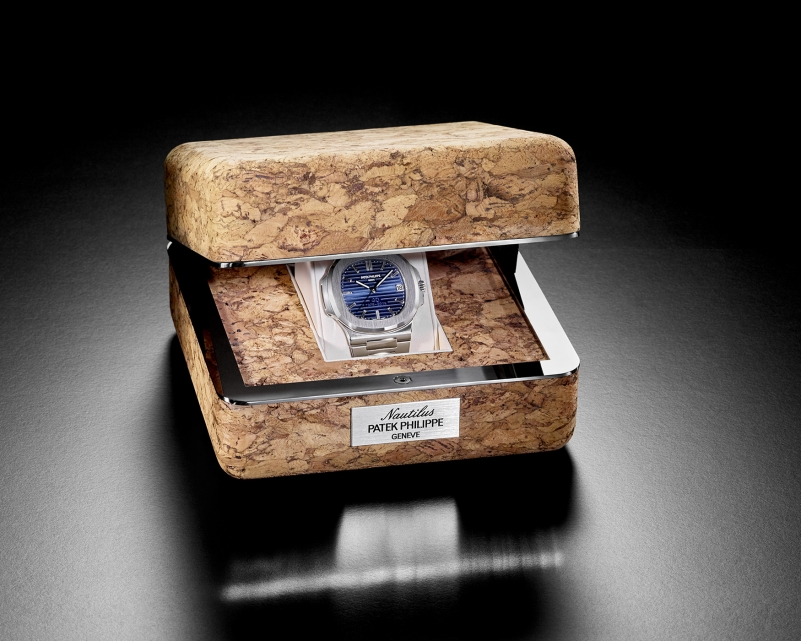 The Nautilus Ref. 5711/1P 40th Anniversary in platinum 950 is being crafted in a limited edition of only 700 individually numbered watches. Each one comes in an anniversary box that also contains the Certificate of Origin, as well as an anniversary document. The box is quite fittingly made of brown natural cork, which many of you may know, is exactly what the original 3700/1A references were sold with. The 40th Anniversary cork box features polished stainless steel frames for the base and the hinged cover. The steel plaque on the front, is also a faithful reinterpretation of the 1976 Nautilus.
---
NAUTILUS CHRONOGRAPH REF. 5976/1G 40TH ANNIVERSARY LIMITED EDITION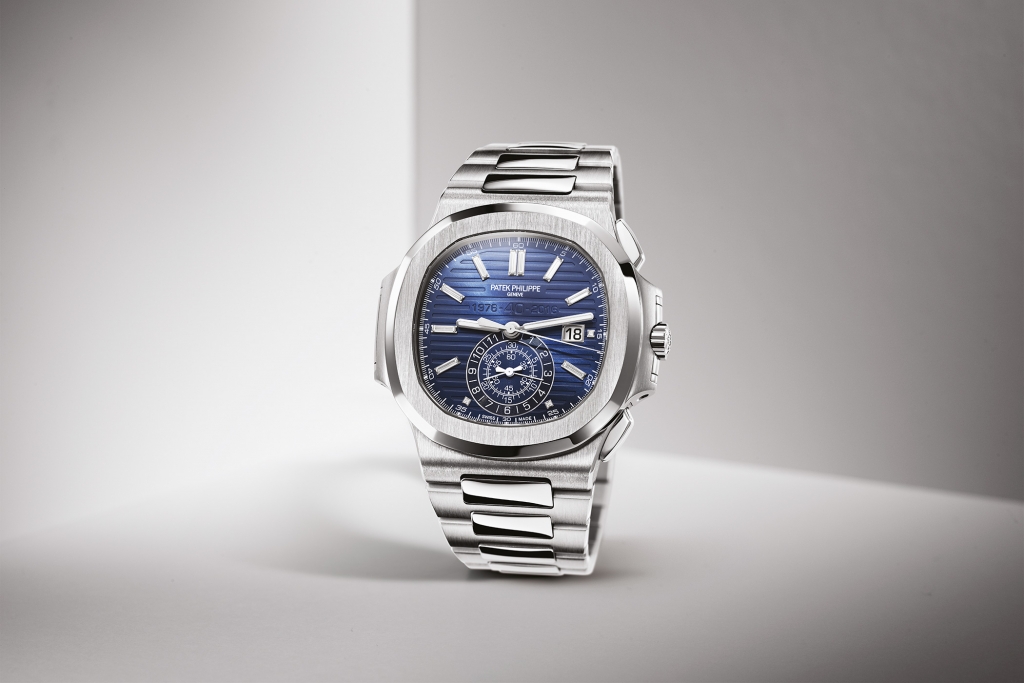 In 2006, on the occasion of the Nautilus 30th anniversary, Patek launched the first chronograph version – the reference 5980. On the occasion of its 40th, Patek launched a follow-up to this, the reference 5976/1G flyback chronograph in 18-carat white-gold. Made in a limited edition of 1300 pieces, much like the 5711/1P above, it sports a dark blue dial with horizontal embossing and in this case an unconventional one-line anniversary citation "1976 – 40 – 2016". The hour makers are made up of flawless Top Wesselton baguette and princess-cut diamonds and the large date aperture is also framed by mirror-polished white-gold. The monocounter at 6 o'clock has grown as well, which makes it easier to read the results of short-time measurements. Its three concentric scales include the 12-hour counter on the outside as well as the minute counters from 1 to 30 in the middle and from 31 to 60 on the inside.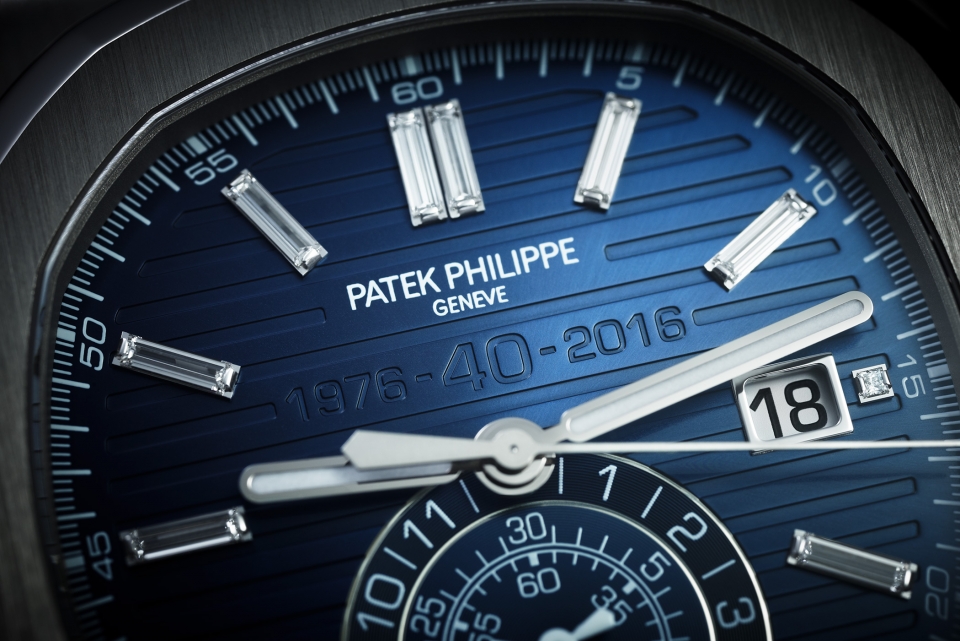 While we are on the subject of upsized chronograph counters and date apertures, one thing I've yet to mention is that this has only been made possible because the case has also grown in size too. It now measures 49.25 mm, inclusive of the outer hinge of the case and crown that is some 3.6 mm wider than its predecessor, minus these and the case measures 44 mm, which is still quite large to say the least. That said, from the case and bracelet to the fold-over clasp, the watch highlights Nautilus-typical finissage techniques such as the vertically satin-finished bezel with shiny chamfers and the alternating matt/mirror-polished bracelet links, all meticulously executed by hand.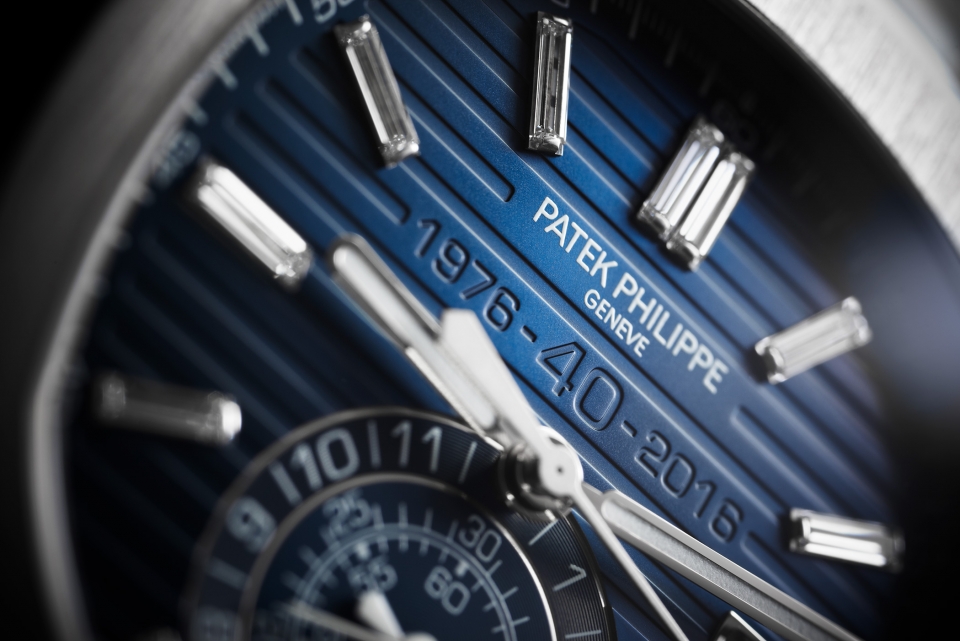 The 5976 is powered by the in-house developed CH 28-520 C chronograph movement that is automatically wound by a 21-carat gold central rotor. The start/stop and flyback/reset chronograph functions are controlled by a classic column-wheel mechanism with a vertical disk clutch that handles the engagement and disengagement operations. As it is virtually friction-free, the chronograph hand can be used as a continuously running seconds hand without causing mechanical wear. It of course features Patek's Gyromax balance, which is paired with the patented Spiromax balance spring.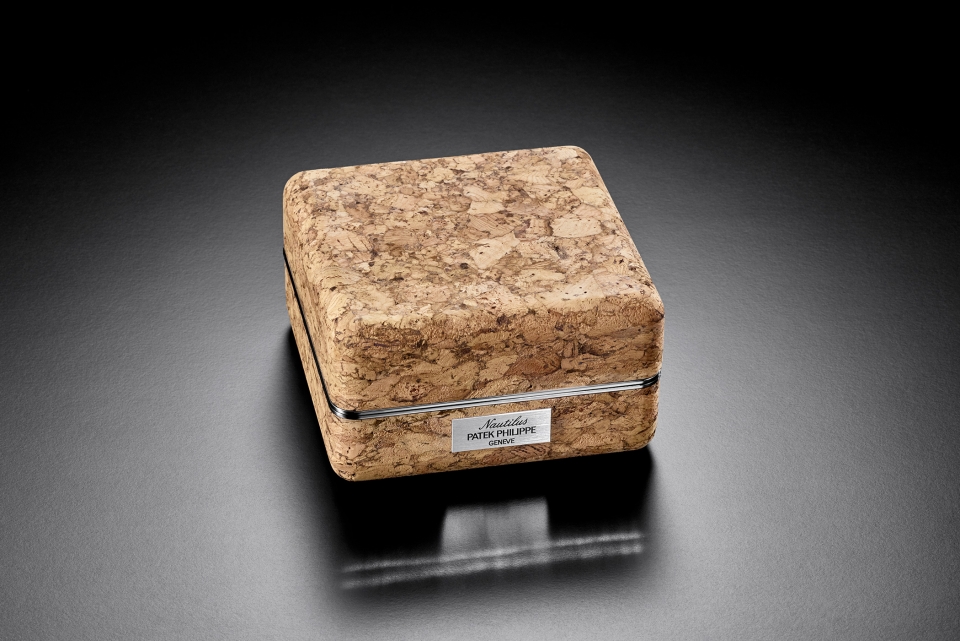 And just like the 5711/1P, it also comes in an 40th anniversary brown cork box that also contains the Certificate of Origin, as well as an anniversary document.
---
THOUGHTS?
So, what do we think of it? As mentioned already, these two anniversary models have caused a bit of a stir. Looking at the 5711/1P, it is admittedly nice to have the Nautilus in platinum and I actually quite like the dark blue hue Patek have managed to capture, I don't even mind the 12 baguette diamonds, considering I'm not one for any type of bling when it comes to watches, they've been tastefully integrated into the dial. And while I reserve full judgement until I've seen it in the metal, the embossed inscription on the dial is, for me, where things start to look a little off but who knows, it may not actually look as predominant as the images suggest?
As for the 5976, I believe the initial idea to improve upon the 5980, was perhaps quite an innocent thought but as you can probably guess Patek may have just taken this one a little too far in regards to size. It is just too big in my opinion. As mentioned above from hinge to crown is 49.25 mm – let those numbers sink in for a second and then consider it is only 0.75 mm shy of 50 mm. Who would have thought that in 2016 Patek would be making a Nautilus this size? Again, while we are yet to see them in the metal I just can't see this 18-carat solid white-gold 5976 being 1) comfortable and 2) practical. However, I do like the brown cork box….
If there is one saying that would sum up my entire chain of thoughts – less is more but then again you have to remember the Nautilus has always been bold and that is exactly what these two pieces are. They perhaps appeal to a different breed of Patek buyer that isn't hung up on what came before. But one must not forget, these new Anniversary pieces are not the end of the Nautilus range. In fact, the range is so vast, it's okay not to like these 40th anniversary pieces. You know what, I don't like them very much, which you've probably already guessed, but I'm okay with that because I know there is something within range I do like. Undoubtedly these limited pieces will do well, why? Because of just that, they are limited not to mention a certain big pilot that was said to be a disaster – yup, the 5524G now has a 3 year waiting list?
For more information on these two 40th Anniversary Nautilus timepieces, visit the official Patek Philippe website.
---
GALLERY
You might also like