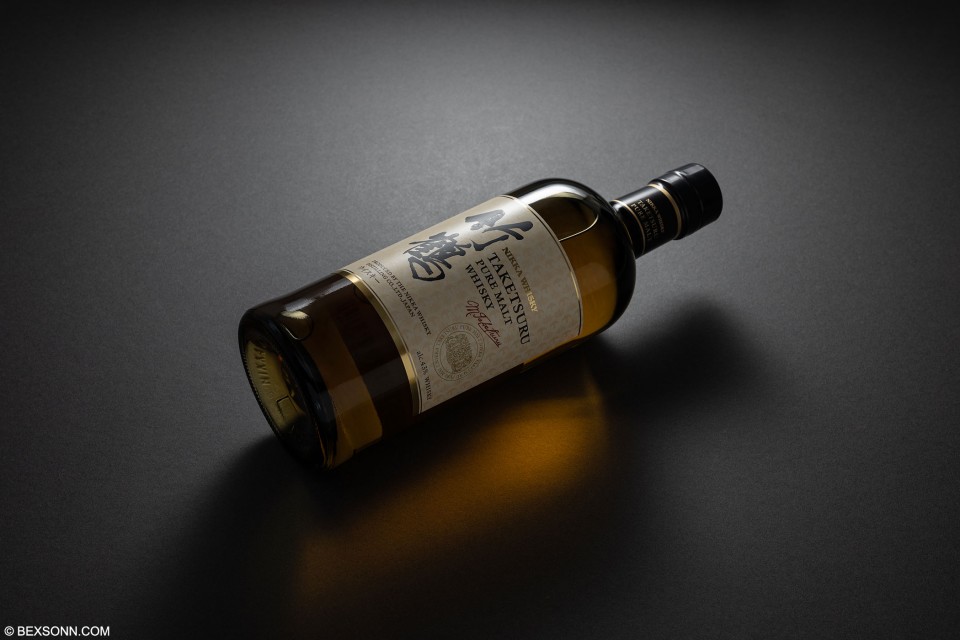 We've had our fair share of Nikka here on BEXSONN.com and yet, an expression that we've haven't posted tasting notes on is the Taketsuru Pure Malt range. A tribute to Masataka Taketsuru, the father of Japanese whisky and founder of Nikka. This pure malt whisky is a blend of casks hailing from Nikka's two distilleries in the north of Japan: Yoichi and Miyagikyo. Luckily enough for the Nikka master blenders, they have a large variety of different whisky styles to rely on, allowing them to achieve a high level of balance and complexity, combining fresh and fruity notes of youthful whiskies with the rich evolved character of older ones; aged for a large part in ex-sherry casks.
On the nose: is an enticing waft of tropical notes, consisting of banana, pineapple and coconut, followed by butterscotch, vanilla, salted caramel and lemon zest. There's a hint of aniseed, as well as cinnamon, cardamom and sultanas, alongside grapefruit, pears, shortbread and frangipane. Rounding-off the nose are notes of panettone, raisins, a hint of smoke (that'll be the Yoichi), oatmeal and a green herbaceous note. The palate: is replete with those bananas, pineapple and sultanas, surrounded by oatmeal, liquorice, a leathery note and tobacco. That smokey note is much more apparent on the palate and is nicely complimented by notes of lemon zest, candy sticks and butterscotch. There's some lovely subtle notes of cinnamon and cardamom, coupled with pear drops and a green herbaceous notes. The palate is completed with notes of salted caramel, candid fruits, with a velvety creamy texture. The finish: medium, creamy and bittersweet, with a cigar-like note and lingering dark chocolate.
The verdict: This Nikka Taketsuru is a fine tribute to Mr. Taketsuru. It embodies everything that is so good about Japanese whisky, its delicate, complex and so well-balanced. It's got so much flavour and character that'll keep you going back for more just to see what other flavours you can uncover. Bottled at an ABV of 43% – this Taketsuru Pure Malt in my opinion, doesn't need any water at all. However, if you want to access the plethora of notes on offer – leave it to breathe for 3-5 minutes.
This Nikka Taketsuru Pure Malt 2020 Japanese Blended Whisky is available to buy online or in-store at any well-stocked whisky shop, for approximately £50.For more information on this non-age statement Taketsuru Pure Malt, visit the official Nikka website.
You might also like