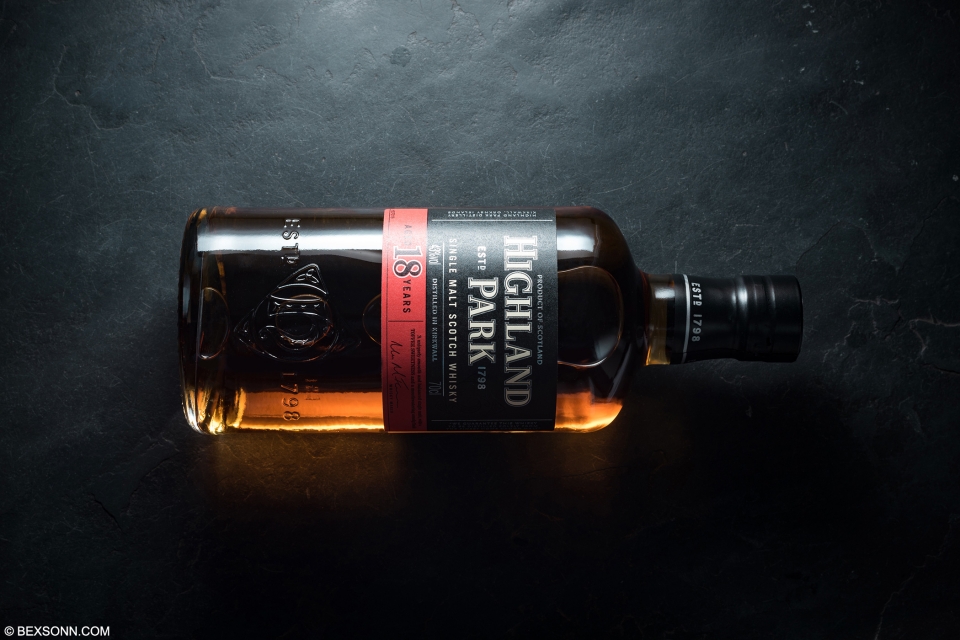 We've slowly but surely become fans of Highland Park and we have of course posted tasting notes here on the 12-year-old, 30-year-old  and 40-year-old expressions. But until we haven't posted tasting notes of their much revered 18-year-old, expression; the easy sipping all-round great dram. If you were unaware, The Highland Park distillery that is steeped in history, stands on a hill overlooking Kirkwell, Orkney's mail town – on an area of common land long known as the High Park of Rosebank. Established in 1798, of course as an illicit distillery, Highland Park describe themselves as the most Northern distillery in the world that above all creates some of the most taste bud tingling Scotch whisky. Their whisky is known for being rich with notes of honey, oranges, oak, with a slightly salty nature but most intriguingly, a touch of smoke/peat.
On the nose: is an intensive waft of sweet, orange marmalade, demerara sugar, vanilla and an ever so light waft of smoke. These initial notes are followed by spicy notes of aniseed, cinnamon and star anise, as well as toffee, candy apple and some green herbaceous notes. Completing the palate are notes of apricots, lemon zest, pear drops, marzipan, treacle and nutty/meaty aroma. On the palate: there are sweet notes of currants, oranges, lemon zest and vanilla. These are closely followed by toffee, cinnamon, demerara sugar, mixed summer fruits and touch of smoke. Rounding-off the palate are notes of marzipan, hazelnuts, butterscotch, salty caramel and raisins. The finish: is long, sweet and zesty, with lingering smoke, salt and nuttiness.
The verdict: I'm admittedly a massive fan of Highland Park's core range, especially the humble 12-year. However, the 18yo is just perfect, perhaps my new go to dram of choice, it is that good! It is so well-balanced with the right amount of sweetness, spiciness, body and smoke that has great depth. With an ABV of only 43%, it's not really a Scotch that requires any water but if required, then only add just a few drops. Also allowing it to breathe for 5 – 10 minutes, yields more notes too.
Highland Park 18 Year Old Single Malt Scotch Whisky is available online or in-store at the Whisky Shop, for approximately £120.
For more information on this 40-year-old expression, visit the official Highland Park website.