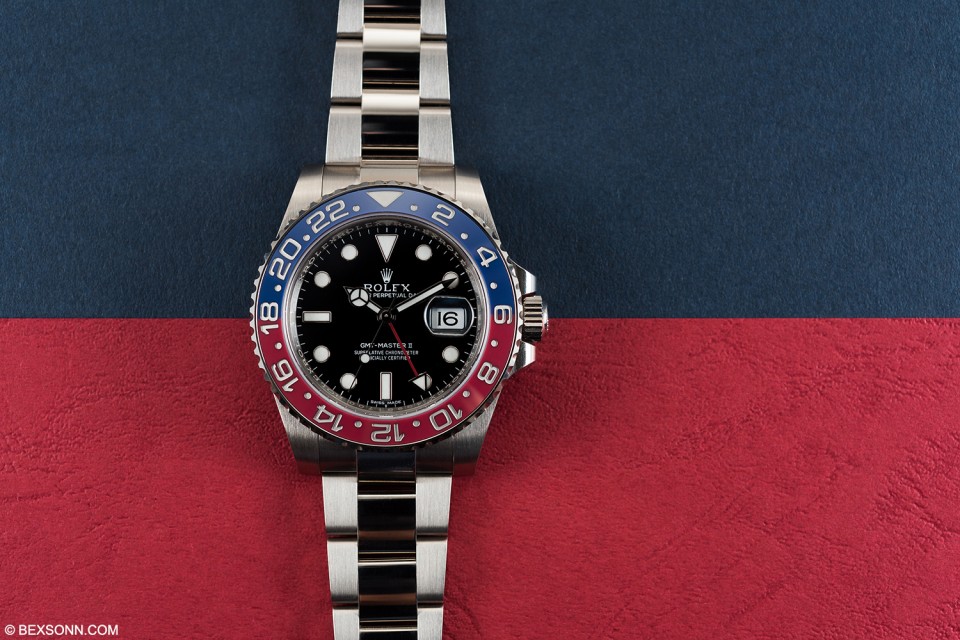 Almost two years ago Rolex introduced the GMT-Master with a Pepsi bezel, needless to say Rolex aficionados and collectors alike greeted it with some scepticism and in all honesty it was pretty understandable. You see, they didn't just produce a new bezel for the models that already existed, no. Rolex made the new Pepsi GMT-Master entirely out of white-gold, making one of their most expensive, mass-produced, sports timepieces. Some loved the idea of Rolex fashioning this new GMT out of white-gold, some didn't, as this would mean the hope of owning the new-age Pepsi GMT (made in steel) was lost. While this may very well be true the fact that Rolex even looked to the past and re-introduced this bezel colour combination, albeit in an unconventional case metal, is quite something.
---
BRIEF GMT-MASTER HISTORY
Image via A Continuous Lean
The Rolex GMT has quite a bit of history. The GMT has long been connected with aviation and as you may be aware it was made at the request of Pan-Am (Pan America World Airways), who required a wristwatch that could display multiple time zones simultaneously, during their transatlantic flights. Of course, having an accurate wristwatch as a pilot in those days was absolutely paramount. The GMT-Master wasn't only popular among Pan-Am pilots but also NASA, US Air Force pilots and of course the serial jet-setter.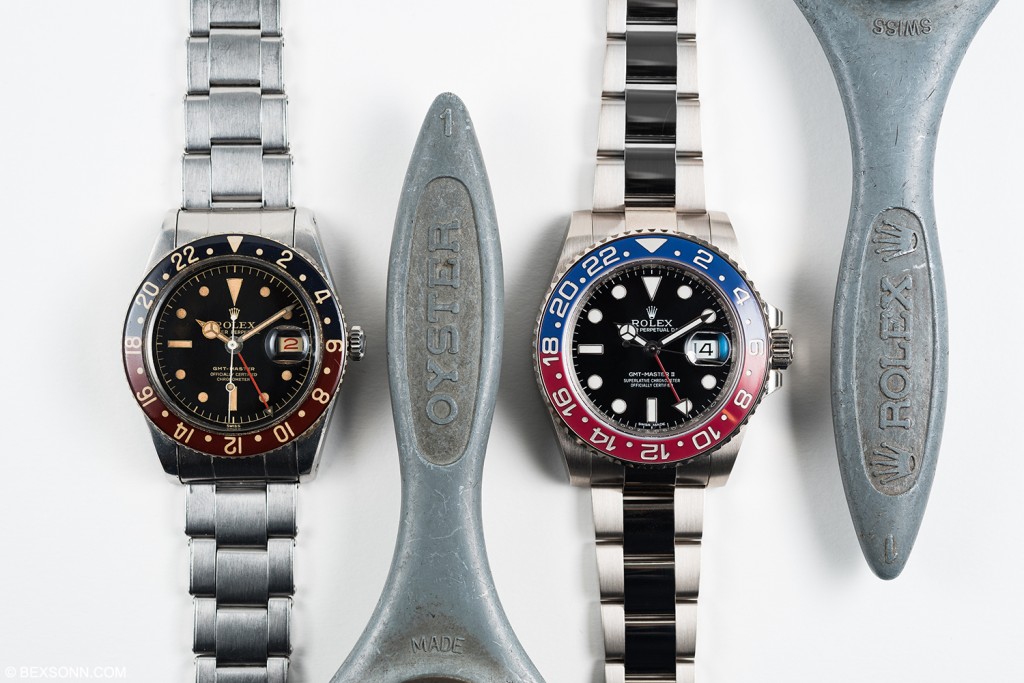 The first GMT-Master that was put into production was the reference 6542 in 1954, as seen in the image above, however, there is also a mythical white dial "Albino" variation too. It featured a rotating red and blue Bakelite bezel (which was fragile and replaced by an aluminium version 2 years later) and featured no crown guards. It also famously made it on to the wrist of actress Honour Blackman, who wore it in James Bond's 007 Goldfinger movie. Hence the nickname it often goes by: "Pussy Galore". Production of the GMT-Master ref. 6542 ended in 1959, at which point Rolex introduced, arguably, one of their most popular sports watches: the GMT-Master reference 1675.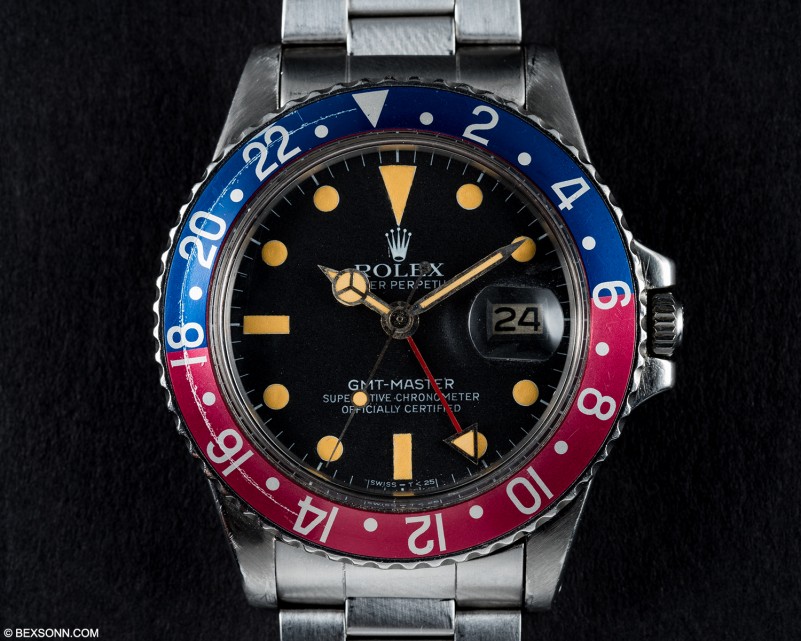 Introduced in 1959 with production ending on this reference in 1980, yup two whole decades, this reference of course saw some subtle and not so subtle changes along the way. Also, this is why it can be found in so many different configurations and depending on these configurations, you'll also see some disparity in prices. And while on the subject of price (I digress), there has been a sharp increase in price of 1675's, so if you currently have one – I implore you to hold on to it.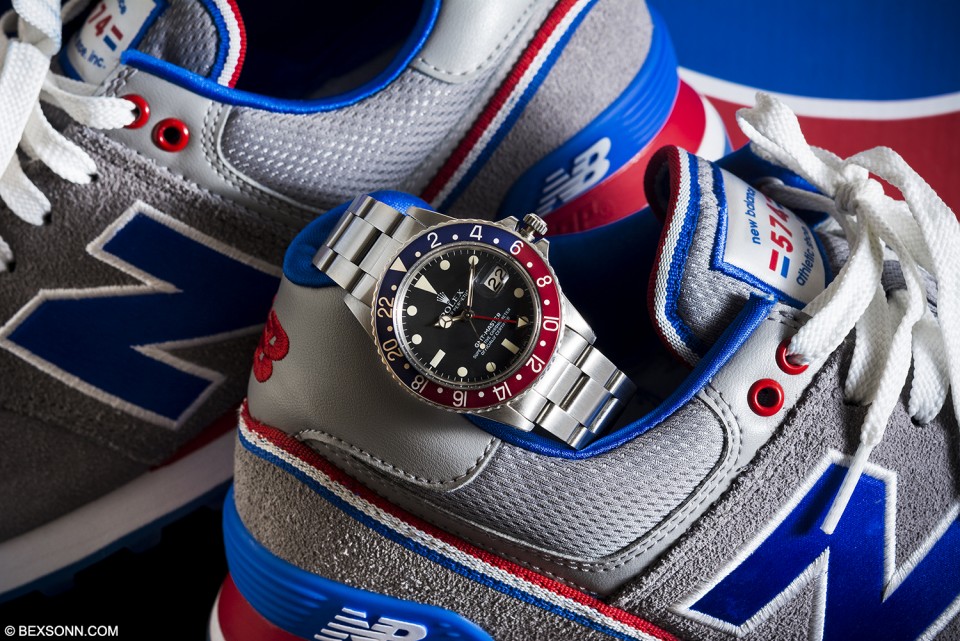 Then there is the slightly cheaper but still sought after GMT-Master 16750 that was introduced in 1981, with production ending in 1988. Quite a short production time, given the 1675's run but this is the exact reason collectors look for these pieces. There was also another reference produced during this period, from 1983 – 1988, the 16760, also known as the "Fat Lady" or "Sophia Loren". This was because it sported a thicker case, however, this only featured a black and red bezel, known by many as the "Coke" bezel. The reference that followed was the 16700, introduced in 1988 and the 16710, which was only introduced a year after. These two references looked virtually the same but one was cheaper in comparison and the 16710 was an altogether leaner design. The ref. 16700 was produced until 1999, whereas the 16710 production finished in 2007 and it was here that we would see a completely new design, in-keeping with Rolex other sport models.
In 2007, Rolex introduced the reference 116710 GMT as we know it today but there would be a few years before we'd see the one model, or more to the point, the red and blue bezel combination collectors had yearned for.
---
THE PEPSI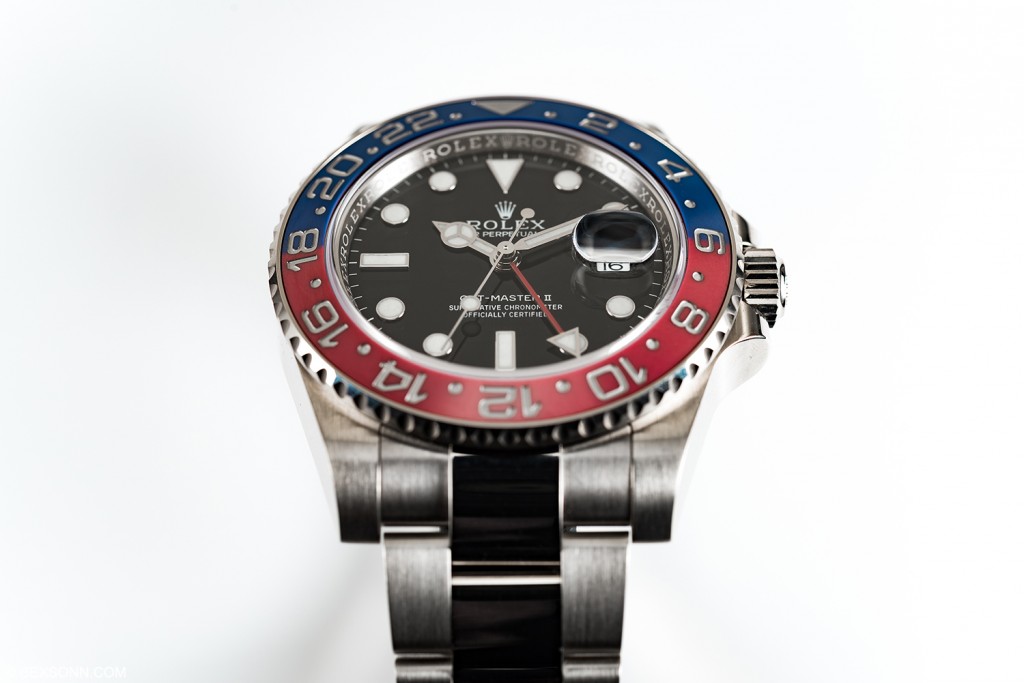 At Baselworld 2014, Rolex introduced a new GMT-Master II with a "Pepsi" bezel, however, with one minor drawback – it would only be made in 18-carat white-gold but would this be a bad or bold move by Rolex?
When Rolex introduced the Cerachrom bezel's, this put a stop to the two-toned bezels but only for a few years and not only this, the aluminium bezels that came on early GMT-Master's were prone to fading. In 2011 Rolex introduced the first two-toned GMT-Master II, reference 116710BLNR (Bleu Noir), this instantly got people speculating about the return of the Pepsi. In 2014, everybody's wishes came true with the reference 116719BLRO (Bleu Rouge) but due to the case being made of solid 18-carat white-gold, the thought of owning one only became a reality for some.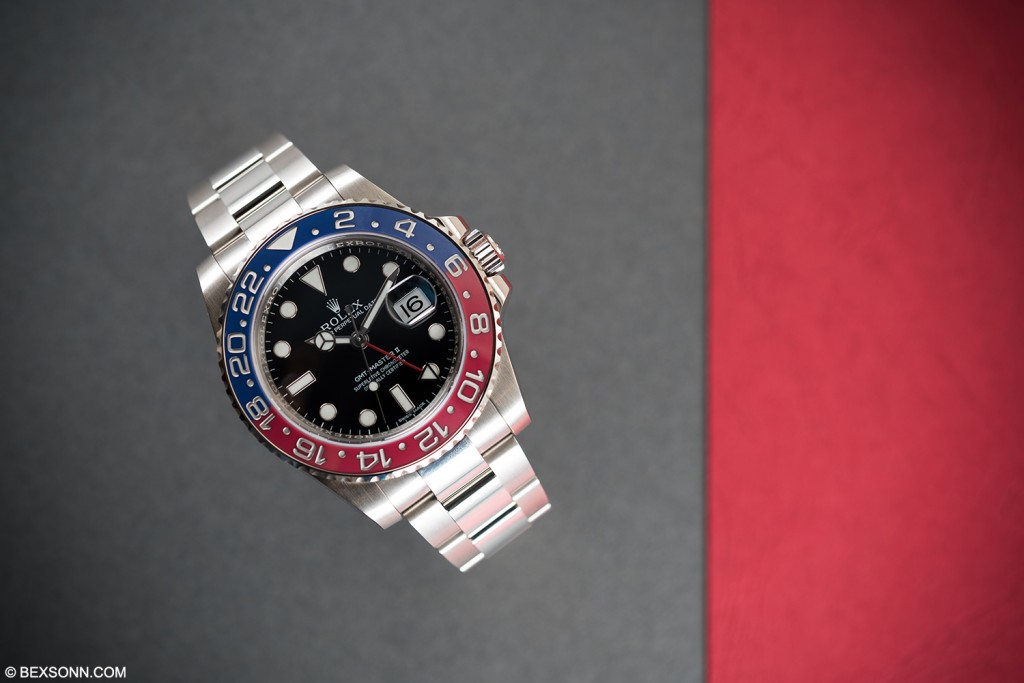 The GMT-Master II 116719BLRO, just like its predecessors has a 40mm case but as ever with its now thicker lugs and crown guards, appears larger on the wrist. Being made from 18-carat white-gold, it has added some notable heft. Strangely enough, it is still very wearable, however, it does take a few good days to get used to this weight. That said, if there is one thing that has always marginally irked me about all previous GMTs, it would have to be the small twinlock crown but with this, you get the full triplock large crown goodness.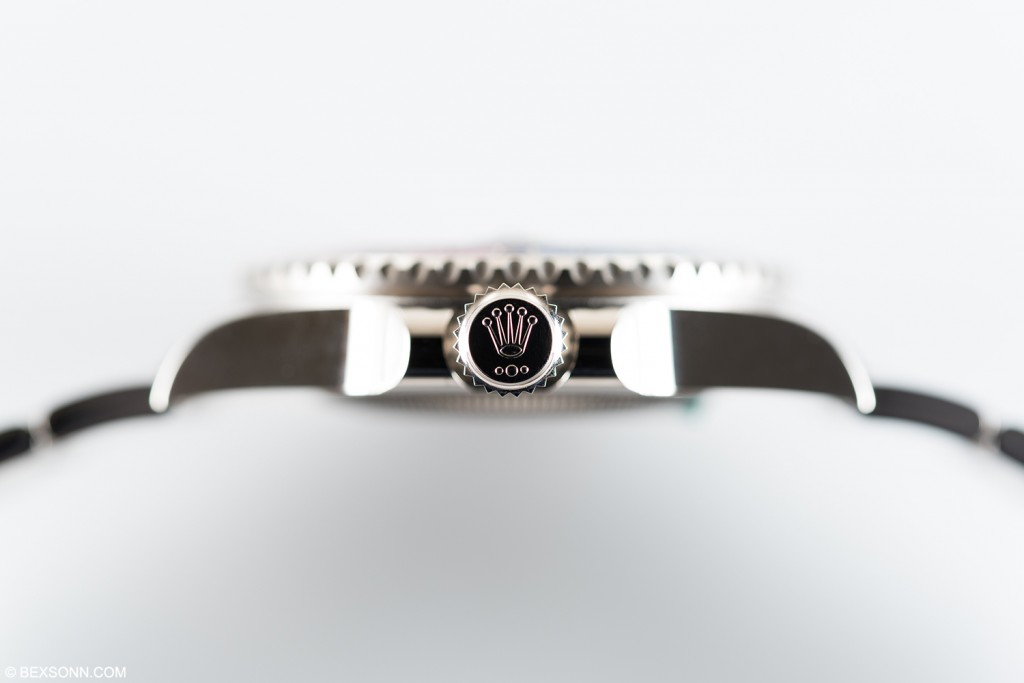 Inside the GMT-Master II "Pepsi", Rolex have used the in-house developed and manufactured 3186 calibre movement, which is in fact the same movement used in the last stainless steel GMT-Master II ref. 16710. Naturally the movement allows the wearer to easily set the 24-hour hand to a second time zone, as it is independent from the normal hour hand. This of course is nothing new and has always been possible in the GMT-Master II's but for those who are unaware, this was never possible in the GMT-Master and required the wearer to rotate the bezel to indicate a second time zone.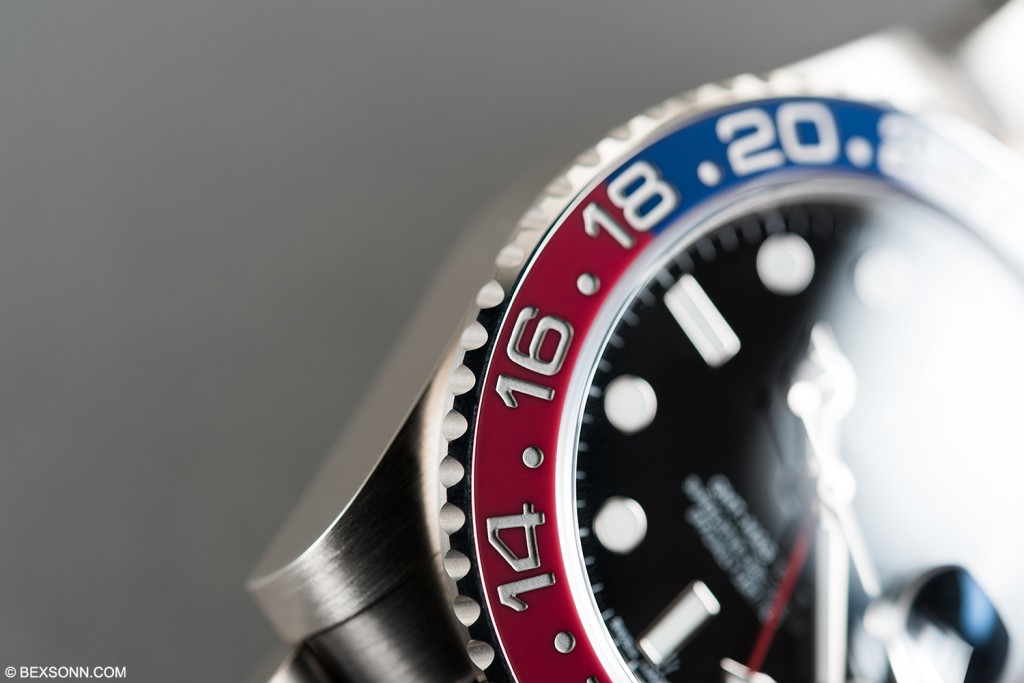 Probably the most exciting aspect of this new GMT-Master II "Pepsi", is the bezel. The red and blue Cerachrom insert for the bi-directional bezel goes through a rather interesting process. Rolex have patented, manufactured and developed a process for creating said bezel. Now, you may have thought that making a "Pepsi" bezel is just a case of fusing red and blue Cerachrom together, right? No. You see, Cerachrom as brilliant as it is for maintaining its colour over the years has inherent brittleness. Therefore just taking two different coloured pieces and fusing them together would make the Cerachrom bezel weaker and reliving the days of the Bakelite bezel is something, I'm sure, neither Rolex nor their owners want to do.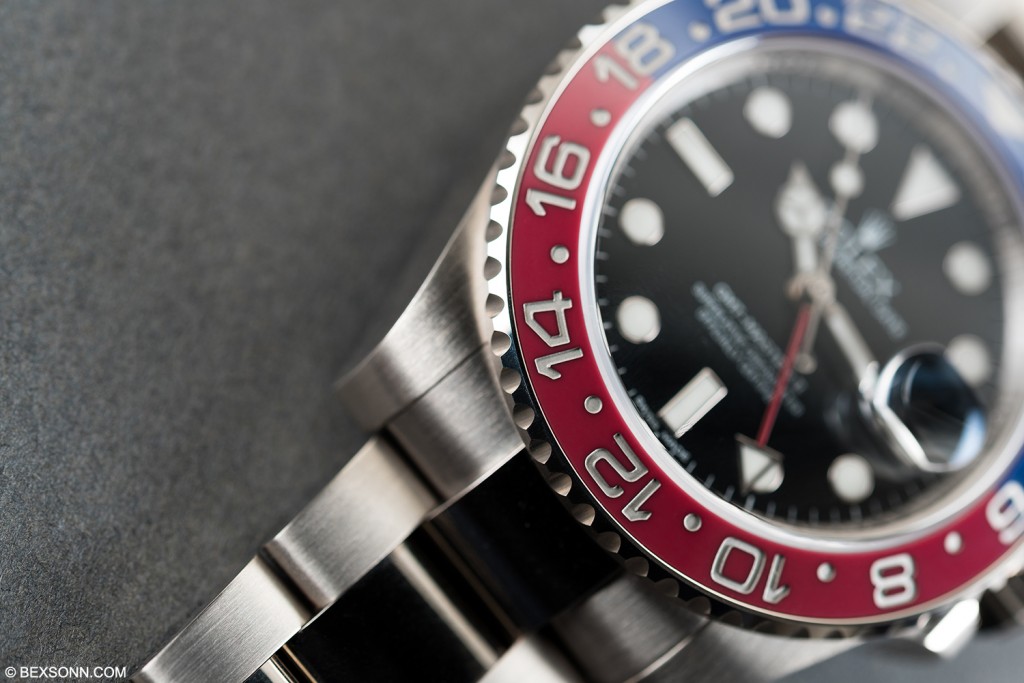 What Rolex had to do is to come up with a way of making the Cerachrom bezel out of one solid piece. Rolex do this by creating a red ceramic bezel inlay, which is an achievement in itself, according to Rolex it is very difficult to create a stable red mineral pigment. Half of the insert is then impregnated with a chemical compound to change the red to blue. Each grain of the bezel is changed using this technique but the colour transformation from red to blue only takes place when the bezel is baked to harden it. The 24 hour scale is then engraved in the ceramic and then coated with platinum via a PVD process. You could be forgiven for thinking that producing a red and blue ceramic bezel would've been a lot easier but as with everything, it has to be done the "Rolex Way".
---
FINAL THOUGHTS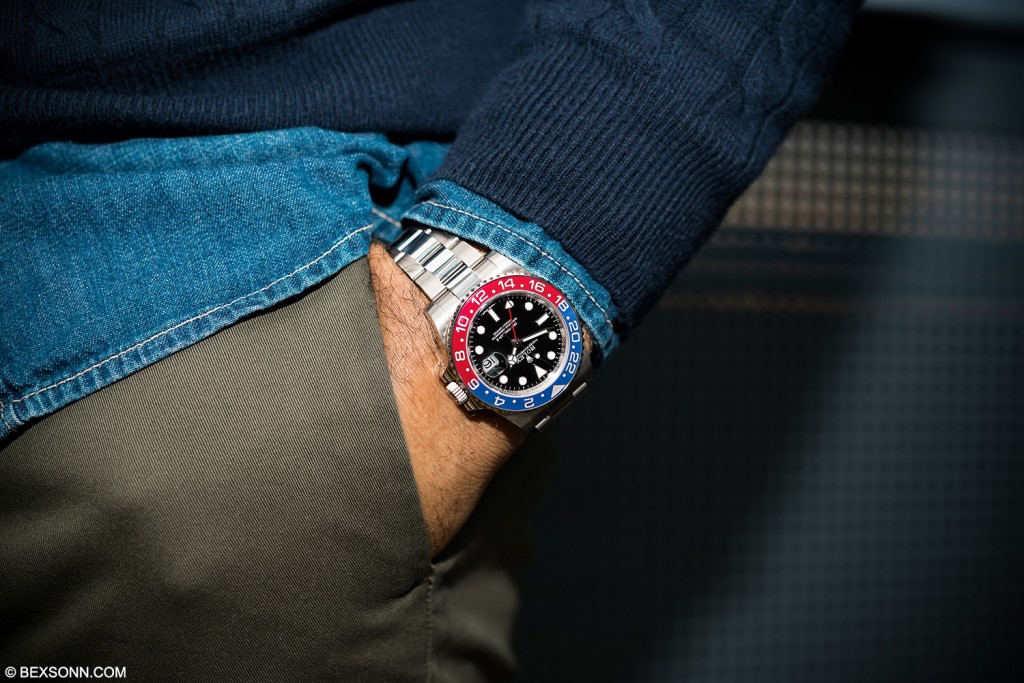 Firstly, I will say that I was completely and unexpectedly impressed with this new GMT-Master II Pepsi. When I first saw it at Baselworld 2014, it looked good but I wasn't entirely overwhelmed with excitement and given the fact it was made in a precious metal completely made no sense whatsoever. It is a complete oxymoron; the GMT-Master was introduced to be one of Rolex ultimate tool watches and most importantly it was made of steel. Yes, I know they produced many GMT's made of precious metals but as far as I'm aware, solid white-gold was never one of them. And yet, with its brutish looks and feel, the new GMT has somehow won me over. Nonetheless, I can't quite put my finger on it but the red and blue bezel looks a little different to the one I first saw in Basel, in fact it's almost as if they have perfected the hue and I don't think pictures do it justice.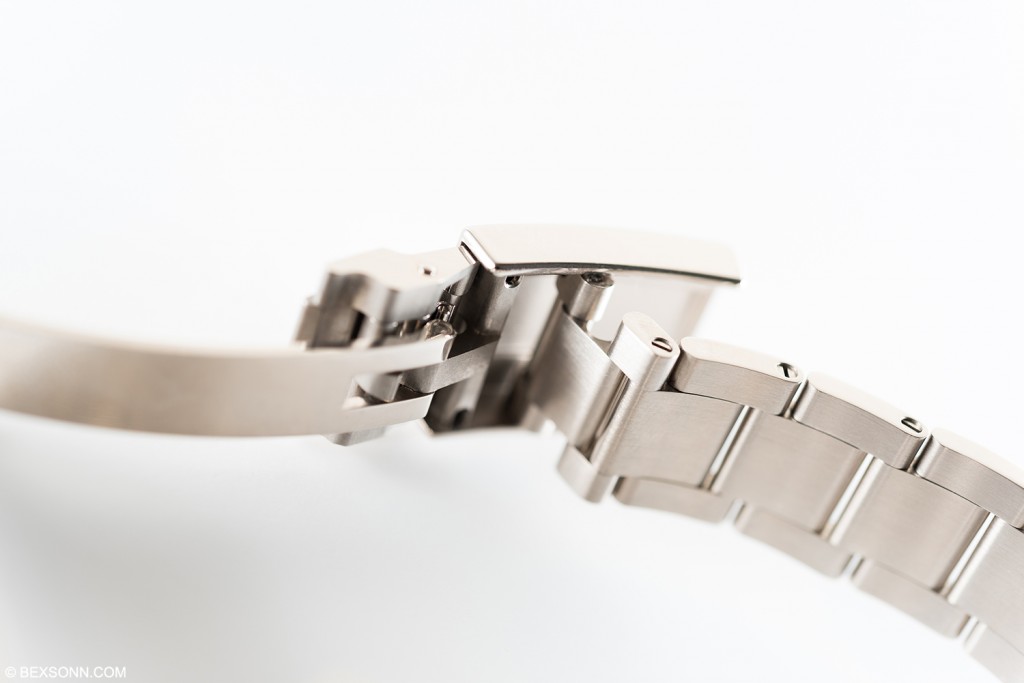 The 40mm case  does indeed wear larger than it suggests but with it securely fixed to the wrist by its, safe vault like, Oyster bracelet (which incorporates a neat size adjustment feature that can be used on the fly) it does start to feel a little more organic. On the wrist the new GMT-Master Pepsi feels good, no, in fact it feels great but just who was it made for? It is an iconic Rolex timepiece that has been reborn, albeit in a solid white-gold case, which inherently adds exclusivity. Perhaps this is just what Rolex intended and for that reason it somehow makes sense. Yes, it is solid (18-carat white-gold) and sometimes cumbersome but looking down and seeing the shiny ceramic red and blue "Pepsi" bezel does have a rather nostalgic sentiment and seductive element about it.
The Rolex GMT-Master II Ref. 116719BLRO has a list price of approximately £25,600 including VAT. More information is available on the official Rolex website.
You might also like