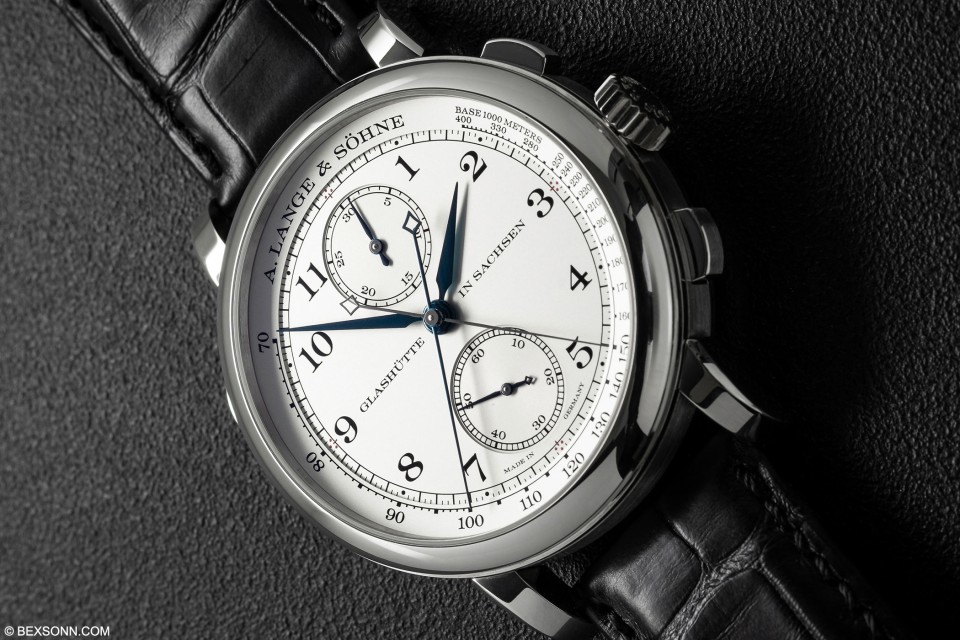 As previously mentioned, 2020 was a strange year but that didn't stop manufacturers from releasing some of their coolest pieces to date. Lange released their Homage to F.A. Lange timepieces and among them was a certain flyback chronograph we just couldn't get enough of – the 1815 Rattrapante. As you'll likely know, a few years ago, we posted an in-depth article on one of our favourite Lange's: the Double-Split Flyback. Then a few years after that we posted an article on the Triple-Split Flyback and this is perhaps where we thought Lange could've gone in a different direction but perhaps, they were saving that something a little special for this 175th anniversary release. We've longed for a Lange chronograph that was perhaps a little more complex than the 1815 Flyback but somewhat less so than the Double-Split Flyback and a couple of weeks ago we managed to get our hands on the new 1815 Rattrapante Flyback in Platinum while attending the annual Concours at Hampton Court Palace.
It was way back in 1999 that Lange stunned the world of watchmaking with their Datograph and the thing is, not only was it a fully in-house developed chronograph, (which I may add not many attempted to develop in their adolescent years), but it also featured a flyback function. And to add to this, a big date window and power reserve indicator. The 1815 Flyback chronograph is essentially a Datograph minus the large date window and power reserve that admittedly affords for a much cleaner dial.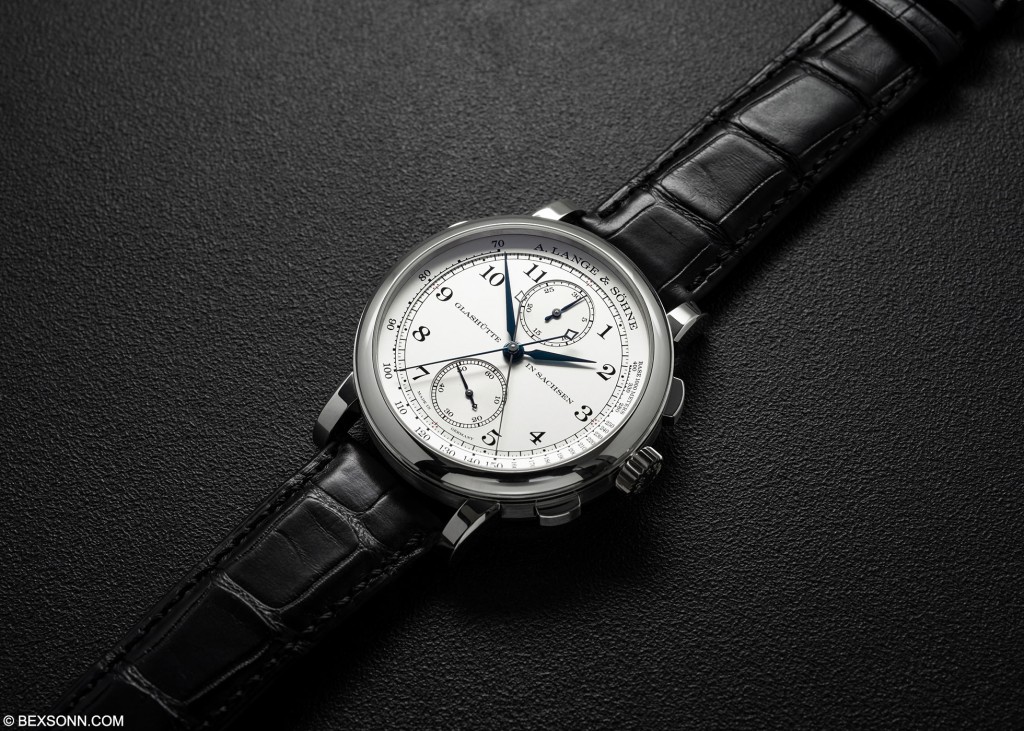 However, in 2020 Lange take the blueprint of said piece and took it to a level of pure genius. The newly developed 1815 Rattrapante Honeygold "Homage to F. A. Lange" which was one of three models of an exceptional anniversary collection. For 2022, Lange have introduced a platinum version with a white dial that is limited to 200 watches and exclusively available in A. Lange & Söhne boutiques.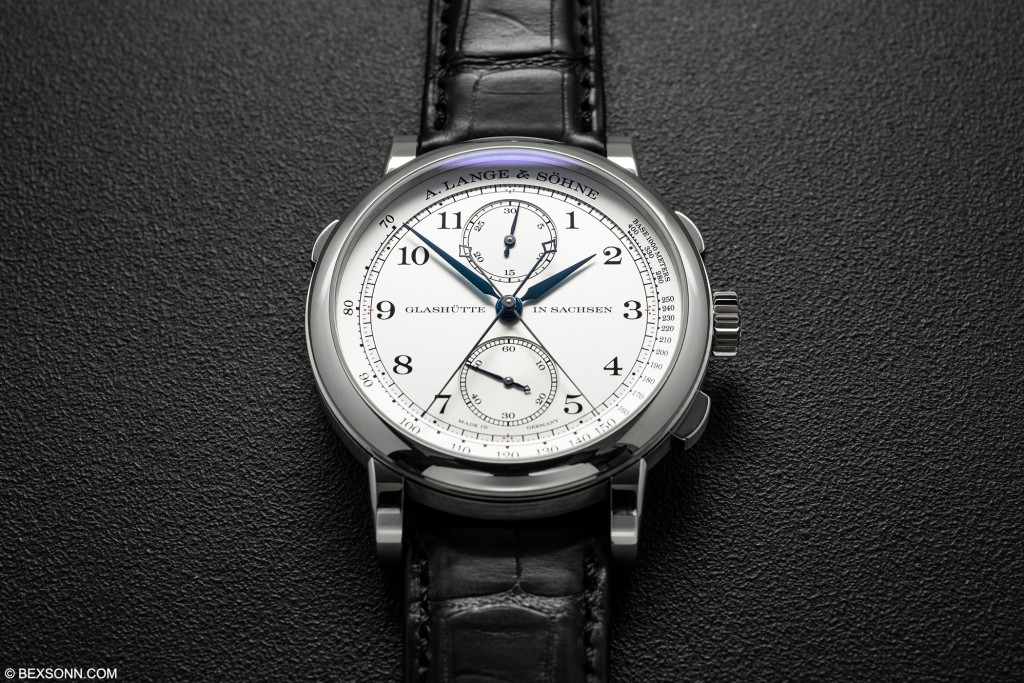 This 1815 Rattrapante Chronograph incorporates the charm of a classic split-seconds chronograph: vertical registers – a little detail which make this piece a masterstroke. The solid silver argenté dial, sports black accents marking the sub dials, hours, and minute track. The outer minute track is also placed on the flat section of the dial, as opposed to the flange, and makes use of a 1/5th-minute inner scale, with strategically placed dots marking the hours, with each quarter hour marked with 3 red dots. On the slightly inclined dial flange is the ever-so-important tach-o-meter scale as well as the manufacturers name, which has a huge impact on the overall appearance and balance of the dial.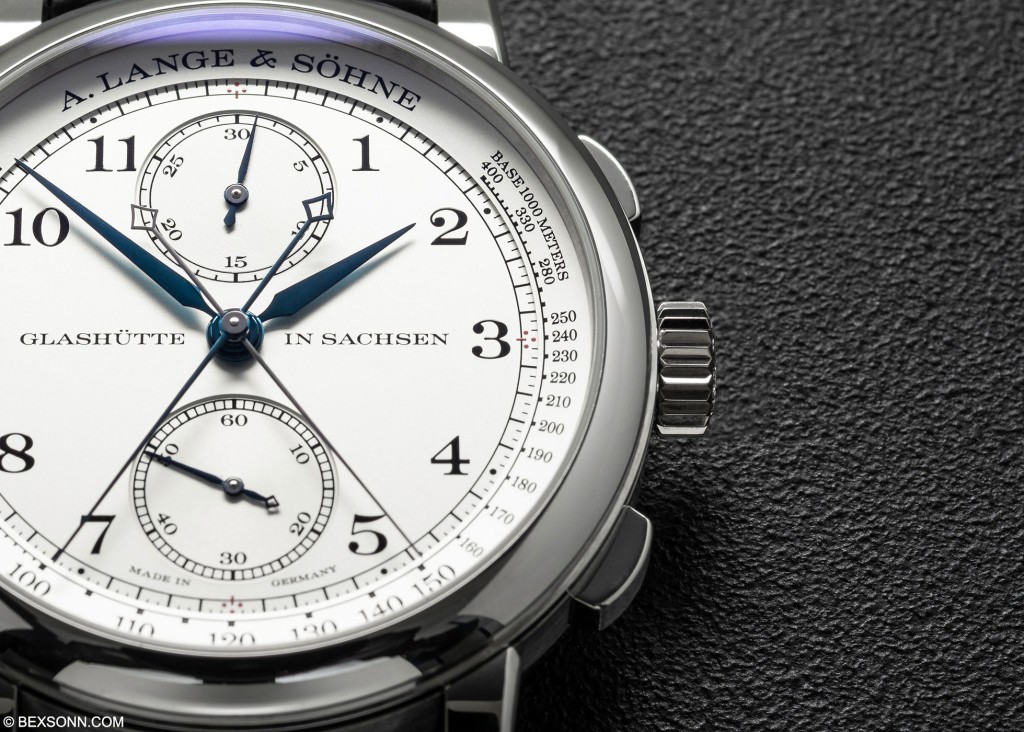 The dial features Alpha hands, full Arabic numerals for the hours and two engine-turned subsidiary dials, which are on an ever so slightly sunken level from the main dial: recording chronograph minutes and continuous seconds. Again, both make use of railroad track scales and written in German are the words Glashütte in Sachsen, which adds a certain sense sophistication.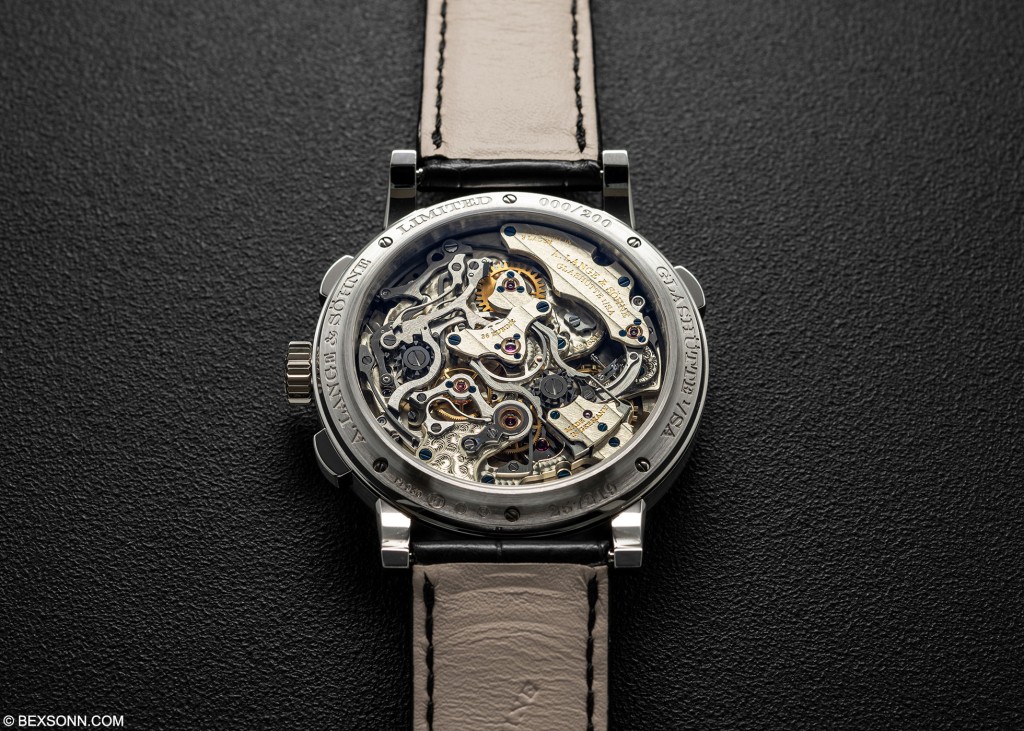 Turning a Lange 1815 Rattrapante chronograph over to view the movement through the sapphire-crystal caseback reveals one of the technically most exquisite and at the same time most beautiful chronograph mechanisms ever made. The most astounding thing about this manual-wound calibre L101.2 movement has to be its depth.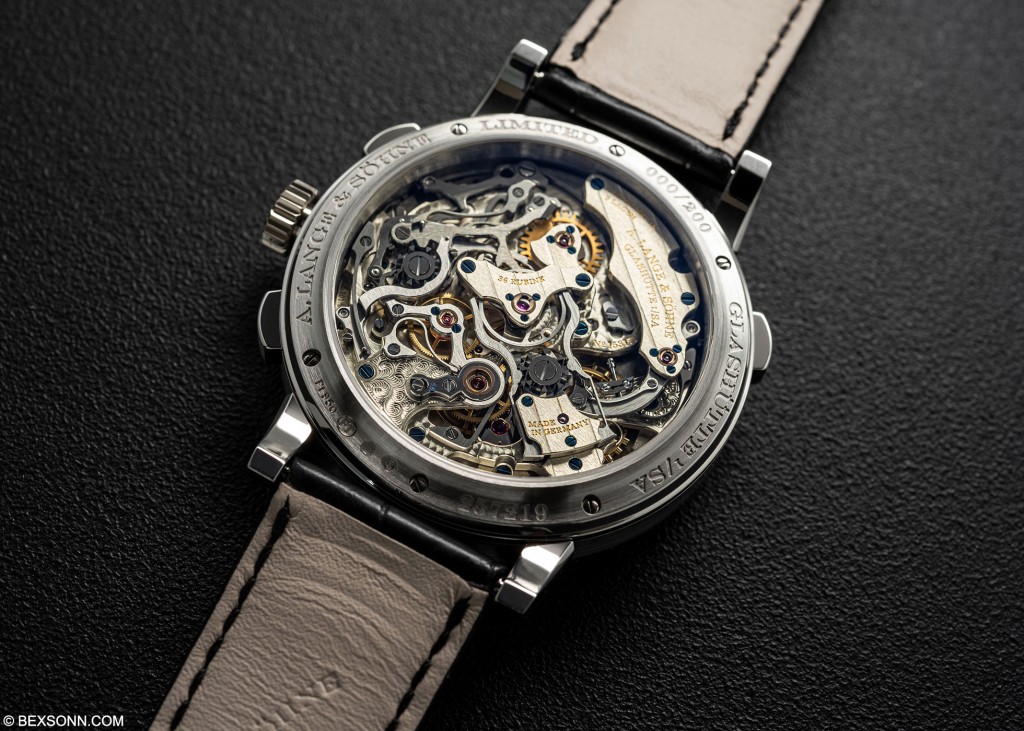 The complex chronograph/rattrapante mechanism is located on the movement side of the new L101.2 manually wound calibre. The control of elapsed or lap-time measurements is handled in the highly precise classic manner; with two column wheels. Like the rattrapante clamp that blocks the rattrapante hand in the lap-time display mode, it is visible through the sapphire-crystal caseback. This allows the precise switching processes to be observed in detail. When fully wound, the mainspring barrel delivers a power reserve of 58 hours. In connection with the screw balance, also manufactured in-house, the freely oscillating Lange balance spring guarantees excellent rate accuracy at a frequency of 21,600 semi-oscillations per hour (3 hertz).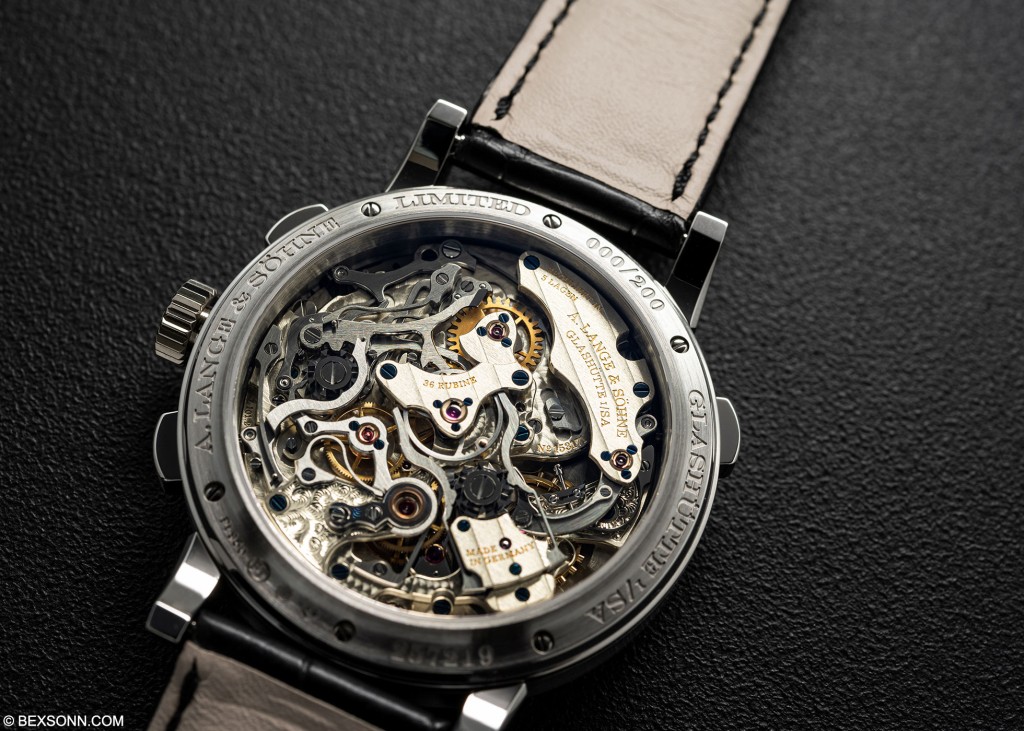 As mentioned, the finissage of the manually assembled 365-part movement is inspired by the bench-marks developed by Ferdinand Adolph Lange to make his calibres inimitable. All upper sides of the moving parts of the rattrapante chronograph, such as levers, springs, and jumpers, are decorated with straight graining while the chamfers are polished. All the fine lines of the free-hand engravings on the balance cock and the chronograph bridge as well as the inscriptions on the bridges have also been decorated with straight line graining.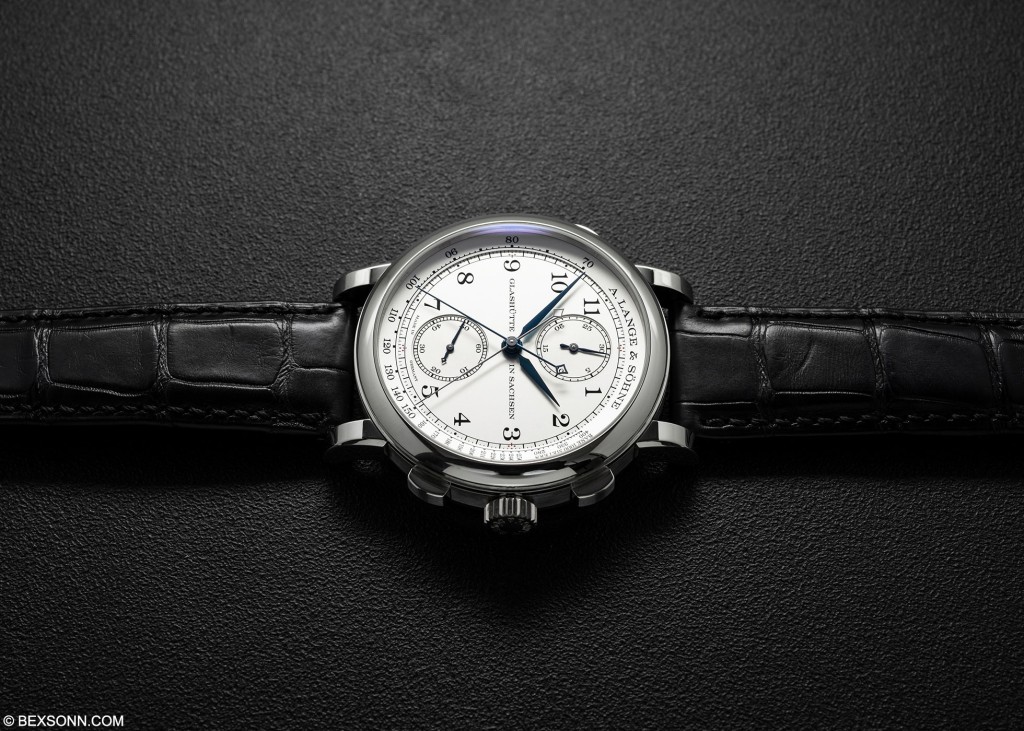 In my opinion, the 41.2 mm case is what makes this Lange pretty much perfect, it's no fuss yet simple and functional design is a standout feature. Fashioned out of platinum, all facets have been polished to a mirror shine except for the middle case section, which has a satin brushed finish. Like all of Lange's timepieces the 1815 Rattrapante Chronograph makes use of rectangular push pieces, located at 2, 4 and 10 o'clock on the case band. The case features a large fluted crown that is practical when considered it will get used quite often. Covering the dial is anti-reflective sapphire crystal and the same is used on the exhibition case back.
---
FINAL THOUGHTS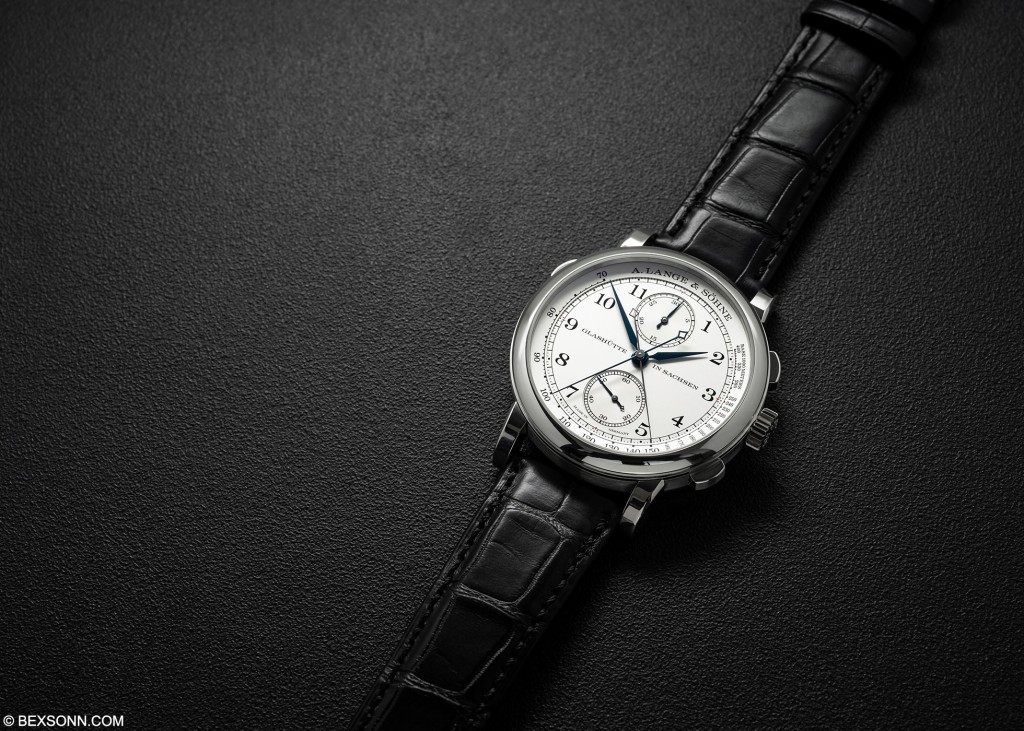 I few years ago I remember mentioning that the 2017 1815 Flyback Chronograph was in my opinion the perfect Lange chronograph, with the release of this 1815 Rattrapante, does that statement still run true? It's hard to say for the most part, the 1815 chronograph is everything you want from a classic flyback chronograph and what's more the re-introduction of the pulsation scale on this black dial made it, arguably, a grail chronograph – not just for me but for many alike. Balance wise, it is still perfect and though many will look to the Datograph as more the flagship Lange chrono, the sleeker package of the 1815 flyback makes it more wearable.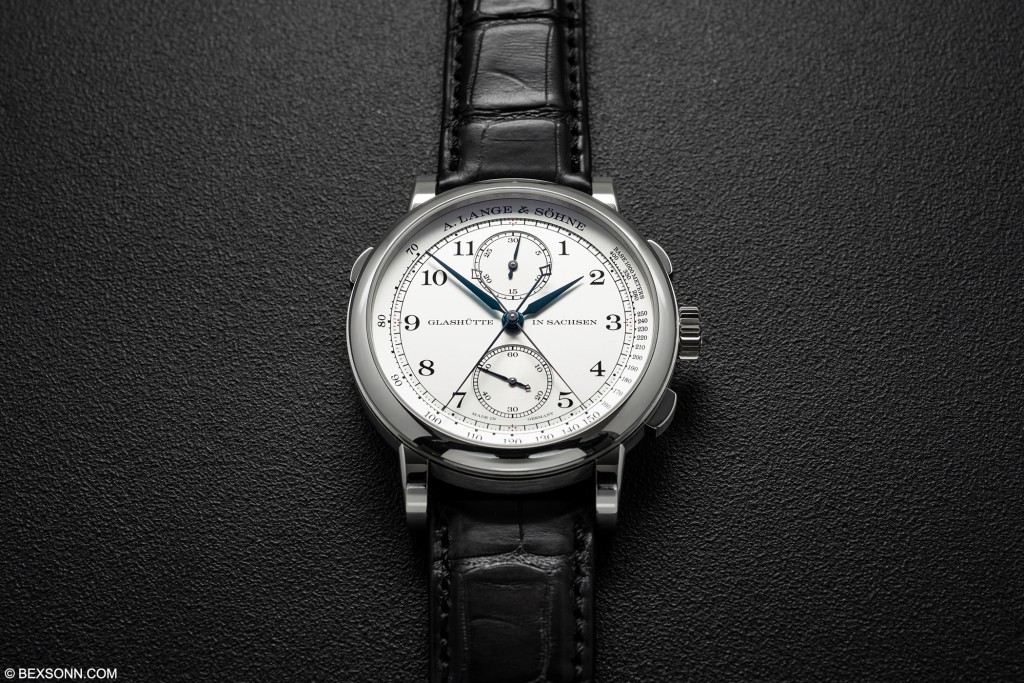 Does that make this new 1815 Rattrapante even better? Possibly but I guess this all depends on what you are looking for. It's important to note that this new 1815 Rattrapante isn't a paired down 1815 Double-Split, it's an entirely newly developed chronograph, so if you want that split-second functionality without the added extra split-function then this is most definitely the chronograph to have your eyes fully locked on.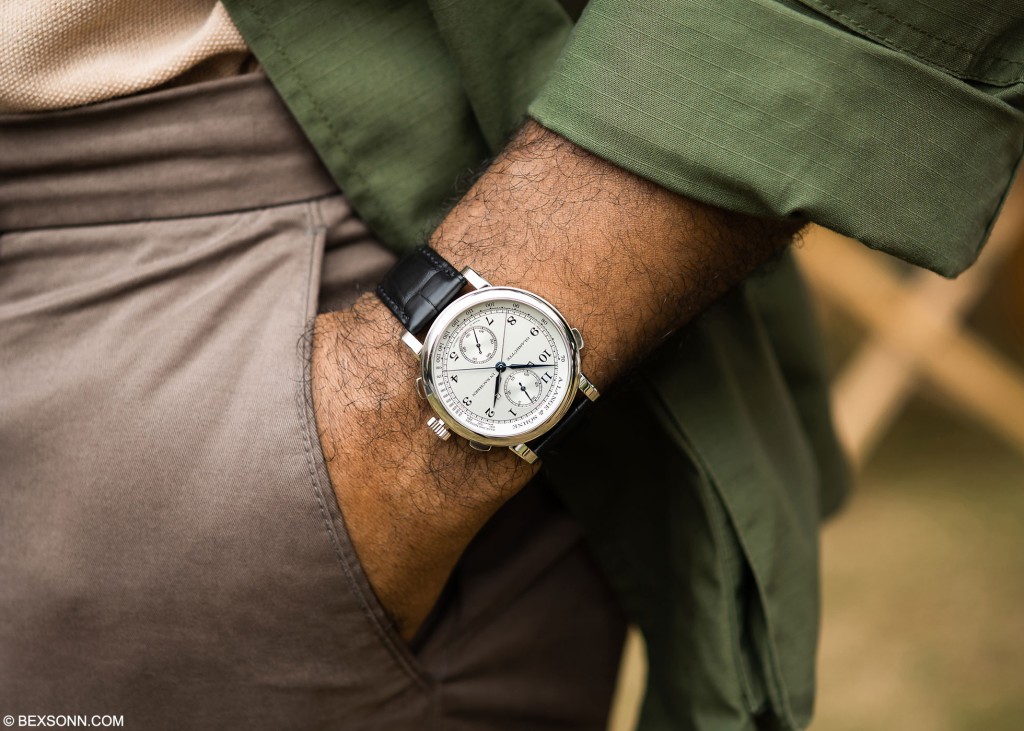 The new 1815 Rattrapante Chronograph is everything you want from a classic split-seconds chronograph and what's more the layout and balance of the dial is rather unusual for Lange, and this is perhaps why it will be one of the most sought-after pieces from the 1815 – while it is available, I might add. The 41.2mm case may be a tad larger than one would've hoped but to be honest it's perfectly balanced and feels just right on the wrist. The 1815 model line is without doubt one of my personal favourites and this new limited edition lends something a little different to the range that is still in keeping with the heritage of Lange. That said, it would be good to hopefully see this Rattrapante Chronograph as mainstay in the 1815 collection one day.
This new A. Lange & Söhne 1815 Rattrapante Chronograph is limited to 200 and is only available from Lange Boutiques. It is priced on request and is only available in platinum. For more information on this new 1815 Rattrapante Chronograph, visit alange-soehne.com.
You might also like