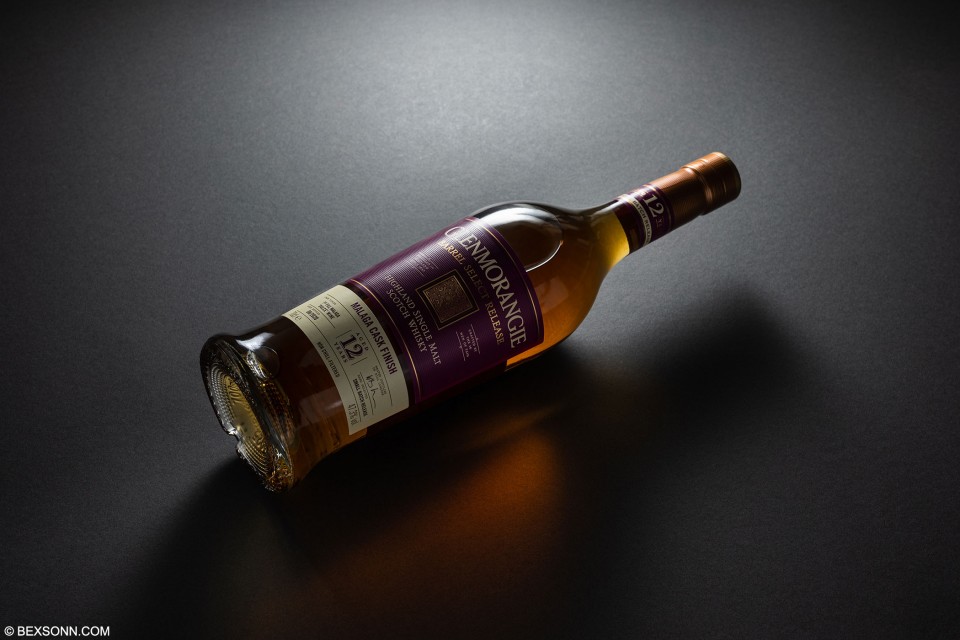 We've sampled our fair share of Glenmorangie, which just so happens to be  one of our favourite commercial whisky brands. This expression 12yo Malaga Cask Finish expression, is rather special and appears to be something Glenmorangie is only releasing in limited small batch release. This limited expression has been maturing in ex-bourbon casks, before being finished in first fill Malaga 'Dulce' wine casks. Extra maturation in this Malaga cask develops this Glenmorangie into a lusciously soft texture and deep dram, with enticingly sweet aroma spirit with a complex balance of sweet and dry flavours and an intriguing contrast of smooth and crisp, cooling textures.
On the nose: you'll get an intense waft of pears, apples, apricots, raisins and mandarin, which is closely followed by notes of vanilla, lemon zest and rather enticing note of toffee. Notes of cinnamon and nutmeg start to emerge, couple with a meaty note and creamy butterscotch. Completing the nose are notes of dark chocolate, a hint of mint, some light floral notes and a nutty aroma. The palate: is replete with notes of apricots, honey, oranges and rich currants, accompanied by notes of toffee, vanilla and cinnamon. That meat note nosed appears, as well as notes of turmeric and mixed spices, closely followed by espresso and root ginger. Rounding-off the palate are notes of fresh mint, herbs, liquorice and walnuts. The finish: medium/long, spicy, sweet, with lingering herbs and a slight meaty note.
The verdict: As you've probably heard me say before, I'm rather fond of Glenmorangie and I love the fact they don't focus too much on the age of the whisky but instead that of the casks which hold the whisky. They're truly pioneers when it comes to cask maturation and how their casks are treated. This Malaga Cask Finish expression is fruity from nose to palate that has well-balanced flavours, as well as depth and a great mouth feel. Bottled at an ABV of 47.3%, this 12-year-old bottling of Glenmorangie can, in my opinion, be enjoyed how you please. However I would add, leaving it to breathe for around 10 minutes or so yields more of those sweeter notes.
Malaga Cask Finish Single Malt Scotch can be found at any well-stocked whisky shop for approximately £75. For more information on the Malaga Cask Finish visit the official Glenmorangie website.
You might also like