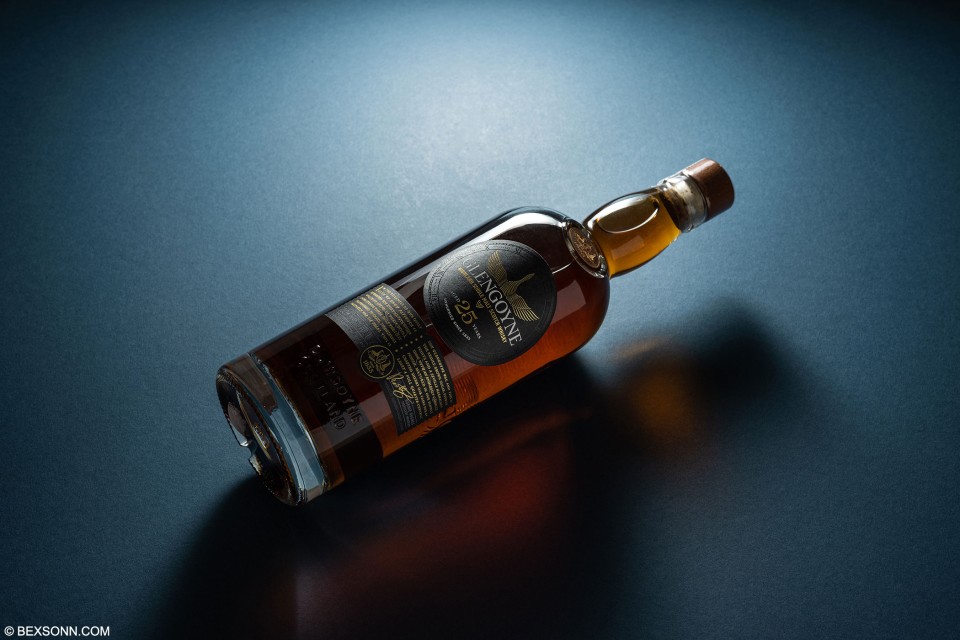 The Glengoyne distillery is one we've yet to discover here on BEXSONN.com and so with that said we are today posting our first tasting notes from this Highland distillery. Glengoyne straddles the Highland line, with its warehouse below, and the distillery itself above. The name Glengoyne derives from the Glen Guin, the glen of the wild geese – the name was adopted in 1905. The Glengoyne distillery are well-known for producing whisky matured in a mixture of ex-sherry and ex-bourbon casks, which produces aged whisky that is both weighty and fruity with bruised pears and sherry notes. This 25-year-old expression is from their Fine & Rare range and has been matured exclusively in hand-selected sherry casks for a quarter of a century, making this unique malt an important addition to the Glengoyne collection.
On the nose: you'll experience an initial waft of stewed fruits, currants, oranges and vanilla. After a couple of swirls notes of honeycomb and a touch of citrus zest starts to emerge with a hint of marzipan and cinnamon. Notes of aniseed and the spiciness from the oak start to appear, followed by suggestions of marmalade. Rounding off the nose are notes of brown sugar, light herbs and a hint of dark chocolate. On the palate: those notes of stewed fruits and currants are ever-present, followed by vanilla, oranges and those cinnamon notes. Those spices nosed start to emerge, alongside some mixed spices and a hint of citrus zest. Tasting it again, notes of honey start to appear, followed by that brown sugar note, with a hint of chocolate and leather. The finish: is long, sweet, with lingering mixed oranges, spices and tobacco note.
The verdict: As mentioned these are our first tasting notes from the Glengoyne distillery and we've perhaps started at the high-end of things. That saids, this 25yo expression doesn't disappoint – with plenty of depth in flavour from nose to palate. With an ABV of 48%, this is probably not a Scotch that I would add any water to but if you feel the need then only add in small quantities until it just right for you.
The Glengoyne 25-year-old Single Malt Scotch Whisky is available online or in well-stocked Whisky Shops, for approximately £380. For more information on this 25-year-old, visit glengoyne.com.
You might also like