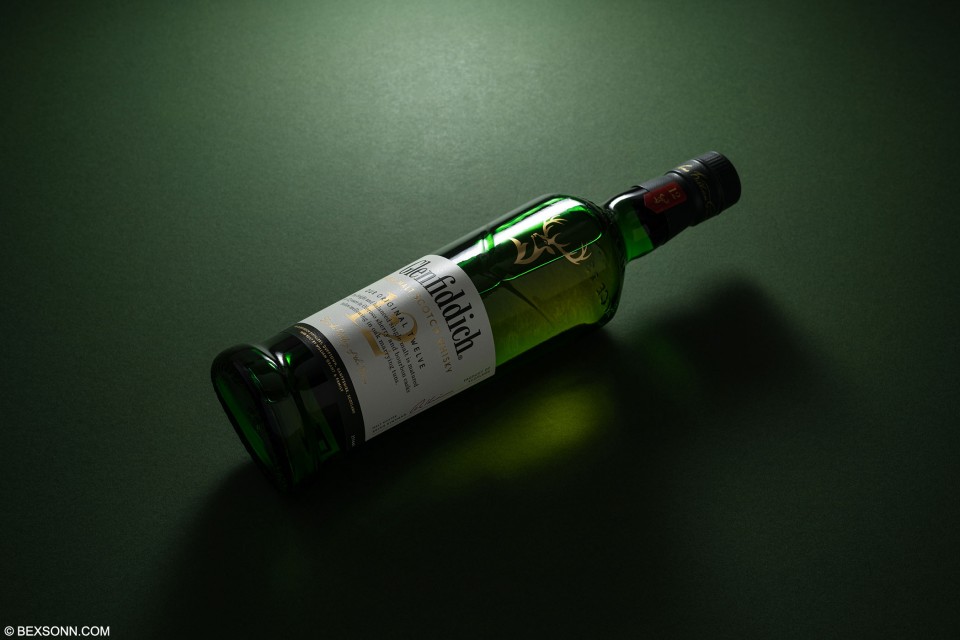 As you may or may not know, Glenfiddich, was founded in 1887 by William Grant and family run to this day, is perhaps the most famous of all of Scotland's single malts and is equally famous for the rarity of its single cask bottling's. Malt Master, Brian Kinsman, is always looking for some a bit different, some sort of ingenious innovation in scotch whisky. We've previously looked at some of Glenfiddich's rarer expressions, however, strangely enough we've never really delved into one of their core range expressions: the 12-year-old original. The Glenfiddich 12-year-old is matured in two different types of oak cask, ex-sherry and ex-bourbon. These casked are then married that giving this expression its complex, rounded flavours of fresh pear and subtle oak.
On the nose: you'll experience initial notes of pear drops, toffee apples, vanilla, a hint of cocoa and lemon bonbons. These initial notes are closely followed by pineapple, oatmeal biscuits, subtle mixed spices, cinnamon, nut meg and star anise. Completing the nose are notes of green herbs (hint), oak and butterscotch On the palate: are those notes of apples, pears, with a hint of tropical notes, butterscotch and vanilla. Notes of cinnamon, mixed spices, toffee and malty biscuits start to appear Rounding-off the palate are notes of hazelnuts, citrus zest, with a hint of green herbs and mint. The finish: is short, sweet, with lingering notes of toffee, orchard fruits and oak.
The verdict: Suffice to say, I've tasted my fair share of Glenfiddich but some how I'm always left slightly disappointed with their core range expressions. This 12yo expression is an easy to drink all-rounder that is great for sharing. It is nicely balanced, fresh and light but could perhaps do with a little more punch in my humble opinion. Bottled at ABV 40% in a 70cl bottle this is a dram that doesn't require any water, in my opinion – though if you do need to then only add a very small amount.
Glenfiddich 12 Year Old Single Malt Scotch can be found online or in-store at any well-stocked whisky shop for approx. £38 For more information on this Original 12 year-old expression, visit the official Glenfiddich website.
You might also like