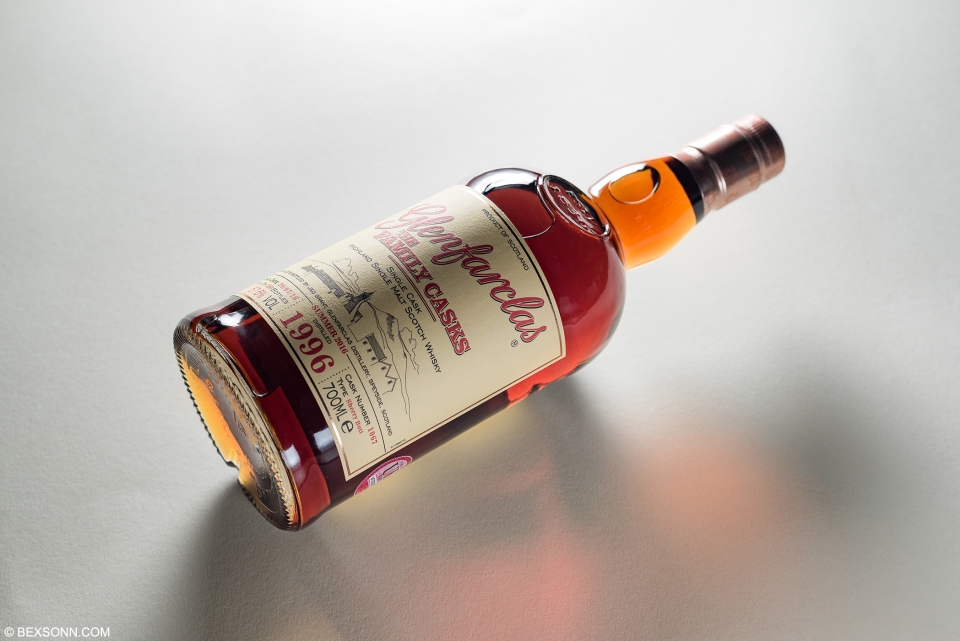 We have tasted our fair share of Glenfarclas from The Family Cask, why just a few weeks ago we posted tasting notes on an expression from 1984. Up to now, we've tasted the 1995, 1985, 1975, and 1965 now we are posting tasting notes on this 1996. I'll not go into the minutiae about the range, as I've done so before but what I will say is this – Glenfarclas is an antiquated whisky distillery which is something I admire greatly. They do things the old-fashioned way and let their Scotch do the talking. Interesting facts: did you know that Glenfarclas was one of the first distilleries to build an all-purpose visitors centre way back in 1973, which included tasting rooms? This is what I call a traditional whisky distillery that till this day produce some of the most delectable Scotch, in my opinion, however this expression from the family cask was something I'd never experienced before.
---
GLENFARCLAS 1996 SHERRY BUTT
On the nose: is a waft of sweet cherries, currants, berries and honey. This is closely followed by notes of raspberries, demerara sugar, toffee and treacle. Notes of liquorice, all-spice, vanilla, turmeric and cinnamon start to emerge, alongside a hint of black pepper. Rounding-off the nose are notes of figs, strawberry jam and a hint of lemon zest. On the palate: those currants are ever-present, coupled with notes of raisins, marzipan and that demerara sugar. These initial notes are followed by toffee, treacle and a hint of dark chocolate. Notes of cinnamon, cracked black pepper and spicy notes start to appear, alongside an interesting note of green herbs. Completing the palate are notes of liquorice, candy apple and a slight meaty note. The finish: long, sweet, with lingering spices, currants and nutty oak.
The verdict: There is no doubt that I enjoy a good Glenfarclas expression from the Family Cask range and boy was this good. With plenty of notes of offer from nose to palate, these Family Cask drams from the 90s are quite special. While they perhaps lack the smoothness of expression in this range from say the 50s, 60s and 70s it more than makes up for it in the flavour department. Bottled at 57.6 % ABV, in my opinion, it would be wise to add a few drops of water to smoothen it out just a touch, which will also open up the dram a to yield more notes.
Glenfarclas 1996 The Family Casks Single Malt Scotch Whisky can be found online at the Whisky Shop for approximately £330. For more information on The Family Casks range, visit the official Glenfarclas website.
You might also like