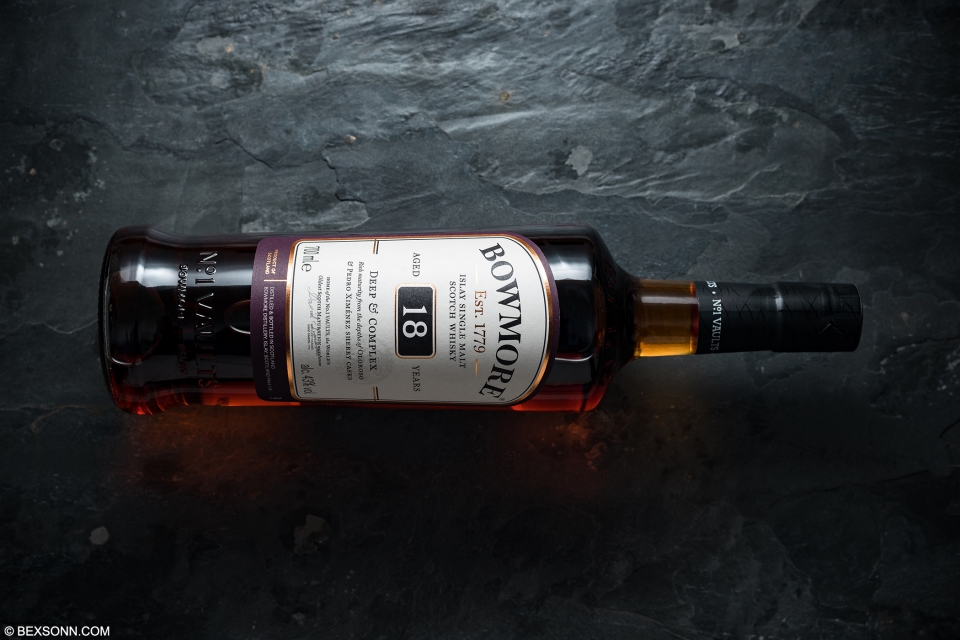 It has been some time since we last shared some tasting notes form one of the worlds oldest scotch maturation warehouses, the legendary No.1 Vaults of the Bowmore distillery. That said, I always try to make it my mission when travelling, to seek out something special and exclusive to travel retail. Many of you may be aware of the standard 18-year-old expression that easily found at any well-stock whisky shop. This expression, however, is a little bit different. Matured in in both Oloroso and Pedro Ximenez sherry casks, this 18yo expression, exudes layers of rich chocolate, peat and dark currants, which imparts depth in flavour.
On the nose: are warm welcoming notes of oranges, nectar, dried currants, stewed red apples and some peat. These initial notes are swiftly followed by toffee, dark chocolate ganche, and spices in the form of turmeric and cinnamon. Rounding-off the nose are notes of vanilla, subtle hints of rosemary, salty caramel and poached pears. On the palate: those sweet oranges are ever-present, with a more strong suggestion of smokey peat, followed by vanilla, currants, treacle and luxurious dark chocolate. Spicy notes of cracked black pepper start to emerge, alongside notes of rosemary. Completing the palate are notes of liquorice, poached pears, salty caramel and freshly roasted coffee beans. The finish: is medium/long, spicy, sweet, with lingering peat and oak.
The verdict: Bowmore have a very distinct Islay Scotch and this marriage of an Oloroso & PX cask is a masterstroke. Its brutish Islay character is evident but it has a very endearing delicate touch of elegance. It's smooth and harmonious, with plenty of depth and complex notes that standout. Definitely one to put on your travel shopping list. With an ABV of 43%, there is no need to add any water but do so if you feel the need to in small quantities.
Bowmore 18-Year-Old Single Malt Scotched matured in Oloroso & Pedro Ximenez (Exclusive to the  Global Traveller) is only available via travel retail and is priced at approximately £90.
For more information on this 18yo Oloroso & PX Cask expression, visit the official Bowmore website.