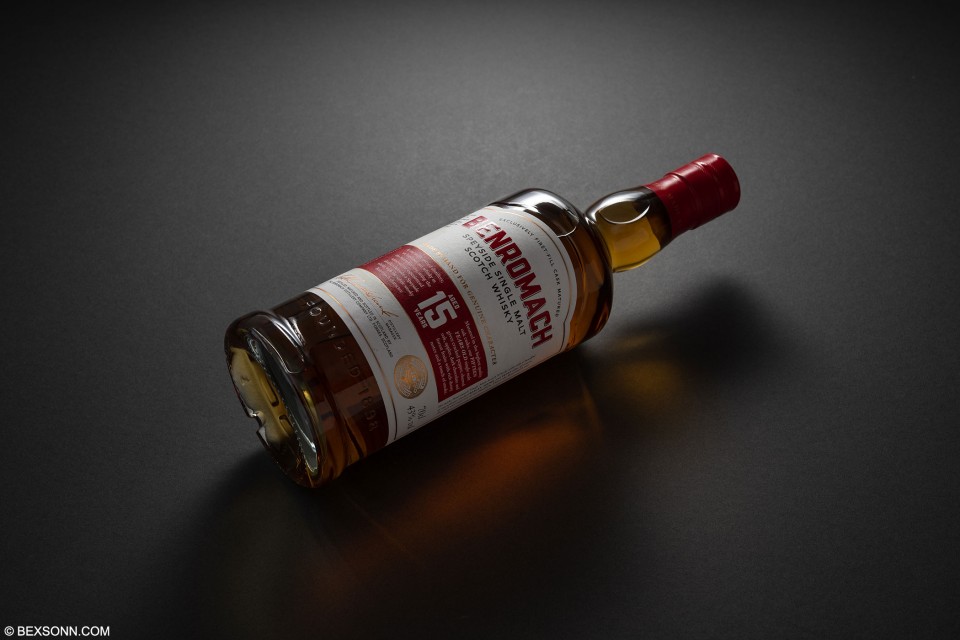 Towards the end of 2019 we posted tasting notes on some Benromach and since then they've had a bit of an overhaul. Benromach has launched a bold new look inspired by the Speyside distillery's history and traditional approach to making their multi-award-winning single malt whisky. Made by hand for genuine character, Benromach is a traditional Speyside distillery owned by a family intent on producing single malt the right way. Its small team of distillers rely entirely on their expertise and senses to make the finest handmade whisky, matured exclusively in first-fill casks, with a subtle smoky character and authentic Benromach taste.
The new look comes off the back of numerous recent awards for Benromach Single Malt Whiskies. In May, Benromach 15 Years Old received a Double Gold medal at the San Francisco World Spirits Competition – an accolade only given to a liquid if the judging panel unanimously awards it a Gold rating and considers it to be among the finest products in the world. Benromach 10 Years Old was awarded Gold at the same competition.
Commenting on its new look, Andrew Hannah, Head of Brand at Benromach, said: "We took inspiration for our new look from the hand-painted sign that used to adorn the roof over the kiln, along with the distinctive red doors around the distillery and the iconic red-brick chimney. The design aims to convey the genuine handcrafted care that goes into Benromach and to serve as a promise that every drop is made in Forres using just four ingredients: barley, water, yeast and the expertise of our distillers. Although the design for Benromach has changed, the character, taste and quality of our award-winning single malts remains the same."
---
THE BENROMACH 15
On the nose: there is a warm invitation of raisins, plums, fruitcake, vanilla and tonnes of smoke. These initial notes are closely followed by notes of star anise, cinnamon, pimento and hints of dark chocolate. Notes of honey, a meaty note and lemon zest start to emerge, as well as marzipan and toffee. Completing the nose are notes of nutty oak and a hint of tobacco leaf. On the palate: those nose there are notes of stewed dark fruits, raisins, plums and candy sticks. These notes are followed by notes of pimento, brown sugar, marzipan, butterscotch and smoke. Rounding-off the palate are notes of cocoa, cinnamon, all-spice, dates, walnuts and green herbs. The finish: is long, bittersweet and spicy, with lingering notes of oak and smoke.
The verdict: This multi-award winning 15-year-old Benromach aged in a mixture of bourbon and sherry casks, is something rather special. It has quite a bit of depth in flavour with some unexpected notes, as well as texture, which lends to the overall experience. The balance of fruitful, sweet flavours and the spicy smoky notes truly complement this drop. With an ABV of 43%, for me it doesn't require any water. Though if you feel the need to, then do so until it's just right for you.
---
EXPRESSIONS
The new look Benromach 10 Years Old, 15 Years Old and 2009 Cask Strength Vintage are exclusively available from The Whisky Exchange in the United Kingdom for the next three months. The specialist on-line drinks retailer named Benromach 15 Years Old as its 'Whisky of the Year 2020' in a blind tasting last year. The whiskies will also be available in specialist retailers in France and Germany from the beginning of June, before being rolled out to markets around the world over the next few months.
Benromach 10 will be available from £39.99 / €49.99
Benromach 15 will be available from £59.99 / €69.99
Benromach Cask Strength 2009 will be available from £54.99 / €64.99
For more information on The Benromach , visit the official website.
You might also like