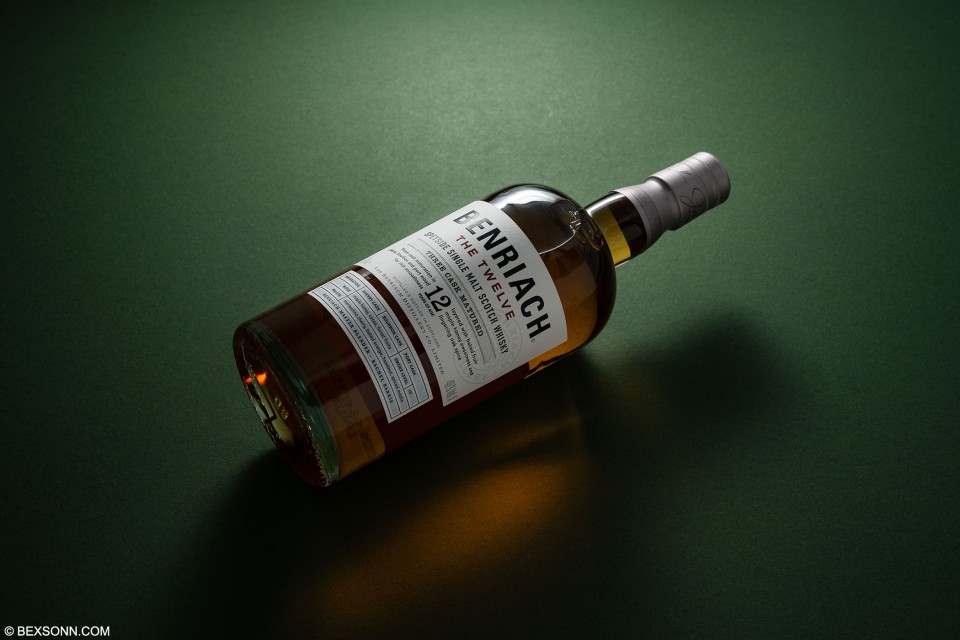 We've posted tasting notes on expressions form the Benriach distillery but over the summer they went through a bit of a rebranding, which also included a change the core range. Known for its long-standing tradition of distilling classic, peated and triple distilled whisky and a vast eclectic cask inventory sourced from around the world, the portfolio has been artistically crafted by Master Blender Dr. Rachel Barrie and her team. Displaying the diversity and versatility of Benriach's orchard fruit-laden style, this new range spans the full spectrum of whisky flavour. 
The new packaging is said to have taken its inspiration from the first Benriach Single Malt released over two decades ago, with the portfolio's colour palette inspired by Speyside's natural environment in which the distillery sits. The method to make the new expression differs from the past. To make Benriach Twelve, Benriach spirit is three cask matured for at least twelve years in sherry casks, bourbon barrels and port casks. The whisky from each cask is then expertly married together to create a smooth, sherry-rich single malt, layered with baked fruit, maple honey and cocoa, perfectly balanced with a lingering sultana and spiced mocha finish.
On the nose: you'll experience sweet notes of vibrant rich blackberries, raspberries, figs, candyfloss, lemon sherbet and poached pears. Followed by notes of maraschino cherries, mandarins and spicy notes of cinnamon and cloves. Notes of honey, marzipan, vanilla and creme-caramel start to appear. Completing the nose are notes of hazelnuts, dark chocolate, grapes and a light floral note of elderflower. The palate: is replete with those forest fruit notes, as well as figs, pears and a hint of marmalade. Spicy notes of cinnamon and nutmeg start to emerge, followed by vanilla, raisins, currants, dark chocolate ganache and light meaty note. Rounding-off the palate are notes of aniseed, honey comb, lemon zest, a creamy note and a hint of oak. The finish: is long, spicy, with lingering notes of lemon zest, star anise and oak.
The verdict: I'm a great admirer of BenRiach and even more so of what Master Blender, Rachel Barrie is doing at both BenRiach and GlenDronach. The nose and palate of this new 12yo expression has a nice balance of depth and youth. With an ABV of 46%, in my opinion is doesn't really need any water but do so if this is how you prefer your scotch. This new Twelve is a drop that should be savoured with every sip to fully experience its layers of fruity goodness.
This BenRiach The Twelve Year Old Single Malt Scotch Whisky can be found in any well-stocked whisky shop for approximately £51. For more information on this Three Cask Matured 12 Year Old Single Malt Scotch expression, visit the official BenRiach website.
You might also like