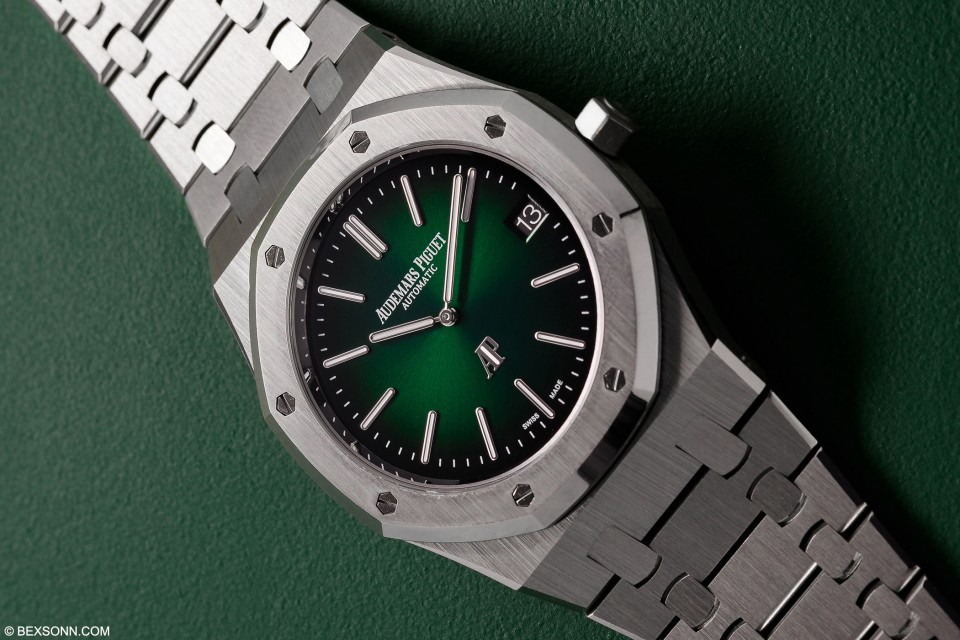 I feel like many of you who have previous posts from me perhaps know that green is one of my favourite colours and if you've been keeping a tab on the watch industry – then you'll know that green dials are a running theme for 2021. Audemars Piguet are well-known for their fine watch making but if there is one timepiece that they've become famous for, it would undoubtedly be the Royal Oak. For better or worse, the RO will always be a staple of the AP collection and recently we managed to get our hands on one of the, arguably, the most love it of loathe it Royal Oaks of 2021. We've seen many iterations of the Royal Oak over the past few years, but I think it safe to say this is one not only looks cool but has a stealth-like quality to it.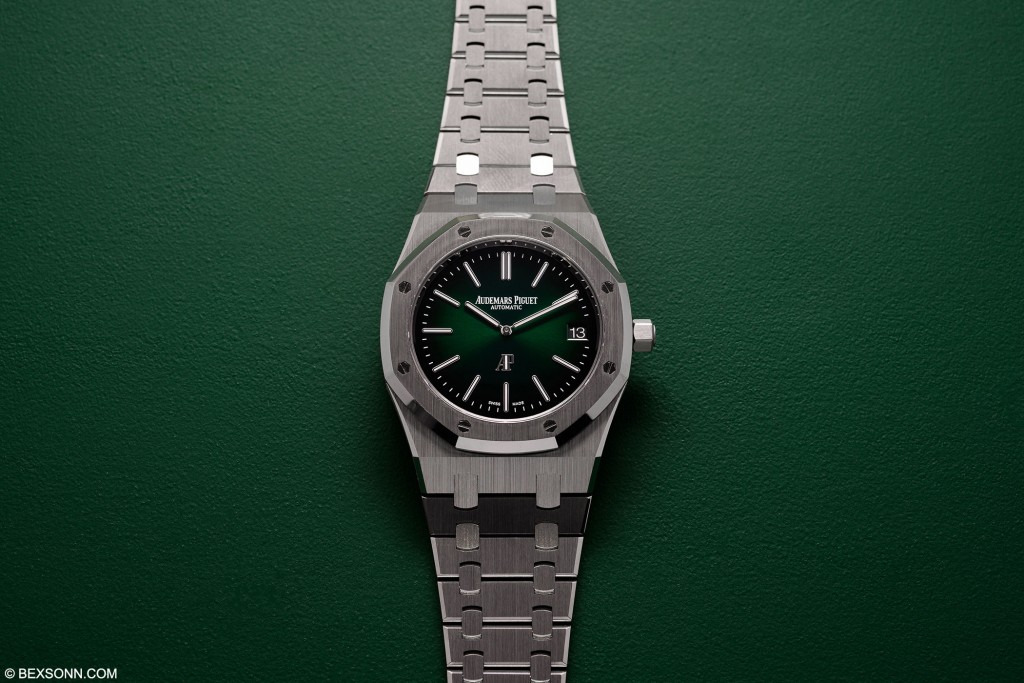 The Royal Oak is perhaps one of the most distinctive watches around. With its masculine octagonal shape, exposed screws and integrated bracelet, it is easy to recognise from afar. But more importantly, the watch is a legend for pioneering the use of stainless steel in haute horlogerie, thanks to a watch designer, Gerald Genta, who was inspired by the porthole of a naval ship. Though back in 1971 when this inspiration led to the Royal Oak, Mr. Genta wasn't yet the household name it is today.
The first ever Royal Oak debuted at The Basel Watch Fair back in 1972 and it caused quite a stir. You see, it was the world's first luxury sports watch; it was imposing, yet impressively thin and, despite being the most expensive watch of its type on the market, it was available only in stainless steel. However, that changed in 1977 when the first yellow gold 39 mm Royal Oak became available, bringing a whole new character to what would soon be regarded as an iconic design.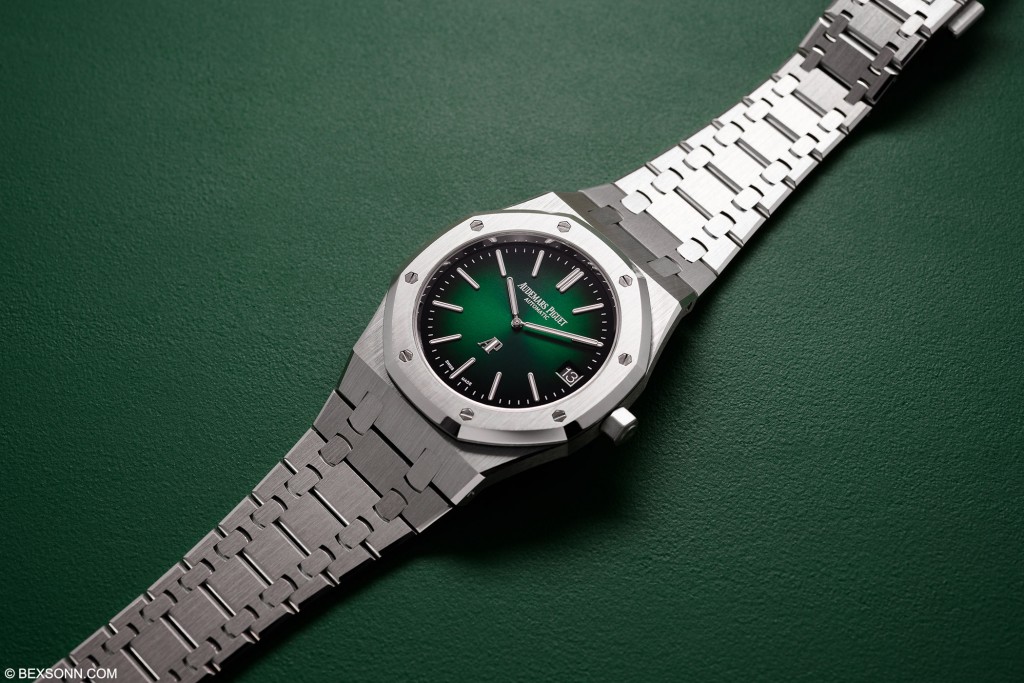 This 2021 "Green Hues" AP Royal Oak Extra-Thin 'Jumbo' reference 15202 in platinum is much of the same, which is why it is still so popular and also why it is timeless. It is the same iconic and dependable watch it was 49 years ago, albeit with a few tweaks here and there. I think the most interesting fact here is that this new model is the first "Jumbo" that has been made entirely of platinum.
The case on this new platinum RO 'Jumbo' is expectedly excellent and measures the same 39mm in diameter, however, 1.1mm has been added to the case depth to accommodate the sapphire exhibition case back. The Genta designed bracelet of the Royal Oak is second to none, with a combination of brushed surfaces and polished bevels, it really showcases the excellence of the manufacture. While the AP folding-clasp is easy to use and the bracelet is extremely comfortable, the weight of the watch, as it is solid gold, is something that one would need to get used to.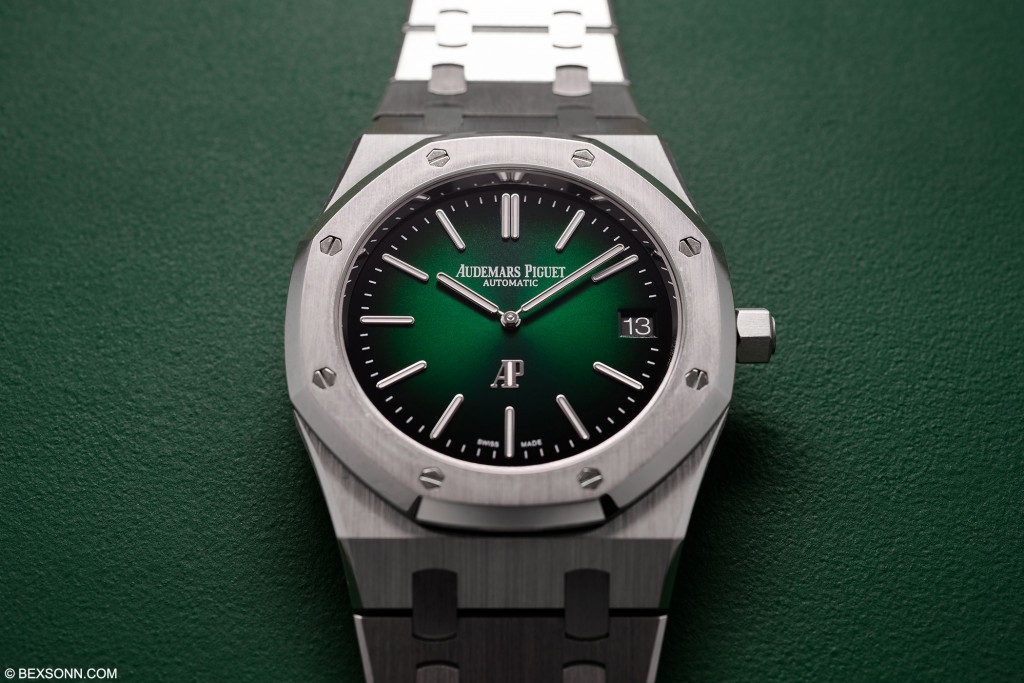 The Audemars Piguet 15202PT features a rather cool (well, to me anyway) fume green dial, which is one of my favourite aspects of this Royal Oak. The deep green hue used on this dial is somewhat seductive and it is further emphasised by the stark 950 platinum case. It features white gold applied hour-markers and Royal Oak hands, that have been treated with luminescent coating, aiding legibility in dim light. The "Audemars Piguet" signature is positioned below noon, while the AP initials are located at 6 o'clock, as "Jumbo" convention dictates.
While this specific dial and metal combination isn't inspired by any previous pieces that came before it, it does perhaps signal that this will be the last 15202 of its kind. Back in March of this year, Audemars Piguet reviled that the reference 15202 will be discontinued and replaced by a new reference, so I guess you can say this is the "Swan Song" Royal Oak Extra-Thin.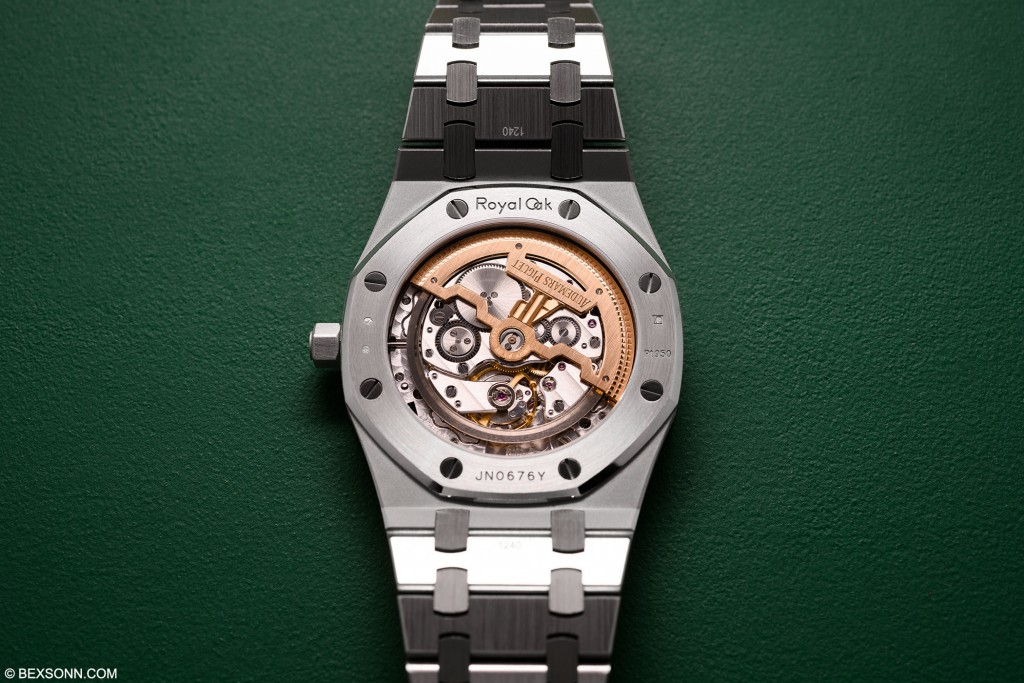 Powered by the self-winding calibre 2121, which was developed by JLC as the calibre 920, half a century ago, it pays tribute to the original Royal Oak model, embodying the distinctive features and extensive finishing techniques that define the world's first luxury sports watch. Featuring a bidirectional 22k rotor expertly engraved with the coat of arms for the Audemars and Piguet families, it is finished in true haute horlogerie standards with all edges and screw heads bevelled and polished and the familiar Côtes de Genève on the bridges – providing a power reserve of up to 40 hours.
---
THOUGHTS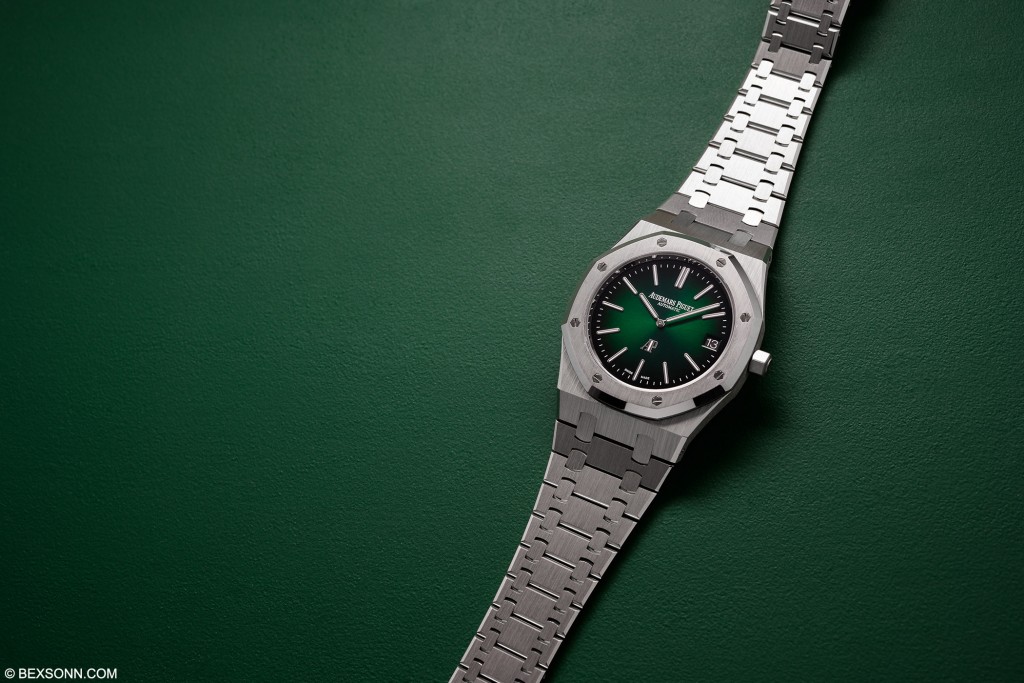 You know when you see a watch in photos and you think to yourself "ugh, another digital image of a watch that has been over enhanced to make it look greater than the sum of it parts". Well, I think I can honestly say this definitely isn't one of those cases when it comes to this 15202PT – it really is that good in the metal. One might even say it is better. Of course, it goes without saying that it is everything you'd expect a factory fresh platinum Royal Oak to be, exquisitely detailed finishing in every way. It is quite simply a beautiful watch. It is highly desirable but there is a flipside to this desirability.
So, let's address the elephant in the room. I know this watch has gotten some harsh criticism about a few things like 1) ugh another Royal Oak Extra-Thin but in platinum or 2) it shouldn't have a smooth dial (but we've seen smooth dials before and, in all honesty, when a brand makes a platinum watch they tend to put a special dial on it). But I guess the biggest criticism it has received is that fact that it will be unobtainable because of x, y and z.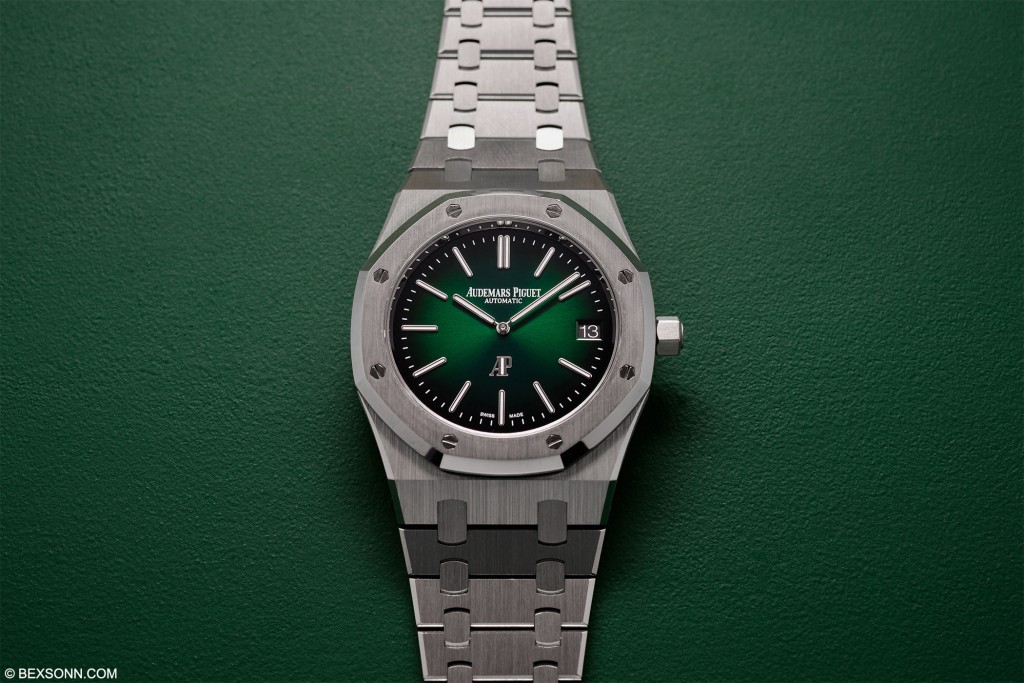 The first two things I mentioned are by-the-by but that last sticking point is a hurdle the majority of us can't even afford to jump, let alone try and those that can, well – watch nerds probably think they've paid the extra to get it sooner. Don't get me wrong, someone somewhere has probably paid extra coin to get it but not from AP. I think the unobtainable point I mentioned is partly true, but I also think some watch nerds just want to hate on a watch because it's some damn beautiful and sometimes it is easier to hate what you can't have. My humble advice: take a good long look at it and admire its allure.
Let's say you do have the money to get one, should it be so easy? I don't think it should as this takes away something from the true AP nerds who have not only built a nice AP collection but also a relationship with brand itself. Why should a luxury brands like AP cater for the person who suddenly has a new-found interest in sports watches over those who have a genuine rapport with the brand? Of course, we can moan and groan about this, but it makes sense that a prestigious brand like AP don't want to be on the wrong end of selling watches to newcomers only to see said watches show up at the next major auction – selling for stupid money.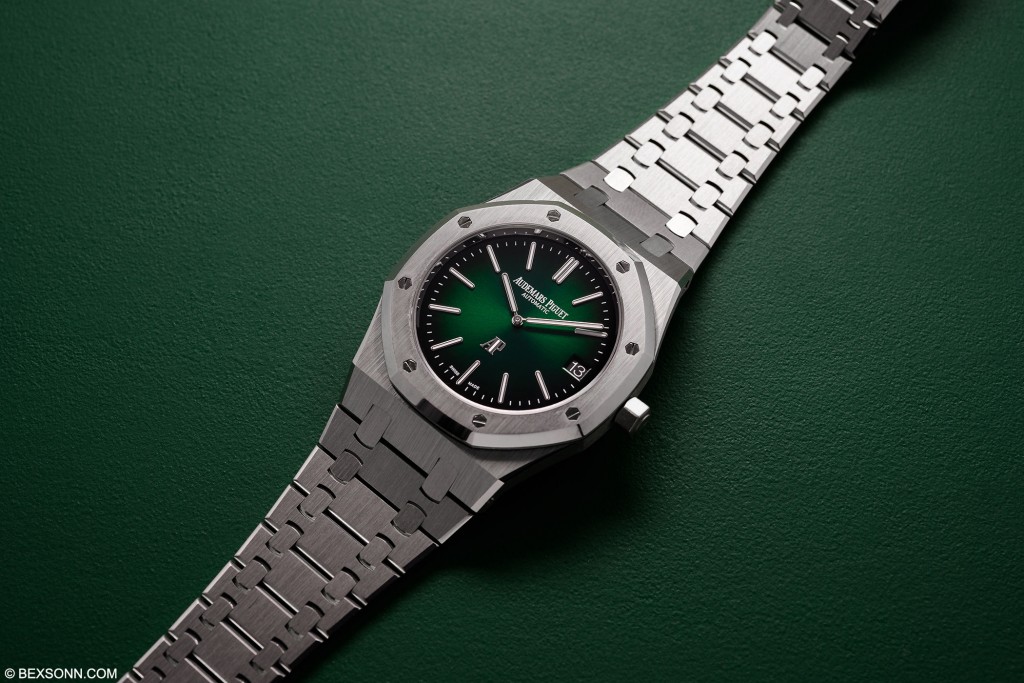 That said, I think a few myths have surfaced about this watch, such as its a limited edition and or an anniversary piece. 1) it's not limited, but it is only available to purchase at AP Houses around the world and 2) it most definitely isn't an anniversary piece either as I believe that will be taking place next year on it's 50th birthday. As for the movement and rumours of a new calibre for the "Jumbo", I don't think that is going to happen either as Audemars Piguet now exclusively owns the production rights to the calibre 2121 – so, vive le calibre 2121.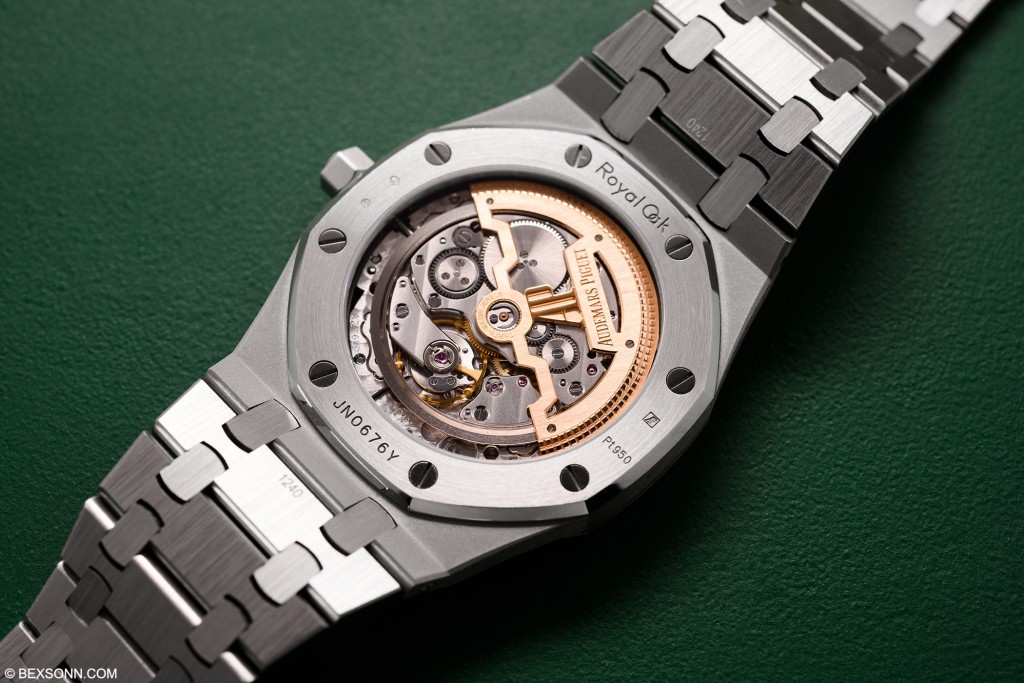 I think it's fair to say this new Royal Oak was never intended to be easily attainable or readily available. Regardless of this, the AP Royal Oak Extra-Thin Jumbo has an air of timelessness to it, which is by and large because of one defining factor: good design. Good design is timeless but this element alone isn't enough. The brand itself also have to believe in the classic nature of the product too – hence its popularity and longevity. Very few watch brands tend to do this and often we see watches that have been upsized, bloated and tweaked beyond recognition that in time fade, simply because it is designed with a "whatever is in vogue" kind of attitude. The Royal Oak was and is a bold design, that still pays dividends today and one that will still look just as ageless and elegant tomorrow.
The Royal Oak Extra Thin in 950 Platinum ref. 15202PT.OO.1240PT.01, with a smoked green sunburst dial, is priced at $105,400. For more information on this new piece, visit the official Audemars Piguet website
You might also like