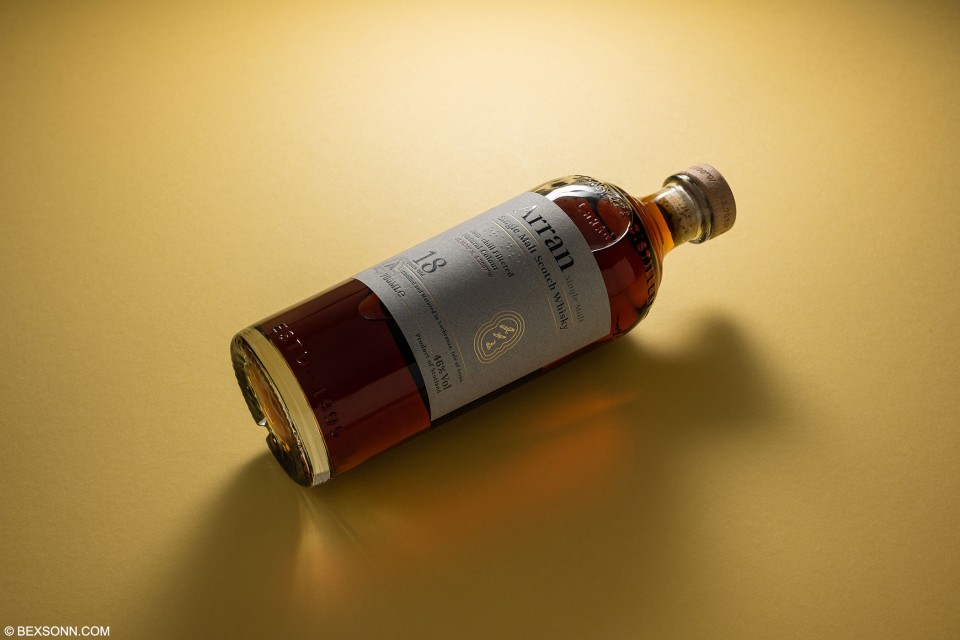 At the beginning of the year we posted our first tasing notes on a dram from the kind of new distillery: Arran. 1995 doesn't seem that long ago, and yet that was 25 years ago – my goodness time flies. 1995 was the year that the Arran distillery was founded on the Isle of Arran. In the 19th century, the south-end of Arran was home to some 50 illicit distillery and also home to perhaps only one licensed distillery and in 1995 whisky distillation was brought back to this unique area of the Island. This expression is the oldest from the core range of whiskies. This 18-year-old is a balanced mix of ex-sherry and ex-bourbon casks, giving a great depth of character.
On the nose: there is a warm invitation of strawberry jam, marmalade, orchard fruits and pine nuts These initial notes are closely followed by maraschino cherries, mixed spices, cinnamon, aniseed and butterscotch. Rounding-off the nose are notes of creme brûlée, toffee apple, blood red oranges, lavender, green herbs, mint and muscovado sugar and a hint of lime. On the palate: you are greeted by notes of strawberry jam, marmalade, creme brûlée and sanguinello oranges. Notes of cinnamon, mixed spices and nutmeg start to emerge, alongside notes of aniseed, bergamot and hint of star anise. Completing the palate are notes of brown sugar, caramelised pears, thyme and peppermint. The finish: is long, bittersweet and spicy, with lingering oak and a lovely waxy note.
The verdict: We tasted out first dram of Arran whisky at the beginning of the year and you'd think we'd slowly work our way around their expressions but just couldn't resist trying the oldest expression in their core range. This is a drop of liquid gold that intrigues from the nose to palate, which is rich in depth of flavour that is quite nicely balanced. With a ABV of 46%, it doesn't really require any water, though feel free to add some water or leave it to breathe for a few moments before sipping.
The Arran 18 Year Old Single Cask Scotch Whisky is available to purchase at any well-stocked whisky shop and is priced at £90. For more information on The Arran , visit arranwhisky.com
You might also like